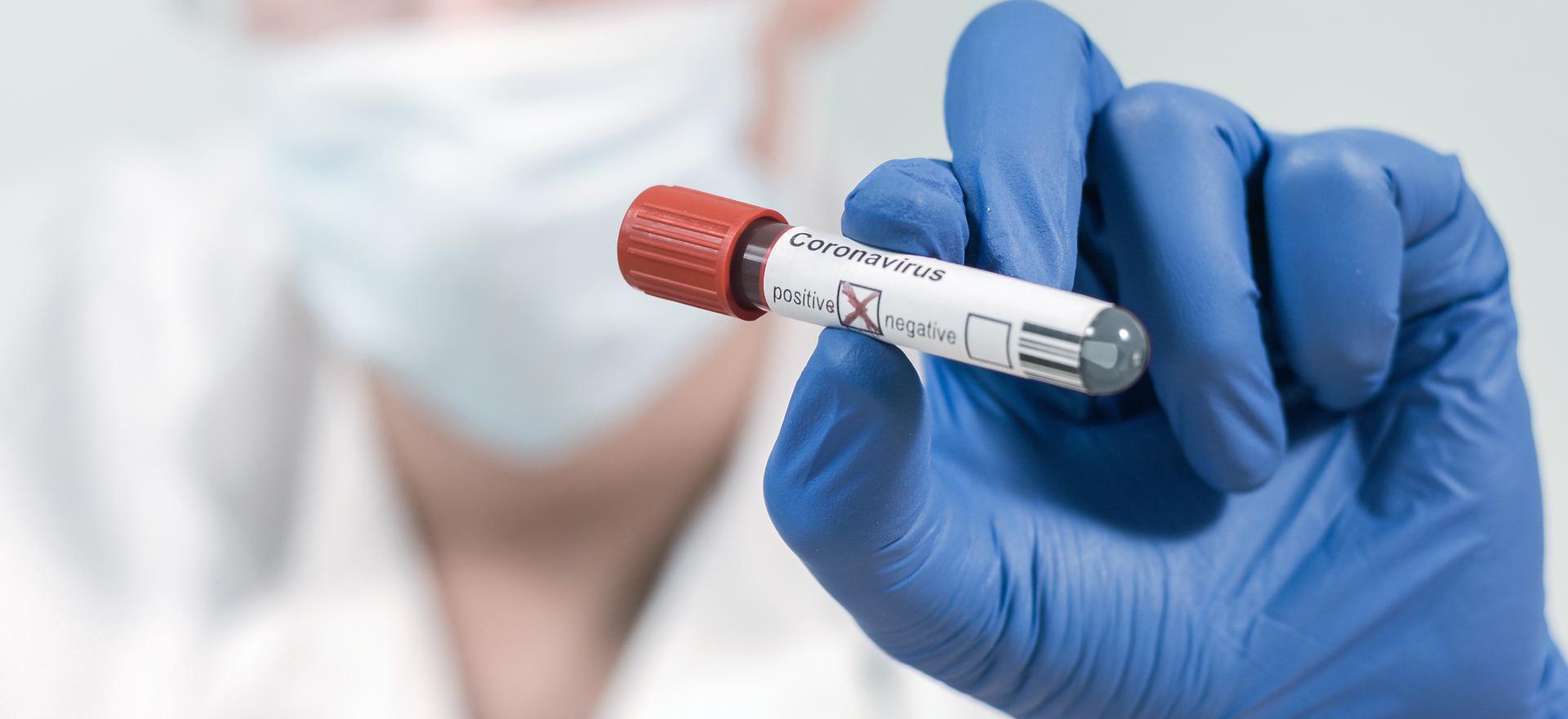 COVID-19 IgG Antibody Test
Health Street offers COVID-19 antibody tests to determine if someone has antibodies to the novel Coronavirus. Business owners can screen employees to find out if they might have been exposed to the virus, and individuals can obtain affordable IgG antibody tests to see if they may have been exposed to or recovered from COVID-19.
Ordering a COVID-19 IgG antibody test from Health Street is fast and easy. You can register for a Coronavirus IgG antibody test by simply clicking the link above. Then choose the location that is the best for you or your staff. The phlebotomists that collect the specimens have physician oversight. Results will be reviewed by PWNHealth and delivered as soon as they are ready. You may discuss your results with PWNHealth's Care Coordination Team and schedule a telehealth consultation with a physician or other healthcare provider. Register online or call (888) 378-2499 to order tests.
Workforce Screening, Digitally Delivered
Frequently Asked Questions
Quick Links:
What Are Some Serious Symptoms of COVID-19?
If you feel like you are having a medical emergency, please call 9-1-1.
If you are experiencing any of the following, please seek immediate medical care:
error
severe trouble breathing
error
continuous pain or pressure in your chest
error
having difficulty waking up
error
blue-colored lips or face
error
any other emergency signs or symptoms
Where Can I Get More Information About Coronavirus?
What Is Serology?
local_hospital
FDA currently recommends that serology tests can be used to help identify people who may have been exposed to SARS-CoV-2 or have recovered from COVID-19
local_hospital
FDA explicitly states that "experience with other viruses suggests that individuals whose blood contains antibodies associated with SARS -CoV-2 infection — provided they are recovered and not currently infected with the virus — may be able to resume work and other daily activities in society"
local_hospital
Serology tests cannot be used to diagnose COVID-19
local_hospital
There are currently no concrete evidence or guidelines that outline a return to work strategy based on serology alone, and reinfection may occur despite positive antibodies
What Benefits Come With COVID-19 Antibody Testing?
These IgG antibody tests determine if someone was exposed to SARS-CoV-2, the virus that causes COVID-19, by detecting whether they have produced antibodies. It does not determine if someone is actively infected. While there is not yet confirmation that antibodies provide protection against future infection, experience with other viruses indicates that antibodies usually give immunity from further infection.
Are There Any Limitations to a COVID-19 Antibody Tests?
If you get a coronavirus antibody test too soon after being infected, it may cause a false negative result. Furthermore, some individuals who do get infected with COVID-19 may not develop enough antibodies to be detected by this test, such as people with a weakened immune system due to a medical condition or certain medications. Additionally, this test may detect antibodies from a prior exposure to a coronavirus other than COVID-19, which can result in a false positive.
If you have additional questions about whether or not to get tested, check out our guide to inform you about what to know before getting a COVID-19 test.
What Are COVID-19 Antibody Tests From Health Street For?
SARS-CoV-2 antibody testing is not for everyone. You should only get this test if you are not feeling sick or DO NOT have the symptoms associated with COVID-19.
An IgG antibody test from Health Street is right for you if…
check
You've had a physician diagnose you with, or you suspect you were infected with COVID-19, but are not experiencing any symptoms now.
check
You want to know if the illness you experienced was, in fact, COVID-19.
check
You haven't had a fever for more than 24 hours.
You should NOT get this test if…
dangerous
You are feeling sick or have had a fever in the last 24 hours.
dangerous
You think you're currently infected with COVID-19 or have symptoms consistent with COVID-19
dangerous
You were in contact with someone infected within the last 2 weeks
dangerous
You have a condition that compromises your immune system
How Is a Coronavirus Antibody Test Performed?
This test is conducted by collecting a blood sample (such as from a finger prick or needle draw).
How Do I Prepare for the Test?
You do not need to do anything to prepare for the test. You do not need to fast or stop taking any medications before testing. Further instructions will be provided to you at the lab or in your test kit.
What Do the Results Tell Me?
This antibody test will show whether or not you have developed antibodies to COVID-19.
Positive Result
A positive COVID-19 antibody test means that IgG antibodies were found in your blood specimen. This indicates that you have been exposed to COVID-19. Generally, this means that your immune system has responded by producing IgG antibodies to protect you against reinfection, but a lot is still unknown about COVID-19. Experts are still finding out the facts about Coronavirus antibody testing and the virus in general.
If your result is positive, you should follow up with your doctor and consult with your employer. A positive result should not be the sole factor determining whether or not you should return to work. You should still maintain social distancing, wear a mask outside of the home, and monitor yourself for symptoms.
Negative Result
A negative COVID-19 antibody test means that IgG antibodies were not found in the sample you provided. This does not mean you're not at risk or have not contracted COVID-19.
If you were recently exposed to someone with COVID-19, or previously had symptoms of COVID-19, there is a possibility that you tested too soon for your body to have produced enough​ antibodies to be detected by the test. If so, you might consider taking another test in a week or two.
Equivocal or Indeterminate Result
Tests can also come back equivocal, which means the test couldn't determine if you've been exposed to COVID-19 or not. If you get an indeterminate COVID-19 antibody test result, you will need to get retested to determine whether you have IgG antibodies or not.
Consultation
After you receive your results from Health Street, you will have an opportunity to have a verbal or telehealth consultation with an independent licensed physician or other healthcare provider from PWNHealth, who can answer any questions you may have about your test results and help determine next steps.
Who Is PWNhealth?
PWNHealth is an independent healthcare provider network that provides oversight services to you in connection with Health Street's COVID-19 Antibody testing, including determination of whether to authorize the test, review of results, and verbal or telehealth consultation after the results are ready, if necessary. PWNHealth and its services are independent from Health Street and its partner laboratories.
How Much Does an IgG Test Cost for COVID-19?
COVID-19 IgG antibody testing from Health Street costs $149.
What Is Included?
all_inclusive
Independent physician oversight
all_inclusive
All lab fees
all_inclusive
Specimen collection at a Health Street patient service center or clinic
About Our COVID-19 IgG Antibody Test
The COVID-19 IgG antibody testing, also known as serology testing, checks for immunoglobulin G (IgG). This is a protein that the body produces in the later stages of COVID-19 infection. It normally takes between 2 and 3 weeks after the body is exposed to COVID-19 for the immune response (IgG antibodies) to develop.
Other forms of COVID-19 antibody testing detect different antibodies the body produces. The IgG antibodies provide the best clues to long term immunity because they are longer-lasting and more specific than other types.
While the test result should not be used as the only indication if a person has been exposed to COVID-19 (a health care provider's evaluation and exposure history are also important factors), it will enable doctors, employers and individuals to make more informed decisions going forward.
FDA Authorizes COVID-19 Antibody Testing
Testing for COVID-19 antibodies is still being evaluated. In March 2020, the Food and Drug Administration (FDA) authorized COVID-19 IgG antibody testing under an Emergency Use Authorization (EUA). This means that while the FDA believes in the efficacy of the test enough to allow it to be administered, it hasn't been subjected to the rigorous process that warrants FDA approval yet.
FDA Disclaimers
account_balance
This test has not been approved by the FDA.
account_balance
Negative results do not rule out SARS-CoV-2 infection, particularly in those who have been in contact with the virus. Follow-up testing with a molecular diagnostic should be considered to rule out infection in these individuals.
account_balance
Results from antibody testing should not be used as the sole basis to diagnose or exclude SARS-CoV-2 infection or to inform infection status.
account_balance
Positive results may be due to past or present infection with non-SARS-CoV-2 coronavirus strains, such as coronavirus HKU1, NL63, OC43, or 229E.
Why Choose Health Street
Health Street's pledge to you:
There are many testing companies and labs that are offering COVID-19 antibody testing under the EUA. Because of the nature of the pandemic, some of these tests have been shown to have low sensitivity or specificity, and in some cases, high false positive rates. Health Street follows a time tested strategy to protect you: we work with only the best, most respected, national laboratories with decades of experience and track records of excellence. We will not offer "budget" options that put your health and the community at risk. We will only send blood specimens to LabCorp and Quest.
Citations
menu_book
Some States Are Learning What Happens to COVID-19 Cases If You Reopen, https://www.healthline.com/health-news/covid19-cases-rising-states-reopened
menu_book
COVID-19 Serology Testing Explained, https://www.asm.org/Articles/2020/May/COVID-19-Serology-Testing-Explained
menu_book
Cases in the US, https://www.cdc.gov/coronavirus/2019-ncov/cases-updates/cases-in-us.html
menu_book
Coronavirus disease 2019 (COVID-19) – Symptoms and causes, https://www.mayoclinic.org/diseases-conditions/coronavirus/symptoms-causes/syc-20479963