Drug Testing and DNA Testing – Pleasanton, CA
Health Street provides DNA, paternity, drug and alcohol testing in Pleasanton, CA at 4 conveniently located testing centers. Call (925) 248-3332 or register online for drug tests or DNA tests. We offer drug testing panels including options such as Department of Transportation DOT and non-DOT urine drug tests, breath alcohol tests, EtG alcohol tests, and hair follicle drug tests. Paternity tests and DNA tests for siblings, aunts, uncles, and grandparents are also performed at our lab.
Register for your employees, yourself, or a third party. An authorization barcode and map of the clinic will be sent to you immediately (or to the person you specify) via text and email. Test results are fast, signed by a doctor, and reported securely online.
Workforce Screening, Digitally Delivered
Awesome customer service!!!
Lela Means
10/17/2020
St. Vincent DePaul – Eugene OR

Amazingly simple! Tried other companies and their process was ridiculous. From the time I logged into your website til the time I got the results was less than an hour. Excellent! Thank you
Troy Wilhite
8/13/2018
Wilhite Electric Inc.
Ms. Gamble is very professional and responsive. Great employee of Health Street.
Jesse
1/11/2018
Placing the phone call for the exam was very quick and simple. Going to the facility to do the testing was efficient and getting my results was a breeze. I appreciate the ease of the process and email and text alerts.
Paola
1/3/2018
Quick over the phone service local to me. Needing a 5 panel drug test for work.
Paola
12/22/2017
1 of 4
5720 Stoneridge Mall Road
Pleasanton
,
CA
94588
2 of 4
3128 Santa Rita Road
Pleasanton
,
CA
94566
3 of 4
5635 W Las Positas Blvd
Pleasanton
,
CA
94588
4 of 4
1763 Santa Rita Road
Pleasanton
,
CA
94566
Drug Testing in Pleasanton, California
Types of Drug Testing in Pleasanton, California
Health Street offers drug testing services such as: 5 panel drug test up to 22 panels, Department of Transportation DOT drug test, rapid results or laboratory testing, with or without alcohol EtG test included, the option to exclude THC, and more. Get these tests done at Pleasanton drug testing locations.
Our selection of chain of custody urine drug testing services and drug screenings allow you to test for nearly any drug consumed in the recent past. They are recommended for employee drug testing or court orders. The number of panels in a panel drug test refers to classes of drugs (i.e., marijuana, cocaine, etc.).
This is the traditional, basic urine drug test for street drugs, including:
check_circle
Marijuana (THC, cannabinoids, weed)
check_circle
Amphetamines (Adderall, Ritalin, methamphetamines)
check_circle
Basic Opiates (heroin, morphine, codeine)
check_circle
Phencyclidine (PCP – angel dust)
This is urine testing that includes all of the above plus the following prescription drugs:
check_circle
Benzodiazepines (Valium, Klonopin, Xanax)
This is a great option for employment drug testing in Pleasanton, California – it includes well known street drugs and prescription drugs, including all 9 of the ones listed above, plus methaqualone.
***Health Street Recommends 12 Panel***
expanded opiates
and Ecstasy. This test is a 10 panel plus:
check_circle
MDMA/6AM (Ecstasy, Molly)
check_circle
Hydromorphone (Vicodan, Percocet, Oxycontin)
16 Panel Opiate Drug Test – $250
As the opioid epidemic continues to rise and impact Pleasanton, it is important to be aware that many of the dangerous, synthetic opiates are not picked up by lower panel tests. Our 16 panel picks up these 4 additional opiate classes in addition to the drugs included above:
check_circle
Meperidine (Demerol)
check_circle
Buprenorphine (Suboxone)
There are many more urine drug screens in Pleasanton facilities. Our testing panels go up to a 22 panel drug test, including specialized tests for synthetic marijuana, bath salts, nicotine, ketamine, rohypnol, and more. For results of chain of custody testing with MRO review, we are widely considered to be the fastest lab in Pleasanton , California. Drug testing in Pleasanton is easy with Health Street.
Alcohol Testing in Pleasanton , California
Alcohol testing is done through urine, hair, breath, or blood. Basic urine alcohol tests (12 hour look-back) or EtG urine alcohol testing (3 day look-back) can be added to any of our drug testing panels, or they can be done on a standalone basis. Choose the type of alcohol drug testing that looks back at the specific period of time that matters to you:
category
Breath Alcohol Tests
are the most appropriate tests to use in the workplace if on-the-job alcohol use is suspected, or after any accidents.
On-site breathalyzers
in the Pleasanton, CA area are also available for emergencies.
category
Hair EtG Test
is a hair follicle alcohol test that goes back 3 months
DOT Drug and Alcohol Testing Services – Pleasanton , CA
Health Street's Pleasanton facilities offer DOT drug and breath alcohol tests that comply with 46 CFR Part 40. Urine specimens are processed at SAMHSA certified laboratories. Members of our Random Pool get discounts on DOT drug testing.
Health Street administers DOT Random Pools for companies of all sizes based in and around Pleasanton, across California. Our local presence combined with our national clinic network and easy online pool management makes DOT compliance a breeze.
Many Pleasanton businesses and residents are involved, directly or indirectly, with maritime, and therefore, they are regulated by the United States Coast Guard and must comply with the strict USCG regulations. Our Pleasanton clinics offer a specially designated USCG Merchant Marines Drug Test Package, which includes everything you need to meet the USCG DOT drug test requirements.
Hair Follicle Drug Testing Pleasanton , CA
Hair drug tests can detect drug or alcohol use for a far greater period of time – 90 days – than a standard urine drug test. Hair drug testing is performed at our Pleasanton drug testing places. We cut a small amount of either head hair or body hair. The hair is analyzed by our testing laboratory. We offer several panel drug tests.
Hair Drug Test Options
blur_on
5 Panel Hair Follicle Drug Test
blur_on
9 Panel Hair Follicle Drug Test
blur_on
12 Panel Hair Follicle Drug Test
StaffGlass™ eResults Portal for Employers
Employers get free access to premium customer service by phone and our award winning online StaffGlass™ eResults portal. Once securely logged into StaffGlass™, business users can set up their drug testing program, including:
how_to_reg
Securely order pre-employment, random, post-accident, or reasonable suspicion drug testing
how_to_reg
View fastest results
how_to_reg
Order and view eSignature employee documents such as policies and procedures, job applications, and more
how_to_reg
Setup a random drug testing pool or a drug-free workplace program, and add or remove staff to be included
DNA Test – Pleasanton, California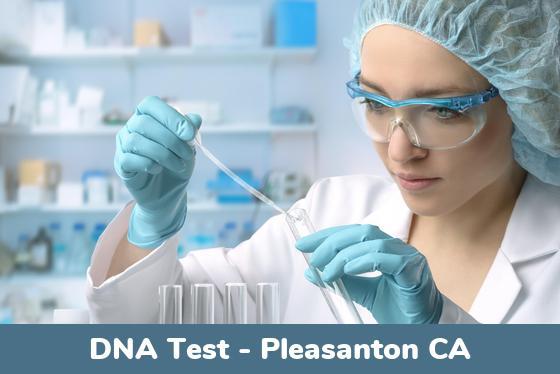 Types of DNA Tests at our Pleasanton, California clinics:
Paternity Testing can conclusively establish whether or not a man is the biological father of a child.
Relationship Testing for other close family relationships can be performed at our testing centers. Our DNA testing services can confirm or deny biological relationships between grandparents, grandchildren, siblings, half-siblings, aunts, uncles, nieces and nephews:
Specimens we can test for DNA
The easiest and most reliable way to obtain a DNA sample for paternity testing is to swab the inner cheeks of the alleged father and child or children. These skin cells are known as buccal cells, and they rub off easily onto cotton swabs and remain in place for analysis by our laboratory.
Other specimen samples, such as hair follicles, fingernails, and garments that might contain someone's DNA, can also be tested. An Alternative Specimen DNA Test is done by ordering one of our testing kits online and shipping the specimens back to us.
Legal DNA Tests vs. "Peace of Mind" At-Home Tests
A Legal Paternity Test is a court admissible lab testing service performed at an AABB accredited laboratory. Accurate results for DNA paternity testing with 99.99% confidence or greater take about a week.
When deciding which type of DNA test is right for you, consider first what you might do with the results. A legal paternity DNA test will hold up in court for such matters as child support or to change the name on a birth certificate. This test must be performed using strict chain of custody procedures. Our Pleasanton DNA testing technicians are trained to follow these guidelines so that the results will be legally admissible.
How to schedule a DNA Test in Pleasanton CA
Scheduling a DNA test at one of our Pleasanton clinics is simple and fast, and we often have appointments available in the same week. It's always helpful to schedule in advance to make sure you get the time you want. Please call our customer service team to help you book your appointment over the phone, or set up your appointment easily online.
We have state of the art testing labs and friendly clinics that perform the DNA sample collection in Pleasanton, plus many more locations throughout California and across the United States. During registration, we'll show you the nearest locations for DNA testing so you can choose the site that's most convenient. You'll also pick the times and days that you prefer.
Why Health Street
Over a Decade of Experience
Health Street has been performing DNA testing and drug testing nationally since 2010. The first Pleasanton, CA drug test was provided by Health Street in 2016. In fact, we have successfully completed 91 drug tests at our Pleasanton testing centers since then. We have helped thousands of people from Pleasanton to communities all across the USA get DNA tests and paternity tests.
Dedication to Excellence
We are dedicated to providing an optimal experience for drug testing and DNA testing in Pleasanton. We are committed to excellence in the services that we provide to residents, businesses, and the entire community.
Locations
Clinic Hours and Information for our Labs in Pleasanton, California
5720 Stoneridge Mall Road
Suite 110
Pleasanton, CA 94588
Pre-registration required,
Walk-in with barcode:
---
Monday: 9:00 AM – 4:00 PM
Tuesday: 9:00 AM – 4:00 PM
Wednesday: 9:00 AM – 4:00 PM
Thursday: 9:00 AM – 4:00 PM
Friday: 9:00 AM – 4:00 PM
About this Location:
We are around the corner from Moller Park.
3128 Santa Rita Road
Pleasanton, CA 94566
Pre-registration required,
Walk-in with barcode:
---
Monday: 8:00 AM – 8:00 PM
Tuesday: 8:00 AM – 8:00 PM
Wednesday: 8:00 AM – 8:00 PM
Thursday: 8:00 AM – 8:00 PM
Friday: 8:00 AM – 8:00 PM
Saturday: 9:00 AM – 1:00 PM
Sunday: 9:00 AM – 1:00 PM
About this Location:
We are in walking distance from Fairlands Park.
5635 W Las Positas Blvd
Pleasanton, CA 94588
Pre-registration required,
Walk-in with barcode:
---
Monday: 8:00 AM – 5:00 PM
Tuesday: 8:00 AM – 5:00 PM
Wednesday: 8:00 AM – 5:00 PM
Thursday: 8:00 AM – 5:00 PM
Friday: 8:00 AM – 5:00 PM
About this Location:
Our clinic is in walking distance from Creekside Park. We hope to see you here soon.
1763 Santa Rita Road
Pleasanton, CA 94566
Pre-registration required,
Walk-in with barcode:
---
Monday: 7:00 AM – 4:00 PM
Tuesday: 7:00 AM – 4:00 PM
Wednesday: 7:00 AM – 4:00 PM
Thursday: 7:00 AM – 4:00 PM
Friday: 7:00 AM – 4:00 PM
About this Location:
Our lab is located a short walk from Orloff Park.
Additional Services
Health Street offers additional employment screening services in Pleasanton, including: