When Employees Test Positive for COVID-19
Since COVID-19 is a highly communicable disease, an outbreak in the workplace is always a possibility. These factors play a central role in how businesses are choosing to operate in 2020, influencing their decisions on COVID-19 testing, the hiring and onboarding processes, and how to handle legal liability implications tied to coronavirus outbreaks in the workplace.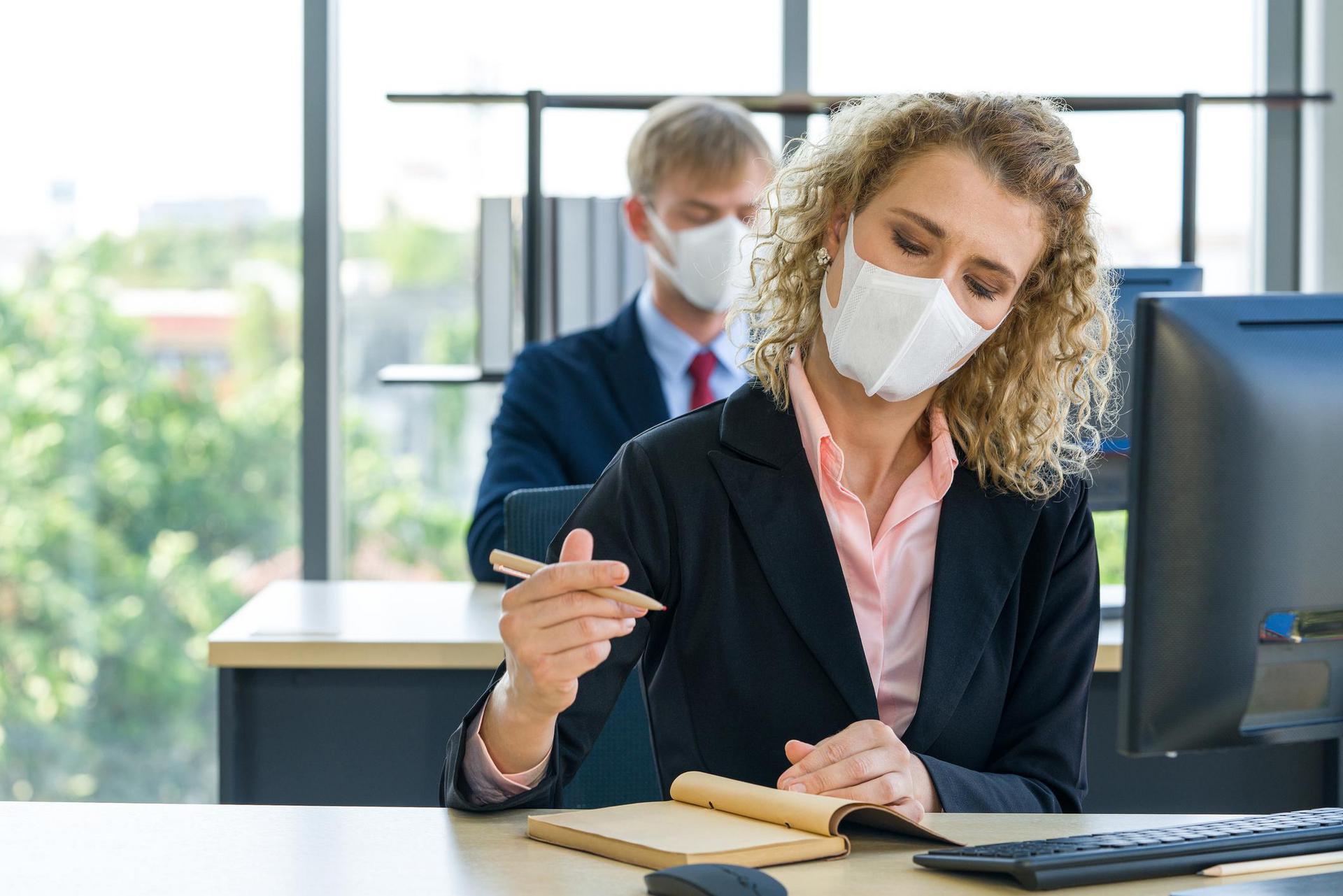 COVID-19 Testing Protocols in the Workplace
The spread of COVID-19 has disrupted many of the routine procedures employers had in place before the pandemic. Workplace safety topics currently revolve around whether it is feasible for a business to go fully or partially remote. Those who have remained in their brick-and-mortar establishments have largely made socially distant work accommodations to help slow the spread of coronavirus among employees.
While employers have a natural incentive to keep their employees safe and healthy to a reasonable degree, they must also now contend with the potential legal liability for COVID-19 outbreaks in the workplace. For these reasons, many employers are contemplating mandatory COVID-19 testing for new hires and current employees. However, what employers ultimately decide to do with the test results may also invite legal liability issues. Below we discuss what employers should know about planning for coronavirus at work.
Is mandatory COVID-19 testing an ADA or HIPAA violation?
The Americans with Disabilities Act prohibits workplace discrimination based on disability, including COVID-19 illness. Under this law, employers can only require mandatory medical examinations or tests if they are job-related and "consistent with business necessity." However, if a current or potential employee contracts the virus, they pose a direct threat to other employees they may come into contact with within the workplace. For this reason, employers can use COVID-19 tests as a mandatory screening examination.

The Health Insurance Portability and Accountability Act, or HIPAA, requires that individuals' health information remain protected and confidential. While you should consult with an attorney to confirm your specific circumstances, as a general rule, employment screening services that are not covered or paid for by health insurance are not subject to HIPAA. Regardless, disclosing the health status or related information of a new hire or employee who tests positive for coronavirus is never going to be a good idea. Even when HIPAA does not apply, there are numerous other laws that govern the protection and/or disclosure of personally identifiable information.
Should COVID-19 testing be a part of the onboarding process?
Since employers can legally mandate COVID-19 testing, many employers may consider incorporating the test into the hiring and onboarding processes. The Equal Opportunity and Employment Commission, or EEOC, states that employers can screen job applicants for COVID-19 after making a conditional job offer, so long as the test is administered to all entering applicants in the same type of job. Conducting COVID-19 tests before bringing a new hire on may help slow the spread of coronavirus in the workplace, protecting current employees from the disease, in addition to protecting the company from legal liability if an outbreak were to occur. Other employers may find that COVID-19 Antibody Testing is more appropriate.
What should an employer do if a new hire tests positive for COVID-19?
The EEOC also states that employers can withdraw a job offer if an applicant tests positive for coronavirus and if the job opening in question must be filled immediately. Otherwise, an employer can opt to defer employment until the applicant recovers or tests negative for the coronavirus at a later date.

Employers should be aware that if they must withdraw a job offer, an applicant may still bring a discrimination suit against them. One of the best ways to avoid this situation is by providing the applicant with a detailed document outlining the reason for the rescinded job offer. This type of document may help the applicant secure Pandemic Unemployment Assistance in the interim period between jobs, thus reducing the likelihood of their filing a civil suit against the employer.

If a new hire develops symptoms of COVID-19 after accepting a job offer and beginning to work on-site, employers should immediately separate the new hire from other employees and clients. Ideally, the new hire should be tested for COVID-19 again, although employers cannot require a positive test result to justify sick leave. The new hire should isolate at home and return to work once they meet certain criteria laid out per the CDC's official guidelines.

Employers do not necessarily have to shut down after discovering that a new hire tests positive or displays symptoms of coronavirus. However, the areas used by the sick employee should be roped off for 24 hours (or as long as possible) before being thoroughly cleaned and disinfected. Employers should also notify other employees of a potential case of coronavirus in the workplace without violating the confidentiality requirements granted to the sick employee under HIPAA.
To what extent are employers liable for COVID-19 outbreaks in the workplace?
Under the federal Occupational Safety and Health Act or OSHA, employers have a general duty to provide their employees a work environment that is "free from recognized hazards that are causing or are likely to cause death or serious physical harm to his employees." This means that employers may be held legally liable for coronavirus outbreaks that can be traced back to their buildings or facilities. Thus, social distancing may not be enough to protect a business from legal consequences associated with COVID-19. Employers should be especially vigilant when it comes to planning for coronavirus at work and its legal implications at this time.
Citations
library_books
United States Department of Justice Civil Rights Division. (n.d.). ADA – Fighting Discrimination in Employment Under the ADA. ADA. Retrieved August 3, 2020, https://www.ada.gov/employment.htm
library_books
U.S. Equal Employment Opportunity Commission. (2020, June 17). What You Should Know About COVID-19 and the ADA, the Rehabilitation Act, and Other EEO Laws | U.S. Equal Employment Opportunity Commission. EEOC. Retrieved August 3, 2020, https://www.eeoc.gov/wysk/what-you-should-know-about-covid-19-and-ada-rehabilitation-act-and-other-eeo-laws#:%7E:text=The%20ADA%20requires%20that%20any,because%20an%20individual%20with%20the
library_books
Centers for Disease Control and Prevention. (2018, September 14). Health Insurance Portability and Accountability Act of 1996 (HIPAA) | CDC. Retrieved August 3, 2020, https://www.cdc.gov/phlp/publications/topic/hipaa.html
library_books
U.S. Department of Labor. (n.d.-b). Unemployment Insurance Relief During COVID-19 Outbreak. DOL. Retrieved August 3, 2020, https://www.dol.gov/coronavirus/unemployment-insurance
library_books
Centers for Disease Control and Prevention. (2020, July 11). General Business Frequently Asked Questions. CDC. Retrieved August 3, 2020, https://www.cdc.gov/coronavirus/2019-ncov/community/general-business-faq.html
library_books
Centers for Disease Control and Prevention. (2020, July 20). Discontinuation of Isolation for Persons with COVID-19 Not in Healthcare Settings. CDC. Retrieved August 3, 2020, https://www.cdc.gov/coronavirus/2019-ncov/hcp/disposition-in-home-patients.html
library_books
U.S. Department of Labor. (n.d.-a). OSH Act of 1970 | Occupational Safety and Health Administration. OSHA. Retrieved August 3, 2020, https://www.osha.gov/laws-regs/oshact/section5-duties