Drug Testing in Salem, Oregon
Health Street's drug testing centers in Salem, Oregon offer easy-to-access and comprehensive drug and alcohol testing services. Pre-register by calling (971) 600-2270 or setting up your drug testing online. Options include urine or hair drug testing, DOT or non-DOT drug tests, and alcohol testing.
You can register for drug testing in Salem, OR for your employees, yourself, or another person. Just select a urine test or hair drug test; then, pick the most convenient Health Street location – we have 3 clinics in Salem. Upon registration, a barcode will be sent to whomever you register, which can be presented at the testing facility. Test results are reported back to you quickly and securely online.
Workforce Screening, Digitally Delivered
Super easy to schedule, efficient and prompt. Couldn't ask for any better.
Karen
9/22/2021
West Coast Contractors Inc.
1 of 3
3110 25th St Se
Salem
,
OR
97302
2 of 3
2535 25th St Se
Salem
,
OR
97302
3 of 3
1696 Capitol St Ne
Salem
,
OR
97301
Drug Testing in Salem, Oregon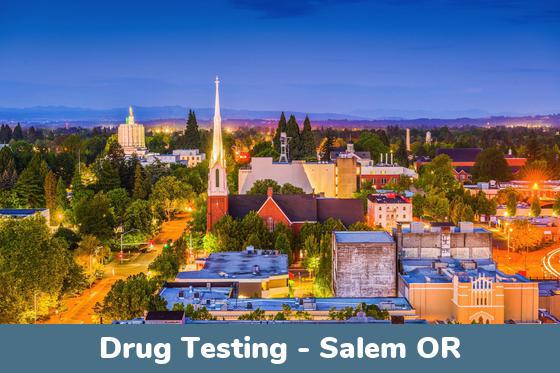 Get a Drug Test in Salem, Oregon:
In Salem, Health Street offers the widest variety and selection of drug tests anywhere, which allows you to choose from any panel you wish, with rapid results or sent to our lab, using a urine sample or a hair sample. Most of our tests have an option to add alcohol or remove THC from the screening, so that we can always meet your specific requirements.
The number of urine drug testing services and drug screening panels that we offer means that you can test for nearly any drug.
The most basic test we offer is a 5 Panel Drug Test, which tests for:
arrow_right_alt
Marijuana (THC, cannabinoids, weed)
arrow_right_alt
Phencyclidine (PCP – angel dust)
arrow_right_alt
Amphetamines (Adderall, Ritalin, methamphetamines)
arrow_right_alt
Basic Opiates (heroin, morphine, codeine)
The next option up from there is the 9 Panel Drug Test, which adds in some commonly abused prescriptions:
arrow_right_alt
Benzodiazepines (Valium, Klonopin, Xanax)
arrow_right_alt
Barbiturates
arrow_right_alt
Methadone
arrow_right_alt
Propoxyphene
When asked, we often recommend the 12 Panel Drug Test because it is a well rounded test that screens for common opioids and ecstasy, including:
arrow_right_alt
MDMA/6AM (Ecstasy, Molly)
arrow_right_alt
Expanded opiate class: Oxycodone, Oxymorphone, Hydrocodone, Hydromorphone (Vicodan, Percocet, Oxycontin)
If you're at all concerned with opiate usage beyond basic painkillers, just as many people in Salem are, consider registering for a 16 Panel Opiate Drug Test. These synthetic opiates are not picked up by lesser panel tests.
arrow_right_alt
Meperidine (Demerol)
arrow_right_alt
Buprenorphine (Suboxone)
The above is just a sampling of the wide variety of urine tests we offer. You can view all urine drug screens offered at our Salem OR drug testing centers, which includes tests that go up to 22 panels, specialized tests for synthetic marijuana and bath salts, ketamine and rohypnol, GHB and more.
Alcohol Drug Tests
Alcohol use can be detected by our Salem drug testing locations. You can select our EtG test for alcohol (which has a 3 day look-back), or add it to any of our drug tests. Choose the alcohol drug testing that looks back at the specific period of time that matters to you:
DOT Drug and Alcohol Testing in Salem, Oregon
Our Salem facilities have technicians certified to perform DOT drug testing and breath alcohol tests. Random Pool Membership is offered, and members get discounted pricing on DOT drug tests. And because we know that many Salem businesses and residents are involved with shipping or maritime in one way or another, we help you comply with the strict USCG drug testing regulations. We have a pre-set DOT package specifically tailored just for the USCG (US Coast Guard) Drug Testing requirements. It includes everything you need from the SAMHSA lab to the MRO signed USCG-719P report.
Hair Drug Testing in Salem, Oregon ✂
Hair Drug Tests go back up to 90 days. We do these at our Salem drug testing locations with a small hair sample from the scalp or body.
Additional services from Employers: StaffGlass™
Employers get access to the amazing StaffGlass™ portal. Once logged in, business users can:
arrow_right_alt
Register for drug or alcohol tests and pick clinics nationwide; view results and status of all tests
arrow_right_alt
Manage eSign documents related to the testing process
arrow_right_alt
Set up a random pool, add or remove staff, update staff employment status
Why Health Street
Over a Decade of Experience
Health Street has been performing drug testing nationally since 2010. The first Salem, OR drug test was provided by Health Street in 2016. In fact, we have successfully completed 115 drug tests at our Salem testing centers since then.
Dedication to Excellence
We are committed to providing excellent services and to helping businesses and families obtain the drug testing in Salem that they require.
Salem, Oregon – Drug Testing
Substance abuse statistics for Salem, Oregon
arrow_forward_ios
The overdose death rate increased from 12.4 per 100,000 in 2015 to 18.8 per 100,000 residents in 2020
arrow_forward_ios
arrow_forward_ios
The age-adjusted death rate caused by opioid overdose decreased from 2009 to 2019 from 9.5 to 7.6 per 100,000 residents
Salem, Oregon: Drug abuse trends
In 2020, about 12 percent of Oregonians confirmed an alcohol problem, almost seven percent more than the number reported in 2019. One of the most significant issues in Oregon is the lack of access to treatment services. Individuals who struggle with substance abuse have the worst access to treatment among all states in the USA. About 18 percent of teens and adults in Oregon could not get the treatment they needed in 2020, which increased from 9 percent in 2019.
Prescription opioid misuse and abuse in Oregon are very high, and methamphetamine abuse is climbing at an alarming rate. In 2019, around one percent of Oregon residents had issues with methamphetamine, and in 2020 the number nearly doubled. At about 2 percent, methamphetamine Oregon ranks number one in the country for methamphetamine abuse.
Although heroin and cocaine use has decreased in the state, Oregon still ranks as the 11th highest state for abuse of these substances. During the 2020 pandemic, most states saw a rise in substance and alcohol abuse. Oregon was no exception and saw numbers for alcohol addiction in the state double.
Local initiatives to curb drug abuse in Salem, OR
In 2020, Oregon passed Measure 110 to decriminalize the personal possession of small amounts of certain illegal drugs. The state planned to combine the savings earned from criminal penalty reductions with the sales tax from marijuana sales to develop more sufficient substance treatment and recovery programs.
The Oregon Health Authority (OHA) has implemented many plans to lower the rate of opioid abuse in the state, some of which include:
arrow_right
Expanding access to naloxone kits to reduce the number of fatal drug overdoses
arrow_right
Increasing the amount of testing strips available for fentanyl
arrow_right
Reducing the number of opioid prescriptions
Last updated 9/19/2022
Locations
Clinic Hours and Information for our Labs in Salem, Oregon
3110 25th St Se
Salem, OR 97302
Pre-registration required,
Walk-in with barcode:
---
Monday: 7:00 AM – 5:30 PM
Tuesday: 7:00 AM – 5:30 PM
Wednesday: 7:00 AM – 5:30 PM
Thursday: 7:00 AM – 5:30 PM
Friday: 7:00 AM – 5:30 PM
About this Location:
We are very close by to Stone Quarry Lake. It is easy to find us.
2535 25th St Se
Salem, OR 97302
Pre-registration required,
Walk-in with barcode:
---
Monday: 8:00 AM – 4:00 PM
Tuesday: 8:00 AM – 4:00 PM
Wednesday: 8:00 AM – 4:00 PM
Thursday: 8:00 AM – 4:00 PM
Friday: 8:00 AM – 4:00 PM
About this Location:
Instant Drug Testing in Salem, Oregon is available at this clinic across from Cascades Gateway City Park.
1696 Capitol St Ne
Salem, OR 97301
Pre-registration required,
Walk-in with barcode:
---
Monday: 8:00 AM – 5:00 PM
Tuesday: 8:00 AM – 5:00 PM
Wednesday: 8:00 AM – 5:00 PM
Thursday: 8:00 AM – 5:00 PM
Friday: 8:00 AM – 5:00 PM
About this Location:
This office is conveniently located a short walk from Barrick Field.
Neighborhoods in Salem Served by our Clinics
location_city
South Central
location_city
South Gateway
location_city
Northeast Neighbors
location_city
Badger Corner
location_city
Southeast Salem
location_city
Grabenhorst Corner
location_city
Southeast Mill Creek
Local Reviews
By John on 8/17/2018
Rogue Runners Transport LLC
You knew something i didn't but you hung up on me without me finishing what I was going to say. Good. Easy to use and same day results and good services i would must have more access to on site DOT
Citations
menu_book
Reducing opioid overdose and misuse. Oregon Health Authority : Reducing Opioid Overdose and Misuse : Opioid Overdose and Misuse : State of Oregon. (n.d.). Retrieved September 19, 2022, from https://www.oregon.gov/oha/ph/preventionwellness/substanceuse/opioids/pages/index.aspx
menu_book
Measure 110 (2020) – oregon legislative assembly. (n.d.). Retrieved September 19, 2022, from https://www.oregonlegislature.gov/lpro/Publications/Background-Brief-Measure-110-(2020).pdf
menu_book
Published: Dec 13, 2021. (2022, April 21). Mental health and substance use state fact sheets. KFF. Retrieved August 29, 2022, from https://www.kff.org/statedata/mental-health-and-substance-use-state-fact-sheets/oregon/
menu_book
Lynne Terry, O. C. C. F. 7. (2022, February 7). Addiction to drugs, alcohol deepens in Oregon, report shows. Oregon Capital Chronicle. Retrieved August 29, 2022, from https://oregoncapitalchronicle.com/2022/02/07/oregon-has-worst-drug-addiction-problem-in-the-nation-report-shows/