Drug Testing in Oceanside, California
Health Street provides drug and alcohol testing in Oceanside, California at 4 drug testing centers. Whether you need drug and alcohol testing for your employees, yourself, or a family member, you can rest assured that Health Street drug testing services in Oceanside, California provide a safe and clean environment and accurate results. We'll send a barcode authorization for the urine or hair drug test that you choose by text and email, along with a map to the clinic address.
Register for urine or hair drug tests in Oceanside, CA quickly and easily online. Drug testing panels include Department of Transportation (DOT) and non-DOT urine drug tests, breath alcohol tests, EtG alcohol tests, and hair drug testing. Test results are fast, reviewed by our Medical Review Officer (an MRO), and reported safely and securely online. You can also call (760) 279-8252 with any questions about our employment screening services.
Workforce Screening, Digitally Delivered
Will definitely use your service again! thanks for your prompt results!
Theresa L Heule
9/26/2021
HealthPro Pediatrics

I submitted a urine sample to Quest on Friday 5212021 and have yet to receive the results!
George Foushi
5/25/2021
Very professional
Kim lee
12/5/2019
Absolutely and completely satisfied with your service Health-Street and the service received by Quest.Thank you
Randall Godinet
11/1/2018
Very professional and quick results
Susan Price
10/3/2018
1 of 4
3601 Vista Way
Oceanside
,
CA
92056
2 of 4
3142 Vista Way
Oceanside
,
CA
92056
3 of 4
2191 S El Camino Real
Oceanside
,
CA
92054
4 of 4
3910 Vista Way
Oceanside
,
CA
92056
Drug Testing Oceanside, CA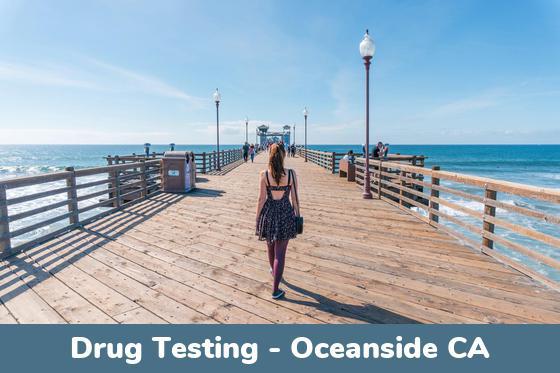 Get the Drug Test You Need in Oceanside CA Right Now
Health Street has the largest selection of drug testing and employment screening services in Oceanside. Employers can access our services to set up a drug free workplace, families can get court ordered drug testing, and attorneys and private individuals can register for non-DOT drug tests, Department of Transportation (DOT) drug tests, and more.
Available Drug Testing Methods
Popular Drug Testing Panels
local_drink
local_drink
local_drink
Specialized Categories of Tests
arrow_right
Choose from our
Alcohol Testing
options (such as breathalyzer, EtG test, or PEth blood alcohol)
DOT Drug Testing
Learn about our DOT drug and alcohol testing services, and how your company can maintain Department of Transportation (DOT) Compliance with 46 CFR Part 40, including:
Employee Drug Testing: eResults Portal for Employers
Business users get access to the amazing StaffGlass™ portal. When logged in, human resources and other company executives can manage their drug testing program, including:
arrow_right
Register for drug screenings for reasons such as: pre-employment, random, post-accident, or reasonable suspicion.
arrow_right
Get fast, accurate results in a safe and secure online portal.
arrow_right
Find a drug test clinic in Oceanside CA or pick from our lab testing locations anywhere in the United States; you can order your test online, view results, and check status of all tests
arrow_right
Manage eSign documents related to the testing process
arrow_right
Create an employee pool for random drug testing, add or remove staff, update staff employment status. StaffGlass™ is backed up by world class customer service, available Monday through Friday from 5:00 AM to 5:00 PM Pacific Time
Why Health Street
Over a Decade of Experience
Health Street has been performing drug testing nationally since 2010. The first Oceanside, CA drug test was provided by Health Street in 2016. In fact, we have successfully completed 77 drug tests at our Oceanside testing centers since then.
Committed to Excellence
Health Street has a long standing commitment to serve the people and businesses of Oceanside, California with the best drug testing services in town.
Business, Culture, and Drugs in Oceanside CA
Substance Abuse Trends and Statistics for the City of Oceanside, California
With so many individuals in Oceanside employed manufacturing sensitive pharmaceuticals and electronics, it's understandable that employers are concerned about drug abuse among their staff. In 2018 alone, there were 577 deaths in San Diego County that were related to drugs, alcohol, or medication.
Fentanyl is an ever-growing threat around Oceanside in San Diego County, with fentanyl-related deaths spiking in 2016. In 2018, 92 deaths related to fentanyl were recorded. Fentanyl is just one drug of abuse that police in Oceanside are tracking diligently and working hard to combat. In 2018, 360 individuals died as a direct result of drugs of abuse, which includes narcotics, stimulants, and marijuana, among others.
How the Community of Oceanside is Cracking Down on Drugs
With a police force of just under 300 individuals plus 139 volunteers, there are always more projects to be done to improve community safety. One recent initiative saw City Council passing an ordinance banning synthetic drugs, which often go by names like "fake weed" or "spice". This law, which was passed in 2016, would make it a misdemeanor to possess, display, sell, or distribute these drugs. Violators that are caught could face a $1,000 fine, or 6 months jail time.
One reason it's so critical to continue passing updated legislation is because drug manufacturers in Oceanside can simply change the drug's chemical makeup whenever a new law is passed. They've been able to stay ahead of law enforcement, and as a result, emergency calls related to these synthetic drugs have jumped more than 141% since 2010.
Learn About the Local Economy of Oceanside
The balmy city of Oceanside is one of California's most beautiful coastal cities. Along with Carlsbad and Vista, it forms the tri-city area, which is one of the most populated areas of San Diego County, California. It's full of sandy beaches that are perfect for surfing, as well as the historic Oceanside Pier.
Located just 35 miles north of the city of San Diego along I-5, the city is ideally placed so residents can work in town, or commute into the larger cities of San Diego or San Clemente.
Many residents of Oceanside work for public companies like MiraCosta Community College, or the Oceanside Unified School District, which serves over 18,000 students across 23 schools. Other private companies located in Oceanside include tech-focused TE Connectivity, Genentech Pharmaceuticals, and Hydranautics.
Locations
Clinic Hours and Information for our Labs in Oceanside, California
3601 Vista Way
Suite 104
Oceanside, CA 92056
Pre-registration required,
Walk-in with barcode:
---
Monday: 9:00 AM – 3:30 PM
Tuesday: 9:00 AM – 3:30 PM
Wednesday: 9:00 AM – 3:30 PM
Thursday: 9:00 AM – 3:30 PM
Friday: 9:00 AM – 3:30 PM
About this Location:
We are located in the same building as the Oceanside Pharmacy, not far from Hidden Canyon Community Park.
3142 Vista Way
Suite 100
Oceanside, CA 92056
Pre-registration required,
Appointment Required.
---
Monday: 8:00 AM – 6:00 PM
Tuesday: 8:00 AM – 6:00 PM
Wednesday: 8:00 AM – 6:00 PM
Thursday: 8:00 AM – 6:00 PM
Friday: 8:00 AM – 6:00 PM
Saturday: 9:00 AM – 2:00 PM
About this Location:
You can get drug testing in Oceanside here, near the iFLY Indoor Skydiving, across Ronald Packard Parkway from Carlsbad Golf Center.
2191 S El Camino Real
Ste 103
Oceanside, CA 92054
Pre-registration required,
Walk-in with barcode:
---
Monday: 8:00 AM – 5:00 PM
Tuesday: 8:00 AM – 5:00 PM
Wednesday: 8:00 AM – 5:00 PM
Thursday: 8:00 AM – 5:00 PM
Friday: 8:00 AM – 5:00 PM
About this Location:
Come visit us, across from the US Social Security Administration office.
3910 Vista Way
Oceanside, CA 92056
Pre-registration required,
Walk-in with barcode:
---
Monday: 7:00 AM – 7:00 PM
Tuesday: 7:00 AM – 7:00 PM
Wednesday: 7:00 AM – 7:00 PM
Thursday: 7:00 AM – 7:00 PM
Friday: 7:00 AM – 7:00 PM
Saturday: 8:00 AM – 2:00 PM
About this Location:
You can get occupational health testing services in Oceanside at this location by the Tri-City Medical Center.
Some Oceanside Neighborhoods That We Serve
location_city
East Side Capistrano
location_city
Fire Mountain
location_city
Mission Mesa
location_city
North Valley
location_city
San Luis Rey
Local Reviews
By Peggy Ball on 6/30/2018
Covestic Inc
Great service and easy to use, seamless process.
By Jerry usry on 1/2/2018
I was very pleased with the degree of professionalism Louis Cianciotto. I stayed in Carlsbad California and in need of a urine anylis. Thank you
By Richard Huerta on 3/4/2016
Excellent customer service.
By Felipe on 12/11/2015
Good DOT services. I have the Random Pool and it is very convenient and easy.
Citations
menu_book
Oceanside Unified School District, https://www.oside.k12.ca.us/
menu_book
"Oceanside at a Glance." City of Oceanside CA, https://www.ci.oceanside.ca.us/about/city.asp
menu_book
"2018 Annual Report Executive Summary." County of San Diego Department of the Medical Examiner, https://www.sandiegocounty.gov/content/dam/sdc/me/docs/ME-AnnualExecSummary-2018.pdf
menu_book
"Drugs of Abuse." U.S. Drug Enforcement Administration, 15 June 2017, https://www.dea.gov/documents/2017/06/15/drugs-abuse
menu_book
Sifuentes, Edward. "Oceanside to crack down on 'synthetic drugs.'" The San Diego Union-Tribune, 22 February 2016, https://www.sandiegouniontribune.com/news/politics/sdut-oceanside-sythetic-drugs-spice-2016feb22-story.html