Drug Test – West Covina, CA
In West Covina, California, Health Street provides drug testing for employers and individuals at our professional drug testing location. You can register for drug tests quickly and easily on our website. Testing options include a wide range of drug panels. Our options include Department of Transportation (DOT) drug tests, non-DOT urine drug tests, breath alcohol tests, EtG alcohol tests, and hair drug testing. Once you pick your test, simply choose the best clinic location that meets your needs, and register online.
Whether you need drug and alcohol testing for your employees, yourself, or a family member, you can rest assured that Health Street testing services in West Covina, California provide accurate results. We'll send a barcode authorization by text and email, along with a map to the clinic address. Drug testing centers are clean, comfortable and operated by experienced professionals. Test results are fast, reviewed by our Medical Review Officer (an MRO), and reported safely and securely online. You can also call (323) 797-5214 with any questions about our drug tests.
Workforce Screening, Digitally Delivered
Drug Testing in West Covina, California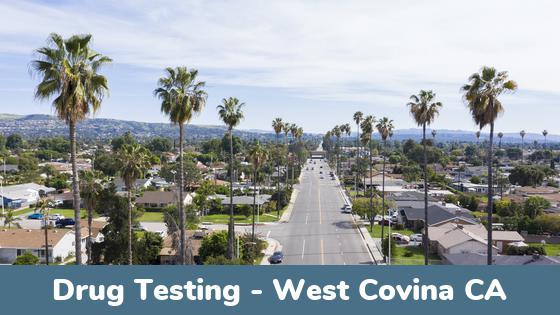 Get Drug Testing in West Covina, California Right Now
Health Street has the largest selection of drug testing and employment screening services in West Covina. Employers can access our services to set up a drug free workplace, families can get court ordered drug testing, and attorneys and private individuals can register for non-DOT drug tests, Department of Transportation (DOT) drug tests, and more.
Available Drug Testing Methods
Popular Drug Testing Panels
Specialized Categories of Tests
arrow_right
Choose from our
Alcohol Testing
options (such as breathalyzer, EtG test, or PEth blood alcohol)
DOT Drug Testing
Learn about our DOT drug and alcohol testing services, and how your company can maintain Department of Transportation (DOT) Compliance with 46 CFR Part 40, including:
Employee Drug Testing: eResults Portal for Employers
Business users get access to the amazing StaffGlass™ portal. When logged in, human resources and other company executives can manage their drug testing program, including:
arrow_right
Register for drug screenings for reasons such as: pre-employment, random, post-accident, or reasonable suspicion.
arrow_right
Get fast, accurate results in a safe and secure online portal.
arrow_right
Find a drug test clinic in West Covina, CA or pick from our lab testing locations anywhere in the United States; you can order your test online, view results, and check status of all tests
arrow_right
Manage eSign documents related to the testing process
arrow_right
Create an employee pool for random drug testing, add or remove staff, update staff employment status.
arrow_right
StaffGlass™ is backed up by world class customer service.
arrow_right
Call Center Hours: Monday through Friday: 4:30 AM to 4:00 PM Pacific Time.
Why Health Street
A Decade Plus of Experience
Health Street has provided drug tests since 2010. We have provided drug and alcohol testing services for countless small and medium businesses (SMBs), large companies, individuals, and families.
Dedicated to Excellence
We are dedicated to providing a level of excellence in drug testing in West Covina that is unmatched.
West Covina, California – Drug Testing
Substance abuse statistics for West Covina, CA
arrow_right
Los Angeles County reported 3,316 emergency department visits related to opioid overdoses in 2021
arrow_right
In the same year, Los Angeles County had about 2,957,817 opioid prescriptions
arrow_right
About 740,000 residents from Los Angeles County reported struggling with Substance Use Disorder
West Covina, California: Drug abuse trends
West Covina falls under Los Angeles County, which has experienced a significant increase in drug overdoses in recent years. In 2021, at least 2,442 individuals in Los Angeles County died because of overdoses, making it the seventh consecutive year that the number of overdoses in the county has increased. Many experts blame the rising use of fentanyl, which is often laced into drugs such as heroin or cocaine.
At a hundred times more potent than morphine and fifty times more powerful than heroin, even a few milligrams of fentanyl can be fatal. Moreover, many people use fentanyl only because it has been mixed into other drugs; they are unaware of its presence. This leads to many more drug overdoses by unsuspecting people in West Covina and throughout California.
According to the Coroner's office in Los Angeles County, methamphetamine also contributed significantly to drug overdose deaths in 2021. Ricky Bluthenthal, who works at the USC Keck School of Medicine as a professor and sociologist, stated that he believes methamphetamine deaths have been on the rise in the county due to the number of people without homes who use it. Ricky stated that these people use methamphetamine as a stimulant to stay awake at night to guard their belongings and ensure they are not attacked. "We need to be more comprehensive in our response. We need to do a lot more harm reduction. But we also need to do a lot more housing," said Ricky.
West Covina man sentenced to prison after laundering over $900,000 in drug money
A 52-years-old man from West Covina pleaded guilty to money laundering. He was sentenced to three years in federal prison for laundering more than $900,000. The man laundered drug money from the USA to Mexico.
Last updated 11/16/2022
Neighborhoods In and Around West Covina That We Serve
location_city
Azusa Cameron South
location_city
Valinda North
location_city
Azusa-Cameron
location_city
Freeway Corridor Northeast
location_city
Central Business District
location_city
Sunset South
location_city
Woodside North
location_city
Baldwin Park
Citations
menu_book
Welcome to the California Overdose Surveillance Dashboard. CA Overdose Dashboard. (n.d.). Retrieved November 16, 2022, from https://skylab.cdph.ca.gov/ODdash/?tab=CTY
menu_book
Substance use in Los Angeles County. Home. (n.d.). Retrieved November 8, 2022, from https://www.recoverla.org/sud_101/substance-use-in-la-county/
menu_book
Zavarise, I. (2022, April 29). Los Angeles hits a high for drug overdose deaths. Crosstown. Retrieved November 8, 2022, from https://xtown.la/2022/04/29/los-angeles-drug-overdose-deaths/
menu_book
Service, C. N. (2021, October 13). West Covina man sentenced to prison for laundering more than $900,000 for drug traffickers. San Gabriel Valley Tribune. Retrieved November 8, 2022, from https://www.sgvtribune.com/2021/10/12/west-covina-man-sentenced-to-prison-for-laundering-more-than-900000-for-drug-traffickers/