Drug Test – Palm Desert, CA
In Palm Desert, California, Health Street provides drug testing for employers and individuals at 4 professional drug testing locations. You can register for drug tests quickly and easily on our website. Testing options include a wide range of drug panels. Our options include Department of Transportation (DOT) drug tests, non-DOT urine drug tests, breath alcohol tests, EtG alcohol tests, and hair drug testing. Once you pick your test, simply choose the best clinic location that meets your needs, and register online.
Whether you need drug and alcohol testing for your employees, yourself, or a family member, you can rest assured that Health Street testing services in Palm Desert, California provides accurate results. We'll send a barcode authorization by text and email, along with a map to the clinic address. Drug testing centers are clean, comfortable and operated by experienced professionals. Test results are fast, reviewed by our Medical Review Officer (an MRO), and reported safely and securely online. You can also call (760) 279-8253 with any questions about our drug tests.
Workforce Screening, Digitally Delivered
Very efficient, easy-to-use, and professional service. 5 stars.
Campbell Baxter
12/23/2020
You made things very easy and the results were back very quickly. I will definitely continue to use your services. It would be nice if you would open on the weekends.
Carla
12/12/2020
Very good service. Received update emails tracking the whole process. Would use again.
Charles Prenner
1/6/2020
5 Star – thank you Louis
Loree Littlefield
9/8/2016
Thanks. Great help!
Julie
4/10/2016
1 of 4
73345 Highway 111
Palm Desert
,
CA
92260
2 of 4
74990 Country Club Drive
Palm Desert
,
CA
92260
3 of 4
44419 Town Center Way
Palm Desert
,
CA
92260
4 of 4
44840 Monterey Avenue
Palm Desert
,
CA
92260
Drug Testing in Palm Desert, California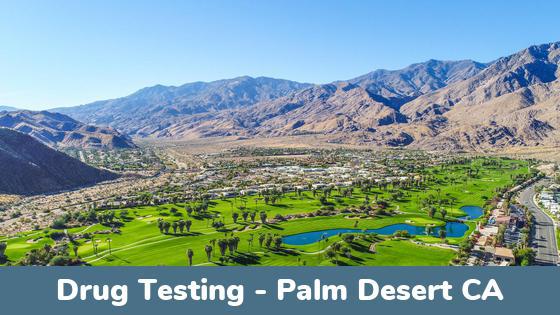 Types of Drug Testing in Palm Desert, California
Health Street offers drug testing services such as: 5 panel drug test up to 22 panels, Department of Transportation DOT drug test, rapid results or laboratory testing, with or without alcohol EtG test included, the option to exclude THC, and more. Get these tests done at Palm Desert drug testing locations.
Our selection of chain of custody urine drug testing services and drug screenings allow you to test for nearly any drug consumed in the recent past. They are recommended for employee drug testing or court orders. The number of panels in a panel drug test refers to classes of drugs (i.e., marijuana, cocaine, etc.).
This is the traditional, basic urine drug test for street drugs, including:
check_circle
Marijuana (THC, cannabinoids, weed)
check_circle
Amphetamines (Adderall, Ritalin, methamphetamines)
check_circle
Basic Opiates (heroin, morphine, codeine)
check_circle
Phencyclidine (PCP – angel dust)
This is urine testing that includes all of the above plus the following prescription drugs:
check_circle
Benzodiazepines (Valium, Klonopin, Xanax)
This is a great option for employment drug testing in Palm Desert, California – it includes well known street drugs and prescription drugs, including all 9 of the ones listed above, plus methaqualone.
***Health Street Recommends 12 Panel***
expanded opiates
and Ecstasy. This test is a 10 panel plus:
check_circle
MDMA/6AM (Ecstasy, Molly)
check_circle
Hydromorphone (Vicodan, Percocet, Oxycontin)
16 Panel Opiate Drug Test – $250
As the opioid epidemic continues to rise and impact Palm Desert, it is important to be aware that many of the dangerous, synthetic opiates are not picked up by lower panel tests. Our 16 panel picks up these 4 additional opiate classes in addition to the drugs included above:
check_circle
Meperidine (Demerol)
check_circle
Buprenorphine (Suboxone)
There are many more urine drug screens in Palm Desert facilities. Our testing panels go up to a 22 panel drug test, including specialized tests for synthetic marijuana, bath salts, nicotine, ketamine, rohypnol, and more. For results of chain of custody testing with MRO review, we are widely considered to be the fastest lab in Palm Desert , California. Drug testing in Palm Desert is easy with Health Street.
Alcohol Testing in Palm Desert , California
Alcohol testing is done through urine, hair, breath, or blood. Basic urine alcohol tests (12 hour look-back) or EtG urine alcohol testing (3 day look-back) can be added to any of our drug testing panels, or they can be done on a standalone basis. Choose the type of alcohol drug testing that looks back at the specific period of time that matters to you:
category
Breath Alcohol Tests
are the most appropriate tests to use in the workplace if on-the-job alcohol use is suspected, or after any accidents.
On-site breathalyzers
in the Palm Desert, CA area are also available for emergencies.
category
Hair EtG Test
is a hair follicle alcohol test that goes back 3 months
DOT Drug and Alcohol Testing Services – Palm Desert , CA
Health Street's Palm Desert facilities offer DOT drug and breath alcohol tests that comply with 46 CFR Part 40. Urine specimens are processed at SAMHSA certified laboratories. Members of our Random Pool get discounts on DOT drug testing.
Health Street administers DOT Random Pools for companies of all sizes based in and around Palm Desert, across California. Our local presence combined with our national clinic network and easy online pool management makes DOT compliance a breeze.
Many Palm Desert businesses and residents are involved, directly or indirectly, with maritime, and therefore, they are regulated by the United States Coast Guard and must comply with the strict USCG regulations. Our Palm Desert clinics offer a specially designated USCG Merchant Marines Drug Test Package, which includes everything you need to meet the USCG DOT drug test requirements.
Hair Follicle Drug Testing Palm Desert , CA
Hair drug tests can detect drug or alcohol use for a far greater period of time – 90 days – than a standard urine drug test. Hair drug testing is performed at our Palm Desert drug testing places. We cut a small amount of either head hair or body hair. The hair is analyzed by our testing laboratory. We offer several panel drug tests.
Hair Drug Test Options
blur_on
5 Panel Hair Follicle Drug Test
blur_on
9 Panel Hair Follicle Drug Test
blur_on
12 Panel Hair Follicle Drug Test
StaffGlass™ eResults Portal for Employers
Employers get free access to premium customer service by phone and our award winning online StaffGlass™ eResults portal. Once securely logged into StaffGlass™, business users can set up their drug testing program, including:
how_to_reg
Securely order pre-employment, random, post-accident, or reasonable suspicion drug testing
how_to_reg
View fastest results
how_to_reg
Order and view eSignature employee documents such as policies and procedures, job applications, and more
how_to_reg
Setup a random drug testing pool or a drug-free workplace program, and add or remove staff to be included
Why Health Street
Over a Decade of Experience
Health Street has been performing drug testing nationally since 2010. The first Palm Desert, CA drug test was provided by Health Street in 2015. In fact, we have successfully completed 74 drug tests at our Palm Desert testing centers since then.
Dedication to Excellence
We are committed to providing excellent services and to helping businesses and families obtain the drug testing in Palm Desert that they require.
Substance Abuse Trends and Statistics for the City of Palm Desert
According to the Drug Enforcement Agency (DEA), much of the methamphetamine that enters the U.S. is shipped through the Coachella Valley (including Palm Desert) along Interstate 10.
notification_important
The DEA seized 1,057 pounds of methamphetamine in Riverside and San Bernardino Counties in 2017. By 2019, they had seized 2,180 pounds of methamphetamine in the same area.
notification_important
Methamphetamine played a role in 56 percent of Riverside County's drug and alcohol-related deaths in 2018-2019.
The Palm Springs Desert Sun reported that in 2019, 55% of homeless people in Coachella Valley struggled with drug addiction. The Desert Sun conducted a survey of 200 homeless people in 2018, which also discovered that 44% said they suffered from mental health issues.
Local Efforts to Address Drug Problems in Palm Desert
Riverside County Department of Mental Health and the Riverside University Health System provide several services to assist people with substance use disorders in Palm Desert and nearby desert communities. Included in these services is the County Drug Court and Recovery Opportunity Center. Riverside County's behavioral health and assessment center is located at 74923 Hovley Lane East in Palm Desert, which is open Monday through Thursday from 8:00 a.m. to 5:00 p.m. and on Fridays from 8:00 a.m. to 4:00 p.m.
Experts Say …
Methamphetamine has been a major drug problem in Palm Desert and the rest of Coachella Valley for over 30 years. David Fawcett, Ph.D., L.C.S.W. told ABC News 3 reporter Jeff Stahl, "We've seen drug trends come and go over the years, but this one came and has never really gone away."
Notable Historical Events Related to Drug Use in Palm Desert
In 2014, California state voters passed Proposition 47, the Safe Neighborhoods and Schools Act. The law made possession and use of methamphetamine a misdemeanor, not a felony, limiting the ability of law enforcement to cite and prosecute people for methamphetamine use.
Locations
Clinic Hours and Information for our Labs in Palm Desert, California
73345 Highway 111
Suite 204b
Palm Desert, CA 92260
Pre-registration required,
Walk-in with barcode:
---
Monday: 7:30 AM – 1:30 PM
Tuesday: 7:30 AM – 1:30 PM
Wednesday: 7:30 AM – 1:30 PM
Thursday: 7:30 AM – 1:30 PM
Friday: 7:30 AM – 1:30 PM
About this Location:
It is simple to locate our lab. We are very close by to Shadow Mountain Golf Club. You can't miss us.
74990 Country Club Drive
Suite 310
Palm Desert, CA 92260
Pre-registration required,
Walk-in with barcode:
---
Monday: 7:00 AM – 7:00 PM
Tuesday: 7:00 AM – 7:00 PM
Wednesday: 7:00 AM – 7:00 PM
Thursday: 7:00 AM – 7:00 PM
Friday: 7:00 AM – 7:00 PM
Saturday: 9:00 AM – 4:00 PM
Sunday: 9:00 AM – 4:00 PM
About this Location:
You can obtain urine and hair drug testing in Palm Desert, California by visiting us at this location. It is down the block from Desert Falls Country Club.
44419 Town Center Way
Palm Desert, CA 92260
Pre-registration required,
Walk-in with barcode:
---
Monday: 8:00 AM – 8:00 PM
Tuesday: 8:00 AM – 8:00 PM
Wednesday: 8:00 AM – 8:00 PM
Thursday: 8:00 AM – 8:00 PM
Friday: 8:00 AM – 8:00 PM
Saturday: 8:00 AM – 8:00 PM
Sunday: 8:00 AM – 8:00 PM
About this Location:
Our clinic is across from Civic Center Park.
44840 Monterey Avenue
Palm Desert, CA 92260
Pre-registration required,
Walk-in with barcode:
---
Monday: call for hours
Tuesday: call for hours
Wednesday: call for hours
Thursday: call for hours
Friday: call for hours
About this Location:
You can locate our clinic very close by to Palm Desert Branch Library.
Neighborhoods in Palm Desert Served by our Clinics
location_city
North Palm Desert
location_city
East Palm Desert
location_city
South Palm Desert
Additional Services
Health Street offers a variety of other services, including:
Local Reviews
By Loree Littlefield on 1/4/2016
Excellent service – Cecilia was quick, helpful, and very efficient.
Citations
menu_book
Stahl, Jeff. "I-Team: Cheaper and more potent meth leads to more trafficking and abuse in Coachella Valley." ABC News 3, 18 February 2020, https://kesq.com/news/2020/02/16/meth-in-the-coachella-valley-whats-being-done-to-stop-its-abuse-and-trafficking/ Hayden, Nicole.
menu_book
"Drugs a 'rational response to hopeless situation': 55% of Coachella Valley homeless struggle with addiction." Palm Springs Desert Sun, 18 April 2019, https://www.desertsun.com/story/news/health/2019/04/18/55-coachella-valley-homeless-struggle-addiction/3409583002/
menu_book
"Substance Use Services." Riverside County Department of Mental Health, https://www.rcdmh.org/Substance-Use-Services Riverside University Behavioral Health System Locations, https://www.rcdmh.org/Substance-Use-Programs Riverside University Health System, https://www.ruhealth.org/
menu_book
"2016-IPG#18: Proposition 47 Update – II." The Inquisitive Prosecutor's Guide, Santa Clara County District Attorney's Office, 26 April 2016, https://www.sccgov.org/sites/da/Documents/IPG%20Memos/2016-IPG18.pdf
menu_book
"Palm Desert Real Estate." Brad Schmett Real Estate Group, https://bradschmett.com/cities/palm-desert/?perRow=4&limit=4&area=city%7CPalm+Desert&page=1&layout=card