Drug Test – Norfolk, VA
Health Street provides drug and alcohol testing in Norfolk, Virginia at 2 drug testing centers. Whether you need drug and alcohol testing for your employees, yourself, or a family member, you can rest assured that Health Street drug testing services in Norfolk, Virginia provide a safe and clean environment and accurate results. We'll send a barcode authorization for the urine or hair drug test that you choose by text and email, along with a map to the clinic address.
Register for urine or hair drug tests in Norfolk, VA quickly and easily online. Drug testing panels include Department of Transportation (DOT) and non-DOT urine drug tests, breath alcohol tests, EtG alcohol tests, and hair drug testing. Test results are fast, reviewed by our Medical Review Officer (an MRO), and reported safely and securely online. You can also call (757) 819-4272 with any questions about our employment screening services.
Workforce Screening, Digitally Delivered
Shelley was so helpful and professional and went the extra mile to meet our needs, helping us find the right facility in our area (Norfolk). Very grateful.
Sheila Sheppard
4/28/2016
great services. quick and efficient.
Amanda
1/4/2016
The communication was great and response time was quick.
Toney Reid
1 of 2
810 W 21st Street
Norfolk
,
VA
23517
2 of 2
1119 N Military Highway
Norfolk
,
VA
23502
Drug Testing in Norfolk, Virginia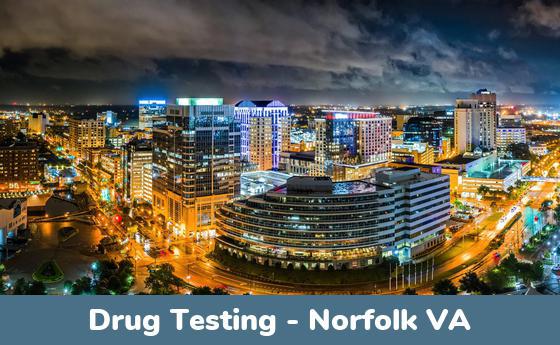 Types of Drug Tests in Norfolk, Virginia clinics:
In Norfolk, Health Street offers the widest variety and selection of drug tests anywhere, which allows you to choose from any panel you wish, with rapid results or sent to our lab, using a urine sample or a hair sample. Most of our tests have an option to add alcohol or remove THC from the screening, so that we can always meet your specific requirements.
The number of urine drug testing services and drug screening panels that we offer means that you can test for nearly any drug.
The most basic test we offer is a 5 Panel Drug Test, which tests for:
arrow_right_alt
Marijuana (THC, cannabinoids, weed)
arrow_right_alt
Phencyclidine (PCP – angel dust)
arrow_right_alt
Amphetamines (Adderall, Ritalin, methamphetamines)
arrow_right_alt
Basic Opiates (heroin, morphine, codeine)
The next option up from there is the 9 Panel Drug Test, which adds in some commonly abused prescriptions:
arrow_right_alt
Benzodiazepines (Valium, Klonopin, Xanax)
arrow_right_alt
Barbiturates
arrow_right_alt
Methadone
arrow_right_alt
Propoxyphene
When asked, we often recommend the 12 Panel Drug Test because it is a well rounded test that screens for common opioids and ecstasy, including:
arrow_right_alt
MDMA/6AM (Ecstasy, Molly)
arrow_right_alt
Expanded opiate class: Oxycodone, Oxymorphone, Hydrocodone, Hydromorphone (Vicodan, Percocet, Oxycontin)
If you're at all concerned with opiate usage beyond basic painkillers, just as many people in Norfolk are, consider registering for a 16 Panel Opiate Drug Test. These synthetic opiates are not picked up by lesser panel tests.
arrow_right_alt
Meperidine (Demerol)
arrow_right_alt
Buprenorphine (Suboxone)
The above are just a few of the wide variety of urine tests we offer. You can view all urine drug screens offered at our Norfolk drug testing centers. We offer urine tests that go up to 22 panels, plus specialized tests for synthetic marijuana and bath salts, ketamine and rohypnol, GHB and more.
Alcohol Drug Tests
Alcohol use can be detected by our Norfolk VA drug testing locations. You can select our EtG test for alcohol (which has a 3 day look-back), or add it to any of our drug tests. Choose the alcohol drug testing that looks back at the specific period of time that matters to you:
DOT Drug and Alcohol Testing in Norfolk, Virginia
Our Norfolk facilities have technicians certified to perform DOT drug testing and breath alcohol tests. Random Pool Membership is offered, and members get discounted pricing on DOT drug tests. And because we know that many Norfolk businesses and residents are involved with shipping or maritime in one way or another, we help you comply with the strict USCG drug testing regulations. We have a pre-set DOT package specifically tailored just for the USCG (US Coast Guard) Drug Testing requirements. It includes everything you need from the SAMHSA lab to the MRO signed USCG-719P report.
Hair Drug Testing in Norfolk, Virginia ✂
Hair Drug Tests go back up to 90 days. We do these at our Norfolk drug testing locations with a small hair sample from the scalp or body.
Additional services from Employers: StaffGlass™
Employers get access to the amazing StaffGlass™ portal. Once logged in, business users can:
arrow_right_alt
Register for drug or alcohol tests and pick clinics nationwide; view results and status of all tests
arrow_right_alt
Manage eSign documents related to the testing process
arrow_right_alt
Set up a random pool, add or remove staff, update staff employment status
Why Health Street
Over a Decade of Experience
Health Street has been performing drug testing nationally since 2010. The first Norfolk, VA drug test was provided by Health Street in 2015. In fact, we have successfully completed 169 drug tests at our Norfolk testing centers since then.
Dedication to Excellence
We are committed to providing excellent services and to helping businesses and families obtain the drug testing in Norfolk that they require.
Norfolk, VA – Drug Testing
Substance abuse statistics for Norfolk, VA
arrow_forward
On average, four Virginians died due to opioid overdose every day in 2020
arrow_forward
In 2020, there were more than 9,900 visits to Emergency Departments, which was a 33 percent increase from 2019
arrow_forward
From 2019 to 2020, Virginia had a 17 percent increase in drug overdose deaths at about
1,478 people
Norfolk, VA: Drug abuse trends
In 2017, the opioid crisis was declared a national health emergency. Although Virginia has a lower overdose death rate than the national average, opioids are still a major issue. Currently, opioids are the leading cause of fatal overdoses in the state. Cocaine and methamphetamine use remains low, but arrests, drug seizures, and fatal overdoses are rising.
In the past few years, the death rate of overdoses has been increasing.
Some experts blame the pandemic, which negatively affected the social lives and mental health of many people. As a coping mechanism, more people turned to substance abuse to escape their loneliness, depression, anxiety, and other mental health issues that were intensified by the pandemic.
Local initiatives to curb substance abuse Norfolk, Virginia
The city of Norfolk attempts to combat the opioid epidemic with the Opioid Treatment Program, which aims to reduce psychological, physical, and social problems that are brought on by drug addiction. This program assists patients with drug addiction and works towards eliminating risks that can result in infections like HIV, hepatitis, or tuberculosis.
In Norfolk, the Substance Abuse Case Management Program works to improve the lives of people suffering from substance abuse disorders and assist them and their families with accessing the necessary services. The program provides an umbrella of services including women recovery services, residential services, supportive housing services, and detoxification services.
Last updated 7/22/2022
Locations
Clinic Hours and Information for our Labs in Norfolk, Virginia
810 W 21st Street
Norfolk, VA 23517
Pre-registration required,
Walk-in with barcode:
---
Monday: 7:00 AM – 4:00 PM
Tuesday: 7:00 AM – 4:00 PM
Wednesday: 7:00 AM – 4:00 PM
Thursday: 7:00 AM – 4:00 PM
Friday: 7:00 AM – 4:00 PM
About this Location:
We are a short walk from Mermaid Factory. There is plenty of parking available.
1119 N Military Highway
Norfolk, VA 23502
Pre-registration required,
Walk-in with barcode:
---
Monday: 8:00 AM – 8:00 PM
Tuesday: 8:00 AM – 8:00 PM
Wednesday: 8:00 AM – 8:00 PM
Thursday: 8:00 AM – 8:00 PM
Friday: 8:00 AM – 8:00 PM
Saturday: 8:00 AM – 5:00 PM
Sunday: 8:00 AM – 5:00 PM
About this Location:
To obtain occupational health services in Norfolk, Virginia, visit us at this location, which is nearby to Lake Taylor Transitional Care Hospital.
Neighborhoods Served in Norfolk
location_city
Military Circle
location_city
Atlantic City
location_city
Wards Corner
location_city
Tidewater Gardens
location_city
Grandy Village
location_city
Calvert Square
Additional Services
Health Street offers a variety of other services, including:
Citations
menu_book
Drug overdose death statistics [2022]: Opioids, fentanyl & more. NCDAS. (2022, April 6). Retrieved July 22, 2022, from https://drugabusestatistics.org/drug-overdose-deaths/#virginia
menu_book
Opioid homepage. Opioid Data. (2022, April 27). Retrieved July 22, 2022, from https://www.vdh.virginia.gov/opioid-data/
menu_book
Substance Abuse Services. Substance Abuse Services | City of Norfolk, Virginia – Official Website. (n.d.). Retrieved July 22, 2022, from https://www.norfolk.gov/1811/Substance-Abuse-Services
menu_book
Squarespace help. Squarespace Help Center. (n.d.). Retrieved July 22, 2022, from https://support.squarespace.com/hc/en-us