Drug Tests in Kirkland, Washington
Health Street's drug testing centers in Kirkland, Washington offer easy-to-access and comprehensive drug and alcohol testing services. Pre-register by calling (425) 426-3835 or setting up your drug testing online. Options include urine or hair drug testing, DOT or non-DOT drug tests, and alcohol testing.
You can register for drug testing in Kirkland, WA for your employees, yourself, or another person. Just select a urine test or hair drug test; then, pick the most convenient Health Street location – we have 4 clinics in Kirkland. Upon registration, a barcode will be sent to whomever you register, which can be presented at the testing facility. Test results are reported back to you quickly and securely online.
Workforce Screening, Digitally Delivered
Very professional and helpful company.
Jessica
12/3/2019
Was quick and helpful!
Teanna Lai
3/6/2018
It was a pleasure to work with Louis on this project.
Control Technology, Vern Braly
8/24/2017
Very patient with newbies. Great customer service,
Marc Lambro
8/10/2017
Excellent efficient service & keeping everyone informed
Diane Solie
7/8/2017
1 of 4
12911 120th Ave Ne
Kirkland
,
WA
98034
2 of 4
13131 NE 85th Street
Kirkland
,
WA
98033
3 of 4
13718 100th Ave Ne
Kirkland
,
WA
98034
4 of 4
12303 NE 130th Street
Kirkland
,
WA
98034
Drug Testing in Kirkland, Washington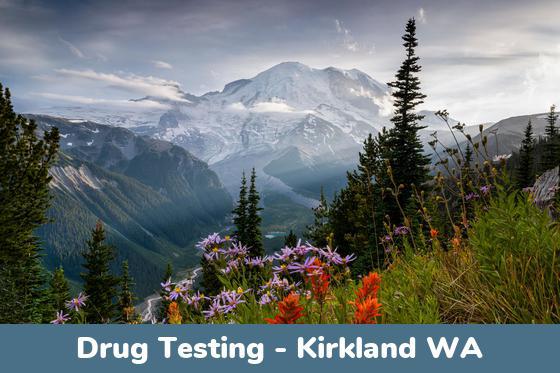 Types of Drug Testing in Kirkland, Washington
Health Street offers drug testing services such as: 5 panel drug test up to 22 panels, Department of Transportation DOT drug test, rapid results or laboratory testing, with or without alcohol EtG test included, the option to exclude THC, and more. Get these tests done at Kirkland drug testing locations.
Our selection of chain of custody urine drug testing services and drug screenings allow you to test for nearly any drug consumed in the recent past. They are recommended for employee drug testing or court orders. The number of panels in a panel drug test refers to classes of drugs (i.e., marijuana, cocaine, etc.).
The 5 Panel Drug Test test is the traditional, basic urine drug test for street drugs, including:
check_circle
Marijuana (THC, cannabinoids, weed)
check_circle
Amphetamines (Adderall, Ritalin, methamphetamines)
check_circle
Basic Opiates (heroin, morphine, codeine)
check_circle
Phencyclidine (PCP – angel dust)
The 9 Panel Drug Test is urine testing that includes all of the above plus the following prescription drugs:
check_circle
Benzodiazepines (Valium, Klonopin, Xanax)
The 10 Panel Drug Test is a great option for employment drug testing in Kirkland, Washington – it includes well known street drugs and prescription drugs, including all 9 of the ones listed above, plus methaqualone.
The 12 Panel Drug Test urine drug testing panel is an excellent choice and value, and more importantly, it tests for expanded opiates and Ecstasy. This test is a 10 panel plus:
check_circle
MDMA/6AM (Ecstasy, Molly)
check_circle
Hydromorphone (Vicodan, Percocet, Oxycontin)
As the opioid epidemic continues to rise and impact Kirkland, it is important to be aware that many of the dangerous, synthetic opiates are not picked up by lower panel tests. Our 16 Panel Opiate Drug Test picks up these 4 additional opiate classes in addition to the drugs included above:
check_circle
Meperidine (Demerol)
check_circle
Buprenorphine (Suboxone)
There are many more urine drug screens in Kirkland facilities. Our testing panels go up to a 22 panel drug test, including specialized tests for synthetic marijuana, bath salts, nicotine, ketamine, rohypnol, and more. For results of chain of custody testing with MRO review, we are widely considered to be the fastest lab in Kirkland, Washington. Drug testing in Kirkland is easy with Health Street.
Alcohol Testing in Kirkland, Washington
Alcohol testing is done through urine, hair, breath, or blood. Basic urine alcohol tests (12 hour look-back) or EtG urine alcohol testing (3 day look-back) can be added to any of our drug testing panels, or they can be done on a standalone basis. Choose the type of alcohol drug testing that looks back at the specific period of time that matters to you:
category
Breath Alcohol Tests
are the most appropriate tests to use in the workplace if on-the-job alcohol use is suspected, or after any accidents.
On-site breathalyzers
in the Kirkland, WA area are also available for emergencies.
category
Hair EtG Test
is a hair follicle alcohol test that goes back 3 months
DOT Drug and Alcohol Testing Services – Kirkland, WA
Health Street's Kirkland facilities offer DOT drug and breath alcohol tests that comply with 46 CFR Part 40. Urine specimens are processed at SAMHSA certified laboratories. Members of our Random Pool get discounts on DOT drug testing.
Health Street administers DOT Random Pools for companies of all sizes based in and around Kirkland, across Washington. Our local presence combined with our national clinic network and easy online pool management makes DOT compliance a breeze.
Many Kirkland businesses and residents are involved, directly or indirectly, with maritime, and therefore, they are regulated by the United States Coast Guard and must comply with the strict USCG regulations. Our Kirkland clinics offer a specially designated USCG Merchant Marines Drug Test Package, which includes everything you need to meet the USCG DOT drug test requirements.
Hair Follicle Drug Testing Kirkland, WA
Hair drug tests can detect drug or alcohol use for a far greater period of time – 90 days – than a standard urine drug test. Hair drug testing is performed at our Kirkland drug testing places. We cut a small amount of either head hair or body hair. The hair is analyzed by our testing laboratory. We offer several panel drug tests.
Hair Drug Test Options
blur_on
5 Panel Hair Follicle Drug Test
blur_on
9 Panel Hair Follicle Drug Test
blur_on
12 Panel Hair Follicle Drug Test
StaffGlass™ eResults Portal for Employers
Employers get free access to premium customer service by phone and our award winning online StaffGlass™ eResults portal. Once securely logged into StaffGlass™, business users can set up their drug testing program, including:
how_to_reg
Securely order pre-employment, random, post-accident, or reasonable suspicion drug testing
how_to_reg
View fastest results
how_to_reg
Order and view eSignature employee documents such as policies and procedures, job applications, and more
how_to_reg
Set up a random drug testing pool or a drug-free workplace program, and add or remove staff to be included
Why Health Street
Over a Decade of Experience
Health Street has been performing drug testing nationally since 2010. The first Kirkland, WA drug test was provided by Health Street in 2016. In fact, we have successfully completed 154 drug tests at our Kirkland testing centers since then.
Dedication to Excellence
We are committed to providing excellent services and to helping businesses and families obtain the drug testing in Kirkland that they require.
Kirkland, Washington – Drug Testing
Substance Abuse Statistics for Kirkland, WA
arrow_forward
In 2021, the
opioid death rate
for the state of Washington was 21.3 deaths per 100 residents.
arrow_forward
In King County, the region where Kirkland is located,
drug overdose deaths
increased by 39% between 2020 and 2021.
arrow_forward
In 2021 alone, 710 drug overdose deaths were recorded in King County, Washington.
arrow_forward
With a rate of 17 overdose deaths per week, more overdose deaths occurred across King County in the first 9.5 months of 2022 than all of 2021 combined.
News Events Relating to Substance Abuse in Kirkland, WA
Following a months-long investigation, the Kirkland Police Department arrested a suspected large-scale fentanyl and methamphetamine dealer in September 2022. The investigation began in June 2022, when a Kirkland officer found a man overdosing on fentanyl inside his vehicle at a local gas station and administered Narcan, an emergency opioid overdose treatment drug.
Inside his vehicle, law enforcement found oxycodone pills, heroin, and almost 400 grams of methamphetamine. The Kirkland Police Department's Pro-Act Unit investigation went on to learn this individual's residence, where they discovered he was known to sell drugs in the area. In September, he was arrested, and a home search was conducted where officers discovered a quarter pound of meth, hundreds of oxycodone pills, and more than two ounces of powdered fentanyl.
Local Initiatives to Help Curb Substance Abuse in Kirkland, WA
In an effort to curb local residents suffering from substance abuse and behavioral health issues who often pass through the criminal justice system because of such struggles, King County officials developed the Law Enforcement Assisted Diversion (LEAD) program. The program works to divert citizens who have engaged in low-level drug crimes and crimes of poverty away from the system and instead into programs that could help them better themselves.
By working with local law enforcement, officers can connect these individuals with intensive case managers who work to provide crisis response, substance abuse treatment, housing, and psychosocial assessment to replace criminal prosecution and jail time. By disrupting the recurring criminal system cycle, the county hopes that it can help program participants to instead achieve stability in the community and better themselves long-term.
Last updated 1/31/2023
Locations
Clinic Hours and Information for our Labs in Kirkland, Washington
12911 120th Ave Ne
Suite D60
Kirkland, WA 98034
Pre-registration required,
This location also requires an appt.
---
Monday: 7:00 AM – 4:00 PM
Tuesday: 7:00 AM – 4:00 PM
Wednesday: 7:00 AM – 4:00 PM
Thursday: 7:00 AM – 4:00 PM
Friday: 7:00 AM – 4:00 PM
About this Location:
This office is conveniently located very close by to EvergreenHealth Medical Center Kirkland.
13131 NE 85th Street
Kirkland, WA 98033
Pre-registration required,
Walk-in with barcode:
---
Monday: 8:00 AM – 7:00 PM
Tuesday: 8:00 AM – 7:00 PM
Wednesday: 8:00 AM – 7:00 PM
Thursday: 8:00 AM – 7:00 PM
Friday: 8:00 AM – 7:00 PM
Saturday: 8:00 AM – 7:00 PM
Sunday: 8:00 AM – 7:00 PM
About this Location:
Our lab is located down the block from Rose Hill Elementary School.
13718 100th Ave Ne
Kirkland, WA 98034
Pre-registration required,
Walk-in with barcode:
---
Monday: 8:00 AM – 7:00 PM
Tuesday: 8:00 AM – 7:00 PM
Wednesday: 8:00 AM – 7:00 PM
Thursday: 8:00 AM – 7:00 PM
Friday: 8:00 AM – 7:00 PM
Saturday: 8:00 AM – 7:00 PM
Sunday: 8:00 AM – 7:00 PM
About this Location:
To obtain occupational health testing in Kirkland, Washington, visit us at this location, which is a short walk from Edith Moulton Park.
12303 NE 130th Street
Suite 520
Kirkland, WA 98034
Pre-registration required,
Walk-in with barcode:
---
Monday: 8:00 AM – 4:00 PM
Tuesday: 8:00 AM – 4:00 PM
Wednesday: 8:00 AM – 4:00 PM
Thursday: 8:00 AM – 4:00 PM
Friday: 8:00 AM – 4:00 PM
About this Location:
Non-Dot And Dot Drug Testing in Kirkland is available at this location, a short walk from Juanita High School.
Neighborhoods Served in Kirkland
location_city
North Rose Hill
Additional Services
Health Street offers a variety of other services, including:
Local Reviews
By derek thonn on 3/9/2017
FANTASTIC SERVICE, FRIENDLY AND HELPFUL !!! kIRKLAND WAETG
By Matt McAdam on 2/16/2016
Shelley was absolutely awesome! She answered all of my questions, helped get me scheduled, and walked me through the process. I had numerous questions and concerns as I was trying to follow directions from the service I'm taking the test for and they were very confusing. Shelley answered everything and guided me through the process easily. Thank you Shelley!
Citations
menu_book
"Statewide opioid death rates." University of Washington, https://adai.washington.edu/WAdata/deaths.htm
menu_book
"2022 Overdose Death Report." Seattle and King County Public Health, https://kingcounty.gov/depts/health/overdose-prevention/~/media/depts/health/medical-examiner/documents/2022-overdose-death-report.ashx
menu_book
"Kirkland Police Arrest Suspected Fentanyl/Meth Dealer." City of Kirkland, https://www.kirklandwa.gov/Whats-Happening/News/Kirkland-Police-Arrest-Suspected-FentanylMeth-Dealer
menu_book
"Law Enforcement Assisted Diversion (LEAD)." King County, https://kingcounty.gov/depts/community-human-services/mental-health-substance-abuse/diversion-reentry-services/lead.aspx
menu_book
"WELCOME TO THE NEIGHBORHOOD." We Are Kirkland, https://wearekirkland.com/neighborhoods
menu_book
"Kirkland, WA." Nextdoor, https://nextdoor.com/city/kirkland–wa/