Drug Testing in Everett, Washington
Health Street's 2 drug and alcohol testing clinics in Everett, Washington provide convenient locations and comprehensive pre-employment drug screening services. Call (425) 426-3826 or register online for drug testing services. Drug and alcohol testing options include DOT and non-DOT urine drug tests, breath alcohol tests, EtG alcohol tests, and hair drug testing.
Register for a urine or hair drug test at one of our drug testing centers for your employees, yourself, or another person. Just choose your test and pick a location. A registration barcode will be sent to the person you specify. A map will accompany this authorization code. Test results are fast, reported securely, and stored in our online portal.
Workforce Screening, Digitally Delivered
exceptional company. Very fast results. Candidates reported good customer service. Website could be updatedmaintained better though. Nearest site to job was closed contrary to site comments. Luckily locations are plentiful.
Michael Walker
11/3/2021
High Rise Glazing Specialists
Easy. difficult to choose appropriate test and match to desired location. fast and efficient so far
Melanie
5/21/2018
Fleet Service Auto And Truck Repair LLC
I use Health Street for remote pre-employment and random drug screens throughout the US. Louis Cianciotto is The Man. Give him the keys to the city. . .or at least the keys to the company. Louis provides excellent customer service everytime I deal with him.
Jason Deery
12/20/2017
Ecore International
Went really well, very professional and got the job done quickly.
David Stahl
7/24/2017
I called instead arranging for the pre-employment test online, and the person who answered the phone was friendly, knowledgeable, quick to respond and I had confirmations right away. Excellent customer focus. Thank you!
Odra Randall
3/22/2016
1 of 2
3101 111th St Sw
Everett
,
WA
98204
2 of 2
3726 Broadway
Everett
,
WA
98201
Drug Testing Everett WA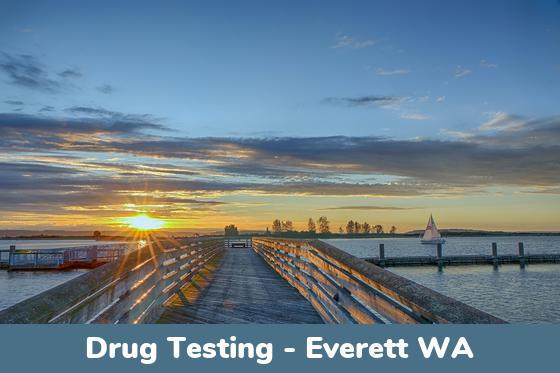 Get a Drug Test in Everett, Washington Right Now
Health Street has the largest selection of drug testing and employment screening services in Everett. Employers can access our services to set up a drug free workplace, families can get court ordered drug testing, and attorneys and private individuals can register for non-DOT drug tests, Department of Transportation (DOT) drug tests, and more.
Available Drug Testing Methods
Popular Drug Testing Panels
radio_button_on
radio_button_on
radio_button_on
Specialized Categories of Tests
category
Choose from our
Alcohol Testing
options (such as breathalyzer, EtG test, or PEth blood alcohol)
DOT Drug Testing in Everett, Washington
Learn about our DOT drug and alcohol testing services, and how your company can maintain Department of Transportation (DOT) Compliance with 46 CFR Part 40, including:
Employee Drug Testing: eResults Portal for Employers
Business users get access to the amazing StaffGlass™ portal. When logged in, human resources and other company executives can manage their drug testing program, including:
how_to_reg
Register for drug screenings for reasons such as: pre-employment, random, post-accident, or reasonable suspicion.
how_to_reg
Get fast, accurate results in a safe and secure online portal.
how_to_reg
Find a drug test clinic in Everett WA or pick from our lab testing locations anywhere in the United States; you can order your test online, view results, and check status of all tests
how_to_reg
Manage eSign documents related to the testing process
how_to_reg
Create an employee pool for random drug testing, add or remove staff, update staff employment status. StaffGlass™ is backed up by world class customer service, available Monday through Friday from 5:00 AM to 5:00 PM Pacific Time.
Why Health Street
A Decade Plus of Experience
Health Street has provided drug tests since 2010. The first time we performed drug testing in Everett, WA was in 2016. From then until now, we have completed 146 drug tests at our Everett labs.
Committed to Excellence
Everywhere you find a clinic or drug testing lab affiliated with Health Street, you will find affordability, accuracy, confidentiality and ease of use. Everett Health Street locations succeed in delivering quick, cost-effective results that employers looking for employee drug testing, courts, attorneys and individuals depend on. No matter why you are using our services, you can rest assured that you can count on us.
Our comprehensive list of drug testing is available on our app with easy to follow instructions on how you can get fast, reliable drug testing from Health Street in just a few steps.
Everett, Washington – Drug Testing
Substance Abuse Trends and Statistics for the Snohomish County
Between 2018 and 2021, the annual number of fentanyl-related deaths in Snohomish County more than tripled — increasing from 47 to 156. This makes the county the second highest in the state for opioid deaths and is more than double that of nearby counties. In 2022, these numbers continue to rise. During the two-week period spanning from July 26 to August 8, 2022, there were 40 known or suspected drug overdoses reported to law enforcement, some of which ended in death. This is a significant increase compared to the month prior when there were 10 suspected or confirmed drug overdoses.
Notable Events Related to Drug Use in Everett
A property manager at an Everett apartment complex was surprised when he discovered what turned out to be $1.5 million of drugs in an abandoned apartment while serving an eviction. The manager called 911 and the Snohomish Regional Drug Task Force seized the drugs.
The seizure included 100,000 fentanyl pills, 2,500 grams of pure fentanyl powder, 989 grams of cocaine, more than 21,000 grams of methamphetamine, 3,000 grams of heroin, and more. The sheer volume of drugs discovered indicates large-scale drug trafficking activity, but police are still unsure of who the drugs belonged to. Regardless, Snohomish County Task Force Commander Jay Baines says the bust "helped millions," noting that a single fentanyl pill is enough to kill a person.
Experts in Everett Say an Antidote for Meth Addiction is Possible
Researchers at Providence Medical Center in Everett say they may have discovered a promising new treatment for methamphetamine addiction. The treatment, which uses monoclonal antibodies, is said to act "like a switch," making patients feel better within minutes of taking it. It works by using antibodies to attach to the meth and essentially "suck it" from the brain, allowing the body to naturally flush it out. This prevents patients from getting high, which may help them get clean. Perhaps most exciting, a single IV treatment may last for up to a month.
So far, 10 patients have been treated and all have had positive results. However, this experimental drug won't be on the market any time soon. If approved, it's expected to take four to six years before it's available.
Last updated 11/14/2022
Locations
Clinic Hours and Information for our Labs in Everett, Washington
3101 111th St Sw
Everett, WA 98204
Pre-registration required,
Walk-in with barcode:
---
Monday: 7:00 AM – 5:00 PM
Tuesday: 7:00 AM – 5:00 PM
Wednesday: 7:00 AM – 5:00 PM
Thursday: 7:00 AM – 5:00 PM
Friday: 7:00 AM – 5:00 PM
About this Location:
It is simple to locate our lab. We are a short walk from Mukilteo's Speedway Cafe.
3726 Broadway
Everett, WA 98201
Pre-registration required,
Walk-in with barcode:
---
Monday: 7:00 AM – 6:00 PM
Tuesday: 7:00 AM – 6:00 PM
Wednesday: 7:00 AM – 6:00 PM
Thursday: 7:00 AM – 6:00 PM
Friday: 7:00 AM – 6:00 PM
About this Location:
This location is very close by to Funko Field.
Some Everett Neighborhoods That We Serve
location_city
Cascade View
location_city
Port Gardner
Additional Services
Health Street offers a variety of other services, including:
Citations
menu_book
Yaw, Claudia. "'Whole new demon': Fentanyl deaths soar, and recovery is harder." HeraldNet, 10 April 2022, https://www.heraldnet.com/news/whole-new-demon-fentanyl-deaths-soar-and-recovery-is-harder/
menu_book
Lotmore, Mario. "Two-week overdose spike from street drugs within Snohomish County." Lynnwood Times, 24 August 2022, https://lynnwoodtimes.com/2022/08/24/overdose-220824/
menu_book
Goodwillie, Kristin. "$1.5 million in drugs found in abandoned Everett apartment." KING 5, 26 October 2022, https://www.king5.com/article/news/local/drugs-seized-abandoned-everett-apartment/281-c925f149-b273-441e-b0b1-0c1b4e63deb9
menu_book
"Snohomish Regional Drug Task Force (SRDTF)." Snohomish County Washington, https://snohomishcountywa.gov/6057/Snohomish-Regional-Drug-Task-Force-SRDTF
menu_book
Wilkinson, Eric. "An antidote for meth addiction? Doctors in Everett say it's quite possible." KING 5, 8 September 2022, https://www.king5.com/article/news/health/antidote-meth-addiction-providence-everett/281-c0970eda-b27c-4458-adcd-ed2b7c5ab81b
menu_book
"Neighborhood Maps." City of Everett Washington, https://www.everettwa.gov/2255/Neighborhood-Maps