Drug Testing in Delta, Colorado
Health Street's drug and alcohol testing clinic in Delta, Colorado provides convenient locations and comprehensive pre-employment drug screening services. Call (970) 289-5429 or register online for drug testing services. Drug and alcohol testing options include DOT and non-DOT urine drug tests, breath alcohol tests, EtG alcohol tests, and hair drug testing.
Register for a urine or hair drug test at one of our drug testing centers for your employees, yourself, or another person. Just choose your test and pick a location. A registration barcode will be sent to the person you specify. A map will accompany this authorization code. Test results are fast, reported securely, and stored in our online portal.
Workforce Screening, Digitally Delivered
Drug Testing in Delta, Colorado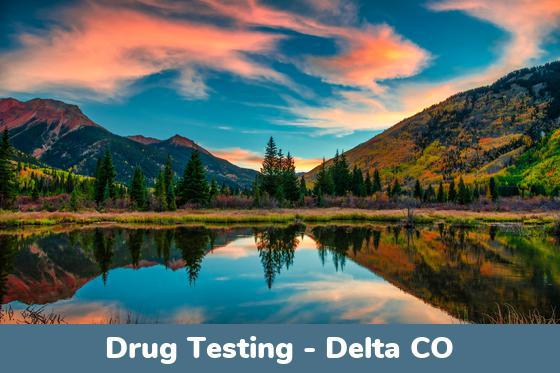 Types of Drug Tests in Delta, Colorado clinics:
In Delta, Health Street offers the widest variety and selection of drug tests anywhere, which allows you to choose from any panel you wish, with rapid results or sent to our lab, using a urine sample or a hair sample. Most of our tests have an option to add alcohol or remove THC from the screening, so that we can always meet your specific requirements.
The number of urine drug testing services and drug screening panels that we offer means that you can test for nearly any drug.
The most basic test we offer is a 5 Panel Drug Test, which tests for:
arrow_right_alt
Marijuana (THC, cannabinoids, weed)
arrow_right_alt
Phencyclidine (PCP – angel dust)
arrow_right_alt
Amphetamines (Adderall, Ritalin, methamphetamines)
arrow_right_alt
Basic Opiates (heroin, morphine, codeine)
The next option up from there is the 9 Panel Drug Test, which adds in some commonly abused prescriptions:
arrow_right_alt
Benzodiazepines (Valium, Klonopin, Xanax)
arrow_right_alt
Barbiturates
arrow_right_alt
Methadone
arrow_right_alt
Propoxyphene
When asked, we often recommend the 12 Panel Drug Test because it is a well rounded test that screens for common opioids and ecstasy, including:
arrow_right_alt
MDMA/6AM (Ecstasy, Molly)
arrow_right_alt
Expanded opiate class: Oxycodone, Oxymorphone, Hydrocodone, Hydromorphone (Vicodan, Percocet, Oxycontin)
If you're at all concerned with opiate usage beyond basic painkillers, just as many people in Delta are, consider registering for a 16 Panel Opiate Drug Test. These synthetic opiates are not picked up by lesser panel tests.
arrow_right_alt
Meperidine (Demerol)
arrow_right_alt
Buprenorphine (Suboxone)
The above is just a sampling of the wide variety of urine tests we offer. You can view all urine drug screens offered at our Delta CO drug testing center, which includes tests that go up to 22 panels, specialized tests for synthetic marijuana and bath salts, ketamine and rohypnol, GHB and more.
Alcohol Drug Tests
Alcohol use can be detected by our Delta CO drug testing locations. You can select our EtG test for alcohol (which has a 3 day look-back), or add it to any of our drug tests. Choose the alcohol drug testing that looks back at the specific period of time that matters to you:
DOT Drug and Alcohol Testing in Delta, Colorado
Our Delta facilities have technicians certified to perform DOT drug testing and breath alcohol tests. Random Pool Membership is offered, and members get discounted pricing on DOT drug tests. And because we know that many Delta businesses and residents are involved with shipping or maritime in one way or another, we help you comply with the strict USCG drug testing regulations. We have a pre-set DOT package specifically tailored just for the USCG (US Coast Guard) Drug Testing requirements. It includes everything you need from the SAMHSA lab to the MRO signed USCG-719P report.
Hair Drug Testing in Delta, Colorado ✂
Hair Drug Tests go back up to 90 days. We do these at our Delta drug testing locations with a small hair sample from the scalp or body.
Additional services from Employers: StaffGlass™
Employers get access to the amazing StaffGlass™ portal. Once logged in, business users can:
arrow_right_alt
Register for drug or alcohol tests and pick clinics nationwide; view results and status of all tests
arrow_right_alt
Manage eSign documents related to the testing process
arrow_right_alt
Set up a random pool, add or remove staff, update staff employment status
Why Health Street
More than a Decade of Experience
Since 2010, Health Street has provided drug testing in Delta as well as thousands of other cities nationwide. The first drug test that Health Street performed in Delta, CO was in 2018.
Commitment to Excellence
Our goal is to provide the best possible drug testing Delta employers and residents.
Local Testing Data
Statistics on Substance Abuse in Colorado
trending_up
From 2014 into 2018 there was an increase of nearly 90 percent of treatment admission with heroin as the primary cause.
trending_up
Meanwhile, meth admissions nearly topped 7,000 cases statewide during the same time frame. An increase of 39 percent.
trending_up
On the positive side, admissions for prescription opioids went from 2.321 cases in 2014 to 2,096 cases in 2018, a drop of 9.7% in Colorado.
Statistics about Substance Abuse in Delta
trending_up
Delta County is one among twelve counties in Colorado with drug overdose death rates of 20 deaths per 100,000 people or more.
trending_up
Hospitals across western Colorado are also working together through grants and programs to address addiction and over-prescription, including rural clinics in Delta County.
Nature and History Unite in Delta, Colorado
Delta is a small town of less than 10,000 people, just south of the Gunnison River and east of the Uncompahgre River. The area was first settled in the late 19th century by a mix of pioneers working in land and water development, mining, and agriculture. Before their arrival, Delta was the homeland of the Ute Native American tribe.
The residents of Delta have incorporated many aspects of the history of their city into its culture. Locals and visitors alike can see the old Ute Council Tree, check out the Delta County Historical Museum, and much more. Much of the town's architecture has remained the same since being constructed at the turn of the 20th century, giving a traditional feel even to the busier parts of town as well. Nature lovers appreciate that, within the city's 14 square miles, there are several scenic parks like Shade Pavilion Island, Pow Wow Arbor, and Mountain View Pavilion.
Additional Services
Health Street offers a variety of other services, including:
Citations
menu_book
Colorado County Drug Overdose Death Rate, https://www.coloradohealthinstitute.org/research/colorado-county-drug-overdose-death-rate
menu_book
Colorado Department of Human Services, https://www.colorado.gov/pacific/cdhs
menu_book
Data USA, Delta, Colorado, https://datausa.io/profile/geo/delta-co
menu_book
"A History & Heritage Hotbed." Delta County, Colorado, http://w.deltacountycolorado.com/about/history.aspx