Drug Tests in Paramount, California
Health Street provides drug and alcohol testing in Paramount, California at our drug testing center. Whether you need drug and alcohol testing for your employees, yourself, or a family member, you can rest assured that Health Street drug testing services in Paramount, CA provide a safe and clean environment and accurate results. We'll send a barcode authorization for the urine or hair drug test that you choose by text and email, along with a map to the clinic address.
Register for urine or hair drug tests in Paramount, CA quickly and easily online. Drug testing panels include Department of Transportation (DOT) and non-DOT urine drug tests, breath alcohol tests, EtG alcohol tests, and hair drug testing. Test results are fast, reviewed by our Medical Review Officer (an MRO), and reported safely and securely online. You can also call (562) 317-8915 with any questions about our employment screening services.
Workforce Screening, Digitally Delivered
Good customer service, very helpful.
Maricela Velázquez
6/13/2019
Fast professional service quite amazing thank you!Southern CaliforniaDot mirror drug test
John murray
6/29/2018
A She was EXCELLENT!!B paramount CAC DOT mirror
John murray
6/28/2018
1 of 1
7300 Alondra Blvd
Paramount
,
CA
90723
Drug Testing in Paramount, California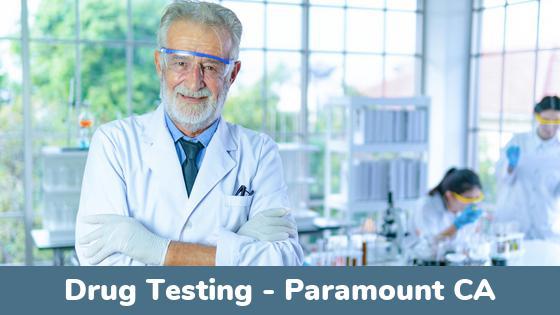 Types of Drug Tests in Paramount, California clinics:
In Paramount, Health Street offers the widest variety and selection of drug tests anywhere, which allows you to choose from any panel you wish, with rapid results or sent to our lab, using a urine sample or a hair sample. Most of our tests have an option to add alcohol or remove THC from the screening, so that we can always meet your specific requirements.
The number of urine drug testing services and drug screening panels that we offer means that you can test for nearly any drug.
The most basic test we offer is a 5 Panel Drug Test, which tests for:
arrow_right_alt
Marijuana (THC, cannabinoids, weed)
arrow_right_alt
Phencyclidine (PCP – angel dust)
arrow_right_alt
Amphetamines (Adderall, Ritalin, methamphetamines)
arrow_right_alt
Basic Opiates (heroin, morphine, codeine)
The next option up from there is the 9 Panel Drug Test, which adds in some commonly abused prescriptions:
arrow_right_alt
Benzodiazepines (Valium, Klonopin, Xanax)
arrow_right_alt
Barbiturates
arrow_right_alt
Propoxyphene
When asked, we often recommend the 12 Panel Drug Test because it is a well rounded test that screens for common opioids and ecstasy, including:
arrow_right_alt
MDMA/6AM (Ecstasy, Molly)
arrow_right_alt
Expanded opiate class: Oxycodone, Oxymorphone, Hydrocodone, Hydromorphone (Vicodan, Percocet, Oxycontin)
If you're at all concerned with opiate usage beyond basic painkillers, just as many people in Paramount are, consider registering for a 16 Panel Opiate Drug Test. These synthetic opiates are not picked up by lesser panel tests.
arrow_right_alt
Meperidine (Demerol)
arrow_right_alt
Buprenorphine (Suboxone)
The above are just a few of the wide variety of urine tests we offer. You can view all urine drug screens offered at our Paramount drug testing centers. We offer urine tests that go up to 22 panels, plus specialized tests for synthetic marijuana and bath salts, ketamine and rohypnol, GHB and more.
Alcohol Drug Tests
Alcohol use can be detected by our Paramount drug testing locations. You can select our EtG test for alcohol (which has a 3 day look-back), or add it to any of our drug tests. Choose the alcohol drug testing that looks back at the specific period of time that matters to you:
DOT Drug and Alcohol Testing in Paramount, California
Our Paramount facilities have technicians certified to perform DOT drug testing and breath alcohol tests. Random Pool Membership is offered, and members get discounted pricing on DOT drug tests. And because we know that many Paramount businesses and residents are involved with shipping or maritime in one way or another, we help you comply with the strict USCG drug testing regulations. We have a pre-set DOT package specifically tailored just for the USCG (US Coast Guard) Drug Testing requirements. It includes everything you need from the SAMHSA lab to the MRO signed USCG-719P report.
Hair Drug Testing in Paramount, California ✂
Hair Drug Tests go back up to 90 days. We do these at our Paramount drug testing locations with a small hair sample from the scalp or body.
Additional services from Employers: StaffGlass™
Employers get access to our proprietary StaffGlass™ eResults portal. When logged in, business users are able to:
arrow_right_alt
Register for drug or alcohol tests and pick clinics nationwide; view results and status of all tests
arrow_right_alt
Manage eSign documents related to the testing process
arrow_right_alt
Set up a DOT random pool and manage enrollment in a DOT small business consortium
For live customer service, call our U.S. based call center Monday through Friday, from 4:30 AM to 4:00 PM Pacific Time.
Why Health Street
Over a Decade of Experience
Health Street has been performing drug testing nationally since 2010. The first Paramount, CA drug test was provided by Health Street in 2017.
Dedication to Excellence
We are committed to providing excellent services and to helping businesses and families obtain the drug testing in Paramount that they require.
Local Drug Use and Stats
Substance Abuse Statistics for Paramount, CA
arrow_forward_ios
In 2018, the opioid prescribing rate for Los Angeles County, the locality in which Paramount resides, was 26.8 per 100 residents.
arrow_forward_ios
From 1996 to 2014, approximately 26,463 drug overdose reversals using Naloxone were reported in Los Angeles County.
arrow_forward_ios
From 2008 to 2017, Los Angeles County reported a 604% increase in meth-related emergency department visits.
Notable Events Relating to Substance Abuse in Paramount, CA
In November 2018, Paramount resident Edgar Roque was sentenced to 35 years in federal prison for his role in an international drug trafficking ring. Following the multi-year federal investigation labeled "Operation Derailed," law enforcement discovered Roque was the leader of a massive drug network that imported thousands of kilograms of narcotics from Mexico into the U.S. Along with the help of an insider at Amtrak, Roque moved hundreds of drug packages across the country from 2010 to 2016 without being detected by law enforcement. In addition to Roque, more than 20 individuals were arrested following the investigation.
Special Programs Relating to Substance Abuse in Paramount, CA
In recent years, Paramount, CA has faced struggles with the growing opioid epidemic impacting communities across the country. To combat spiking overdose deaths across California, first responders and health professionals would administer Naloxone, a drug overdose reversal medication used to treat emergency situations. Unfortunately, the general public had trouble quickly accessing the medication due to non-medical personnel requiring a prescription.
In 2018, the state of California enacted a state-wide Naloxone standing order which expanded easier access to Naloxone across the state. This order helped establish the Naloxone Distribution Project, through which non-medical entities and organizations such as homeless programs, schools, and religious entities may apply to receive free Naloxone resources. To provide easier administration for qualified individuals, the state provides the drug in the form of a nasal spray rather than an injectable as well.
Locations
Clinic Hours and Information for our Labs in Paramount, California
7300 Alondra Blvd
Suite 100
Paramount, CA 90723
Pre-registration required,
Walk-in with barcode:
---
Monday: 8:00 AM – 5:00 PM
Tuesday: 8:00 AM – 5:00 PM
Wednesday: 8:00 AM – 5:00 PM
Thursday: 8:00 AM – 5:00 PM
Friday: 8:00 AM – 5:00 PM
About this Location:
For non-DOT and DOT drug testing in Paramount, California, you can find us very close by to Manuel Dominguez High School.
Some Paramount Neighborhoods That We Serve
location_city
Arthur Avenue Apartments
location_city
Enclave Apartments
location_city
Four Seasons
location_city
Indiana Avenue Apartments
location_city
Paramount Square Apartments
location_city
Paramount Villas
location_city
San Marcos Village
location_city
Somerset Village
Additional Services
Health Street offers a variety of other services, including:
Citations
menu_book
"City and Community Health Profiles." Los Angeles County, http://publichealth.lacounty.gov/ohae/docs/cchp/pdf/2018/Paramount.pdf
menu_book
"U.S. County Opioid Dispensing Rates, 2019." Centers for Disease Control and Prevention, https://www.cdc.gov/drugoverdose/maps/rxcounty2019.html
menu_book
"SAPC Data Brief Heroin Misuse/Abuse and Consequences." County of Los Angeles Public Health, http://publichealth.lacounty.gov/sapC/MDU/MDBrief/HeroinBriefFinal.pdf
menu_book
"SAPC Data Brief Methamphetamine Misuse/Abuse and Consequences." County of Los Angeles Public Health, http://publichealth.lacounty.gov/sapC/MDU/MDBrief/MethamphetamineBriefFinal.pdf
menu_book
"California drug trafficker sentenced to 35 years in federal prison for transporting heroin and cocaine to Chicago aboard Amtrak trains." Drug Enforcement Administration, https://www.dea.gov/press-releases/2018/09/12/california-drug-trafficker-sentenced-35-years-federal-prision
menu_book
"Naloxone Statewide Standing Order Frequently Asked Questions (FAQs)." California Department of Public Health, https://www.cdph.ca.gov/Programs/CCDPHP/DCDIC/SACB/CDPH%20Document%20Library/Naloxone/Naloxone%20FAQs%20062118.pdf
menu_book
"Naloxone Distribution Project" State of California., https://www.dhcs.ca.gov/individuals/Pages/Naloxone_Distribution_Project.aspx
menu_book
"Paramount, CA." Apartments.com, https://www.apartments.com/paramount-ca/