Drug Test – Madison, AL
Health Street provides drug and alcohol testing in Madison, Alabama at our testing center. Whether you need drug and alcohol testing for your employees, yourself, or a family member, you can rest assured that Health Street drug testing services in Madison, Alabama provides a safe and clean environment and accurate results. We'll send a barcode authorization for the urine or hair drug test that you choose by text and email, along with a map to the clinic address.
Register for urine or hair drug tests in Madison, AL quickly and easily online. Drug testing panels include Department of Transportation (DOT) and non-DOT urine drug tests, breath alcohol tests, EtG alcohol tests, and hair drug testing. Test results are fast, reviewed by our Medical Review Officer (an MRO), and reported safely and securely online. You can also call (256) 371-6386 with any questions about our employment screening services.
Workforce Screening, Digitally Delivered
1 of 1
8045 Highway 72 W
Madison
,
AL
35758
Drug Testing in Madison, Alabama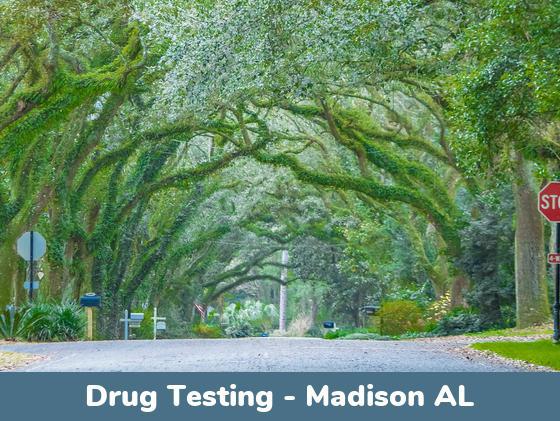 Types of Drug Tests at our Madison, Alabama clinics:
In Madison, Alabama, Health Street offers the widest variety and selection of drug tests anywhere, which allows you to choose from any panel you wish, with rapid results or sent to our lab, using a urine sample or a hair sample. Most of our tests have an option to add alcohol or remove THC from the screening, so that we can always meet your specific requirements.
The number of urine drug testing services and drug screening panels that we offer means that you can test for nearly any drug.
The most basic test we offer is a 5 Panel Drug Test – $75, which tests for:
arrow_right_alt
Marijuana (THC, cannabinoids, weed)
arrow_right_alt
Phencyclidine (PCP – angel dust)
arrow_right_alt
Amphetamines (Adderall, Ritalin, methamphetamines)
arrow_right_alt
Basic Opiates (heroin, morphine, codeine)
The next option up from there is the 9 Panel Drug Test – $85, which adds in some commonly abused prescriptions:
arrow_right_alt
Benzodiazepines (Valium, Klonopin, Xanax)
arrow_right_alt
Barbiturates
arrow_right_alt
Methadone
arrow_right_alt
Propoxyphene
The popular 10 Panel Drug Test – $89 adds in methaqualone.
***12 Panel – Comprehensive Urine Test***
When asked, we often recommend the 12 Panel Drug Test – $149 because it is a well rounded test that screens for common opioids and ecstasy, including:
arrow_right_alt
MDMA/6AM (Ecstasy, Molly)
arrow_right_alt
Expanded opiate class: Oxycodone, Oxymorphone, Hydrocodone, Hydromorphone (Vicodan, Percocet, Oxycontin)
If you're at all concerned with opiate usage beyond basic painkillers, just as many people in Madison are, consider registering for a 16 Panel Opiate Drug Test – $250. These synthetic opiates are not picked up by lesser panel tests.
arrow_right_alt
Meperidine (Demerol)
arrow_right_alt
Buprenorphine (Suboxone)
The above is just a sampling of the wide variety of urine tests we offer. You can view all urine drug screens offered at our Madison AL drug testing center, which includes tests that go up to 22 panels, specialized tests for synthetic marijuana and bath salts, ketamine and rohypnol, GHB and more.
Alcohol Testing in Madison, Alabama
Alcohol use can be detected by our Madison AL drug testing locations. You can select our EtG test for alcohol (which has a 3 day look-back), or add it to any of our drug tests. Choose the alcohol drug testing that looks back at the specific period of time that matters to you:
DOT Drug and Alcohol Testing – Madison AL
Our Madison facilities have technicians certified to perform DOT drug testing and breath alcohol tests. Random Pool Membership is offered, and members get discounted pricing on DOT drug tests. And because we know that many Madison businesses and residents are involved with shipping or maritime in one way or another, we help you comply with the strict USCG drug testing regulations. We have a pre-set DOT package specifically tailored just for the USCG (US Coast Guard) Drug Testing requirements. It includes everything you need from the SAMHSA lab to the MRO signed USCG-719P report.
Hair Follicle Drug Testing Madison AL ✂
Hair Drug Tests go back up to 90 days. We do these at our Madison drug testing locations with a small hair sample from the scalp or body.
Additional services from Employers: StaffGlass™
Employers get access to the amazing StaffGlass™ portal. Once logged in, business users can:
arrow_right_alt
Register for drug or alcohol tests and pick clinics nationwide; view results and status of all tests
arrow_right_alt
Manage eSign documents related to the testing process
arrow_right_alt
Set up a random pool, add or remove staff, update staff employment status
Why Health Street
A Decade Plus of Experience
Health Street has provided drug tests since 2010. The first time we performed drug testing in Madison, AL was in 2017.
Committed to Excellence
Health Street is dedicated to providing the utmost in professionalism to businesses and families requiring drug testing in Madison, Alabama.
Business, Culture, and Drugs in Madison AL
The Local Economy, Jobs, and Major Industries in Madison
The picturesque town of Madison is a popular suburb of Huntsville, located near the northern border of Alabama. With around 52,500 residents, it's typically included as part of the Huntsville Metropolitan Area. Many residents from Madison take advantage of the area's newly built subdivisions and live here while commuting to work in Huntsville.
The area's largest employer is Intergraph Corporation (now part of Hexagon), a computer software development company that's been a mainstay of the area since its foundation in 1969. Science and technology are popular occupations in the area, with many well-educated Madison locals working at companies like STI and Tyonek.
Many Madison residents love to hike trails on the weekends, then kick back with a glass of wine from Mad County, a local winery that creates unique liquor using traditional Appalachian distilling techniques.
Substance Abuse Trends that May Concern Local Employers in Madison
Despite its busy workforce, wine and beer aren't the only substances that many people in Madison use to relax. Over the last several years, Madison has found itself at the center of an epidemic of opioid use, with drugs accounting for 43% of all accidental deaths registered in 2017.
The use of carfentanil and other forms of synthetic fentanyl are on the rise, with many people overdosing on these drugs which are more than 10,000 times more potent than morphine. Every five days, on average, Madison County experiences a drug-related death. In many cases, the deaths are caused due to interactions between opioids and other drugs of abuse. In 2017, the local coroner's office reported that 75% of drug-related deaths could be linked to opioid overdose.
Community Efforts to Address Drug Problems in Madison
Fortunately, many members of the community in Madison are stepping up to try and end the epidemic of drug and opioid dependence. At the beginning of 2020, the organization Partnership for a Drug-Free Community, along with the Madison County Sheriff's Office and police departments from both Huntsville and Madison, announced a new program to try and reach residents with substance abuse issues.
They collaborated on a local Recovery Resource Hub, which will help provide residents with resources on treatment and recovery, with the goal of drastically reducing the community's number of overdose deaths. With so many employment opportunities locally, this resource can help locals get out of the cycle of drug abuse, and into a new and engaging career.
Locations
Clinic Hours and Information for our Labs in Madison, Alabama
8045 Highway 72 W
Madison, AL 35758
Pre-registration required,
Walk-in with barcode:
---
Monday: 8:00 AM – 7:00 PM
Tuesday: 8:00 AM – 7:00 PM
Wednesday: 8:00 AM – 7:00 PM
Thursday: 8:00 AM – 7:00 PM
Friday: 8:00 AM – 7:00 PM
About this Location:
Get drug testing in Madison, Alabama at this location near Knox Creek Park.
Some Madison Neighborhoods That We Serve
location_city
Highland Lakes
location_city
Potters Mill
location_city
Woodmill Trace
Citations
menu_book
"Madison, Alabama Population 2020." World Population Review, https://worldpopulationreview.com/us-cities/madison-al-population
menu_book
Intergraph (Now part of Hexagon), http://www.intergraph.com/
menu_book
"Community Profile." City of Madison, Industrial Development Board, http://madisonidb.com/community-profile
menu_book
Mad County Distillery, https://www.themadcountydistillery.com/
menu_book
Brentzel, Chelsea. "Drugs account for 43 percent of Madison County accidental deaths in 2017." WHNT News 19, 23 June 2017, https://whnt.com/news/drugs-account-for-43-percent-of-madison-county-accidental-deaths-in-2017/
menu_book
Harksen, Lauren. "Recovery Resource Hub Comes to Madison County," 7 January 2020, https://whnt.com/news/huntsville/recovery-resource-hub-comes-to-madison-county/
menu_book
Partnership for a Drug-Free Community, http://www.partnershipforadrug-freecommunity.org/
menu_book
"Discover Your Madison Neighborhood." Nextdoor, https://nextdoor.com/city/madison–al/