Drug Testing – Lawrence, Massachusetts
Health Street's drug testing center in Lawrence, Massachusetts offers easy-to-access and comprehensive drug and alcohol testing services. Pre-register by calling (978) 291-6330 or setting up your drug testing online. Options include urine or hair drug testing, DOT or non-DOT drug tests, and alcohol testing.
You can register for drug testing in Lawrence, MA for your employees, yourself, or another person. Just select a urine test or hair drug test; then, pick the most convenient Health Street location in Lawrence. Upon registration, a barcode will be sent to whomever you register, which can be presented at the testing facility. Test results are reported back to you quickly and securely online.
Workforce Screening, Digitally Delivered
1 of 1
135 Broadway
Lawrence
,
MA
01840
Drug Testing in Lawrence, Massachusetts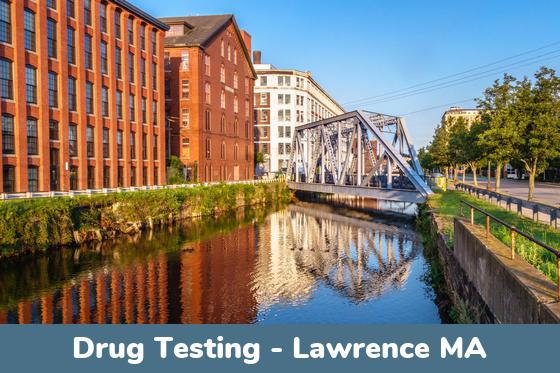 Types of Drug Tests in Lawrence, Massachusetts clinics:
In Lawrence, Health Street offers the widest variety and selection of drug tests anywhere, which allows you to choose from any panel you wish, with rapid results or sent to our lab, using a urine sample or a hair sample. Most of our tests have an option to add alcohol or remove THC from the screening, so that we can always meet your specific requirements.
The number of urine drug testing services and drug screening panels that we offer means that you can test for nearly any drug.
The most basic test we offer is a 5 Panel Drug Test, which tests for:
arrow_right_alt
Marijuana (THC, cannabinoids, weed)
arrow_right_alt
Phencyclidine (PCP – angel dust)
arrow_right_alt
Amphetamines (Adderall, Ritalin, methamphetamines)
arrow_right_alt
Basic Opiates (heroin, morphine, codeine)
The next option up from there is the 9 Panel Drug Test, which adds in some commonly abused prescriptions:
arrow_right_alt
Benzodiazepines (Valium, Klonopin, Xanax)
arrow_right_alt
Barbiturates
arrow_right_alt
Propoxyphene
When asked, we often recommend the 12 Panel Drug Test because it is a well rounded test that screens for common opioids and ecstasy, including:
arrow_right_alt
MDMA/6AM (Ecstasy, Molly)
arrow_right_alt
Expanded opiate class: Oxycodone, Oxymorphone, Hydrocodone, Hydromorphone (Vicodan, Percocet, Oxycontin)
If you're at all concerned with opiate usage beyond basic painkillers, just as many people in Lawrence are, consider registering for a 16 Panel Opiate Drug Test. These synthetic opiates are not picked up by lesser panel tests.
arrow_right_alt
Meperidine (Demerol)
arrow_right_alt
Buprenorphine (Suboxone)
The above are just a few of the wide variety of urine tests we offer. You can view all urine drug screens offered at our Lawrence drug testing centers. We offer urine tests that go up to 22 panels, plus specialized tests for synthetic marijuana and bath salts, ketamine and rohypnol, GHB and more.
Alcohol Drug Tests
Alcohol use can be detected by our Lawrence drug testing locations. You can select our EtG test for alcohol (which has a 3 day look-back), or add it to any of our drug tests. Choose the alcohol drug testing that looks back at the specific period of time that matters to you:
DOT Drug and Alcohol Testing in Lawrence, Massachusetts
Our Lawrence facilities have technicians certified to perform DOT drug testing and breath alcohol tests. Random Pool Membership is offered, and members get discounted pricing on DOT drug tests. And because we know that many Lawrence businesses and residents are involved with shipping or maritime in one way or another, we help you comply with the strict USCG drug testing regulations. We have a pre-set DOT package specifically tailored just for the USCG (US Coast Guard) Drug Testing requirements. It includes everything you need from the SAMHSA lab to the MRO signed USCG-719P report.
Hair Drug Testing in Lawrence, Massachusetts ✂
Hair Drug Tests go back up to 90 days. We do these at our Lawrence drug testing locations with a small hair sample from the scalp or body.
Additional services from Employers: StaffGlass™
Employers get access to our proprietary StaffGlass™ eResults portal. When logged in, business users are able to:
arrow_right_alt
Register for drug or alcohol tests and pick clinics nationwide; view results and status of all tests
arrow_right_alt
Manage eSign documents related to the testing process
arrow_right_alt
Set up a DOT random pool and manage enrollment in a DOT small business consortium
For live customer service, call our U.S. based call center Monday through Friday, from 7:30 AM to 7:00 PM Eastern Time.
Why Health Street
A Decade Plus of Experience
Health Street has provided drug tests since 2010. The first time we performed drug testing in Lawrence, MA was in 2013.
Dedicated to Excellence
We are dedicated to providing a level of excellence in drug testing in Lawrence that is unmatched.
Lawrence, Massachusetts – Drug Testing
Notable Events Related to Drug Use in Lawrence
A Lawrence-based physician with a family medical practice made headlines in 2022 after being indicted for illegally prescribing controlled substances to patients. The physician is accused of prescribing amphetamines, morphine sulfate, and benzodiazepines to chronic pain patients, including some with substance abuse disorders.
Allegations state that patients were given drug screens that showed they were not taking the medications prescribed and indicated the presence of illegal drugs, such as fentanyl and cocaine. Despite these test results, the physician continued to prescribe the drugs even though the patients did not have a legitimate medical purpose for using them. The indictment is a result of an investigation assisted by the Massachusetts State Police, the Drug Enforcement Agency's Boston Office, and the Department of Public Health. The physician no longer holds his license to practice medicine.
Police Efforts to Curb Substance Abuse in Lawrence, MA
The streets are a bit safer now that the leader of a Lawrence-based drug trafficking organization has been sentenced in federal court. The individual pled guilty in September 2022 to charges of trafficking heroin, fentanyl, cocaine, and carfentanil in and around the Lawrence area. In response to the sentencing, Brian D. Boyle, Special Agent in Charge of the Boston Field Division of the Drug Enforcement Administration spoke of the seriousness of the crime, calling it "unacceptable" and stating that "DEA and its local, state, and federal partners are dedicated to bringing to justice those that commit these crimes." The accused drug trafficker was sentenced to 186 months in prison and five years of supervised release.
Substance Abuse Trends and Statistics for Massachusetts
In 2021, the rate of opioid-related deaths in Massachusetts increased by 9.4% compared to 2020. However, the number of death continued to trend lower than national data. Over the course of the year, there were 2,301 opioid-related overdose deaths in Massachusetts. Preliminary data shows that in the first nine months of 2022, overdose deaths had decreased by approximately 1.5% year-over-year. The synthetic opioid fentanyl was found in the toxicology reports of nearly every overdose victim in the state in 2022. This dangerous drug continues to be a significant problem in the city of Lawrence and the state as a whole.
Last updated 2/21/2023
Locations
Clinic Hours and Information for our Labs in Lawrence, Massachusetts
135 Broadway
Lawrence, MA 01840
Pre-registration required,
Walk-in with barcode:
---
Monday: 8:00 AM – 3:00 PM
(M Lunch: 12-1 PM)
Tuesday: 8:00 AM – 3:00 PM
(T Lunch: 12-1 PM)
Wednesday: 8:00 AM – 3:00 PM
(W Lunch: 12-1 PM)
Thursday: 8:00 AM – 3:00 PM
(Th Lunch: 12-1 PM)
Friday: 8:00 AM – 3:00 PM
(F Lunch: 12-1 PM)
About this Location:
If you are looking for drug testing in Lawrence, Massachusetts, you can find us in walking distance from Northern Essex Community College – Lawrence Campus.
Neighborhoods Served in Lawrence
location_city
Stevens Village
location_city
Columbia Park
location_city
Heritage Common
location_city
Little Belgium
location_city
Mill District
location_city
Prospect Hill
location_city
Sacred Heart/Brookfield St
location_city
Union Heights
Additional Services
Health Street offers a variety of other services, including:
Citations
menu_book
"Lawrence-Based Doctor Charged With Illegally Prescribing Drugs to Substance Use Disorder and Chronic Pain Patients." Office of the Attorney General, 13 May 2022, https://www.mass.gov/news/lawrence-based-doctor-charged-with-illegally-prescribing-drugs-to-substance-use-disorder-and-chronic-pain-patients
menu_book
"Leader of Lawrence Drug Trafficking Organization Sentenced to Over 15 Years in Prison." United States Attorney's Office, District of Massachusetts, 13 January 2023, https://www.justice.gov/usao-ma/pr/leader-lawrence-drug-trafficking-organization-sentenced-over-15-years-prison
menu_book
"Massachusetts opioid-related overdose death rate declines 1.5 percent in the first nine months of 2022." Department of Public Health, 14 December 2022, https://www.mass.gov/news/massachusetts-opioid-related-overdose-death-rate-declines-15-percent-in-the-first-nine-months-of-2022
menu_book
"Drug Use by State 2023." World Population Review, https://worldpopulationreview.com/state-rankings/drug-use-by-state
menu_book
"Neighborhoods (Lawrence, MA)." Queen City Massachusetts, https://queencityma.wordpress.com/2016/08/17/jowdy-geography-challenge-2016-lawrence-ma/