Drug Test – Nashua, NH
Health Street provides drug and alcohol testing in Nashua, New Hampshire at 2 drug testing centers. Whether you need drug and alcohol testing for your employees, yourself, or a family member, you can rest assured that Health Street drug testing services in Nashua, NH provide a safe and clean environment and accurate results. We'll send a barcode authorization for the urine or hair drug test that you choose by text and email, along with a map to the clinic address.
Register for urine or hair drug tests in Nashua, NH quickly and easily online. Drug testing panels include Department of Transportation (DOT) and non-DOT urine drug tests, breath alcohol tests, EtG alcohol tests, and hair drug testing. Test results are fast, reviewed by our Medical Review Officer (an MRO), and reported safely and securely online. You can also call (603) 952-3542 with any questions about our employment screening services.
Workforce Screening, Digitally Delivered
Little to no waiting time. Polite staff.
Sam
7/17/2020
Instant drug testing. Quest facility with normal GCMass Spec testing services. Worth the 100.
Ad m
1/25/2020
Louis is one of my go-to contacts for Health Street. He helps our efficiency by pulling up our account in record time, asking the right questions and getting our services scheduled. His communication during the process is also incredible letting us know what is going on with check point style emails. Easy to use, easy to navigate!. Simply because you make my job so much easier with less worry about these details. When I call Health Street I know things will get handled properly.
Sarah
6/28/2018
All Drain Services
It was an emergency and you helped us perfectly!. great. just are
Maggie
6/28/2018
DevTech PET Inc
Excellent service for everything
Alia Baksh
1/29/2018
All Drain Services
1 of 2
300 Main Street
Nashua
,
NH
03060
2 of 2
2300 Southwood Drive
Nashua
,
NH
03063
Drug Testing in Nashua, New Hampshire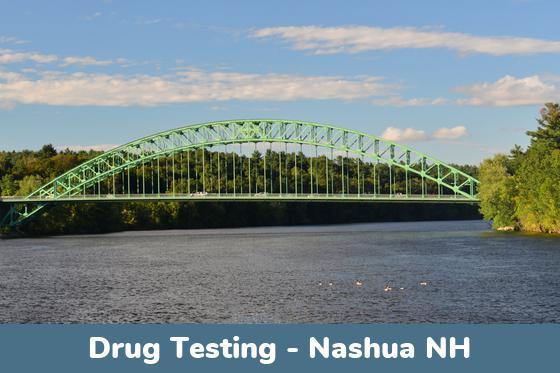 Types of Drug Tests at our Nashua, NH laboratories:
At our Nashua drug testing locations, Health Street offers the most types of drug testing services to meet anyone's needs. Employers, courts, attorneys, and private individuals can choose from a wide variety of non-DOT or DOT drug and alcohol tests via rapid drug test or lab testing with the ability to detect virtually any substance.
Available Testing Methods
DOT Drug Testing services:
StaffGlass™ eResults portal for Employers:
Business users can access the amazing StaffGlass™ eResults portal backed up by telephonic customer service. Once logged in, business users have access to:
recent_actors
Register for pre-employment screening services, random drug testing, or other drug or alcohol testing services and pick clinics nationwide; view results and status of all tests
recent_actors
Manage eSign documents related to the testing process
recent_actors
Manage a DOT Random Pool, add or remove drivers, change staff participation in random drug testing
Our world class Call Center is open Monday through Friday: 7:30 AM to 7:00 PM Eastern Time.
Why Health Street
A Decade Plus of Experience
Health Street has provided drug tests since 2010. The first time we performed drug testing in Nashua, NH was in 2016. From then until now, we have completed 60 drug tests at our Nashua labs.
Dedicated to Excellence
We are dedicated to providing a level of excellence in drug testing in Nashua that is unmatched.
Drug Stats and History for Nashua NH
Drug Abuse Trends and Statistics for the City of Nashua, NH and Hillsborough County
multiline_chart
Nashua, NH is part of the three geographical areas that make up the state's
heroin
population.
multiline_chart
Many of the
drug problems
that occur in Nashua and the state of New Hampshire are the result of the state's location. Drug users and dealers cross the border into Massachusetts to obtain drugs to bring back for use and distribution.
multiline_chart
In Nashua and Hillsborough County in 1999, 49 drug-related arrests were made.
multiline_chart
In 2014, Hillsborough County had 106 overdose deaths. This number increased to 178 in 2015, and 199 in 2016.
multiline_chart
In 2019 in Hillsborough County, there were 155 overdose deaths.
Notable Historical Events Related to Drug Use in Nashua, NH
In Nashua, NH in November of 2019, ten people were arrested by police and New Hampshire DEA in a Nashua drug roundup. The arrests were made as a result of extensive investigations involving the distribution of illegal drugs throughout the city.
In June of 2020 in Nashua, NH, seven people were arrested during Operation Granite Shield Sweep. Nashua's Narcotics Intelligence Division and Problem-Oriented Policing Unit along with Hudson Police made these arrests for various drug crimes and criminal activity associated with drug activity.
Government Efforts to Address Drug Problems in Nashua, NH and Hillsborough County
With an estimated 50 percent of New Hampshire State Prison inmates having an opioid use disorder, jails have become a place to not only hold inmates but also to act as medical facilities for inmates going through withdrawal and monitoring them as they need more care.
The Hillsborough County Department of Corrections has become one of the departments throughout the state to expand drug treatment services in county jail.
The Opioid Taskforce recommended that the state consider a set of principles and guidelines for the treatment and care of substance abuse disorders throughout the corrections system.
Locations
Clinic Hours and Information for our Labs in Nashua, New Hampshire
300 Main Street
Suite 301b Next To Work Out W
Nashua, NH 03060
Pre-registration required,
Walk-in with barcode:
---
Monday: 8:00 AM – 2:00 PM
Tuesday: 8:00 AM – 2:00 PM
Wednesday: 8:00 AM – 2:00 PM
Thursday: 8:00 AM – 2:00 PM
Friday: 8:00 AM – 2:00 PM
About this Location:
Non-Dot And Dot Drug Testing in Nashua is available at this location, around the corner from Fields Grove.
2300 Southwood Drive
Nashua, NH 03063
Pre-registration required,
Appointment Required.
---
Monday: 8:00 AM – 4:00 PM
(M Lunch: 12-1 PM)
Tuesday: 8:00 AM – 4:00 PM
(T Lunch: 12-1 PM)
Wednesday: 8:00 AM – 4:00 PM
(W Lunch: 12-1 PM)
Thursday: 8:00 AM – 4:00 PM
(Th Lunch: 12-1 PM)
Friday: 8:00 AM – 4:00 PM
(F Lunch: 12-1 PM)
About this Location:
We are down the block from Mine Falls Park.
Some Nashua Neighborhoods That We Serve
location_city
Georgetown Drive
location_city
Grand/Ledge/Perry
location_city
Greenleaf Estates
location_city
Groton Woods
location_city
Heathwood Meadows
location_city
Hills Ferry West
location_city
Main Street Mills
location_city
Thoreaus Landing
Additional Services
Health Street offers a variety of other services, including:
Local Reviews
By Sarah Melican on 12/20/2017
All Drain Services
1, 2, 3, DONE! You guys make my job so much easier, Thank you!
By Denise Cloutier on 9/15/2016
Very professional, they treated me with dignity and respect.
By Sarah Melican on 7/1/2016
Queava took the time to research a particular medication for me and helped me understand whether or not the drug would show up on the panel we purchased. She took the time to ensure I understood everything and did not make me feel like I was inconvienencing her at all. I appreciate the professional service we always receive from your company!
Citations
menu_book
"New Hampshire Drug Threat Assessment: Heroin." National Drug Intelligence Center, https://www.justice.gov/archive/ndic/pubs0/662/heroin.htm
menu_book
"New Hampshire Drug Threat Assessment: Overview." National Drug Intelligence Center, https://www.justice.gov/archive/ndic/pubs0/662/overview.htm
menu_book
"New Hampshire Drug Monitoring Initiative." New Hampshire Information & Analysis Center, New Hampshire Department of Health and Human Services, 17 February 2021, https://www.dhhs.nh.gov/dcbcs/bdas/documents/dmi-2020-overview.pdf
menu_book
Schinella, Tony. "10 Arrested In Nashua Drug Roundup By Police And NH DEA." Patch, 25 November 2019, https://patch.com/new-hampshire/nashua/10-arrested-nashua-drug-roundup-police-nh-dea
menu_book
Schinella, Tony. "7 Arrested In Nashua During Operation Granite Shield Sweep." Patch, 26 June 2020, https://patch.com/new-hampshire/nashua/7-arrested-nashua-during-operation-granite-shield-sweep
menu_book
Grossmith, Pat and Rich Kern, Sheryl. "Expansion of Drug Treatment Services Continues in County Jails." New Hampshire Bar Association, https://www.nhbar.org/expansion-of-drug-treatment-services-continues-in-county-jails/
menu_book
"Recovery Task Force." New Hampshire Center for Excellence on Addiction, https://nhcenterforexcellence.org/governors-commission/recovery-task-force/
menu_book
"Discover your Nashua neighborhood." Nextdoor, https://nextdoor.com/city/nashua–nh/