Drug Test – Wake Forest, NC
Health Street provides drug and alcohol testing in Wake Forest, North Carolina at our testing center. Whether you need drug and alcohol testing for your employees, yourself, or a family member, you can rest assured that Health Street drug testing services in Wake Forest, North Carolina provide a safe and clean environment and accurate results. We'll send a barcode authorization for the urine or hair drug test that you choose by text and email, along with a map to the clinic address.
Register for urine or hair drug tests in Wake Forest, NC quickly and easily online. Drug testing panels include Department of Transportation (DOT) and non-DOT urine drug tests, breath alcohol tests, EtG alcohol tests, and hair drug testing. Test results are fast, reviewed by our Medical Review Officer (an MRO), and reported safely and securely online. You can also call (919) 822-9398 with any questions about our employment screening services.
Workforce Screening, Digitally Delivered
1 of 1
2001 S Main Street
Wake Forest
,
NC
27587
Drug Testing in Wake Forest, North Carolina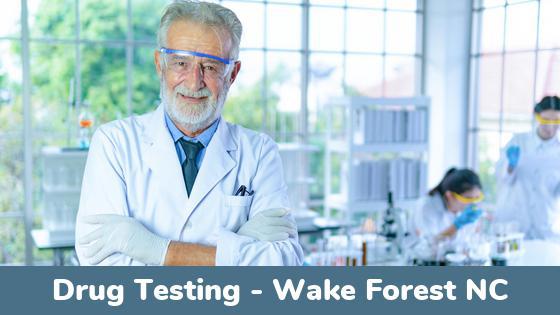 Types of Drug Tests in Wake Forest, North Carolina clinics:
In Wake Forest, Health Street offers the widest variety and selection of drug tests anywhere, which allows you to choose from any panel you wish, with rapid results or sent to our lab, using a urine sample or a hair sample. Most of our tests have an option to add alcohol or remove THC from the screening, so that we can always meet your specific requirements.
The number of urine drug testing services and drug screening panels that we offer means that you can test for nearly any drug.
The most basic test we offer is a 5 Panel Drug Test, which tests for:
arrow_right_alt
Marijuana (THC, cannabinoids, weed)
arrow_right_alt
Phencyclidine (PCP – angel dust)
arrow_right_alt
Amphetamines (Adderall, Ritalin, methamphetamines)
arrow_right_alt
Basic Opiates (heroin, morphine, codeine)
The next option up from there is the 9 Panel Drug Test, which adds in some commonly abused prescriptions:
arrow_right_alt
Benzodiazepines (Valium, Klonopin, Xanax)
arrow_right_alt
Barbiturates
arrow_right_alt
Methadone
arrow_right_alt
Propoxyphene
When asked, we often recommend the 12 Panel Drug Test because it is a well rounded test that screens for common opioids and ecstasy, including:
arrow_right_alt
MDMA/6AM (Ecstasy, Molly)
arrow_right_alt
Expanded opiate class: Oxycodone, Oxymorphone, Hydrocodone, Hydromorphone (Vicodan, Percocet, Oxycontin)
If you're at all concerned with opiate usage beyond basic painkillers, just as many people in Wake Forest are, consider registering for a 16 Panel Opiate Drug Test. These synthetic opiates are not picked up by lesser panel tests.
arrow_right_alt
Meperidine (Demerol)
arrow_right_alt
Buprenorphine (Suboxone)
The above is just a sampling of the wide variety of urine tests we offer. You can view all urine drug screens offered at our Wake Forest NC drug testing center, which includes tests that go up to 22 panels, specialized tests for synthetic marijuana and bath salts, ketamine and rohypnol, GHB and more.
Alcohol Drug Tests
Alcohol use can be detected by our Wake Forest drug testing locations. You can select our EtG test for alcohol (which has a 3 day look-back), or add it to any of our drug tests. Choose the alcohol drug testing that looks back at the specific period of time that matters to you:
DOT Drug and Alcohol Testing in Wake Forest, North Carolina
Our Wake Forest facilities have technicians certified to perform DOT drug testing and breath alcohol tests. Random Pool Membership is offered, and members get discounted pricing on DOT drug tests. And because we know that many Wake Forest businesses and residents are involved with shipping or maritime in one way or another, we help you comply with the strict USCG drug testing regulations. We have a pre-set DOT package specifically tailored just for the USCG (US Coast Guard) Drug Testing requirements. It includes everything you need from the SAMHSA lab to the MRO signed USCG-719P report.
Hair Drug Testing in Wake Forest, North Carolina ✂
Hair Drug Tests go back up to 90 days. We do these at our Wake Forest drug testing locations with a small hair sample from the scalp or body.
Additional services from Employers: StaffGlass™
Employers get access to the amazing StaffGlass™ portal. Once logged in, business users can:
arrow_right_alt
Register for drug or alcohol tests and pick clinics nationwide; view results and status of all tests
arrow_right_alt
Manage eSign documents related to the testing process
arrow_right_alt
Set up a random pool, add or remove staff, update staff employment status
Why Health Street
More than a Decade of Experience
Since 2010, Health Street has provided drug testing in Wake Forest as well as thousands of other cities nationwide. The first drug test that Health Street performed in Wake Forest, NC was in 2017.
Commitment to Excellence
Our goal is to provide the best possible drug testing Wake Forest employers and residents.
Local Testing Data
The Local Economy, Jobs, and Major Industries in Wake Forest
Although the town of Wake Forest was originally established in 1832, the town's growing proximity to Raleigh has led to it be considered one of the larger city's suburbs. However, any of Wake Forest's estimated 47,000 citizens will tell you that the city has an identity all its own.
54.1% of Wake Forest residents have a bachelor's degree or higher, and there are more than 176,000 individuals enrolled in local universities and colleges like Duke University and UNC-Chapel Hill.
24.4% of the population works in education or healthcare, while 16.6% of the local labor force is busy in professional, scientific, management, or administrative jobs. Some of the region's top employers include Duke University and Duke Health Systems, the State of North Carolina, and the Wake County Public School System.
How Drugs Affect Life in Wake Forest, North Carolina
Local police and city officials are doing everything they can to educate the population of Wake Forest about drug abuse, with a special focus on the abuse of prescription drugs. The off-label use of prescription drugs has become popular in Wake Forest because of their purity, with many users preferring to avoid street drugs like heroin or crack-cocaine because of its tendency to be contaminated with dangerous unknown substances like fentanyl.
One recent event held by the Town of Wake Forest was an exhibit created to educate local families on how to spot the warning signs of substance abuse. Learning these early warning signs can help the families of drug abusers step in and get help before it's too late.
Government and Local Police Efforts to Address Drug Problems in Wake Forest
In November 2015, individuals and community organizations in Wake County founded the Wake County Drug Overdose Prevention Coalition, with the overarching goal of collaborating and sharing resources to help prevent drug overdoses in the Wake Forest and Wake County communities. Community members from housing organizations, law enforcement, local government, schools, and recovery facilities worked together to create initiatives that included improving access to naloxone and creating more syringe exchange programs.
With more than 12% of teenagers and adults in the Raleigh-Durham-Cary Combined Statistical Area admitting to using drugs between 2005-2010, this coalition is critical to lowering this figure.
Locations
Clinic Hours and Information for our Labs in Wake Forest, North Carolina
2001 S Main Street
Wake Forest, NC 27587
Pre-registration required,
Walk-in with barcode:
---
Monday: 8:00 AM – 8:00 PM
Tuesday: 8:00 AM – 8:00 PM
Wednesday: 8:00 AM – 8:00 PM
Thursday: 8:00 AM – 8:00 PM
Friday: 8:00 AM – 8:00 PM
Saturday: 9:00 AM – 5:00 PM
Sunday: 1:00 PM – 6:00 PM
About this Location:
You can obtain non-DOT and DOT drug testing in Wake Forest, North Carolina by visiting us at this location. It is around the corner from Thales Academy.
Neighborhoods Served in Wake Forest
location_city
Bishops Grant
location_city
Bowling Green
Additional Services
Health Street offers a variety of other services, including:
Citations
menu_book
"History." Town of Wake Forest, https://www.wakeforestnc.gov/history
menu_book
"2020 Wake Forest Community Profile." Wake Forest Business & Industry Partnership, Discover Wake Forest, https://issuu.com/bmartinson/docs/wakeforest_profile_2020_v16?fr=sYmI2ZDcxNzA3
menu_book
"Data & Demographics: Major Employers." Wake County Economic Development, https://raleigh-wake.org/business-advantages/data-demographics/major-employers
menu_book
"Prescription Abuse." Town of Wake Forest, https://www.wakeforestnc.gov/sites/default/files/uploads/residents/publicsafety/substance_abuse/prescription_abuse.pdf
menu_book
"Interactive exhibit highlighting warning signs of teen drug abuse coming to JPCC this Saturday." Town of Wake Forest, 6 November 2019, https://www.wakeforestnc.gov/news/interactive-exhibit-highlighting-warning-signs%C2%A0-teen-drug-abuse-coming-jpcc-saturday
menu_book
"Wake County Drug Overdose Prevention Coalition." Wake County North Carolina, http://www.wakegov.com/humanservices/publichealth/coalition/Pages/default.aspx#1
menu_book
"Substance Use and Mental Disorders in the Raleigh-Durham-Cary CSA." Substance Abuse and Mental Health Services Administration (SAMHSA), https://www.samhsa.gov/data/sites/default/files/NSDUHMetroBriefReports/NSDUHMetroBriefReports/NSDUH-Metro-Raleigh.pdf
menu_book
"Wake Forest, NC Neighborhoods." The Ray Group at RE/MAX Hometown, https://www.wakeforestexperts.com/neighborhood-results.php?page=1
menu_book
Fitzgerald, Ryan. "What are the Best Neighborhoods in Wake Forest?" Raleigh Realty, 14 May 2018, https://www.raleighrealtyhomes.com/blog/living-in-wake-forest-nc-a-guide-to-best-neighborhoods-in-wake-forest.html
menu_book
"Wake Forest North Carolina Neighborhoods, Highgarden Real Estate, https://www.highgarden-raleigh.com/wake-forest-north-carolina-neighborhoods