DNA Testing – Wake Forest, North Carolina
Health Street provides DNA tests and legal paternity testing in Wake Forest, North Carolina at our centrally located testing laboratory. Call (919) 822-9398 or schedule online. We offer legal paternity tests, sibling studies, grandparent DNA tests, avuncular (aunt or uncle) testing, and postmortem DNA testing to determine if people are biologically related.
Set up DNA testing appointments online. Test results can be used in court for child support or to change a birth certificate; it can also be used for simple peace of mind. Appointments can be scheduled together or separately. Legal DNA tests are done by cheek swab at our testing centers. We can also extract DNA samples from hair follicles, fingernails, and other specimens.
Workforce Screening, Digitally Delivered
1 of 1
2001 S Main Street
Wake Forest
,
NC
27587
DNA Test – Wake Forest, North Carolina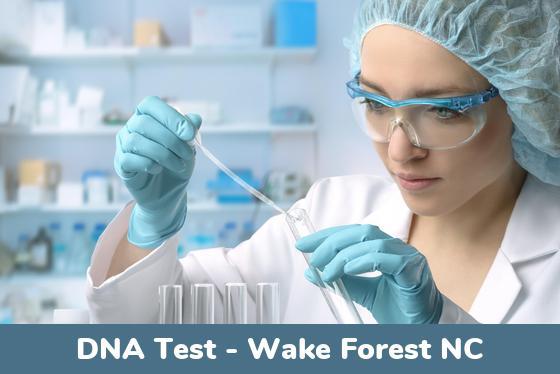 Paternity Testing in Wake Forest, North Carolina
There are several types of DNA testing services that are offered at our Wake Forest testing centers to validate close family relationships. The most commonly ordered DNA test is a legal paternity test to conclusively establish whether or not a man is the biological father of a child. Health Street's 21 marker DNA paternity testing is the state of the art. Our paternity test results are statistically conclusive at the rate of 99.9% or greater.
Other DNA Tests
Relationship Tests to validate grandparent to grandchild, siblings, half-siblings, aunts, and uncles:
DNA tests such as sibling or avuncular studies, can sometimes come back with a result of less than 95% certainty. This is normal, especially if only two parties participate in the test. Adding an additional close relative to the test helps us learn more about the family's DNA composition and typically leads to a more conclusive result.
Specimens we can test for DNA
The easiest and most reliable way to perform a genetic sample collection for a paternity test is by a swab of the inner cheeks. These skin cells, known as buccal cells, rub off easily onto cotton swabs and remain in place, to be extracted by our testing laboratories for analysis.
Other specimens, such as hair follicles, fingernails, and garments that might contain someone's DNA, can also undergo lab testing to see if there is a match. These non-standard DNA tests are done by registering online for an Alternative Specimen DNA Test (Nails, Teeth, Fabric). Once registered, you ship the DNA sample to our lab. We'll attempt to extract the DNA and compare it to a cheek swab of the other party.
Legal DNA Tests vs. "Peace of Mind" At-Home Tests
When deciding which type of DNA test is right for you, consider first what you might do with the results. In order for the results to hold up in court, the DNA specimen must be collected at a clinic using strict chain of custody procedures. The DNA testing technicians at our Wake Forest test centers are trained to follow guidelines that ensure that the results can be used for legal purposes.
The results of our legal DNA tests can be used for any legal purpose:
library_add_check
to change the name on a birth certificate
library_add_check
to petition for child support
library_add_check
to petition for survivor benefits
library_add_check
for child custody arrangements
library_add_check
to alter inheritance procedures or wills
Home tests offer more flexibility:
Home DNA tests are specimens containing DNA (or possible DNA) that are shipped to us for analysis. The results of these home tests cannot be used in court (since there is no way to prove whose specimens were actually sent). However, the tests are just as accurate and can provide peace of mind. At-home DNA tests also offer a lot more flexibility.
In addition to commonly mailed in DNA specimens like hair follicles, we can also extract DNA from other bodily fluids. We can even try and lift the DNA left on items like clothing, a toothbrush, or a straw. If we can get the DNA from the alternative item, we can then compare it to another person to see if they are related. Some examples include:
blur_on
Mucus and other bodily fluids
How to schedule a DNA Test in Wake Forest NC
Scheduling a DNA test at one of our Wake Forest clinics is simple and fast, and we often have appointments available in the same week, though it's always helpful to schedule in advance to make sure you get the time you want. We have clinics in Wake Forest, plus many more throughout North Carolina and across the United States. During registration, we'll show you the nearest locations so you can choose the one that's most convenient. You'll pick the times and days that you prefer.
You can set up separate appointments for each of the people being tested, either at the same location or at different locations. You'll get an email and text message with your appointment information. There is no fee if you need to change the time or location of a DNA test appointment at any time.
How long it takes to get results of a DNA test
Paternity tests conducted at one of our Wake Forest facilities typically take about a week to come back. Other relationship tests, such as sibling studies, can take a few days longer to come back. When the results are ready, you are notified immediately via email. Then, the hard copies of the paperwork are sent afterward via regular mail.
The DNA test appointment – what to expect and what to bring
The appointment itself only takes about 15 minutes. The specimen collection process is a simple and painless cheek swab. No needles are used. When you're being tested at our Wake Forest clinic, you'll be asked to provide fingerprints and to show photo identification. We'll also take pictures of the people being tested so that the final report will include legal assurances of who was actually tested.
For infants, hospital discharge papers qualify as identification. Otherwise, a birth certificate or social security card can be used as ID for a child. No other preparations are required for this appointment.
Does the mother need to be present at a paternity test?
If a man is considered the legal father of a child, then the mother does not have to be present or give consent for paternity testing. However, if he is not currently considered the legal father, then he cannot sign for the child. Therefore, the mother does need to be there. If neither parent is available, other legal guardians can bring the child so long as they have the right to make medical decisions on the child's behalf.
DNA testing if one party is not in Wake Forest
The two parties testing (for example: father and child) do not have to be tested at the same time or even at the same location. We have many clinics across North Carolina as well as nationwide, so we can test one party in Wake Forest and the other party anywhere else in the USA. The specimens are then matched up in the lab for analysis.
Laboratory certifications
Health Street works strictly with AABB Certified labs for DNA testing. All specimens that are collected in Wake Forest or elsewhere are shipped securely from our testing locations to a nationally certified laboratory.
Why Health Street
A Decade Plus of Experience
Health Street has provided DNA tests since 2010. We have provided DNA tests and paternity tests to thousands of people in Wake Forest as well as communities all across the nation.
Dedicated to Excellence
We are proud to help families and individuals get DNA testing in Wake Forest.
Facts about DNA Testing in Wake Forest NC
Wake Forest, North Carolina: One of America's Fastest-Growing Suburbs
Established in 1832, Wake Forest is centrally located just north of Raleigh and enjoys its own culture and identity while benefitting from the amenities of its larger neighbor. In the last 20 years, Wake Forest has enjoyed a huge population boom, with more than 47,000 individuals now calling this town home.
As the population has grown, the city has strategically developed great infrastructure to ensure that it remains competitive in the labor and housing markets. Now, the median household income for Wake Forest is between $85,000 and $88,000, with many people working at Duke University, the State of North Carolina, and Wal-Mart. The area is also an important regional hub for entrepreneurship, with 80+ start-ups launching through the local Wireless Research Center and RIoT Labs network.
Proving Paternity for Child Custody Purposes in Wake Forest
In Wake Forest, unmarried parents who have recently given birth will need to visit the seat of Wake County's government in Raleigh to ensure that their child has the proper documentation of their parentage. Wake County requires that if a couple is unmarried at the time of their child's birth, the father must acknowledge paternity by signing a formal Affidavit of Parentage. This can be done at the hospital where the child is delivered, or at a Child Support Agency, Vital Records office, or the Clerk of Court's office.
Local Experts Discuss Paternity Laws in Wake County
If the Affidavit of Parentage is not filed, the father cannot be added to the child's birth certificate. If there is any doubt about the child's paternity, it should be resolved with a clear and simple genetic DNA test.
According to local law firm Jerkins Family Law, the Affidavit of Parentage should not be signed if the man isn't 100% confident that he is the child's father. If there's uncertainty, a civil action can be taken. "This process can occur at any time before your child's eighteenth birthday. The court orders a blood or genetic marker test to determine if you are the natural father," then delivers the results to a judge. "Once the court has clear and convincing evidence that you are your child's natural father, the judge declares your child legitimated. Your child now has all the rights as a child born in wedlock."
Locations
Clinic Hours for DNA Testing in Wake Forest, North Carolina
2001 S Main Street
Wake Forest, NC 27587
Pre-registration required,
Walk-in with barcode:
---
Monday: 8:00 AM – 8:00 PM
Tuesday: 8:00 AM – 8:00 PM
Wednesday: 8:00 AM – 8:00 PM
Thursday: 8:00 AM – 8:00 PM
Friday: 8:00 AM – 8:00 PM
Saturday: 9:00 AM – 5:00 PM
Sunday: 1:00 PM – 6:00 PM
About this Location:
You can obtain DNA testing in Wake Forest, North Carolina by visiting us at this location. It is very close by to Wake Forest Church of the Nazarene.
Some Wake Forest Neighborhoods That We Serve
location_city
Heritage Wake Forest
location_city
Holding Village
location_city
Olde Mill Stream
location_city
Caddell Woods
location_city
Patterson Woods
location_city
Traditions at Wake Forest
location_city
Wakefield Estates
Additional Services
We also offer other services, such as:
Citations
menu_book
"History." Town of Wake Forest, https://www.wakeforestnc.gov/history
menu_book
"3 Area Towns Among Fastest-Growing Suburbs." WRAL.com, 7 August 2007, https://www.wral.com/news/local/story/1677596/
menu_book
"2020 Wake Forest Community Profile." Wake Forest Business & Industry Partnership, https://issuu.com/bmartinson/docs/wakeforest_profile_2020_v16?fr=sYmI2ZDcxNzA3
menu_book
"Data & Demographics: Major Employers." Wake County Economic Development, https://raleigh-wake.org/business-advantages/data-demographics/major-employers
menu_book
"Paternity Establishment." Wake County Government, http://www.wakegov.com/humanservices/social/childsupport/Pages/pat_est.aspx
menu_book
Jerkins, Jonathan. "What Rights Does a North Carolina Father Have to a Child Born Out of Wedlock?" Jerkins Family Law, 23 October 2018, https://www.jerkinsfamilylaw.com/child-legitimation-process
menu_book
Fitzgerald, Ryan. "What are the Best Neighborhoods in Wake Forest?" Raleigh Realty, 14 May 2018, https://www.raleighrealtyhomes.com/blog/living-in-wake-forest-nc-a-guide-to-best-neighborhoods-in-wake-forest.html
menu_book
"Wake Forest, NC Neighborhoods." The Ray Group at RE/MAX Hometown, https://www.wakeforestexperts.com/neighborhood-results.php?page=1
menu_book
"Wake Forest North Carolina Neighborhoods." Highgarden Real Estate, https://www.highgarden-raleigh.com/wake-forest-north-carolina-neighborhoods