Drug Testing in Springfield, Massachusetts
Health Street provides drug and alcohol testing in Springfield, Massachusetts at 5 conveniently located drug testing centers. Call (413) 314-2232 or register online. Drug testing options include DOT and non-DOT urine drug tests, breath alcohol tests, EtG alcohol tests, and hair drug testing.
Whether you're drug testing your employees, yourself, or a family member, just choose your test and pick a laboratory testing location. Rest assured, a registration barcode will be sent to you immediately (or to the person you specify). A map and GPS directions will be linked to the barcode. Test results are fast, accurate, and reported securely in our online portal.
Workforce Screening, Digitally Delivered
Great customer service in Springfield Ma, 10 panel. 2nd time to use health Street. Web site is simply amazing! Very user-friendly. Kudos!
Peter
2/19/2022
Serene Transportation Inc.
convenient & quick response
Edmanuel Reyes
6/3/2021
First time using this service. Excellent customer service & communication.
Al Santamaria
4/27/2021
Convenient, reliable and quick results!
Edmanuel Reyes
4/15/2021
We are impressed by your services and your prompt attention to prospective employees when make the referral. Your customer service is super and once the sample received updates are sent by email and the final are without delay.Good job.
T Davies
10/24/2020
Samtag Resources Inc.
1 of 5
233 Carew Street
Springfield
,
MA
01104
2 of 5
430 Cooley Street
Springfield
,
MA
01128
3 of 5
140 Carando Drive
Springfield
,
MA
01104
4 of 5
1284 Saint James Avenue
Springfield
,
MA
01104
5 of 5
233 Carew Street
Springfield
,
MA
01104
Drug Testing in Springfield, Massachusetts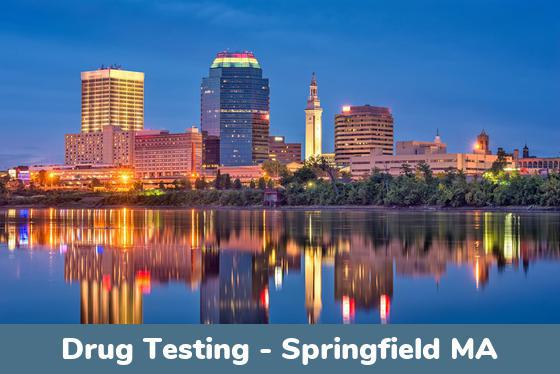 Types of Drug Testing in Springfield, Massachusetts
Health Street offers drug testing services such as: 5 panel drug test up to 22 panels, Department of Transportation DOT drug test, rapid results or laboratory testing, with or without alcohol EtG test included, the option to exclude THC, and more. Get these tests done at any of our Springfield drug testing locations.
Our selection of chain of custody urine drug testing services and drug screenings allow you to test for nearly any drug consumed in the recent past. They are recommended for employee drug testing or court orders. The number of panels in a panel drug test refers to classes of drugs (i.e., marijuana, cocaine, etc.).
The 5 Panel Drug Test test is the traditional, basic urine drug test for street drugs, including:
check_circle
Marijuana (THC, cannabinoids, weed)
check_circle
Amphetamines (Adderall, Ritalin, methamphetamines)
check_circle
Basic Opiates (heroin, morphine, codeine)
check_circle
Phencyclidine (PCP – angel dust)
The 9 Panel Drug Test is urine testing that includes all of the above plus the following prescription drugs:
check_circle
Benzodiazepines (Valium, Klonopin, Xanax)
check_circle
Barbiturates
check_circle
Propoxyphene
The 10 Panel Drug Test great option for employment drug testing in Springfield MA – it includes well known street drugs and prescription drugs, including all 9 of the ones listed above, plus methaqualone.
The 12 Panel Drug Test urine drug testing panel is an excellent choice and value, and more importantly, it tests for expanded opiates and Ecstasy. This test is a 10 panel plus:
check_circle
MDMA/6AM (Ecstasy, Molly)
check_circle
Hydromorphone (Vicodan, Percocet, Oxycontin)
As the opioid epidemic continues to rise and impact Springfield, it is important to be aware that many of the dangerous, synthetic opiates are not picked up by lower panel tests. Our 16 Panel Opiate Drug Test picks up these 4 additional opiate classes in addition to the drugs included above:
check_circle
Meperidine (Demerol)
check_circle
Buprenorphine (Suboxone)
There are many more urine drug screening options offered at our Springfield MA facilities, which go all the way up to a 22 panel drug test, including specialized tests for synthetic marijuana, bath salts, nicotine, ketamine, rohypnol, and more. For results of chain of custody testing with MRO review, we are widely considered to be the fastest lab in Springfield. Drug testing in Springfield MA is easy with Health Street.
Alcohol Testing in Springfield, Massachusetts
Alcohol testing is done through urine, hair, breath, or blood. Basic urine alcohol tests (12 hour look-back) or EtG urine alcohol testing (3 day look-back) can be added to any of our drug testing panels, or they can be done on a standalone basis. Choose the type of alcohol drug testing that looks back at the specific period of time that matters to you:
category
Breath Alcohol Tests
are the most appropriate tests to use in the workplace if on-the-job alcohol use is suspected, or after any accidents.
On-site breathalyzers
in the Springfield, MA area are also available for emergencies.
category
Hair EtG Test
is a hair follicle alcohol test that goes back 3 months
DOT Drug and Alcohol Testing Services – Springfield MA
Health Street's Springfield facilities offer DOT drug and breath alcohol tests that comply with 46 CFR Part 40. Urine specimens are processed at SAMHSA certified laboratories. Members of our Random Pool get discounts on DOT drug testing.
Health Street administers DOT Random Pools for companies of all sizes based in and around Springfield, across Massachusetts. Our local presence combined with our national clinic network and easy online pool management makes DOT compliance a breeze.
Many Springfield businesses and residents are involved, directly or indirectly, with maritime, and therefore, they are regulated by the United States Coast Guard and must comply with the strict USCG regulations. Our Springfield clinics offer a specially designated USCG Merchant Marines Drug Test Package, which includes everything you need to meet the USCG DOT drug test requirements.
Hair Follicle Drug Testing Springfield MA
Hair drug tests can detect drug or alcohol use for a far greater period of time – 90 days – than a standard urine drug test. Hair drug testing is performed at our Springfield drug testing places. We cut a small amount of either head hair or body hair. The hair is analyzed by our testing laboratory. We offer several panel drug tests.
Hair Drug Test Options
blur_on
5 Panel Hair Follicle Drug Test
blur_on
9 Panel Hair Follicle Drug Test
blur_on
12 Panel Hair Follicle Drug Test
blur_on
Hair Alcohol Test
blur_on
StaffGlass™… the Employer eResults Portal
Employers get free access to premium customer service by phone and our award winning online StaffGlass™ eResults portal. Once securely logged into StaffGlass™, business users can set up their drug testing program, including:
how_to_reg
Securely order pre-employment, random, post-accident, or reasonable suspicion drug testing
how_to_reg
View fastest results
how_to_reg
Order and view eSignature employee documents such as policies and procedures, job applications, and more
how_to_reg
Set up a random drug testing pool or a drug-free workplace program, and add or remove staff to be included
Why Health Street
A Decade Plus of Experience
Health Street has provided drug tests since 2010. The first time we performed drug testing in Springfield, MA was in 2016. From then until now, we have completed 275 drug tests at our Springfield labs.
Committed to Excellence
We are deeply committed to providing the best drug testing in Springfield, Mass.
Springfield, Massachusetts – Drug Testing
Substance abuse statistics for Springfield, MA
arrow_forward_ios
One in ten residents who died from a drug overdose in Massachusetts were from Hampden County
arrow_forward_ios
There were 211 opioid-related overdoses in Hampden County in 2021, which was a 62 percent increase since 2016
arrow_forward_ios
In 2021, forty percent of fatal overdoses caused by opioids in Hampden County occurred in Springfield
Springfield, Massachusetts: Drug abuse trends
The COVID-19 pandemic caused a spike in opioid overdose deaths in Massachusetts. Before the pandemic, fatal overdoses were stable. In 2020, the number rose significantly, especially in communities of color.
In Springfield, 40 percent of deadly overdoses were caused by opioids, and the majority of these opioids involved fentanyl. One of the challenges that Springfield faces is the age at which people start using drugs. In 2021, seven percent of eighth graders admitted to using prescription drugs that were not theirs. Fatal overdoses have been rising quickly for people between ages 15 and 24 since 2019 in Massachusetts. Of all opioid-related deaths in 2021, 119 were residents in this age group.
Local initiatives to curb drug abuse in Springfield, MA
In Springfield, three main programs focus on curbing substance abuse:
arrow_right
The Massachusetts Opioid Addiction Prevention Collaborative (MOAPC) grant program
arrow_right
Substance Addiction Prevention Collaborative (SAPC) Grant Program
arrow_right
Partnerships for Success (PFS) Grant Program
MOAPC's primary focus is addressing the lack of knowledge about drug overdoses and response strategies. This program tries to prevent drug overdose deaths by practicing local policies and changing environmental practices.
SAPC is focused on implementing evidence-based environmental strategies that can reduce substance abuse in the Springfield area.
PFS's primary focus is on Middle and High School Aged Youth who are using prescription drugs without any medical reason.
Last updated 9/27/2022
Locations
Clinic Hours and Information for our Labs in Springfield, Massachusetts
233 Carew Street
Springfield, MA 01104
Pre-registration required,
Walk-in with barcode:
---
Monday: 8:00 AM – 4:00 PM
Tuesday: 8:00 AM – 4:00 PM
Wednesday: 8:00 AM – 4:00 PM
Thursday: 8:00 AM – 4:00 PM
Friday: 8:00 AM – 4:00 PM
About this Location:
This clinic offers urine and hair follicle drug tests in Springfield. It's located near the Mercy Medical Center.
430 Cooley Street
Springfield, MA 01128
Pre-registration required,
Walk-in with barcode:
---
Monday: 8:00 AM – 8:00 PM
Tuesday: 8:00 AM – 8:00 PM
Wednesday: 8:00 AM – 8:00 PM
Thursday: 8:00 AM – 8:00 PM
Friday: 8:00 AM – 8:00 PM
Saturday: 8:00 AM – 8:00 PM
Sunday: 8:00 AM – 8:00 PM
About this Location:
We are down the block from Samuel Bowles Elementary School.
140 Carando Drive
Springfield, MA 01104
Pre-registration required,
Walk-in with barcode:
---
Monday: 8:00 AM – 5:00 PM
Tuesday: 8:00 AM – 5:00 PM
Wednesday: 8:00 AM – 5:00 PM
Thursday: 8:00 AM – 5:00 PM
Friday: 8:00 AM – 5:00 PM
About this Location:
Our clinic is a short walk from Springfield Central High School.
1284 Saint James Avenue
Springfield, MA 01104
Pre-registration required,
Walk-in with barcode:
---
Monday: 9:00 AM – 3:30 PM
Tuesday: 9:00 AM – 3:30 PM
Wednesday: 9:00 AM – 3:30 PM
Thursday: 9:00 AM – 3:30 PM
Friday: 9:00 AM – 3:30 PM
About this Location:
We offer instant drug testing in Springfield at this location near the Massachusetts Registry of Motor Vehicles.
233 Carew Street
Springfield, MA 01104
Pre-registration required,
Appointment Required.
---
Monday: 8:00 AM – 4:30 PM
(M Lunch: 12-1 PM)
Tuesday: 8:00 AM – 4:30 PM
(T Lunch: 12-1 PM)
Wednesday: 8:00 AM – 4:30 PM
(W Lunch: 12-1 PM)
Thursday: 8:00 AM – 4:30 PM
(Th Lunch: 12-1 PM)
Friday: 8:00 AM – 4:30 PM
(F Lunch: 12-1 PM)
About this Location:
Visit us at this location. We are just a few blocks from Emily Bill Park.
Neighborhoods Served in Springfield
location_city
Sixteen Acres
location_city
Metro Center
location_city
Atwater Park
location_city
Memorial Square
Local Reviews
By Deana Rodriguez on 8/20/2020
I really like how everything is sent via email or text. Also I like how updates are given frequently. 1010 would use this service again.
By Nataliia on 9/27/2019
Logic Inc.
Quick & professional service! I recommend it!
By Don Lequin on 6/7/2019
Nestle Waters North America
Everything was handle and organized.
By Sue on 10/31/2018
Mimsware Corporation DBA Sophicity
Quick Response and Knowledge. User Friendly. Quick Response and Knowledge
By Kimberly Caliento on 7/5/2018
The customer service representative was extremely helpful, Friendly and professional. I received services at MedExpress urgent care 430 Cooley St., Springfield mass. I had a five panel standard toxicology test. Thank you Im very satisfied And would refer Everybody and anybody without hesitation.
By Alicia on 5/2/2018
Parker Hannifin Corporation
Great Job As Always. Ease of use – Great. Friendly, Prompt Service.
By Sheila on 10/13/2017
Luis was very helpful and explained the difference of the drug test. Thank you very much. Services were used in Springfield, MA and used Urine drug testing and alcohol testing
By Dee Ann Schofield on 9/6/2016
Great customer service.
By Dee Schofield on 9/6/2016
(a) excellent; (b) nationally; (c); pre-employment drug screening
By Kristin Aimi on 6/17/2016
Professional staff with virtually no wait to take my hair sample. The turnaround for results was within days.
Citations
menu_book
Cohan, A. (2021, November 11). Opioid overdose deaths in Massachusetts climb along with cocaine use. Boston Herald. Retrieved September 7, 2022, from https://www.bostonherald.com/2021/11/10/opioid-overdose-deaths-in-ma-up-slightly-in-2021-with-sharp-increase-in-cocaine-usage/
menu_book
Current overdose and drug use trends – wwlp.com. (n.d.). Retrieved September 7, 2022, from https://www.wwlp.com/wp-content/uploads/sites/26/2022/08/Current-Trends-Hampden-County.pdf
menu_book
Substance use disorder prevention services. Substance Use Disorder Prevention Services: Springfield HHS. (n.d.). Retrieved September 7, 2022, from https://www.springfield-ma.gov/hhs/substanceuseprevention