Drug Tests in New Bedford, Massachusetts
Health Street provides drug and alcohol testing in New Bedford, Massachusetts at our testing center. Whether you need drug and alcohol testing for your employees, yourself, or a family member, you can rest assured that Health Street drug testing services in New Bedford, Massachusetts provide a safe and clean environment and accurate results. We'll send a barcode authorization for the urine or hair drug test that you choose by text and email, along with a map to the clinic address.
Register for urine or hair drug tests in New Bedford, MA quickly and easily online. Drug testing panels include Department of Transportation (DOT) and non-DOT urine drug tests, breath alcohol tests, EtG alcohol tests, and hair drug testing. Test results are fast, reviewed by our Medical Review Officer (an MRO), and reported safely and securely online. You can also call (508) 252-0649 with any questions about our employment screening services.
Workforce Screening, Digitally Delivered
CDL drug testNew Bedford, MA
Todd Hibbert
9/19/2017
She did a great job finding a close location over the phone that was still open for me to do my drug test
Jonathon D Likes
9/19/2017
Great Customer service.Walkin in New Bedford MACDL Drug Trest
Todd Hibbert
7/28/2017
Excellent Customer ServiceUrgent Care Coggeshall St. New Bedford, MA DOT Drug Test.
Todd Hibbert
6/19/2017
Awesome Customer ServiceUsed in New Bedford MADOT uranalysis
Todd Hibbert
3/23/2017
1 of 1
119 Coggeshall Street
New Bedford
,
MA
02746
Drug Testing in New Bedford Massachusetts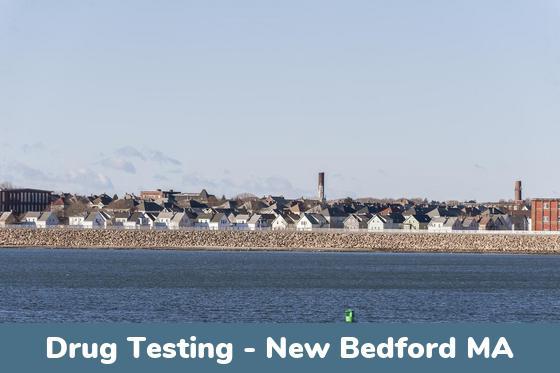 Get Drug Testing in New Bedford, Massachusetts Right Now
Health Street has the largest selection of drug testing and employment screening services in New Bedford. Employers can access our services to set up a drug free workplace, families can get court ordered drug testing, and attorneys and private individuals can register for non-DOT drug tests, Department of Transportation (DOT) drug tests, and more.
Available Drug Testing Methods
Popular Drug Testing Panels
local_drink
local_drink
local_drink
Specialized Categories of Tests
arrow_right
Choose from our
Alcohol Testing
options (such as breathalyzer, EtG test, or PEth blood alcohol)
DOT Drug Testing
Learn about our DOT drug and alcohol testing services, and how your company can maintain Department of Transportation (DOT) Compliance with 46 CFR Part 40, including:
Employee Drug Testing: eResults Portal for Employers
Business users get access to the amazing StaffGlass™ portal. When logged in, human resources and other company executives can manage their drug testing program, including:
arrow_right
Register for drug screenings for reasons such as: pre-employment, random, post-accident, or reasonable suspicion.
arrow_right
Get fast, accurate results in a safe and secure online portal.
arrow_right
Find a drug test clinic in New Bedford MA or pick from our lab testing locations anywhere in the United States; you can order your test online, view results, and check status of all tests
arrow_right
Manage eSign documents related to the testing process
arrow_right
Create an employee pool for random drug testing, add or remove staff, update staff employment status. StaffGlass™ is backed up by world class customer service, available Monday through Friday from 7:30 AM to 8:00 PM Eastern Time
Why Health Street
More than a Decade of Experience
Since 2010, Health Street has provided drug testing in New Bedford as well as thousands of other cities nationwide. The first drug test that Health Street performed in New Bedford, MA was in 2016.
Commitment to Excellence
Our goal is to provide the best possible drug testing New Bedford employers and residents.
New Bedford, Massachusetts – Drug Testing
Notable Historical Events Related to Drug Use in New Bedford
In 2022 in New Bedford, detectives seized $1.3 million of illicit drug money from two drug traffickers. The seizure resulted from a months-long investigation into a drug operation run by two New Bedford men. The investigation was conducted by the Organized Crime Intelligence Bureau, which executed searches at their address on Cottage Street and several vehicles and storage containers. The two men were storing and transporting drugs throughout the area, using these storage containers and vehicles. The investigation led to the discovery of 28 grams of cocaine, 830 grams of fentanyl, digital scales, and other paraphernalia and packaging materials. The $1,295,274 seized was a record amount in the department's history for narcotics-related money.
Substance Abuse Trends and Statistics for the City of New Bedford, MA
arrow_forward
From 2010 to 2021, in New Bedford and Bristol County, there were a total of 2,170 deaths related to opioids. Only four other counties in the state had more opioid-related deaths than Bristol County during this time.
arrow_forward
Opioid-related deaths in New Bedford declined from 2015 to 2017, from 55 to 45 deaths. However, the number of deaths continued to increase from 2017 to 2021.
arrow_forward
In 2017 in New Bedford, there were 45
opioid-related deaths
. There were 54 in 2018, 75 in 2019, 64 in 2020, and 81 in 2021.
Government Efforts to Address Drug Problems in New Bedford, MA and Bristol County
In 2019, the DEA announced the implementation of its "360 strategy" in efforts to fight against fentanyl, heroin, violence, and prescription drugs in New Bedford, Bristol County, and the rest of the SouthCoast region. Special Agent in Charge Boyle spoke about this strategy. "We must continue to find new and innovative ways to address the growing abuse of fentanyl, heroin, and prescription drugs, and the violence that stems from these illicit drug trades," he said. "The 360 Strategy brings many agencies together that have dealt with this problem separately, into a unifying, far-reaching and prolonged effort to go after the drug trafficking organizations but also to make the communities resilient to their return."
Last updated 12/16/2022
Locations
Clinic Hours and Information for our Labs in New Bedford, Massachusetts
119 Coggeshall Street
New Bedford, MA 02746
Pre-registration required,
Walk-in with barcode:
---
Monday: 8:00 AM – 8:00 PM
Tuesday: 8:00 AM – 8:00 PM
Wednesday: 8:00 AM – 8:00 PM
Thursday: 8:00 AM – 8:00 PM
Friday: 8:00 AM – 8:00 PM
Saturday: 8:00 AM – 5:00 PM
Sunday: 8:00 AM – 5:00 PM
About this Location:
To obtain occupational health services in New Bedford, Massachusetts, visit us at this location, which is in walking distance from Acushnet River.
Neighborhoods In and Around New Bedford That We Serve
location_city
Acushnet Heights Historic District
location_city
Apponagansett St
location_city
Bliss Corner
location_city
Howland Mill Village Historic District
location_city
Mount Pleasant St
location_city
Padanaram Ave
location_city
Pine Hill Acres
location_city
Rockdale Ave
location_city
Westgate Park
location_city
Westview Park
Additional Services
Health Street offers a variety of other services, including:
Local Reviews
By Todd Hibbert on 2/22/2017
Great customer serviceNew BedfordRandom Drug Test
By Neri Santos on 2/14/2017
Great job., real fast!
By Todd Hibbert on 1/24/2017
Excellent Customer ServiceRandom Drug Test at Coggeshall ST. New Bedford MA
By Matt on 1/4/2017
Service was amazing. This man gets the the double thumbs up
By Todd Hibbert on 1/4/2017
Great Customer Service.
By Todd Hibbert on 12/22/2016
Excellent Customer serviceNew Bedford Urgent CareDOT Drug test
By Todd Hibbert on 12/2/2016
Excellent Customer Service,New Bedford MADOT Urinalysis
By Todd Hibbert on 11/30/2016
a. Great Customer Serviceb. New Bedford MAc. DOT urananlysis
By Robert Blum on 9/30/2016
Awesome Job And So Helpful
Citations
menu_book
Mulligan, Frank. "New Bedford police seize historic $1.3 million in illicit drug money." SouthCoast Today, 26 October 2022, https://www.southcoasttoday.com/story/news/crime/2022/10/26/new-bedford-police-seize-historic-1-3-million-illicit-drug-money/10605036002/
menu_book
"Number of Opioid-Related Overdose Deaths, All Intents by County, MA Residents: 2010-2021." Massachusetts Department of Public Health, June 2022, https://www.mass.gov/doc/opioid-related-overdose-deaths-by-county-june-2022/download
menu_book
"Number of Opioid-Related Overdose Deaths, All Intents by City/Town – 2015-2021." Massachusetts Department of Public Health, June 2022, https://www.mass.gov/doc/opioid-related-overdose-deaths-by-city-town-june-2022/download
menu_book
"DEA announces "360 Strategy" in the SouthCoast region of Massachusetts to address fentanyl, heroin, prescription drugs and violent crime." Drug Enforcement Administration (DEA), 19 September 2019, https://www.dea.gov/press-releases/2019/09/19/dea-announces-360-strategy-southcoast-region-massachusetts-address
menu_book
"New Bedford, MA Homes for Sale & Real Estate." Trulia, https://www.trulia.com/MA/New_Bedford/