Drug Test – Minneapolis, Minnesota
Health Street provides drug and alcohol testing in Minneapolis, Minnesota at 3 conveniently located drug testing centers. Call (612) 540-1963 or register online. Drug testing options include DOT and non-DOT urine drug tests, breath alcohol tests, EtG alcohol tests, and hair drug testing.
Whether you're drug testing your employees, yourself, or a family member, just choose your test and pick a laboratory testing location. Rest assured, a registration barcode will be sent to you immediately (or to the person you specify). A map and GPS directions will be linked to the barcode. Test results are fast, accurate, and reported securely in our online portal.
Workforce Screening, Digitally Delivered
It was a fast, easy, professional experience. Much better than Minnesota Monitoring
Shayde Schwabe
3/2/2021
Easy convenient consistent. Simple. Just so easy and consistent
Erick
3/19/2019
Saint Thomas Academy

Easy, dependable,. easy. Convenient and easy for our families to use. I get status updates which keep me informed about the progress of my students' tests.
Erick
3/11/2019
Saint Thomas Academy

1 of 3
825 Nicollet Mall
Minneapolis
,
MN
55402
2 of 3
7550 34th Ave S
Minneapolis
,
MN
55450
3 of 3
7685 Parklawn Avenue
Minneapolis
,
MN
55435
Drug Testing Minneapolis, Minnesota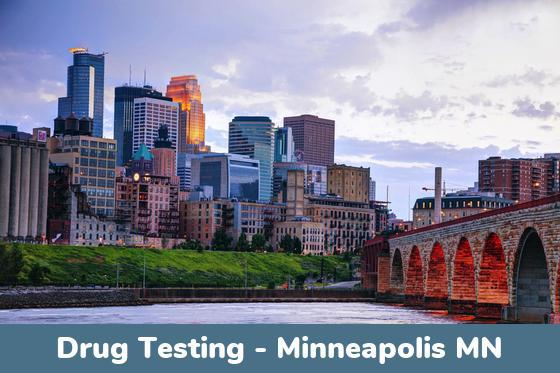 Get Drug Testing in Minneapolis, Minnesota Right Now
Health Street has the largest selection of drug testing and employment screening services in Minneapolis. Employers can access our services to set up a drug free workplace, families can get court ordered drug testing, and attorneys and private individuals can register for non-DOT drug tests, Department of Transportation (DOT) drug tests, and more.
Available Drug Testing Methods
Popular Drug Testing Panels
local_drink
local_drink
local_drink
Specialized Categories of Tests
arrow_right
Choose from our
Alcohol Testing
options (such as breathalyzer, EtG test, or PEth blood alcohol)
DOT Drug Testing
Learn about our DOT drug and alcohol testing services, and how your company can maintain Department of Transportation (DOT) Compliance with 46 CFR Part 40, including:
Employee Drug Testing: eResults Portal for Employers
Business users get access to the amazing StaffGlass™ portal. When logged in, human resources and other company executives can manage their drug testing program, including:
arrow_right
Register for drug screenings for reasons such as: pre-employment, random, post-accident, or reasonable suspicion.
arrow_right
Get fast, accurate results in a safe and secure online portal.
arrow_right
Find a drug test clinic in Minneapolis MN or pick from our lab testing locations anywhere in the United States; you can order your test online, view results, and check status of all tests
arrow_right
Manage eSign documents related to the testing process
arrow_right
Create an employee pool for random drug testing, add or remove staff, update staff employment status. StaffGlass™ is backed up by world class customer service, available Monday through Friday from 6:30 AM to 7:00 PM Central Time
Why Health Street
A Decade Plus of Experience
Health Street has provided drug tests since 2010. The first time we performed drug testing in Minneapolis, MN was in 2016. From then until now, we have completed 57 drug tests at our Minneapolis labs.
Committed to Excellence
Health Street takes great pride in our commitment to the people and businesses who need drug testing in Minneapolis.
Business, Culture, and Drugs in Minneapolis MN
Abuse Rates Have Increased Dramatically in Minneapolis
In recent times, Minneapolis has had to face many drug abuse and overdose cases which, by some estimates, are reaching epidemic proportions. The Minneapolis Police reported fifty overdose cases in the course of one week, including a fatality. This was a record breaking week in Minneapolis, yet In the two days following that devastating week, there were an additional 15 overdoses.
Because the majority of the overdoses stemmed from Fentanyl and Carfentanyl, it's clear that the city of Minneapolis has a serious issue with synthetic opiates. However, thus far, no major regulations or legislation has passed to address the skyrocketing opiod use.
Stats on substance abuse in Minnesota
arrow_right
In 2017, there were 422 overdose deaths involving opioids in Minnesota. This is a rate of 7.8 deaths per 100,000 persons, which compares to the national average of 14.6 deaths per 100,000 persons.
arrow_right
The greatest rise occurred among deaths involving synthetic opioids other than methadone (predominantly fentanyl), with a nearly sixfold increase from 31 cases in 2011 to 184 cases in 2017.
arrow_right
Admissions for heroin use disorders have increased significantly from 6.7% in 2011 to 10.6% in 2014.
Stats relating directly to Hennepin County
arrow_right
In 2016 in Hennepin County there were 153 accidental opiate related deaths, compared with 97 in 2015, which equates to a 57.7 percent increase.
arrow_right
Of the 153 total opiate related deaths: 76 involved heroin, 39 involved fentanyl, 32 involved methadone, and 19 involved oxycodone.
arrow_right
In Hennepin County accidental cocaine related deaths increased 30 percent (from 26 to 34) from 2015 to 2016.
Minneapolis Industries
Like many Midwestern cities, manufacturing is the largest industry in Minneapolis. The city of Minneapolis is very intent on maintaining a large presence in electronics, milling, medical products, machinery, and food processing.
On the other hand, the University of Minnesota and other technical schools in the region are heavily involved in research, employing many people who study manufacturing. Thirty Fortune 1000 and sixteen Fortune 500 companies are domiciled in the Twin Cities of Minneapolis and Saint Paul. All of the manufacturing job have brought high technology companies and personnel to the area as well, who come to pursue engineering, electrical work, or related occupations.
Prince's Drug Use and Death
Late singing legend, Prince, is an iconic Minneapolis native. Born as Prince Rogers Nelson on June 7, 1958, his love and adoration for music may have originated with his parents, musicians John Nelson and Mattie Shaw. Prince was wildly famous and popular for his unique interpretation of R&B music.
Prince died in 2016, to what was later revealed as a self administered Fentanyl overdose. Prior to his death, he had been admitted to the hospital for a "severe flu", though he was given a Percocet shot as a "precaution". Though it is still unknown who gave Prince the fatal Fentanyl-laced pill, the investigation was suspended on April 29, 2018.
Locations
Clinic Hours and Information for our Labs in Minneapolis, Minnesota
825 Nicollet Mall
Suite 406
Minneapolis, MN 55402
Pre-registration required,
Walk-in with barcode:
---
Monday: 8:00 AM – 4:00 PM
Tuesday: 8:00 AM – 4:00 PM
Wednesday: 8:00 AM – 4:00 PM
Thursday: 8:00 AM – 4:00 PM
Friday: 8:00 AM – 4:00 PM
About this Location:
Our clinic is down the block from Cambria Gallery on 7th. There is plenty of parking available.
7550 34th Ave S
Minneapolis, MN 55450
Pre-registration required,
Walk-in with barcode:
---
Monday: 8:00 AM – 5:00 PM
Tuesday: 8:00 AM – 5:00 PM
Wednesday: 8:00 AM – 5:00 PM
Thursday: 8:00 AM – 5:00 PM
Friday: 8:00 AM – 5:00 PM
About this Location:
Visit us at this location. We are down the block from University of St. Thomas – Opus College of Business. We look forward to serving you here.
7685 Parklawn Avenue
Minneapolis, MN 55435
Pre-registration required,
Walk-in with barcode:
---
Monday: 8:00 AM – 5:00 PM
Tuesday: 8:00 AM – 5:00 PM
Wednesday: 8:00 AM – 5:00 PM
Thursday: 8:00 AM – 5:00 PM
Friday: 8:00 AM – 5:00 PM
About this Location:
This location is a short walk from Child Garden Montessori. We are easily accessed by car or public transportation.
Neighborhoods In and Around Minneapolis That We Serve
location_city
Central Minneapolis
location_city
Downtown West
location_city
Northeast Minneapolis
Citations
menu_book
"Minneapolis: Economy." Minneapolis: Economy – Major Industries and Commercial Activity, Incentive ProgramsNew and Existing Companies, http://www.city-data.com/us-cities/The-Midwest/Minneapolis-Economy.html.
menu_book
"Minneapolis Police Report Record Number of Drug Overdoses." MPR News, 6 June 2019, https://www.mprnews.org/story/2019/06/06/minneapolis-record-number-drug-overdoses.
menu_book
"Prince." Biography.com, A&E Networks Television, 16 June 2019, https://www.biography.com/musician/prince.