Drug Testing in Gulfport, Mississippi
Health Street's 2 drug and alcohol testing clinics in Gulfport, Mississippi provide comprehensive pre-employment drug screening services. Call (228) 357-9273 or register online for drug testing services. Drug and alcohol testing options include DOT and non-DOT urine drug tests, breath alcohol tests, EtG alcohol tests, and hair drug testing.
Register for a urine or hair drug test at one of our drug testing centers for your employees, yourself, or another person. Just choose your test and pick a location. A registration barcode will be sent to the person you specify. A map will accompany this authorization code. Test results are fast, reported securely, and stored in our online portal.
Workforce Screening, Digitally Delivered
1 of 2
1110 Broad Avenue
Gulfport
,
MS
39501
2 of 2
12207 Highway 49
Gulfport
,
MS
39503
Drug Testing in Gulfport, Mississippi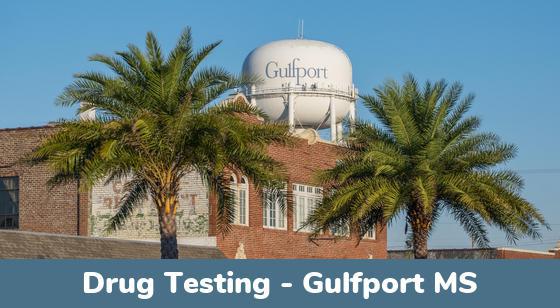 Types of Drug Tests in Gulfport, Mississippi clinics:
In Gulfport, Health Street offers the widest variety and selection of drug tests anywhere, which allows you to choose from any panel you wish, with rapid results or sent to our lab, using a urine sample or a hair sample. Most of our tests have an option to add alcohol or remove THC from the screening, so that we can always meet your specific requirements.
The number of urine drug testing services and drug screening panels that we offer means that you can test for nearly any drug.
The most basic test we offer is a 5 Panel Drug Test – $75, which tests for:
arrow_right_alt
Marijuana (THC, cannabinoids, weed)
arrow_right_alt
Phencyclidine (PCP – angel dust)
arrow_right_alt
Amphetamines (Adderall, Ritalin, methamphetamines)
arrow_right_alt
Basic Opiates (heroin, morphine, codeine)
The next option up from there is the 9 Panel Drug Test – $85, which adds in some commonly abused prescriptions:
arrow_right_alt
Benzodiazepines (Valium, Klonopin, Xanax)
arrow_right_alt
Barbiturates
arrow_right_alt
Methadone
arrow_right_alt
Propoxyphene
The popular 10 Panel Drug Test – $89 adds in methaqualone.
***12 Panel – Comprehensive Urine Test***
When asked, we often recommend the 12 Panel Drug Test – $149 because it is a well rounded test that screens for common opioids and ecstasy, including:
arrow_right_alt
MDMA/6AM (Ecstasy, Molly)
arrow_right_alt
Expanded opiate class: Oxycodone, Oxymorphone, Hydrocodone, Hydromorphone (Vicodan, Percocet, Oxycontin)
If you're at all concerned with opiate usage beyond basic painkillers, just as many people in Gulfport are, consider registering for a 16 Panel Opiate Drug Test – $250. These synthetic opiates are not picked up by lesser panel tests.
arrow_right_alt
Meperidine (Demerol)
arrow_right_alt
Buprenorphine (Suboxone)
The above is just a sampling of the wide variety of urine tests we offer. You can view all urine drug screens offered at our Gulfport MS drug testing centers, which includes tests that go up to 22 panels, specialized tests for synthetic marijuana and bath salts, ketamine and rohypnol, GHB and more.
Alcohol Drug Tests
Alcohol use can be detected by our Gulfport MS drug testing locations. You can select our EtG test for alcohol (which has a 3 day look-back), or add it to any of our drug tests. Choose the alcohol drug testing that looks back at the specific period of time that matters to you:
DOT Drug and Alcohol Testing in Gulfport, Mississippi
Our Gulfport facilities have technicians certified to perform DOT drug testing and breath alcohol tests. Random Pool Membership is offered, and members get discounted pricing on DOT drug tests. And because we know that many Gulfport businesses and residents are involved with shipping or maritime in one way or another, we help you comply with the strict USCG drug testing regulations. We have a pre-set DOT package specifically tailored just for the USCG (US Coast Guard) Drug Testing equirements. It includes everything you need from the SAMHSA lab to the MRO signed USCG-719P report.
Hair Drug Testing in Gulfport, Mississippi ✂
Hair Drug Tests go back up to 90 days. We do these at our Gulfport drug testing locations with a small hair sample from the scalp or body.
Additional services from Employers: StaffGlass™
Employers get access to the amazing StaffGlass™ portal. Once logged in, business users can:
arrow_right_alt
Register for drug or alcohol tests and pick clinics nationwide; view results and status of all tests
arrow_right_alt
Manage eSign documents related to the testing process
arrow_right_alt
Set up a random pool, add or remove staff, update staff employment status
Why Health Street
More than a Decade of Experience
Since 2010, Health Street has provided drug testing in Gulfport as well as thousands of other cities nationwide. The first drug test that Health Street performed in Gulfport, MS was in 2015. From then until now, we have processed 64 drug tests in Gulfport.
Committed to Excellence
We are dedicated to providing a level of excellence in the provision of our drug tests in Gulfport, Mississippi that is unmatched.
Gulfport, MS – Drug Testing
Notable Historical Events Related to Drug Use in Gulfport, MS
A drug sting in Gulfport led to federal charges of seven people and the seizure of drugs, money, and guns. The sting led officers to several fentanyl-laced counterfeit pills, illegal prescription narcotics, 120 pounds of marijuana and marijuana edibles, methamphetamine, multiple vehicles, 27 firearms, and drug proceeds. Five Gulfport residents and two Biloxi residents were charged after the sting.
Substance Abuse Trends and Statistics for the City of Gulfport, MS and Harrison County
double_arrow
Drug-related deaths have drastically increased in Gulfport and Harrison County from 2018-2021.
double_arrow
In 2018, Gulfport and Harrison County had 32 drug-related deaths, 4 of which involved fentanyl.
double_arrow
In 2019, drug-related deaths in Harrison County increased to 40, and eight deaths involved fentanyl.
double_arrow
In 2021, naloxone was administered 451 times in Gulfport and Harrison County.
double_arrow
In 2021, Harrison County ranked third in the state for the number of drug-related arrests, with 1,393 arrests that year.
Experts Say…
Colonel Steven Maxwell, the director of the Mississippi Bureau of Narcotics spoke about the increase in overdose deaths in Harrison County and the state of Mississippi. "We lost 529 Mississippians in 2020 to drug-related overdose deaths," Maxwell said. "Of these 9.5 million pills, four out of ten contained a lethal dose of fentanyl. That's about 2mg, and DEA says that's about 10-20 granulates of salt. So you had a four of ten chance of dying as a result of someone using those pills as tested by the DEA." Maxwell said that Mississippi is the leading state for fentanyl overdoses. "The way that our state is geographically located, we have the I-10 corridor that runs south, I-55, I-59, Hwy. 49 is a major thoroughfare, we have really good rail and waterway systems, and we have a lot of rural airstrips," he said. "That makes our state ripe for the importation of bulk amounts of illicit drugs." The coast, including Gulfport, also saw a rise in overdose deaths involving fentanyl; 48 of 67 deaths in 2021 were linked to fentanyl in Harrison County.
Last updated 3/24/2023
Locations
Clinic Hours and Information for our Labs in Gulfport, Mississippi
1110 Broad Avenue
Second Floor
Gulfport, MS 39501
Pre-registration required,
Walk-in with barcode:
---
Monday: 8:00 AM – 4:00 PM
Tuesday: 8:00 AM – 4:00 PM
Wednesday: 8:00 AM – 4:00 PM
Thursday: 8:00 AM – 4:00 PM
Friday: 8:00 AM – 4:00 PM
About this Location:
We are close to Memorial Hospital at Gulfport.
12207 Highway 49
Suite 30
Gulfport, MS 39503
Pre-registration required,
Walk-in with barcode:
---
Monday: 8:30 AM – 3:00 PM
(M Lunch: 12-1 PM)
Tuesday: 8:30 AM – 3:00 PM
(T Lunch: 12-1 PM)
Wednesday: 8:30 AM – 3:00 PM
(W Lunch: 12-1 PM)
Thursday: 8:30 AM – 3:00 PM
(Th Lunch: 12-1 PM)
Friday: 8:30 AM – 3:00 PM
(F Lunch: 12-1 PM)
About this Location:
Drug Testing in Gulfport, Mississippi is available at this clinic in walking distance from Gulfport Central Middle School.
Citations
menu_book
Knowles, Lindsay. "Gulfport drug sting nets seven arrests for fentanyl, meth, guns and more." WLOX, 26 October 2021, https://www.wlox.com/2021/10/26/gulfport-drug-sting-nets-seven-arrests-fentanyl-meth-guns-more/
menu_book
Keeton, Hugh. "Overdose deaths involving fentanyl on the rise in Mississippi." WLOX, 14 January 2022, https://www.wlox.com/2022/01/15/overdose-deaths-involving-fentanyl-rise-mississippi/
menu_book
"The Mississippi Opioid and Heroin Data Collaborative, Provisional Data Report, Calendar Year 2021." Mississippi State Department of Health, https://msdh.ms.gov/msdhsite/_static/resources/19097.pdf
menu_book
"Gulfport, MS." Nextdoor, https://nextdoor.com/city/gulfport–ms/