Drug Testing in Green Bay, Wisconsin
In Green Bay, Wisconsin, Health Street provides drug tests for employers and individuals at 2 drug testing centers. You can register for drug tests on our website. Testing options include a wide range of drug panels such as Department of Transportation (DOT) and non-DOT urine drug tests, breath alcohol tests, EtG alcohol tests, and hair drug testing. Once you pick your test, simply choose the best clinic location that meets your needs, and register online.
Whether you need drug and alcohol testing for your employees, yourself, or a family member, you can rest assured that Health Street testing services in Green Bay, Wisconsin provides accurate results. We'll send a barcode authorization by text and email, along with a map to the clinic address. Drug testing centers are clean, comfortable and operated by experienced professionals. Test results are fast, reviewed by our Medical Review Officer (an MRO), and reported safely and securely online. You can also call (920) 214-9220 with any questions about our drug tests.
Workforce Screening, Digitally Delivered
He was polite and helpful and spelled my last name right on the first try. Called in to schedule a drug test.
Angela Speerschneider
9/22/2016
1 of 2
1805 Allouez Avenue
Green Bay
,
WI
54311
2 of 2
721 Cardinal Ln
Green Bay
,
WI
54313
Drug Testing in Green Bay, Wisconsin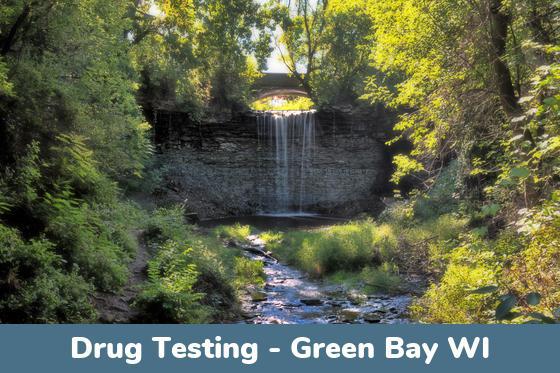 Types of Drug Tests in Green Bay, Wisconsin clinics:
In Green Bay, Health Street offers the widest variety and selection of drug tests anywhere, which allows you to choose from any panel you wish, with rapid results or sent to our lab, using a urine sample or a hair sample. Most of our tests have an option to add alcohol or remove THC from the screening, so that we can always meet your specific requirements.
The number of urine drug testing services and drug screening panels that we offer means that you can test for nearly any drug.
The most basic test we offer is a 5 Panel Drug Test, which tests for:
arrow_right_alt
Marijuana (THC, cannabinoids, weed)
arrow_right_alt
Phencyclidine (PCP – angel dust)
arrow_right_alt
Amphetamines (Adderall, Ritalin, methamphetamines)
arrow_right_alt
Basic Opiates (heroin, morphine, codeine)
The next option up from there is the 9 Panel Drug Test, which adds in some commonly abused prescriptions:
arrow_right_alt
Benzodiazepines (Valium, Klonopin, Xanax)
arrow_right_alt
Barbiturates
arrow_right_alt
Methadone
arrow_right_alt
Propoxyphene
When asked, we often recommend the 12 Panel Drug Test because it is a well rounded test that screens for common opioids and ecstasy, including:
arrow_right_alt
MDMA/6AM (Ecstasy, Molly)
arrow_right_alt
Expanded opiate class: Oxycodone, Oxymorphone, Hydrocodone, Hydromorphone (Vicodan, Percocet, Oxycontin)
If you're at all concerned with opiate usage beyond basic painkillers, just as many people in Green Bay are, consider registering for a 16 Panel Opiate Drug Test. These synthetic opiates are not picked up by lesser panel tests.
arrow_right_alt
Meperidine (Demerol)
arrow_right_alt
Buprenorphine (Suboxone)
The above is just a sampling of the wide variety of urine tests we offer. You can view all urine drug screens offered at our Green Bay WI drug testing centers, which includes tests that go up to 22 panels, specialized tests for synthetic marijuana and bath salts, ketamine and rohypnol, GHB and more.
Alcohol Drug Tests
Alcohol use can be detected by our Green Bay WI drug testing locations. You can select our EtG test for alcohol (which has a 3 day look-back), or add it to any of our drug tests. Choose the alcohol drug testing that looks back at the specific period of time that matters to you:
DOT Drug and Alcohol Testing in Green Bay, Wisconsin
Our Green Bay facilities have technicians certified to perform DOT drug testing and breath alcohol tests. Random Pool Membership is offered, and members get discounted pricing on DOT drug tests. And because we know that many Green Bay businesses and residents are involved with shipping or maritime in one way or another, we help you comply with the strict USCG drug testing regulations. We have a pre-set DOT package specifically tailored just for the USCG (US Coast Guard) Drug Testing requirements. It includes everything you need from the SAMHSA lab to the MRO signed USCG-719P report.
Hair Drug Testing in Green Bay, Wisconsin ✂
Hair Drug Tests go back up to 90 days. We do these at our Green Bay drug testing locations with a small hair sample from the scalp or body.
Additional services from Employers: StaffGlass™
Employers get access to our proprietary StaffGlass™ eResults portal. When logged in, business users are able to:
arrow_right_alt
Register for drug or alcohol tests and pick clinics nationwide; view results and status of all tests
arrow_right_alt
Manage eSign documents related to the testing process
arrow_right_alt
Set up a random pool, add or remove staff, update staff employment status
Why Health Street
A Decade Plus of Experience
Health Street has provided drug tests since 2010. The first time we performed drug testing in Green Bay, WI was in 2015. From then until now, we have completed 60 drug tests at our Green Bay labs.
Committed to Excellence
Health Street is dedicated to serving the drug testing needs of businesses and families in Green Bay. We are committed to ensuring the optimal experience with any of our services.
Local Testing Data
Stats on substance abuse in Wisconsin:
trending_up
In 2017, Wisconsin providers wrote 52.6 opioid prescriptions for every 100 persons. This was among the lowest prescribing rates in the country and less than the average U.S. rate of 58.7 prescriptions.
trending_up
The rate of overdose deaths involving opioid prescriptions, however, has risen steadily from 0.9 deaths in 1999 to 6.4 deaths per 100,000 persons in 2017.
trending_up
The State Crime Laboratory handled 1,452 meth cases in 2018 — an increase of more than 450% since 2008. The number far exceeded the 1,055 heroin cases handled by the lab that year.
Stats on substance abuse in Green Bay:
trending_up
The age-adjusted opioid-related hospital encounters in Brown County was 311.4 per 100,000 population in 2016, lower than Wisconsin rate of 482.6 per 100,000 population.
trending_up
Brown County police reported three times the number of methamphetamine seizures in 2017 than they did in 2016. In 2018, police seizures of both methamphetamine and heroin doubled from the previous year.
trending_up
An alarming number of children in Brown County arrive in Child Protective Services after illegal substances have been found in their homes.
Green Bay Industries:
Green Bay has a long history in the packing industry that still exists today. The Green Bay Packers football team gets its name from the city's rich meat packing traditions. The city is also the "Toilet Paper Capital of the World " due to major paper companies there.
The top employers include Humana, Bellin Health and the Oneida Nation of Wisconsin. Green Bay is the smallest US city with a professional sports team in the major American sports.
Locations
Clinic Hours and Information for our Labs in Green Bay, Wisconsin
1805 Allouez Avenue
Suite 3
Green Bay, WI 54311
Pre-registration required,
Walk-in with barcode:
---
Monday: 8:00 AM – 5:00 PM
Tuesday: 8:00 AM – 5:00 PM
Wednesday: 8:00 AM – 5:00 PM
Thursday: 8:00 AM – 5:00 PM
Friday: 8:00 AM – 5:00 PM
About this Location:
To obtain occupational health testing in Green Bay, Wisconsin, visit us at this location, which is close to Hunter's Edge Archery.
721 Cardinal Ln
Suite 100
Green Bay, WI 54313
Pre-registration required,
Walk-in with barcode:
---
Monday: 8:00 AM – 5:00 PM
Tuesday: 8:00 AM – 5:00 PM
Wednesday: 8:00 AM – 5:00 PM
Thursday: 8:00 AM – 5:00 PM
Friday: 8:00 AM – 5:00 PM
About this Location:
It is simple to locate our lab. We are a short walk from Meadowbrook Park.
Citations
menu_book
National Institute on Drug Abuse, Wisconsin, https://www.drugabuse.gov/opioid-summaries-by-state/wisconsin-opioid-summary
menu_book
Alcohol and Drug Rehab Centers in Green Bay, Wisconsin, https://www.rehabcenter.net/rehab-centers/wisconsin-rehab-centers/green-bay/
menu_book
Green Bay: Economy, http://www.city-data.com/us-cities/The-Midwest/Green-Bay-Economy.html