Drug Test – Dorchester, MA
Health Street provides drug and alcohol testing in Dorchester, Massachusetts at our drug testing center. Whether you need drug and alcohol testing for your employees, yourself, or a family member, you can rest assured that Health Street drug testing services in Dorchester, MA provides a safe and clean environment and accurate results. We'll send a barcode authorization for the urine or hair drug test that you choose by text and email, along with a map to the clinic address.
Register for urine or hair drug tests in Dorchester, MA quickly and easily online. Drug testing panels include Department of Transportation (DOT) and non-DOT urine drug tests, breath alcohol tests, EtG alcohol tests, and hair drug testing. Test results are fast, reviewed by our Medical Review Officer (an MRO), and reported safely and securely online. You can also call (617) 863-9229 with any questions about our employment screening services.
Workforce Screening, Digitally Delivered
Drug Testing in Dorchester, Massachusetts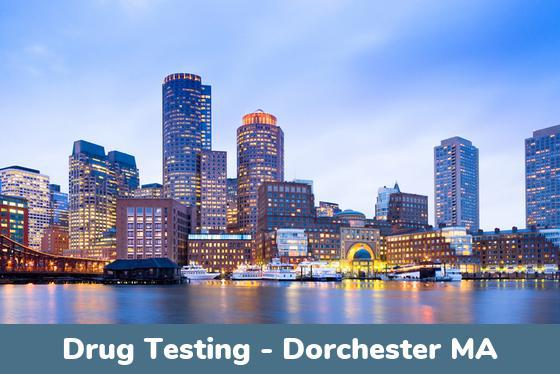 Get a Drug Test in Dorchester, Massachusetts Right Now
Health Street has the largest selection of drug testing and employment screening services in Dorchester. Employers can access our services to set up a drug free workplace, families can get court ordered drug testing, and attorneys and private individuals can register for non-DOT drug tests, Department of Transportation (DOT) drug tests, and more.
Available Drug Testing Methods
Popular Drug Testing Panels
Specialized Categories of Tests
category
Choose from our
Alcohol Testing
options (such as breathalyzer, EtG test, or PEth blood alcohol)
DOT Drug Testing in Dorchester, Massachusetts
Learn about our DOT drug and alcohol testing services, and how your company can maintain Department of Transportation (DOT) Compliance with 46 CFR Part 40, including:
Employee Drug Testing: eResults Portal for Employers
Business users get access to the amazing StaffGlass™ eResults portal. When logged in, human resources and other company executives can manage their drug testing program, including:
how_to_reg
Register for drug screenings for reasons such as: pre-employment, random, post-accident, or reasonable suspicion.
how_to_reg
Get fast, accurate results in a safe and secure online portal.
how_to_reg
Find a drug test clinic in Dorchester, MA or pick from our lab testing locations anywhere in the United States; you can order your test online, view results, and check status of all tests
how_to_reg
Manage eSign documents related to the testing process
how_to_reg
Set up a DOT random pool, add or remove drivers, and easily update their employment status.
how_to_reg
The StaffGlass™ eResults Portal is backed up by world class customer service.
Live support from our U.S. based Call Center is available: Monday through Friday: 7:30 AM to 7:00 PM Eastern Time.
Why Health Street
More than a Decade of Experience
Since 2010, Health Street has provided drug testing in Dorchester as well as thousands of other cities nationwide. Since our inception, we have served thousands of small and medium sized businesses (SMBs), large employers, and individuals. Our goal is to ensure the best possible customer experience with highly accurate tests and speedy results.
Commitment to Excellence
Our goal is to provide the best possible drug testing Dorchester employers and residents.
Local Drug Testing for Dorchester, MA
Notable Historical Events Related to Drug Use in Dorchester, MA
In July 2021, an investigation led to the arrest of four men, including two residents of Dorchester, MA. Officers seized 23 bags of fentanyl, 14 bags of powdered cocaine packaged for sale, 18 bags of crack cocaine, and $1,234 cash.
In May 2021, an ongoing investigation in Dorchester led to the execution of two search warrants. A Dorchester man was arrested after officers seized 166 grams of cocaine, items related to the sale of illicit drugs, and $16,793. The Dorchester man faced charges of Trafficking Class B drugs.
In June 2021, a Dorchester man was arrested and charged with trafficking Class B drugs after being accused of receiving dozens of cocaine packages via mail, from fake addresses in Puerto Rico. He received over 200 grams of cocaine in 29 packages through the U.S. Postal Service. Search warrants were executed and authorities seized six kilograms of cocaine, a pound of marijuana, and over $9,300 cash.
Government Efforts to Address Drug Problems in Dorchester, MA
The Codman Square Health Center in Dorchester, MA has been handling opioid abuse cases for decades. In 2017, the health center began offering information regarding clues to look for to prevent opioid overdoses. Dorchester has seen an increase in fentanyl use, an opiate that's considered far more dangerous than heroin.
Governor Charlie Baker said that he promises to monitor trends and respond with treatment and recovery plans for those struggling with opioid abuse disorder. The Codman Square Health Center recommends that Massachusetts looks to find clues to prevent overdoses.
Law enforcement and politicians have strengthened laws regarding fentanyl trafficking and offer more funding for treatment centers such as the Codman Square Health Center.
Experts Say…
Daniel Hogan is the director of the Codman Square Health Center. Hogan spoke about the opioid epidemic in Dorchester and Suffolk County. "There's a lot of cultural wisdom. You'll hear patients talking about ways to prevent overdose. That's how they've been able to do it for so long," he said. "It's pretty scary to think that we may be in a time where we could be talking about a market and Fentanyl is really the standard for street opioids that are being sold to users."
Neighborhoods in Dorchester Served by our Clinics
location_city
Adams Village
location_city
Bowdoin North-Mount Bowdoin
location_city
Codman Square
location_city
Four Corners
location_city
Polish Triangle
location_city
Uphams Corner
Additional Services
Health Street offers a variety of other services, including:
Citations
menu_book
"Four Arrested on Drug Related Charges Following BPD Investigation in Boston." BPDNews.com, 15 July 2021, https://bpdnews.com/news/2021/7/15/four-arrested-on-drug-related-charges-following-bpd-investigation-in-boston
menu_book
"BPD Search Warrant Execution Leads to Arrest Following the Recovery of Drugs and Cash in Dorchester." BPDNews.com, 26 May 2021, https://bpdnews.com/news/2021/5/26/search-warrant
menu_book
Sobey, Rick. "Dorchester man accused of receiving cocaine packages in the mail: Boston Police." Boston Herald, 30 June 2021, https://www.bostonherald.com/2021/06/30/dorchester-man-accused-of-receiving-cocaine-packages-in-the-mail-boston-police/
menu_book
Martin, Phillip. "A Dorchester Health Clinic Takes Lead In Fighting Opiate Addiction." WGBH, 13 June 2017, https://www.wgbh.org/news/2017/06/13/news/dorchester-health-clinic-takes-lead-fighting-opiate-addiction
menu_book
Johnson, Megan. "So You Want to Live in Dorchester." Boston Magazine, https://www.bostonmagazine.com/property/dorchester-neighborhood-guide/
menu_book
"Dorchester Boston Neighborhood Guide." Compass, https://www.compass.com/neighborhood-guides/boston/dorchester/
menu_book
Acitelli, Tom. "A Local's Guide to Dorchester, Boston's Largest Neighborhood." Curbed Boston, 12 April 2016, https://boston.curbed.com/2016/4/12/11410694/boston-dorchester-neighborhood-guide
menu_book
"The Boundaries of Dorchester." Harvard University, https://sociology.fas.harvard.edu/files/sociology/files/dorchester_boundaries.pdf