Drug Test – Bethesda, MD
Health Street provides drug and alcohol testing in Bethesda, Maryland at 2 drug testing centers. Whether you need drug and alcohol testing for your employees, yourself, or a family member, you can rest assured that Health Street drug testing services in Bethesda, MD provide a safe and clean environment and accurate results. We'll send a barcode authorization for the urine or hair drug test that you choose by text and email, along with a map to the clinic address.
Register for urine or hair drug tests in Bethesda, MD quickly and easily online. Drug testing panels include Department of Transportation (DOT) and non-DOT urine drug tests, breath alcohol tests, EtG alcohol tests, and hair drug testing. Test results are fast, reviewed by our Medical Review Officer (an MRO), and reported safely and securely online. You can also call (301) 298-3997 with any questions about our employment screening services.
Workforce Screening, Digitally Delivered
1 of 2
6410 Rockledge Drive
Bethesda
,
MD
20817
2 of 2
10215 Fernwood Rd
Bethesda
,
MD
20817
Drug Testing in Bethesda, Maryland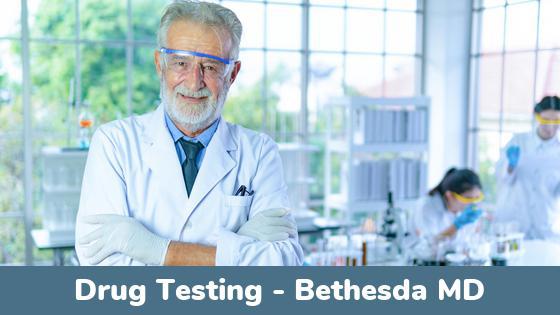 Types of Drug Tests in Bethesda, Maryland clinics:
In Bethesda, Health Street offers the widest variety and selection of drug tests anywhere, which allows you to choose from any panel you wish, with rapid results or sent to our lab, using a urine sample or a hair sample. Most of our tests have an option to add alcohol or remove THC from the screening, so that we can always meet your specific requirements.
The number of urine drug testing services and drug screening panels that we offer means that you can test for nearly any drug.
The most basic test we offer is a 5 Panel Drug Test, which tests for:
arrow_right_alt
Marijuana (THC, cannabinoids, weed)
arrow_right_alt
Phencyclidine (PCP – angel dust)
arrow_right_alt
Amphetamines (Adderall, Ritalin, methamphetamines)
arrow_right_alt
Basic Opiates (heroin, morphine, codeine)
The next option up from there is the 9 Panel Drug Test, which adds in some commonly abused prescriptions:
arrow_right_alt
Benzodiazepines (Valium, Klonopin, Xanax)
arrow_right_alt
Barbiturates
arrow_right_alt
Propoxyphene
When asked, we often recommend the 12 Panel Drug Test because it is a well rounded test that screens for common opioids and ecstasy, including:
arrow_right_alt
MDMA/6AM (Ecstasy, Molly)
arrow_right_alt
Expanded opiate class: Oxycodone, Oxymorphone, Hydrocodone, Hydromorphone (Vicodan, Percocet, Oxycontin)
If you're at all concerned with opiate usage beyond basic painkillers, just as many people in Bethesda are, consider registering for a 16 Panel Opiate Drug Test. These synthetic opiates are not picked up by lesser panel tests.
arrow_right_alt
Meperidine (Demerol)
arrow_right_alt
Buprenorphine (Suboxone)
The above are just a few of the wide variety of urine tests we offer. You can view all urine drug screens offered at our Bethesda drug testing centers. We offer urine tests that go up to 22 panels, plus specialized tests for synthetic marijuana and bath salts, ketamine and rohypnol, GHB and more.
Alcohol Drug Tests
Alcohol use can be detected by our Bethesda drug testing locations. You can select our EtG test for alcohol (which has a 3 day look-back), or add it to any of our drug tests. Choose the alcohol drug testing that looks back at the specific period of time that matters to you:
DOT Drug and Alcohol Testing in Bethesda, Maryland
Our Bethesda facilities have technicians certified to perform DOT drug testing and breath alcohol tests. Random Pool Membership is offered, and members get discounted pricing on DOT drug tests. And because we know that many Bethesda businesses and residents are involved with shipping or maritime in one way or another, we help you comply with the strict USCG drug testing regulations. We have a pre-set DOT package specifically tailored just for the USCG (US Coast Guard) Drug Testing requirements. It includes everything you need from the SAMHSA lab to the MRO signed USCG-719P report.
Hair Drug Testing in Bethesda, Maryland ✂
Hair Drug Tests go back up to 90 days. We do these at our Bethesda drug testing locations with a small hair sample from the scalp or body.
Additional services from Employers: StaffGlass™
Employers get access to our proprietary StaffGlass™ eResults portal. When logged in, business users are able to:
arrow_right_alt
Register for drug or alcohol tests and pick clinics nationwide; view results and status of all tests
arrow_right_alt
Manage eSign documents related to the testing process
arrow_right_alt
Set up a DOT random pool and manage enrollment in a DOT small business consortium
For live customer service, call our U.S. based call center Monday through Friday, from 7:30 AM to 7:00 PM Eastern Time.
Why Health Street
More than a Decade of Experience
Since 2010, Health Street has provided drug testing in Bethesda as well as thousands of other cities nationwide. The first drug test that Health Street performed in Bethesda, MD was in 2016.
Commitment to Excellence
Our goal is to provide the best possible drug testing Bethesda employers and residents.
Economy and Drug Use for Bethesda MD
Drug Disposal Boxes Now Available Throughout Bethesda
In an effort to keep prescription drugs out of the hands of potential abusers, the Montgomery County Police Department has set up disposal boxes in all of their district stations. This allows residents in Bethesda and the surrounding area to discreetly dispose of leftover or expired drugs 24 hours a day, 7 days a week with no questions asked.
Maryland Drug Overdoses Jump During Pandemic
According to state data, drug and alcohol overdose deaths have jumped by 9.1% between January and June of 2020 when compared to the same timeframe in 2019. Nearly 90% of these deaths were caused by opioid overdoses. Experts say it's clear that the jump is due to the circumstances created by the COVID-19 pandemic. This includes social isolation, economic stress, and reduced access to substance abuse care.
In response, the government created the Maryland COVID-19 Inter-Agency Overdose Action Plan, which is designed to help address these issues. As part of the effort, they've begun distributing the drug overdose antidote naloxone and training people how to use it. They've also provided more funding for drug and alcohol abuse treatment and set up emergency hotlines.
The Local Economy, Jobs, and Major Industries in Bethesda
Bethesda, MD is located just 7 miles outside of Washington, DC. It's perhaps best known for being home to the National Naval Medical Center, the Walter Reed National Military Research Center, and the National Institutes of Health. It's also a vibrant urban center with a diverse and strong economy. The largest industries here are healthcare, defense, software, and finance.
Bethesda is also the home of defense conglomerate Lockheed Martin, the headquarters of the managed healthcare company Coventry Health Care, and the headquarters of Mariott International. With a cost of living that's 45% higher than the national average, Bethesda is one of the most expensive cities in America. However, this is offset by the area's unusually high median household income.
Locations
Clinic Hours and Information for our Labs in Bethesda, Maryland
6410 Rockledge Drive
Suite 105
Bethesda, MD 20817
Pre-registration required,
Walk-in with barcode:
---
Monday: 8:00 AM – 3:00 PM
(M Lunch: 12-1 PM)
Tuesday: 8:00 AM – 3:00 PM
(T Lunch: 12-1 PM)
Wednesday: 8:00 AM – 3:00 PM
(W Lunch: 12-1 PM)
Thursday: 8:00 AM – 3:00 PM
(Th Lunch: 12-1 PM)
Friday: 8:00 AM – 3:00 PM
(F Lunch: 12-1 PM)
About this Location:
Our clinic is very close by to Wyngate Elementary School.
10215 Fernwood Rd
Suite 304
Bethesda, MD 20817
Pre-registration required,
Walk-in with barcode:
---
Monday: 7:30 AM – 5:00 PM
Tuesday: 7:30 AM – 5:00 PM
Wednesday: 7:30 AM – 5:00 PM
Thursday: 7:30 AM – 5:00 PM
Friday: 7:30 AM – 5:00 PM
Saturday: 8:00 AM – 12:00 PM
About this Location:
Our lab is located down the block from Walter Johnson High School.
Neighborhoods In and Around Bethesda That We Serve
location_city
Bradley Hills
location_city
Bradley Park
location_city
Burning Tree
location_city
Glen Mar Park
location_city
Westmorland Hills
Additional Services
Health Street offers a variety of other services, including:
Citations
menu_book
Grunberger, Alessia. "Drug Disposal Boxes Now Available 24/7 At 6 MoCo Police Stations." Patch, 1 September 2020, https://patch.com/maryland/bethesda-chevychase/drug-disposal-boxes-now-available-24-7-6-moco-police-stations
menu_book
Montgomery County Department of Police, https://www.montgomerycountymd.gov/pol/
menu_book
Oxenden, McKenna. "Drug- and alcohol-related deaths across Maryland jump more than 9% due to the coronavirus, officials say." Baltimore Sun, 22 September 2020, https://www.baltimoresun.com/health/bs-hs-opioid-report-first-half-of-year-20200922-2khvu37zhngf7dsiqivulv6ctu-story.html
menu_book
"Maryland COVID-19 Inter-Agency Overdose Action Plan June 2020." Maryland Opioid Operational Command Center, https://beforeitstoolate.maryland.gov/wp-content/uploads/sites/34/2020/06/2020-ACTION-PLAN-FINAL-6.10.20.pdf
menu_book
Patrick, Surburban Solutions. "Living in Bethesda MD (2020) | Is Moving to Bethesda RIGHT For You?" Surburban Solutions, https://suburbansolutions.com/blog/living-in-moving-to-bethesda-md/
menu_book
"Bethesda Neighbhoods." The Rozansky Group, https://www.rozansky.com/area/bethesda-md-neighborhoods