Drug Testing in Abilene, Texas
In Abilene, Texas, Health Street provides drug testing for employers and individuals at 4 professional drug testing locations. You can register for drug tests quickly and easily on our website. Testing options include a wide range of drug panels. Our options include Department of Transportation (DOT) drug tests, non-DOT urine drug tests, breath alcohol tests, EtG alcohol tests, and hair drug testing. Once you pick your test, simply choose the best clinic location that meets your needs, and register online.
Whether you need drug and alcohol testing for your employees, yourself, or a family member, you can rest assured that Health Street testing services in Abilene, Texas provides accurate results. We'll send a barcode authorization by text and email, along with a map to the clinic address. Drug testing centers are clean, comfortable and operated by experienced professionals. Test results are fast, reviewed by our Medical Review Officer (an MRO), and reported safely and securely online. You can also call (325) 400-2803 with any questions about our drug tests.
Workforce Screening, Digitally Delivered
Great company to work with and wonderful people.
John Jones
10/12/2018
John Jones DBA Belize Express
Customer service is great to me everthing is good thank you
Gilbert Rodriguez
11/21/2017
G & R Associates Trucking Service
Delenia did a great job lot of help
Gilbert
11/30/2016
Awesome service as usual!
Breanna
7/20/2016
1 of 4
8 Hospital Drive
Abilene
,
TX
79606
2 of 4
4150 Southwest Drive
Abilene
,
TX
79606
3 of 4
4601 Hartford Street
Abilene
,
TX
79605
4 of 4
1665 Antilley Road
Abilene
,
TX
79606
Drug Testing in Abilene, Texas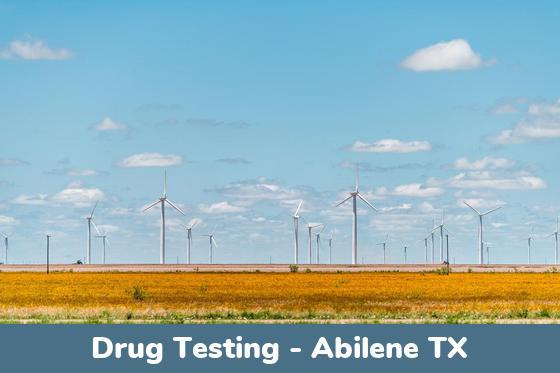 Types of Drug Testing in Abilene, Texas
Health Street offers drug testing services such as: 5 panel drug test up to 22 panels, Department of Transportation DOT drug test, rapid results or laboratory testing, with or without alcohol EtG test included, the option to exclude THC, and more. Get these tests done at Abilene drug testing locations.
Our selection of chain of custody urine drug testing services and drug screenings allow you to test for nearly any drug consumed in the recent past. They are recommended for employee drug testing or court orders. The number of panels in a panel drug test refers to classes of drugs (i.e., marijuana, cocaine, etc.).
This is the traditional, basic urine drug test for street drugs, including:
check_circle
Marijuana (THC, cannabinoids, weed)
check_circle
Amphetamines (Adderall, Ritalin, methamphetamines)
check_circle
Basic Opiates (heroin, morphine, codeine)
check_circle
Phencyclidine (PCP – angel dust)
This is urine testing that includes all of the above plus the following prescription drugs:
check_circle
Benzodiazepines (Valium, Klonopin, Xanax)
This is a great option for employment drug testing in Abilene, Texas – it includes well known street drugs and prescription drugs, including all 9 of the ones listed above, plus methaqualone.
***Health Street Recommends 12 Panel***
expanded opiates
and Ecstasy. This test is a 10 panel plus:
check_circle
MDMA/6AM (Ecstasy, Molly)
check_circle
Hydromorphone (Vicodan, Percocet, Oxycontin)
16 Panel Opiate Drug Test – $250
As the opioid epidemic continues to rise and impact Abilene, it is important to be aware that many of the dangerous, synthetic opiates are not picked up by lower panel tests. Our 16 panel picks up these 4 additional opiate classes in addition to the drugs included above:
check_circle
Meperidine (Demerol)
check_circle
Buprenorphine (Suboxone)
There are many more urine drug screens in Abilene facilities. Our testing panels go up to a 22 panel drug test, including specialized tests for synthetic marijuana, bath salts, nicotine, ketamine, rohypnol, and more. For results of chain of custody testing with MRO review, we are widely considered to be the fastest lab in Abilene , Texas. Drug testing in Abilene is easy with Health Street.
Alcohol Testing in Abilene , Texas
Alcohol testing is done through urine, hair, breath, or blood. Basic urine alcohol tests (12 hour look-back) or EtG urine alcohol testing (3 day look-back) can be added to any of our drug testing panels, or they can be done on a standalone basis. Choose the type of alcohol drug testing that looks back at the specific period of time that matters to you:
category
Breath Alcohol Tests
are the most appropriate tests to use in the workplace if on-the-job alcohol use is suspected, or after any accidents.
On-site breathalyzers
in the Abilene, TX area are also available for emergencies.
category
Hair EtG Test
is a hair follicle alcohol test that goes back 3 months
DOT Drug and Alcohol Testing Services – Abilene , TX
Health Street's Abilene facilities offer DOT drug and breath alcohol tests that comply with 46 CFR Part 40. Urine specimens are processed at SAMHSA certified laboratories. Members of our Random Pool get discounts on DOT drug testing.
Health Street administers DOT Random Pools for companies of all sizes based in and around Abilene, across Texas. Our local presence combined with our national clinic network and easy online pool management makes DOT compliance a breeze.
Many Abilene businesses and residents are involved, directly or indirectly, with maritime, and therefore, they are regulated by the United States Coast Guard and must comply with the strict USCG regulations. Our Abilene clinics offer a specially designated USCG Merchant Marines Drug Test Package, which includes everything you need to meet the USCG DOT drug test requirements.
Hair Follicle Drug Testing Abilene , TX
Hair drug tests can detect drug or alcohol use for a far greater period of time – 90 days – than a standard urine drug test. Hair drug testing is performed at our Abilene drug testing places. We cut a small amount of either head hair or body hair. The hair is analyzed by our testing laboratory. We offer several panel drug tests.
Hair Drug Test Options
blur_on
5 Panel Hair Follicle Drug Test
blur_on
9 Panel Hair Follicle Drug Test
blur_on
12 Panel Hair Follicle Drug Test
StaffGlass™ eResults Portal for Employers
Employers get free access to premium customer service by phone and our award winning online StaffGlass™ eResults portal. Once securely logged into StaffGlass™, business users can set up their drug testing program, including:
how_to_reg
Securely order pre-employment, random, post-accident, or reasonable suspicion drug testing
how_to_reg
View fastest results
how_to_reg
Order and view eSignature employee documents such as policies and procedures, job applications, and more
how_to_reg
Setup a random drug testing pool or a drug-free workplace program, and add or remove staff to be included
Why Health Street
More than a Decade of Experience
Since 2010, Health Street has provided drug testing in Abilene as well as thousands of other cities nationwide. The first drug test that Health Street performed in Abilene, TX was in 2012. From then until now, we have processed 132 drug tests in Abilene.
Commitment to Excellence
Our goal is to provide the best possible drug testing Abilene employers and residents.
Local Drug Articles for Abilene, TX
Orlando Brown's Faith-Based Treatment in Abilene
Best known for his role on The Disney Channel's series That's So Raven, actor Orlando Brown has been facing a public battle with drugs and mental health since he was charged with battery and meth possession in 2016. In November of 2020, he'll graduate from a free faith-based recovery program in Abilene, called Rise Discipleship.
He's doing well and is on the straight-and-narrow. According to the "home overseer" Jubal Elrod, Brown turned his life around and took an active role in mentoring men that were new to the program. Brown initially heard about the program from his fiancée. After graduation, he plans to get married and is looking forward to reuniting with his family and starting his new life.
Abilene Doctor Treats Opioid Addiction with a Unique Drug
The opioid epidemic has affected millions of people across the country, and Abilene is no exception. Here, though, Doctor Tim Martin is treating patients with a unique drug that isn't available anywhere else in the Big Country area. The drug is called Suboxone. It's a man-made medication that only partially connects to the body's pain receptor. This allows it to relieve pain while also reducing opioid cravings.
While the drug is not new, it's heavily restricted, even among medical professionals. Since Dr. Martin is the only physician in the area allowed to prescribe Suboxone, patients come from all over the state to see him for treatment.
The Local Economy, Jobs, and Major Industries in Abilene
The city of Abilene is very business-friendly. The manufacturing and food processing industries are thriving here, thanks to the city's ideal location and solid infrastructure. It's also home to the 6,400-acre Dyess Air Force Base, which houses more than 13,000 military members and civilians. Over 5,000 residents work here, making it the area's largest employer.
The top industries by employment in Abilene are:
business_center
Colleges, universities, and professional schools
business_center
Support activities for oil and gas operations
business_center
Direct health and medical insurance carriers
business_center
Hotels (except casino hotels) and motels
business_center
Corporate, subsidiary, and regional managing offices
The cost of living in Abilene is 16% lower than the United States average, earning it the ranking of the #7 City with the Lowest Cost of Living in the United States (Niche 2020). It's also been named #18 among Best Cities to Buy a House in America (Niche 2020).
Locations
Clinic Hours and Information for our Labs in Abilene, Texas
8 Hospital Drive
Abilene, TX 79606
Pre-registration required,
Walk-in with barcode:
---
Monday: 8:00 AM – 4:00 PM
(M Lunch: 12-2 PM)
Tuesday: 8:00 AM – 4:00 PM
(T Lunch: 12-2 PM)
Wednesday: 8:00 AM – 4:00 PM
(W Lunch: 12-2 PM)
Thursday: 8:00 AM – 4:00 PM
(Th Lunch: 12-2 PM)
Friday: 8:00 AM – 4:00 PM
(F Lunch: 12-2 PM)
About this Location:
To get rapid drug testing in Abilene, come to this location, which is across from Hendrick Medical Center South.
4150 Southwest Drive
Suite 125
Abilene, TX 79606
Pre-registration required,
Walk-in with barcode:
---
Monday: 7:00 AM – 3:00 PM
(M Lunch: 12-2 PM)
Tuesday: 7:00 AM – 3:00 PM
(T Lunch: 12-2 PM)
Wednesday: 7:00 AM – 3:00 PM
(W Lunch: 12-2 PM)
Thursday: 7:00 AM – 3:00 PM
(Th Lunch: 12-2 PM)
Friday: 7:00 AM – 3:00 PM
(F Lunch: 12-2 PM)
About this Location:
We are just a few blocks from Red Bud Park. We are easily accessed by car or public transportation.
4601 Hartford Street
Abilene, TX 79605
Pre-registration required,
Appointment Required.
---
Monday: 8:00 AM – 5:00 PM
Tuesday: 8:00 AM – 5:00 PM
Wednesday: 8:00 AM – 5:00 PM
Thursday: 8:00 AM – 5:00 PM
Friday: 8:00 AM – 5:00 PM
About this Location:
You can locate our clinic around the corner from Texas Roadhouse. We look forward to serving you here.
1665 Antilley Road
Abilene, TX 79606
Pre-registration required,
Walk-in with barcode:
---
Monday: 7:30 AM – 5:00 PM
Tuesday: 7:30 AM – 5:00 PM
Wednesday: 7:30 AM – 5:00 PM
Thursday: 7:30 AM – 5:00 PM
Friday: 7:30 AM – 12:00 PM
About this Location:
We are around the corner from Abilene Clay Sports. We are easily accessed by car or public transportation.
Neighborhoods Served in Abilene
location_city
Park Central
location_city
South Treadaway
location_city
North College
location_city
Chimney Rock
Additional Services
Health Street offers a variety of other services, including:
Citations
menu_book
Gowdy, ShaCamree. "'That's So Raven' star Orlando Brown defeats addiction at faith-based treatment facility in Texas." San Antonio Express-News, 2 October 2020, https://www.mysanantonio.com/entertainment/article/That-s-So-Raven-star-Orlando-Brown-15597627.php
menu_book
Bradshaw, Nick. "Abilene doctor using drug unique to Big Country to fight opioid crisis." KTXS, 17 November 2019, https://ktxs.com/features/addiction-resources/abilene-doctor-using-drug-unique-to-big-country-to-fight-opioid-crisis
menu_book
"Abilene Area: A Pro-Business Climate with an Ideal Infrastructure." Texas Economic Development Corporation, https://businessintexas.com/texas-regions/west-texas/abilene/
menu_book
"Neighborhoods in Abilene." Movoto, https://www.movoto.com/sitemap/abilene