DNA Testing in Abilene, Texas
Health Street provides DNA tests and legal paternity testing in Abilene, Texas at 4 testing laboratories. Call (325) 400-2803 or schedule online. We offer legal paternity tests, sibling studies, grandparent DNA tests, avuncular (aunt or uncle) testing, and postmortem DNA testing to determine if people are biologically related.
Set up DNA testing appointments online. Test results can be used in court for child support or to change a birth a certificate; it can also be used for simple peace of mind. Appointments can be scheduled together or separately. Legal DNA tests are done by cheek swab at our testing centers. We can also extract DNA samples from hair follicles, fingernails, and other specimens.
Workforce Screening, Digitally Delivered
It was fast and friendly service. I was in and out with the dna swab in no time at all.
Jonathan Ortega
3/29/2021
Awesome service. Thank you
Luis Garcia
1/24/2017
1 of 4
8 Hospital Drive
Abilene
,
TX
79606
2 of 4
4150 Southwest Drive
Abilene
,
TX
79606
3 of 4
4601 Hartford Street
Abilene
,
TX
79605
4 of 4
1665 Antilley Road
Abilene
,
TX
79606
DNA Test – Abilene, Texas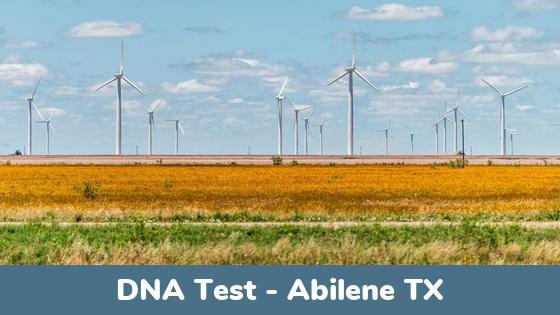 Types of DNA Tests at our Abilene, Texas clinics:
Paternity Testing can conclusively establish whether or not a man is the biological father of a child.
Relationship Testing for other close family relationships can be performed at our testing centers. Our DNA testing services can confirm or deny biological relationships between grandparents, grandchildren, siblings, half-siblings, aunts, uncles, nieces and nephews:
Specimens we can test for DNA
The easiest and most reliable way to obtain a DNA sample for paternity testing is to swab the inner cheeks of the alleged father and child or children. These skin cells are known as buccal cells, and they rub off easily onto cotton swabs and remain in place for analysis by our laboratory.
Other specimen samples, such as hair follicles, fingernails, and garments that might contain someone's DNA, can also be tested. An Alternative Specimen DNA Test is done by ordering one of our testing kits online and shipping the specimens back to us.
Legal DNA Tests vs. "Peace of Mind" At-Home Tests
A Legal Paternity Test is a court admissible lab testing service performed at an AABB accredited laboratory. Accurate results for DNA paternity testing with 99.99% confidence or greater take about a week.
When deciding which type of DNA test is right for you, consider first what you might do with the results. A legal paternity DNA test will hold up in court for such matters as child support or to change the name on a birth certificate. This test must be performed using strict chain of custody procedures. Our Abilene DNA testing technicians are trained to follow these guidelines so that the results will be legally admissible.
How to schedule a DNA Test in Abilene TX
Scheduling a DNA test at one of our Abilene clinics is simple and fast, and we often have appointments available in the same week. It's always helpful to schedule in advance to make sure you get the time you want. Please call our customer service team to help you book your appointment over the phone, or set up your appointment easily online.
We have state of the art testing labs and friendly clinics that perform the DNA sample collection in Abilene, plus many more locations throughout Texas and across the United States. During registration, we'll show you the nearest locations for DNA testing so you can choose the site that's most convenient. You'll also pick the times and days that you prefer.
Why Health Street
More than a Decade of Experience
Since 2010, Health Street has offered DNA tests in Abilene, the state of Abilene, Texas, and throughout the nation. The first DNA test that Health Street provided in Abilene, TX was in 2020.
Commitment to Excellence
Our mission is to understand the DNA testing needs of our clients. We strive to provide the most accurate, fast, and conclusive paternity tests in Abilene.
DNA Test Uncovers Abilene Man's 46-Year Family Secret
When Abilene resident Tony Vargas first received the results of his DNA test, he assumed there had been a mistake. Always strongly identifying with his father's Mexican heritage, he was confused when the ethnicity section of his test listed only Ashkenazi Jewish, German, Swiss, and French.
When Vargas asked his mother about it, he was shocked to learn a huge family secret. It turns out, his father was drafted to serve in Vietnam, and when he returned home after 18 months overseas he discovered that his then-18-year-old wife was pregnant. After a few days of shock, his father came back and agreed to raise the child (Tony Vargas) as his own.
After learning of the secret, Vargas took to the internet to search for his biological father. He found him and they met in person over lunch. Both were surprised by how easily the conversation flowed. Both of Vargas' fathers have also met, and his mother is no longer tormented by the secret she kept for nearly half a century.
79-Year Old Abilene Man Reunited with Sister Thanks to DNA Test
Seventy-nine-year-old Albert Robillard, of Abilene, and his 78-year-old half-sister Jan both spent their younger years growing up in orphanages and foster care while dreaming of having families of their own. Despite sharing the same father and being only a year apart, the two never met — that is until DNA test results brought them together.
In 2019, Robillard flew to New York where he and Jan had an extremely emotional meeting. They now have an undeniable connection and are working hard to overcome a lifetime of separation.
Man Ordered to Pay Child Support for Another Man's Child
Cases involving paternity and child support are often straightforward, but not always. One example is a case discussed in a blog posted by Abilene attorneys at The Law Offices of Randy Wilson and Kristin Postell. This 2015 case began when a child's mother fell on hard times and had to file for welfare benefits in Texas. During the process, she was asked for the name of the child's father and listed her ex-boyfriend, without his knowledge or consent.
Years later, the man was pulled over for a traffic stop and was arrested for failure to pay child support. It took several years for him to locate the mother. When he did, she apologized for making a false paternity claim.
The man took a DNA test, which proved he had no biological relationship to the child. He took the case to court. However, they found that since he had known of the accusation for years and had not disputed it, he was still liable for over $30,000 in back child support. This is an extreme example of how child support issues can be distorted in courts, despite definitive DNA tests. It also reinforces the importance of taking a DNA test immediately when paternity claims arise.
Locations
Clinic Hours for DNA Testing in Abilene, Texas
8 Hospital Drive
Abilene, TX 79606
Pre-registration required,
Walk-in with barcode:
---
Monday: 8:00 AM – 4:00 PM
(M Lunch: 12-2 PM)
Tuesday: 8:00 AM – 4:00 PM
(T Lunch: 12-2 PM)
Wednesday: 8:00 AM – 4:00 PM
(W Lunch: 12-2 PM)
Thursday: 8:00 AM – 4:00 PM
(Th Lunch: 12-2 PM)
Friday: 8:00 AM – 4:00 PM
(F Lunch: 12-2 PM)
About this Location:
Paternity Tests in Abilene are available at this location, nearby to Kirby Lake.
Some Abilene Neighborhoods That We Serve
location_city
Radford Hills
location_city
Abilene Heights
location_city
Far Southside
location_city
Westwood Richland
location_city
Original Town South
location_city
River Oaks-Brookhollow
location_city
Sayles Boulevard
Additional Services
We also offer other services, such as:
Citations
menu_book
Ibarra, Daniela. "Abilene man accidentally discovers nearly 50-year-old family secret." KTXS, 23 October 2020, https://ktxs.com/news/local/abilene-man-accidentally-discovers-nearly-50-year-old-family-secret Garner, Erica and Pitman, Kelsee.
menu_book
"DNA test unites 79-year-old Abilene man with surprise sister." Big Country Homepage, 12 July 2019, https://www.bigcountryhomepage.com/news/abilene-news/dna-test-unites-80-year-old-abilene-man-with-surprise-sister/
menu_book
"Man ordered to pay child support for another's child." Law Offices of Randy Wilson and Kristin Postell, PLLC, https://www.randywilsonlaw.com/blog/2015/03/man-ordered-to-pay-child-support-for-anothers-child/ "Neighborhoods in Abilene." Movoto, https://www.movoto.com/sitemap/abilene-tx/neighborhood/