Drug Testing in Urbana, Illinois
In Urbana, Illinois, Health Street provides drug tests for employers and individuals at our testing center. You can register for drug tests on our website. Testing options include a wide range of drug panels such as Department of Transportation (DOT) and non-DOT urine drug tests, breath alcohol tests, EtG alcohol tests, and hair drug testing. Once you pick your test, simply choose the best clinic location that meets your needs, and register online.
Whether you need drug and alcohol testing for your employees, yourself, or a family member, you can rest assured that Health Street testing services in Urbana, Illinois provides accurate results. We'll send a barcode authorization by text and email, along with a map to the clinic address. Drug testing centers are clean, comfortable and operated by experienced professionals. Test results are fast, reviewed by our Medical Review Officer (an MRO), and reported safely and securely online. You can also call (217) 462-9379 with any questions about our drug tests.
Workforce Screening, Digitally Delivered
1 of 1
810 West Anthony Drive
Urbana
,
IL
61802
Drug Testing Urbana IL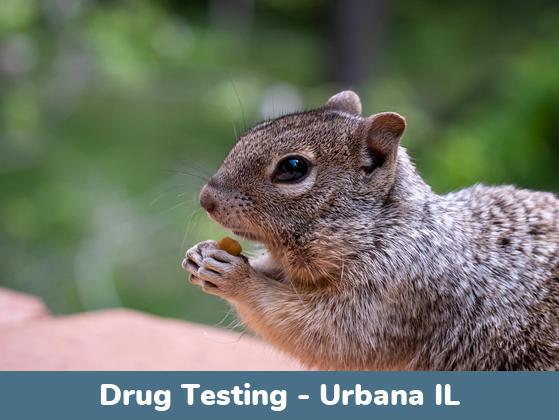 Types of Drug Tests in Urbana, Illinois clinics:
In Urbana, Health Street offers the widest variety and selection of drug tests anywhere, which allows you to choose from any panel you wish, with rapid results or sent to our lab, using a urine sample or a hair sample. Most of our tests have an option to add alcohol or remove THC from the screening, so that we can always meet your specific requirements.
The number of urine drug testing services and drug screening panels that we offer means that you can test for nearly any drug.
The most basic test we offer is a 5 Panel Drug Test, which tests for:
arrow_right_alt
Marijuana (THC, cannabinoids, weed)
arrow_right_alt
Phencyclidine (PCP – angel dust)
arrow_right_alt
Amphetamines (Adderall, Ritalin, methamphetamines)
arrow_right_alt
Basic Opiates (heroin, morphine, codeine)
The next option up from there is the 9 Panel Drug Test, which adds in some commonly abused prescriptions:
arrow_right_alt
Benzodiazepines (Valium, Klonopin, Xanax)
arrow_right_alt
Barbiturates
arrow_right_alt
Methadone
arrow_right_alt
Propoxyphene
When asked, we often recommend the 12 Panel Drug Test because it is a well rounded test that screens for common opioids and ecstasy, including:
arrow_right_alt
MDMA/6AM (Ecstasy, Molly)
arrow_right_alt
Expanded opiate class: Oxycodone, Oxymorphone, Hydrocodone, Hydromorphone (Vicodan, Percocet, Oxycontin)
If you're at all concerned with opiate usage beyond basic painkillers, just as many people in Urbana are, consider registering for a 16 Panel Opiate Drug Test. These synthetic opiates are not picked up by lesser panel tests.
arrow_right_alt
Meperidine (Demerol)
arrow_right_alt
Buprenorphine (Suboxone)
The above is just a sampling of the wide variety of urine tests we offer. You can view all urine drug screens offered at our Urbana IL drug testing center, which includes tests that go up to 22 panels, specialized tests for synthetic marijuana and bath salts, ketamine and rohypnol, GHB and more.
Alcohol Drug Tests
Alcohol use can be detected by our Urbana IL drug testing locations. You can select our EtG test for alcohol (which has a 3 day look-back), or add it to any of our drug tests. Choose the alcohol drug testing that looks back at the specific period of time that matters to you:
DOT Drug and Alcohol Testing in Urbana, Illinois
Our Urbana facilities have technicians certified to perform DOT drug testing and breath alcohol tests. Random Pool Membership is offered, and members get discounted pricing on DOT drug tests. And because we know that many Urbana businesses and residents are involved with shipping or maritime in one way or another, we help you comply with the strict USCG drug testing regulations. We have a pre-set DOT package specifically tailored just for the USCG (US Coast Guard) Drug Testing requirements. It includes everything you need from the SAMHSA lab to the MRO signed USCG-719P report.
Hair Drug Testing in Urbana, Illinois ✂
Hair Drug Tests go back up to 90 days. We do these at our Urbana drug testing locations with a small hair sample from the scalp or body.
Additional services from Employers: StaffGlass™
Employers get access to our proprietary StaffGlass™ eResults portal. When logged in, business users are able to:
arrow_right_alt
Register for drug or alcohol tests and pick clinics nationwide; view results and status of all tests
arrow_right_alt
Manage eSign documents related to the testing process
arrow_right_alt
Set up a random pool, add or remove staff, update staff employment status
Why Health Street
A Decade Plus of Experience
Health Street has provided drug tests since 2010. The first time we performed drug testing in Urbana, IL was in 2018.
Committed to Excellence
Health Street is dedicated to providing excellence in its service of drug testing in Urbana, Illinois.
Local Testing Data
Stats on Substance Abuse in Illinois
trending_up
In 2017, there were 2,202 drug overdose deaths involving opioids in Illinois—a rate of 17.2 deaths per 100,000 persons, which is higher than the national rate of 14.6 deaths per 100,000 persons.
trending_up
The greatest increase in opioid deaths was seen in cases involving synthetic opioids (mainly fentanyl): a rise from 127 deaths in 2014 to 1,187 deaths in 2017.
trending_up
Deaths involving heroin also increased significantly in the same 3-year period: from 844 to 1,251 deaths.
trending_up
There were 623 deaths involving prescription opioids in 2017, nearly double the 343 deaths in 2014.
Stats on Substance Abuse in Urbana
trending_up
Opiates were the leading cause of drug-related deaths in Champaign County with nearly 47% listed as an opiate (heroin, methadone, hydrocodone, fentanyl), and an additional 10.2% had the cause of death listed as an opiate plus another drug(s).
trending_up
Over 13% died from cocaine, and less than one percent died of other stimulant use.
trending_up
According to information provided by Urbana Police Chief Matt Lingrell, the Urbana Police Division investigated 57 drug overdoses in 2017, including seven deaths.
Urbana IL Business and Industries:
Many residents are employed by the University of Illinois Champaign-Urbana, the Urbana school district or other educational entities. Other large industries are the food, beverage and accommodation sector, health care, retail and manufacturing.
Keep your workplace drug-free with our fast, convenient tests.
Locations
Clinic Hours and Information for our Labs in Urbana, Illinois
810 West Anthony Drive
Urbana, IL 61802
Pre-registration required,
Walk-in with barcode:
---
Monday: 8:00 AM – 4:00 PM
Tuesday: 8:00 AM – 4:00 PM
Wednesday: 8:00 AM – 4:00 PM
Thursday: 8:00 AM – 4:00 PM
Friday: 8:00 AM – 4:00 PM
About this Location:
Our drug testing clinic is located a short distance from the Urbana Country Club.
Citations
menu_book
National Institute on Drug Abuse, https://www.drugabuse.gov/drugs-abuse/opioids/opioid-summaries-by-state/illinois-opioid-summary
menu_book
Healthy Chicago, Chicago Department of Health, https://www.chicago.gov/content/dam/city/depts/cdph/CDPH/Healthy%20Chicago/ChicagoOpioidReport2018.pdf
menu_book
City of Urbana, https://www.urbanaillinois.us/departments/community-development/economic-development