Drug & Alcohol Testing – Mechanicsville, VA
Mechanicsville, VA is home to Health Street, where you can come for drug testing or alcohol testing. We work with businesses and private individuals, so you can sign up for yourself or your staff. Choose from our wide selection of drug testing services. Once you have picked a test, simply select a clinic, and register online.
Our facilities have virtually any kind of drug test that you might need, including a wide variety of urine test panels, alcohol EtG testing, hair tests, and DOT drug testing. Call (804) 214-6016 or register on our website. The authorization barcode will be sent right away to you or the person that you are testing; then, just come right in. The test results are reviewed by an MRO (Medical Review Officer) and reported quickly and safely.
Workforce Screening, Digitally Delivered
1 of 1
8239 Meadowbridge Road
Mechanicsville
,
VA
23116
Drug Testing in Mechanicsville, Virginia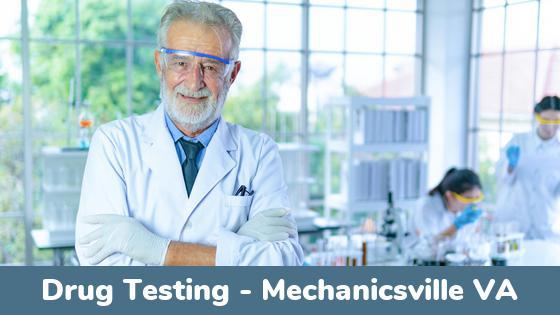 Types of Drug Testing in Mechanicsville, Virginia
Health Street offers drug testing services such as: 5 panel drug test up to 22 panels, Department of Transportation DOT drug test, rapid results or laboratory testing, with or without alcohol EtG test included, the option to exclude THC, and more. Get these tests done at Mechanicsville drug testing locations.
Our selection of chain of custody urine drug testing services and drug screenings allow you to test for nearly any drug consumed in the recent past. They are recommended for employee drug testing or court orders. The number of panels in a panel drug test refers to classes of drugs (i.e., marijuana, cocaine, etc.).
The 5 Panel Drug Test test is the traditional, basic urine drug test for street drugs, including:
check_circle
Marijuana (THC, cannabinoids, weed)
check_circle
Amphetamines (Adderall, Ritalin, methamphetamines)
check_circle
Basic Opiates (heroin, morphine, codeine)
check_circle
Phencyclidine (PCP – angel dust)
The 9 Panel Drug Test is urine testing that includes all of the above plus the following prescription drugs:
check_circle
Benzodiazepines (Valium, Klonopin, Xanax)
The 10 Panel Drug Test is a great option for employment drug testing in Mechanicsville, Virginia – it includes well known street drugs and prescription drugs, including all 9 of the ones listed above, plus methaqualone.
The 12 Panel Drug Test urine drug testing panel is an excellent choice and value, and more importantly, it tests for expanded opiates and Ecstasy. This test is a 10 panel plus:
check_circle
MDMA/6AM (Ecstasy, Molly)
check_circle
Hydromorphone (Vicodan, Percocet, Oxycontin)
As the opioid epidemic continues to rise and impact Mechanicsville, it is important to be aware that many of the dangerous, synthetic opiates are not picked up by lower panel tests. Our 16 Panel Opiate Drug Test picks up these 4 additional opiate classes in addition to the drugs included above:
check_circle
Meperidine (Demerol)
check_circle
Buprenorphine (Suboxone)
There are many more urine drug screens in Mechanicsville facilities. Our testing panels go up to a 22 panel drug test, including specialized tests for synthetic marijuana, bath salts, nicotine, ketamine, rohypnol, and more. For results of chain of custody testing with MRO review, we are widely considered to be the fastest lab in Mechanicsville, Virginia. Drug testing in Mechanicsville is easy with Health Street.
Alcohol Testing in Mechanicsville, Virginia
Alcohol testing is done through urine, hair, breath, or blood. Basic urine alcohol tests (12 hour look-back) or EtG urine alcohol testing (3 day look-back) can be added to any of our drug testing panels, or they can be done on a standalone basis. Choose the type of alcohol drug testing that looks back at the specific period of time that matters to you:
category
Breath Alcohol Tests
are the most appropriate tests to use in the workplace if on-the-job alcohol use is suspected, or after any accidents.
On-site breathalyzers
in the Mechanicsville, VA area are also available for emergencies.
category
Hair EtG Test
is a hair follicle alcohol test that goes back 3 months
DOT Drug and Alcohol Testing Services – Mechanicsville, VA
Health Street's Mechanicsville facilities offer DOT drug and breath alcohol tests that comply with 46 CFR Part 40. Urine specimens are processed at SAMHSA certified laboratories. Members of our Random Pool get discounts on DOT drug testing.
Health Street administers DOT Random Pools for companies of all sizes based in and around Mechanicsville, across Virginia. Our local presence combined with our national clinic network and easy online pool management makes DOT compliance a breeze.
Many Mechanicsville businesses and residents are involved, directly or indirectly, with maritime, and therefore, they are regulated by the United States Coast Guard and must comply with the strict USCG regulations. Our Mechanicsville clinics offer a specially designated USCG Merchant Marines Drug Test Package, which includes everything you need to meet the USCG DOT drug test requirements.
Hair Follicle Drug Testing Mechanicsville, VA
Hair drug tests can detect drug or alcohol use for a far greater period of time – 90 days – than a standard urine drug test. Hair drug testing is performed at our Mechanicsville drug testing places. We cut a small amount of either head hair or body hair. The hair is analyzed by our testing laboratory. We offer several panel drug tests.
Hair Drug Test Options
blur_on
5 Panel Hair Follicle Drug Test
blur_on
9 Panel Hair Follicle Drug Test
blur_on
12 Panel Hair Follicle Drug Test
StaffGlass™ eResults Portal for Employers
Employers get free access to premium customer service by phone and our award winning online StaffGlass™ eResults portal. Once securely logged into StaffGlass™, business users can set up their drug testing program, including:
how_to_reg
Securely order pre-employment, random, post-accident, or reasonable suspicion drug testing
how_to_reg
View fastest results
how_to_reg
Order and view eSignature employee documents such as policies and procedures, job applications, and more
how_to_reg
Set up a random drug testing pool or a drug-free workplace program, and add or remove staff to be included
Why Health Street
Over a Decade of Experience
Health Street has been performing drug testing nationally since 2010. The first Mechanicsville, VA drug test was provided by Health Street in 2018.
Dedication to Excellence
We are committed to providing excellent services and to helping businesses and families obtain the drug testing in Mechanicsville that they require.
Statistics and Trends for Drug Testing in Mechanicsville VA
Substance Abuse Trends and Statistics for the City of Mechanicsville, VA and Hanover County
equalizer
In 2017, fentanyl become the number one deadliest drug in Virginia, above prescription painkillers and heroin.
equalizer
Mechanicsville, VA and Hanover County have been working on addressing the opioid problem for several years.
equalizer
In Hanover, Chesterfield, Henrico, and Richmond the number of deaths from opioid overdoses is climbing. This number has gone from 51 in 2010 to 79 in 2012. In 2014, this number jumped to 108, 189 in 2016, and 238 in 2017.
Community Efforts to Address Drug Problems in Mechanicsville, VA and Hanover County
In 2017, residents from Hanover County gathered in Ashland to watch the documentary "Chasing the Dragon." This documentary targets heroin and opioid abuse, and was a joint effort by the Federal Bureau of Investigaion (FBI) and the Drug Enforcement Agency (DEA). Its purpose was to educate people on true, real-life tragedies that happen to addicts using (or that have used) these drugs.
The meeting had a great turnout and everyone was very engaged, according to committee member, Ragan Phillips. There was a lot of engagement and discussion among residents. Citizens of Hanover County are determined to put a stop to the opioid epidemic.
Virginia has also distributed millions of dollars' worth of Naloxone, brand name Narcan, to save the lives of people that overdose.
Experts Say…
Wes Wampler, who is a captain of the Richmond Ambulance Authority, said that Narcan is one of the first steps of treatment used by emergency medical services when responding to an unresponsive patient or someone struggling to breathe.
He said, "It's literally life or death in many situations… [Naloxone] can be the difference between somebody getting up and talking to you and saying they made a mistake and they need rehab or they need help to overcome the overdose. Unfortunately, we get a lot of cases where they aren't that fortunate and they can lose their life."
Locations
Clinic Hours and Information for our Labs in Mechanicsville, Virginia
8239 Meadowbridge Road
Mechanicsville, VA 23116
Pre-registration required,
Walk-in with barcode:
---
Monday: 8:00 AM – 4:00 PM
Tuesday: 8:00 AM – 4:00 PM
Wednesday: 8:00 AM – 4:00 PM
Thursday: 8:00 AM – 4:00 PM
Friday: 8:00 AM – 4:00 PM
About this Location:
It is simple to locate our lab. We are close to Bon Secours Memorial Regional Medical Center.
Some Mechanicsville Neighborhoods That We Serve
location_city
Atlee/Henry Clay Heights
location_city
Old Church/ Eastern View
location_city
Studley/ Hanovertown
location_city
Kingswood Court/ Poindexters
location_city
Craney Island Estates
location_city
Barkers Mill/ Beaties Mill
location_city
Ellerson/ Burnside Farms
location_city
Colonial Forest/ Buckeye
location_city
Dogwood Knoll
Additional Services
Health Street offers a variety of other services, including:
Citations
menu_book
"Region Launches Opioid Solutions RVA Website, Media Campaign." Hanover County VA, 11 February 2019, https://www.hanovercounty.gov/CivicAlerts.aspx?AID=231&ARC=320#:~:text=Opioid%20addiction%20was%20declared%20a%20public%20health%20emergency%20in%20Virginia%20in%202016.&text=In%20Chesterfield%2C%20Hanover%2C%20Henrico%20and,the%20Virginia%20Department%20of%20Health.
menu_book
Demeria, Katie. "In Virginia's opioid epidemic, this drug is the top killer." Richmond Times-Dispatch, 1 May 2017, https://richmond.com/news/virginia/in-virginias-opioid-epidemic-this-drug-is-the-top-killer/article_18c98001-1064-52d0-9df7-9fde0d1c5560.html
menu_book
Barry, Logan. "Community unites to battle heroin, opioid abuse." The Mechanicsville Local, 7 March 2017, https://richmond.com/news/local/hanover/mechanicsville-local/community-unites-to-battle-heroin-opioid-abuse/article_a66b1a14-034c-11e7-b170-6f32a992282f.html
menu_book
Birenbaum, Gabby. "Virginia spends millions on opioid overdose antidote, but the death toll keeps rising." Richmond Times-Dispatch, 27 August 2019, https://richmond.com/news/local/virginia-spends-millions-on-opioid-overdose-antidote-but-the-death-toll-keeps-rising/article_05ee9d0c-2688-546d-8dfc-6b984ad6cf2a.html
menu_book
"Mechanicsville, VA Crime Rates." Neighborhood Scout, https://www.neighborhoodscout.com/va/mechanicsville/crime