Drug Test – Clarkston, MI
In Clarkston, Michigan, Health Street provides drug testing for employers and individuals at 2 professional drug testing locations. You can register for drug tests quickly and easily on our website. Testing options include a wide range of drug panels. Our options include Department of Transportation (DOT) drug tests, non-DOT urine drug tests, breath alcohol tests, EtG alcohol tests, and hair drug testing. Once you pick your test, simply choose the best clinic location that meets your needs, and register online.
Whether you need drug and alcohol testing for your employees, yourself, or a family member, you can rest assured that Health Street testing services in Clarkston, Michigan provides accurate results. We'll send a barcode authorization by text and email, along with a map to the clinic address. Drug testing centers are clean, comfortable and operated by experienced professionals. Test results are fast, reviewed by our Medical Review Officer (an MRO), and reported safely and securely online. You can also call (248) 617-7433 with any questions about our drug tests.
Workforce Screening, Digitally Delivered
Drug test, happy with process.
Bill Stover
4/4/2017
Good Service & good experience, still waiting on drug test results.
Jordan Stover
4/2/2017
Everyone was Great. They were very helpful in answering all my questions and everything was conducted in a professional manner
Marilyn McNally
3/31/2017
Raven has a new client that required NCMS compliance, this presented significant problems for us a novice drug screen users. Louis spent 40 minutes with us and resolved all issues, helped us meet NCMS requirements and understand the processes involved. ExcellentRollie
Rollie Gackstetter
9/6/2016
1 of 2
6310 Sashabaw Road
Clarkston
,
MI
48346
2 of 2
9749 Dixie Highway
Clarkston
,
MI
48348
Drug Testing in Clarkston, Michigan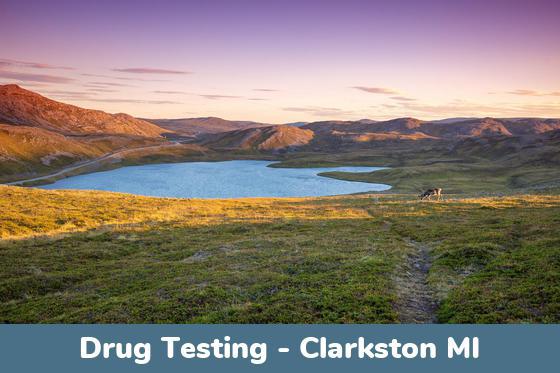 Types of Drug Tests in Clarkston, Michigan clinics:
In Clarkston, Health Street offers the widest variety and selection of drug tests anywhere, which allows you to choose from any panel you wish, with rapid results or sent to our lab, using a urine sample or a hair sample. Most of our tests have an option to add alcohol or remove THC from the screening, so that we can always meet your specific requirements.
The number of urine drug testing services and drug screening panels that we offer means that you can test for nearly any drug.
The most basic test we offer is a 5 Panel Drug Test, which tests for:
arrow_right_alt
Marijuana (THC, cannabinoids, weed)
arrow_right_alt
Phencyclidine (PCP – angel dust)
arrow_right_alt
Amphetamines (Adderall, Ritalin, methamphetamines)
arrow_right_alt
Basic Opiates (heroin, morphine, codeine)
The next option up from there is the 9 Panel Drug Test, which adds in some commonly abused prescriptions:
arrow_right_alt
Benzodiazepines (Valium, Klonopin, Xanax)
arrow_right_alt
Barbiturates
arrow_right_alt
Propoxyphene
When asked, we often recommend the 12 Panel Drug Test because it is a well rounded test that screens for common opioids and ecstasy, including:
arrow_right_alt
MDMA/6AM (Ecstasy, Molly)
arrow_right_alt
Expanded opiate class: Oxycodone, Oxymorphone, Hydrocodone, Hydromorphone (Vicodan, Percocet, Oxycontin)
If you're at all concerned with opiate usage beyond basic painkillers, just as many people in Clarkston are, consider registering for a 16 Panel Opiate Drug Test. These synthetic opiates are not picked up by lesser panel tests.
arrow_right_alt
Meperidine (Demerol)
arrow_right_alt
Buprenorphine (Suboxone)
The above are just a few of the wide variety of urine tests we offer. You can view all urine drug screens offered at our Clarkston drug testing centers. We offer urine tests that go up to 22 panels, plus specialized tests for synthetic marijuana and bath salts, ketamine and rohypnol, GHB and more.
Alcohol Drug Tests
Alcohol use can be detected by our Clarkston drug testing locations. You can select our EtG test for alcohol (which has a 3 day look-back), or add it to any of our drug tests. Choose the alcohol drug testing that looks back at the specific period of time that matters to you:
DOT Drug and Alcohol Testing in Clarkston, Michigan
Our Clarkston facilities have technicians certified to perform DOT drug testing and breath alcohol tests. Random Pool Membership is offered, and members get discounted pricing on DOT drug tests. And because we know that many Clarkston businesses and residents are involved with shipping or maritime in one way or another, we help you comply with the strict USCG drug testing regulations. We have a pre-set DOT package specifically tailored just for the USCG (US Coast Guard) Drug Testing requirements. It includes everything you need from the SAMHSA lab to the MRO signed USCG-719P report.
Hair Drug Testing in Clarkston, Michigan ✂
Hair Drug Tests go back up to 90 days. We do these at our Clarkston drug testing locations with a small hair sample from the scalp or body.
Additional services from Employers: StaffGlass™
Employers get access to our proprietary StaffGlass™ eResults portal. When logged in, business users are able to:
arrow_right_alt
Register for drug or alcohol tests and pick clinics nationwide; view results and status of all tests
arrow_right_alt
Manage eSign documents related to the testing process
arrow_right_alt
Set up a DOT random pool and manage enrollment in a DOT small business consortium
For live customer service, call our U.S. based call center Monday through Friday, from 7:30 AM to 7:00 PM Eastern Time.
Why Health Street
A Decade Plus of Experience
Health Street has provided drug tests since 2010. We have provided drug and alcohol testing services for countless small and medium businesses (SMBs), large companies, individuals, and families.
Dedicated to Excellence
We are dedicated to providing a level of excellence in drug testing in Clarkston that is unmatched.
Oakland County – Local Testing Data
Oakland County Substance Abuse Prevention Measures
In an effort to combat the ongoing opioid crisis in the area, Oakland County has developed a Prescription Drug Abuse Prevention Coalition. It's made up of community partners who work together to help prevent prescription overdose deaths. The organization regularly studies data and statistics regarding both fatal and non-fatal overdoses, using the information to guide their mission.
They also provide valuable information to educate the public about important topics like securing and properly disposing of medications. In addition, they offer physician education opportunities to address the medical community's impact on the opioid epidemic.
Michigan Overdose Deaths Decreased in 2019
According to the Michigan Department of Health & Human Services, state and local efforts are paying off. In 2019, the state marked its second year of decreasing deaths due to opioid use and drug use overall. The 2019 data showed a total of 2,354 drug-related deaths in Michigan. Of those, 1,768 were related to opioids. This reflects a 9.4% decrease in drug-related deaths and a 13.2% decrease in opioid-related deaths from 2018 to 2019.
Unfortunately, it's not time to rest just yet. Preliminary data from the first half of 2020 data shows that there had already been a 16% increase in drug-related deaths and a 20% increase in opioid-related deaths. This may be due, in part, to the impact of the COVID-19 pandemic.
The state of Michigan has a master plan in place with a goal of cutting drug deaths by 50% by the year 2024.
The Local Economy, Jobs, and Major Industries in Clarkston
Known for its quaint downtown district and big-city amenities, Clarkston has a thriving economy while also maintaining an "old-timey" feel. This small village has a population of just 968 and a workforce of 455. The median household income here is $72,188 and the median property value is $321,400. The largest industries in the Village of Clarkston are education, professional, scientific, and technical services, and accommodation and food services.
Locations
Clinic Hours and Information for our Labs in Clarkston, Michigan
6310 Sashabaw Road
Clarkston, MI 48346
Pre-registration required,
Walk-in with barcode:
---
Monday: 8:00 AM – 9:00 PM
Tuesday: 8:00 AM – 9:00 PM
Wednesday: 8:00 AM – 9:00 PM
Thursday: 8:00 AM – 9:00 PM
Friday: 8:00 AM – 9:00 PM
Saturday: 8:00 AM – 6:00 PM
Sunday: 8:00 AM – 6:00 PM
About this Location:
Visit us at this location. We are in walking distance from Healing Garden.
9749 Dixie Highway
Clarkston, MI 48348
Pre-registration required,
Walk-in with barcode:
---
Monday: 9:00 AM – 9:00 PM
Tuesday: 9:00 AM – 9:00 PM
Wednesday: 9:00 AM – 9:00 PM
Thursday: 9:00 AM – 9:00 PM
Friday: 9:00 AM – 9:00 PM
Saturday: 9:00 AM – 9:00 PM
Sunday: 9:00 AM – 9:00 PM
About this Location:
To obtain occupational health testing in Clarkston, Michigan, visit us at this location, which is close to Susin Lake.
Some Clarkston Neighborhoods That We Serve
location_city
Autumn Shores
location_city
Clarkston Ridge
location_city
Heritage Heights
location_city
Independence
location_city
Sunshine Acres
Additional Services
Health Street offers a variety of other services, including:
Local Reviews
By Rollie Gackstetter on 2/1/2016
Overall am happy with the drug testing, however it took much longer to receive the results and additionally I'm finding it difficult to reach my point of contact for questions.
Citations
menu_book
"Substance Use Prevention." Oakland County Michigan, https://www.oakgov.com/health/partnerships/prescription-drugs/Pages/default.aspx
menu_book
"Michigan overdose deaths decrease again in 2019, with a greater decline than in 2018; Opioid overdose deaths also decrease as state efforts pay off." Michigan Department of Health and Human Services, 15 April 2021, https://www.michigan.gov/mdhhs/0,5885,7-339-73970_71692_71696-557081–,00.html
menu_book
"Village of Clarkston, MI." DataUSA, https://datausa.io/profile/geo/village-of-clarkston-mi/
menu_book
"Business and Industry." Town Square Publications, https://townsquarepublications.com/clarkston-mi-business-and-industry/
menu_book
"Clarkston, MI Neighborhoods, Subdivisions, and Developments." Re/Max of Michigan, https://www.remax-michigan.com/semi/realestatehomesforsale/subdivisions-clarkston-mi