Drug Test – Amherst, OH
Health Street provides drug and alcohol testing in Amherst, Ohio at a conveniently located drug testing center. Call (440) 536-3868 or register online. Drug testing options include DOT and non-DOT urine drug tests, breath alcohol tests, EtG alcohol tests, and hair drug testing.
Whether you're drug testing your employees, yourself, or a family member, just choose your test and pick a laboratory testing location. Rest assured, a registration barcode will be sent to you immediately (or to the person you specify). A map and GPS directions will be linked to the barcode. Test results are fast, accurate, and reported securely in our online portal.
Workforce Screening, Digitally Delivered
It is always fast and easy to schedule testing. easy to read results!.
Barbara
5/4/2018
The Learning Farm
1 of 1
2269 Cooper Foster Park Road
Amherst
,
OH
44001
Drug Testing in Amherst, Ohio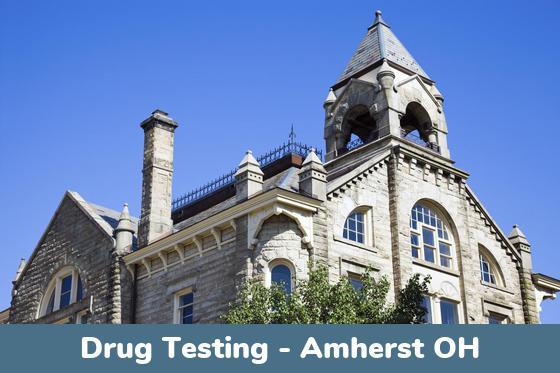 Types of Drug Tests in Amherst, Ohio clinics:
In Amherst, Health Street offers the widest variety and selection of drug tests anywhere, which allows you to choose from any panel you wish, with rapid results or sent to our lab, using a urine sample or a hair sample. Most of our tests have an option to add alcohol or remove THC from the screening, so that we can always meet your specific requirements.
The number of urine drug testing services and drug screening panels that we offer means that you can test for nearly any drug.
The most basic test we offer is a 5 Panel Drug Test – $75, which tests for:
arrow_right_alt
Marijuana (THC, cannabinoids, weed)
arrow_right_alt
Phencyclidine (PCP – angel dust)
arrow_right_alt
Amphetamines (Adderall, Ritalin, methamphetamines)
arrow_right_alt
Basic Opiates (heroin, morphine, codeine)
The next option up from there is the 9 Panel Drug Test – $85, which adds in some commonly abused prescriptions:
arrow_right_alt
Benzodiazepines (Valium, Klonopin, Xanax)
arrow_right_alt
Barbiturates
arrow_right_alt
Propoxyphene
The popular 10 Panel Drug Test – $89 adds in methaqualone.
***12 Panel – Comprehensive Urine Test***
When asked, we often recommend the 12 Panel Drug Test – $149 because it is a well rounded test that screens for common opioids and ecstasy, including:
arrow_right_alt
MDMA/6AM (Ecstasy, Molly)
arrow_right_alt
Expanded opiate class: Oxycodone, Oxymorphone, Hydrocodone, Hydromorphone (Vicodan, Percocet, Oxycontin)
If you're at all concerned with opiate usage beyond basic painkillers, just as many people in Amherst are, consider registering for a 16 Panel Opiate Drug Test – $250. These synthetic opiates are not picked up by lesser panel tests.
arrow_right_alt
Meperidine (Demerol)
arrow_right_alt
Buprenorphine (Suboxone)
The above are just a few of the wide variety of urine tests we offer. You can view all urine drug screens offered at our Amherst drug testing centers. We offer urine tests that go up to 22 panels, plus specialized tests for synthetic marijuana and bath salts, ketamine and rohypnol, GHB and more.
Alcohol Drug Tests
Alcohol use can be detected by our Amherst drug testing locations. You can select our EtG test for alcohol (which has a 3 day look-back), or add it to any of our drug tests. Choose the alcohol drug testing that looks back at the specific period of time that matters to you:
DOT Drug and Alcohol Testing in Amherst, Ohio
Our Amherst facilities have technicians certified to perform DOT drug testing and breath alcohol tests. Random Pool Membership is offered, and members get discounted pricing on DOT drug tests. And because we know that many Amherst businesses and residents are involved with shipping or maritime in one way or another, we help you comply with the strict USCG drug testing regulations. We have a pre-set DOT package specifically tailored just for the USCG (US Coast Guard) Drug Testing requirements. It includes everything you need from the SAMHSA lab to the MRO signed USCG-719P report.
Hair Drug Testing in Amherst, Ohio ✂
Hair Drug Tests go back up to 90 days. We do these at our Amherst drug testing locations with a small hair sample from the scalp or body.
Additional services from Employers: StaffGlass™
Employers get access to our proprietary StaffGlass™ eResults portal. When logged in, business users are able to:
arrow_right_alt
Register for drug or alcohol tests and pick clinics nationwide; view results and status of all tests
arrow_right_alt
Manage eSign documents related to the testing process
arrow_right_alt
Setup a DOT random pool and manage enrollment in a DOT small business consortium
For live customer service, call our U.S. based call center Monday through Friday, from 7:30 AM to 7:00 PM Eastern Time.
Why Health Street
A Decade Plus of Experience
Health Street has provided drug tests since 2010. The first time we performed drug testing in Amherst, OH was in 2016. From then until now, we have completed 61 drug tests at our Amherst labs.
Committed to Excellence
Health Street has a long standing commitment to serve the people and businesses of Amherst, Ohio with the best drug testing services in town.
Economy and Drug Use in Amherst OH
Amherst Residents Reject Marijuana Decriminalization
In 2019, residents in Amherst voted down a proposed ordinance to decriminalize marijuana possession. The ordinance, which failed with a vote of 52 to 47, would have eliminated financial penalties and reduced other penalties for marijuana usage and possession.
The police department was against the ordinance, stating that it would protect drug traffickers, as well as drug users, and would do nothing to benefit the city. They also argued that it could increase incidents of people driving under the influence.
In 2020, the state of Ohio fell short of being able to get an adult-use recreational marijuana initiative on the election ballot. Experts say the state simply doesn't have much of an appetite for creating a recreational-use program.
Lorain County Drug Statistics
The 2019 Lorain County Health Assessment reported the following statistics regarding the Amherst area's drug use in 2018:
equalizer
10% of Lorraine County residents reported having used recreational marijuana in the previous 6 months
equalizer
8% took prescription medications not prescribed to them or took more than prescribed to make them feel more alert and/or "high"
equalizer
8% reported using other drugs, including cocaine, ecstasy, heroin, methamphetamine, synthetic marijuana, LSD, inhalants, or bath salts
equalizer
2% of adults reported using a service or program to help with drug or alcohol problems for either themselves or a loved one
The Local Economy, Jobs, and Major Industries in Amherst
The city of Amherst has a population of approximately 12,097 with about 5,500 residents currently working. The major industries here include healthcare and social assistance, retail trade, and educational services. The highest-paid industries in Amherst are public administration, construction, and transportation, warehousing, and utilities.
The median household income in Amherst is $69,657, which is higher than the average household income in the United States. The average cost of living here is 82.3, which is significantly lower than the national average of 100. The median home price here is $158,500 and 82.7% of people who live here own their homes.
Locations
Clinic Hours and Information for our Labs in Amherst, Ohio
2269 Cooper Foster Park Road
Amherst, OH 44001
Pre-registration required,
Walk-in with barcode:
---
Monday: 7:00 AM – 3:30 PM
(M Lunch: 11-1:30 PM)
Tuesday: 7:00 AM – 3:30 PM
(T Lunch: 11-1:30 PM)
Wednesday: 7:00 AM – 3:30 PM
(W Lunch: 11-1:30 PM)
Thursday: 7:00 AM – 3:30 PM
(Th Lunch: 11-1:30 PM)
Friday: 7:00 AM – 3:30 PM
(F Lunch: 11-1:30 PM)
About this Location:
For Amherst non-DOT and DOT drug testing, you can come to our lab, located nearby to Kiedrowski's Simply Delicious Bakery.
Neighborhoods Served in Amherst
location_city
Kendeigh Corner
Additional Services
Health Street offers a variety of other services, including:
Citations
menu_book
"Issue to decriminalize marijuana in Amherst fails." Fox 8, 5 November 2019, https://fox8.com/news/issue-to-decriminalize-marijuana-in-amherst-remains-close/
menu_book
McDonnell, Sean. "Amherst police oppose Issue 20 could cause issues, Horn disagrees." The Chronicle, 31 October 2019, https://chroniclet.com/news/177031/amherst-police-oppose-issue-20-could-cause-issues-horn-disagrees/
menu_book
Barry, Kevin. "Changing attitudes towards marijuana, Ohio's laws could force lawmakers to take action." News 5 Cleveland, 9 November 2020, https://www.news5cleveland.com/news/local-news/changing-attitudes-towards-marijuana-ohios-laws-could-force-lawmakers-to-take-action
menu_book
"Lorain County 2019 Community Health Assessment." Lorain County Public Health, 23 May 2019, https://www.loraincountyhealth.com/files/Admin/2019%20Lorain%20County%20Community%20Health%20Assessment.pdf "Amherst, OH." Data USA, https://datausa.io/profile/geo/amherst-oh
menu_book
"Public Awareness Report: The Drug & Overdose Epidemic, Lorain County." City of North Ridgeville, https://www.nridgeville.org/Downloads/Public%20Awareness%20Report%20103118.pdf
menu_book
Amherst, Ohio, BestPlaces, https://www.bestplaces.net/cost_of_living/city/ohio/amherst
menu_book
Amherst, OH – Real Estate & Demographic Data." Neighborhood Scout, https://www.neighborhoodscout.com/oh/amherst