Drug Test – Alice, TX
Health Street's 4 drug and alcohol testing clinics in Alice, Texas provide comprehensive pre-employment drug screening services. Call (361) 209-7985 or register online for drug testing services. Drug and alcohol testing options include DOT and non-DOT urine drug tests, breath alcohol tests, EtG alcohol tests, and hair drug testing.
Register for a urine or hair drug test at one of our drug testing centersfor your employees, yourself, or another person. Just choose your test and pick a location. A registration barcode will be sent to the person you specify. A map will accompany this authorization code. Test results are fast, reported securely, and stored in our online portal.
Workforce Screening, Digitally Delivered
Was great help on setting up an account for random drug testing.
Roxanna Canales
5/11/2017
1 of 4
2000 Dr N W Atkinson Blvd
Alice
,
TX
78332
2 of 4
408 Flournoy Road
Alice
,
TX
78332
3 of 4
2200 E Main Street
Alice
,
TX
78332
4 of 4
1801 E Main Street
Alice
,
TX
78332
Drug Testing in Alice, Texas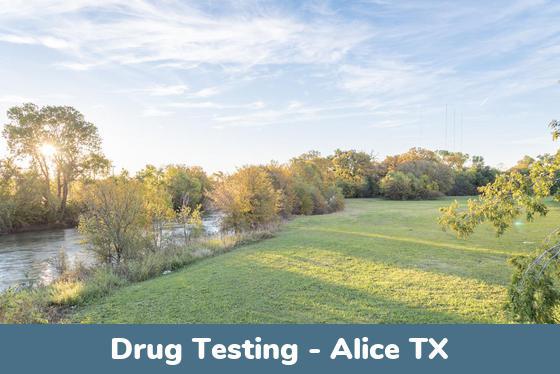 Types of Drug Testing in Alice, Texas
Health Street offers drug testing services such as: 5 panel drug test up to 22 panels, Department of Transportation DOT drug test, rapid results or laboratory testing, with or without alcohol EtG test included, the option to exclude THC, and more. Get these tests done at Alice drug testing locations.
Our selection of chain of custody urine drug testing services and drug screenings allow you to test for nearly any drug consumed in the recent past. They are recommended for employee drug testing or court orders. The number of panels in a panel drug test refers to classes of drugs (i.e., marijuana, cocaine, etc.).
This is the traditional, basic urine drug test for street drugs, including:
check_circle
Marijuana (THC, cannabinoids, weed)
check_circle
Amphetamines (Adderall, Ritalin, methamphetamines)
check_circle
Basic Opiates (heroin, morphine, codeine)
check_circle
Phencyclidine (PCP – angel dust)
This is urine testing that includes all of the above plus the following prescription drugs:
check_circle
Benzodiazepines (Valium, Klonopin, Xanax)
This is a great option for employment drug testing in Alice, Texas – it includes well known street drugs and prescription drugs, including all 9 of the ones listed above, plus methaqualone.
***Health Street Recommends 12 Panel***
expanded opiates
and Ecstasy. This test is a 10 panel plus:
check_circle
MDMA/6AM (Ecstasy, Molly)
check_circle
Hydromorphone (Vicodan, Percocet, Oxycontin)
16 Panel Opiate Drug Test – $250
As the opioid epidemic continues to rise and impact Alice, it is important to be aware that many of the dangerous, synthetic opiates are not picked up by lower panel tests. Our 16 panel picks up these 4 additional opiate classes in addition to the drugs included above:
check_circle
Meperidine (Demerol)
check_circle
Buprenorphine (Suboxone)
There are many more urine drug screens in Alice facilities. Our testing panels go up to a 22 panel drug test, including specialized tests for synthetic marijuana, bath salts, nicotine, ketamine, rohypnol, and more. For results of chain of custody testing with MRO review, we are widely considered to be the fastest lab in Alice , Texas. Drug testing in Alice is easy with Health Street.
Alcohol Testing in Alice , Texas
Alcohol testing is done through urine, hair, breath, or blood. Basic urine alcohol tests (12 hour look-back) or EtG urine alcohol testing (3 day look-back) can be added to any of our drug testing panels, or they can be done on a standalone basis. Choose the type of alcohol drug testing that looks back at the specific period of time that matters to you:
category
Breath Alcohol Tests
are the most appropriate tests to use in the workplace if on-the-job alcohol use is suspected, or after any accidents.
On-site breathalyzers
in the Alice, TX area are also available for emergencies.
category
Hair EtG Test
is a hair follicle alcohol test that goes back 3 months
DOT Drug and Alcohol Testing Services – Alice , TX
Health Street's Alice facilities offer DOT drug and breath alcohol tests that comply with 46 CFR Part 40. Urine specimens are processed at SAMHSA certified laboratories. Members of our Random Pool get discounts on DOT drug testing.
Health Street administers DOT Random Pools for companies of all sizes based in and around Alice, across Texas. Our local presence combined with our national clinic network and easy online pool management makes DOT compliance a breeze.
Many Alice businesses and residents are involved, directly or indirectly, with maritime, and therefore, they are regulated by the United States Coast Guard and must comply with the strict USCG regulations. Our Alice clinics offer a specially designated USCG Merchant Marines Drug Test Package, which includes everything you need to meet the USCG DOT drug test requirements.
Hair Follicle Drug Testing Alice , TX
Hair drug tests can detect drug or alcohol use for a far greater period of time – 90 days – than a standard urine drug test. Hair drug testing is performed at our Alice drug testing places. We cut a small amount of either head hair or body hair. The hair is analyzed by our testing laboratory. We offer several panel drug tests.
Hair Drug Test Options
blur_on
5 Panel Hair Follicle Drug Test
blur_on
9 Panel Hair Follicle Drug Test
blur_on
12 Panel Hair Follicle Drug Test
StaffGlass™ eResults Portal for Employers
Employers get free access to premium customer service by phone and our award winning online StaffGlass™ eResults portal. Once securely logged into StaffGlass™, business users can set up their drug testing program, including:
how_to_reg
Securely order pre-employment, random, post-accident, or reasonable suspicion drug testing
how_to_reg
View fastest results
how_to_reg
Order and view eSignature employee documents such as policies and procedures, job applications, and more
how_to_reg
Setup a random drug testing pool or a drug-free workplace program, and add or remove staff to be included
Why Health Street
More than a Decade of Experience
Since 2010, Health Street has provided drug testing in Alice as well as thousands of other cities nationwide. The first drug test that Health Street performed in Alice, TX was in 2017.
Commitment to Excellence
Our goal is to provide the best possible drug testing Alice employers and residents.
Substance Abuse Trends and Statistics for the City of Alice, TX
Although Alice, Texas in Jim Wells County is a small city of approximately 18,680 (population estimate from 2019), like elsewhere in Texas and the rest of the U.S., they are not free from drug and alcohol abuse. In 2017, the Alice, TX police department's narcotics division published their statistics report, which included:
person
A total of 78 investigations that included purchases of controlled narcotics, raids, narcotic seizures and arrests
person
A wide variety of seized drugs, including marijuana, cocaine, heroin, alprazolam, methamphetamine, hydrocodone and methadone
Rosana Sielaff, the substance abuse prevention coalition program director at LifeSteps Coalition, wrote an April 2019 editorial in the Alice Echo News Journal informing the community about substance use issues . Sielaff reported that:
person
Texas' overall binge or heavy drinking rate was 19.4%, which is higher than the national rate of 18%.
person
Nearly half of Texas 12th grade students reported drinking alcohol during the prior month, according to the Texas School Survey. And, Sielaff wrote, 58% of college students reported drinking alcohol during the prior month in 2018.
According to the Well Being in the Nation Network, in 2018, Jim Wells County had a rate of 50.85 deaths per 100,000 people from drugs, alcohol or suicide, and the rate has consistently been higher than Texas or national rates in surveys since 2004.
Community Efforts to Address Drug Problems in Alice, TX
People living in Alice who are first-time drug offenders can benefit from the Jim Wells County Pre-Trial Diversion Program. First-time offenders can be supervised for up to two years, depending on their offense, and if they successfully complete their diversion program, the program officer will send a recommendation of dismissal of charges to the Prosecutor's office.
The 79th Judicial District Court (Jim Wells County) also has a drug and alcohol court program. The program offers drug and alcohol treatment and rehab services, along with a phased program that helps offenders to stay clear of drug and/or alcohol use and prevent relapse and future offenses.
Some offenders can also participate in a Pre-Trial Bond Release Program if they are waiting for trial. Using monitoring devices, people in the Pre-Trial Bond Release Program can return home and continue to work as long as they meet program criteria.
Notable Historical Events Related to Drug Use in Alice, TX
On August 5, Jim Wells County deputies seized a large amount of cocaine which was thrown out of a car on Highway 44 by Orlando Gonzalez, Jr. On August 8, 2020, Jim Wells County Sheriff's Department investigators pulled a car over at the intersection of Sixth and Dickey Streets in Alice. In the car were local residents Jeremy Guerra and Ashley Gutierrez. When Guerra left the vehicle, investigators saw Xanax pills on the driver's seat, and when he was searched, they found nearly 100 additional Xanax pills in a baggie.
The stop netted additional drugs, including methamphetamine, hydromorphone, and items used in drug sales and use, including a digital scale and a syringe. The arrests and seizures helped local law enforcement to make a significant impact on drug sales and distribution in Alice and other surrounding areas in Jim Wells County.
Locations
Clinic Hours and Information for our Labs in Alice, Texas
2000 Dr N W Atkinson Blvd
Suite 1201
Alice, TX 78332
Pre-registration required,
Walk-in with barcode:
---
Monday: 10:00 AM – 2:00 PM
(M Lunch: 12-1 PM)
Tuesday: 10:00 AM – 2:00 PM
(T Lunch: 12-1 PM)
Wednesday: 10:00 AM – 2:00 PM
(W Lunch: 12-1 PM)
Thursday: 10:00 AM – 2:00 PM
(Th Lunch: 12-1 PM)
Friday: 10:00 AM – 2:00 PM
(F Lunch: 12-1 PM)
About this Location:
We are very close by to New Foundation Church.
408 Flournoy Road
Suite B
Alice, TX 78332
Pre-registration required,
Walk-in with barcode:
---
Monday: 9:00 AM – 4:00 PM
Tuesday: 9:00 AM – 4:00 PM
Wednesday: 9:00 AM – 4:00 PM
Thursday: 9:00 AM – 4:00 PM
Friday: 9:00 AM – 4:00 PM
About this Location:
It is simple to locate our lab. We are across from Collins Cemetery. We hope to see you here soon.
2200 E Main Street
Alice, TX 78332
Pre-registration required,
Walk-in with barcode:
---
Monday: 8:00 AM – 5:00 PM
Tuesday: 8:00 AM – 5:00 PM
Wednesday: 8:00 AM – 5:00 PM
Thursday: 8:00 AM – 5:00 PM
Friday: 8:00 AM – 5:00 PM
About this Location:
You can find us around the corner from Hillcrest Elementary School. We are easily accessed by car or public transportation.
1801 E Main Street
Alice, TX 78332
Pre-registration required,
Walk-in with barcode:
---
Monday: 8:00 AM – 3:00 PM
(M Lunch: 12-1 PM)
Tuesday: 8:00 AM – 3:00 PM
(T Lunch: 12-1 PM)
Wednesday: 8:00 AM – 3:00 PM
(W Lunch: 12-1 PM)
Thursday: 8:00 AM – 3:00 PM
(Th Lunch: 12-1 PM)
Friday: 8:00 AM – 1:00 PM
Neighborhoods In and Around Alice That We Serve
location_city
Alice Acres Colonia
location_city
Cameron St./Woodlawn Dr.
location_city
Rancho Alegre
location_city
Lincoln Street
location_city
South Heights
location_city
Washington Drive
Additional Services
Health Street offers a variety of other services, including:
Citations
menu_book
"QuickFacts – Alice city, Texas." United States Census Bureau, https://www.census.gov/quickfacts/alicecitytexas
menu_book
"Alice Police Department's 2017 Statistics." Alice Echo News Journal, https://www.alicetx.com/news/20180126/alice-police-departments-2017-statistics
menu_book
Sielaff, Rosana. "Commentary: Alcohol abuse is our No. 1 health problem," Alice Echo News Journal, 15 April 2019, https://www.alicetx.com/news/20190415/commentary-alcohol-abuse-is-our-no-1-health-problem
menu_book
"Health Outcomes." Well Being in the Nation Network, https://www.winmeasures.org/statistics/winmeasures/texas/jim-wells-county-health
menu_book
Jim Wells County Community Supervision & Corrections Department, https://www.co.jim-wells.tx.us/page/co.cscd.pretrial
menu_book
"Sheriff's office confiscates narcotics in traffic stops, working with federal agency on prosecutions." Alice Echo News Journal, 7 August 2020, https://www.alicetx.com/story/news/crime/2020/08/07/sheriffrsquos-office-confiscates-narcotics-in-traffic-stops-working-with-federal-agency-on-prosecuti/113839602/
menu_book
Nextdoor. "Discover Your Alice Neighborhood," https://nextdoor.com/city/alice–tx/