Miami Hit Hard By Heroin
These days Miami, Florida is filled with far more than the sound of the beach, music coming from Little Havana and the sound of car horns honking at the never ending traffic. In fact, it's filled with the sound of tourniquets being snapped around the arms of addicts while they fill their needles with heroin.
---
---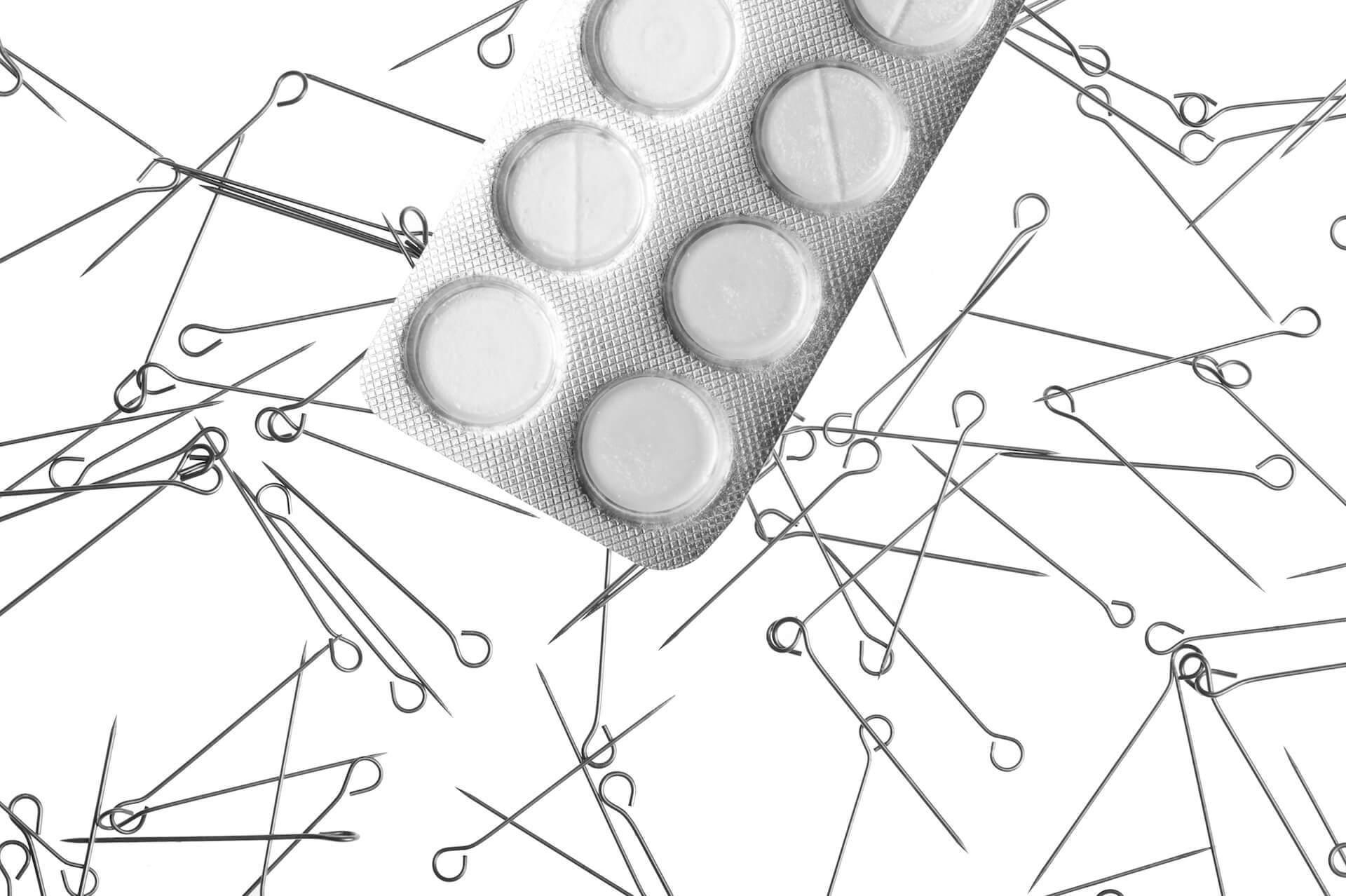 In 2011, it was reported that cocaine was overthrown as the number one drug in Florida. However, numerous other drugs have come into the market, having a heartbreaking effect on the people in the Sunshine State. Heroin, prescription opiates, designer drugs like Budda and Flakka and a whole lot more are taking cocaine's place.
Like in other parts of the country, there is a heroin epidemic in Florida. What was once thought of as an urban street drug is now reaching different demographics including rural areas. One of the hardest areas hit by this drug in the state is Miami, which paints an entirely different picture than the one filled with bikini clad women and white sanded beaches that is normally thought of.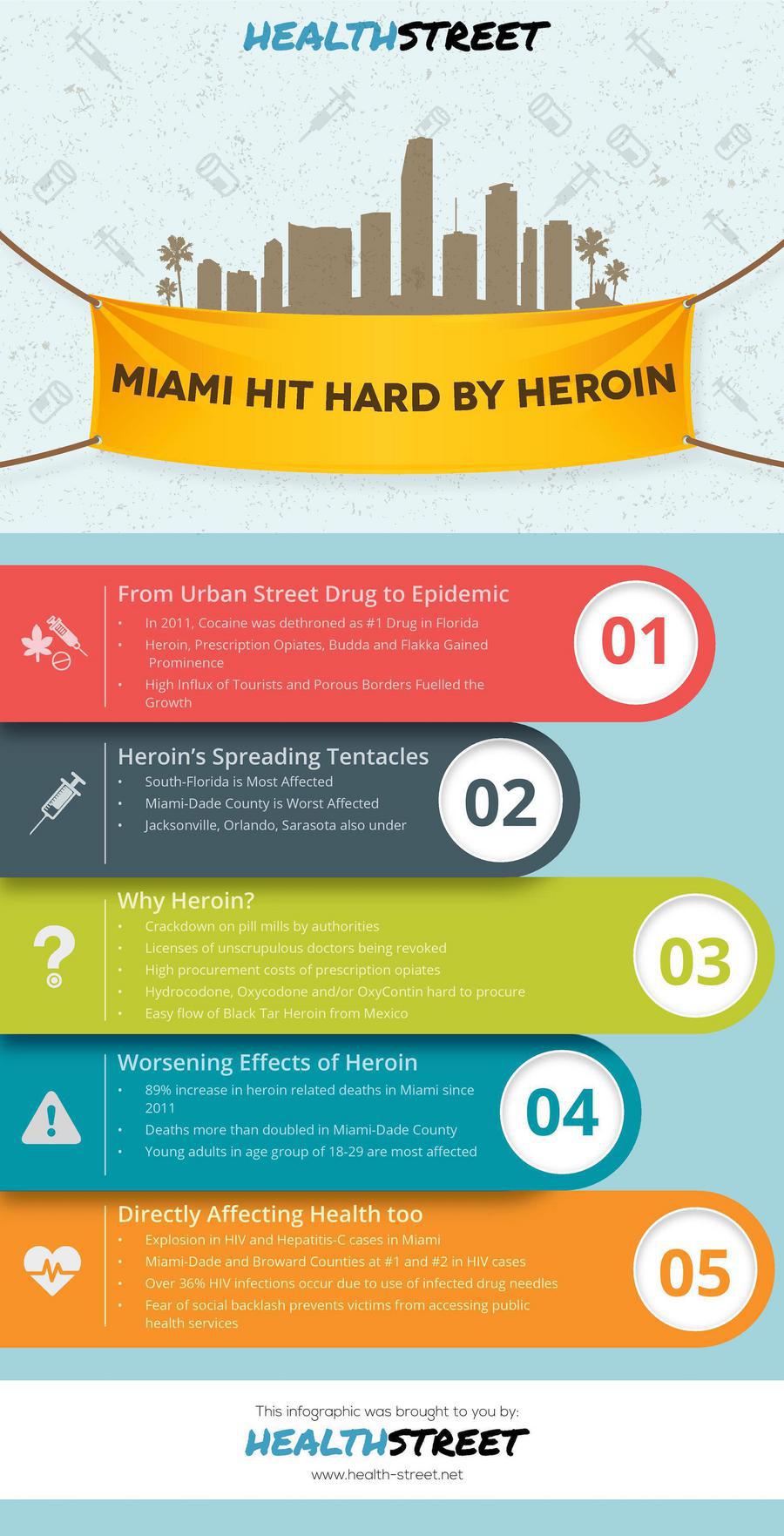 Miami's Heroin Epidemic
According to a National Institute on Drug Abuse (NIDA) report, a heroin epidemic is underway in South Florida. Miami-Dade County in particular has been hit hard by this epidemic. Other areas where heroin use has jumped are Jacksonville, Orlando, and Sarasota. Since the crackdown on pill mills, white, and black tar heroin from Mexico have been steadily flowing into the state. Due to the large amounts, the price of this deadly drug has also gone down, making it even more accessible to users.
Heroin's Effects in Miami
In a report by NIDA, there is an 89 percent increase in heroin deaths in Florida since 2011. In Miami-Dade County, the rate increased 120 percent, from 15 in 2011 to 33 in 2013. According to medical experts, young adults aged between 18 and 29 are the group with the most recent spike in heroin use and deaths.
In a recent article, it is reported that the heroin epidemic in Miami-Dade is caused by the inability to gain access to prescription painkillers by addicts. Since the shutdown of pill mills and licenses of unscrupulous doctors being revoked, heroin deaths have skyrocketed, replacing prescription drug deaths.
At present, heroin is extremely cheap in Florida, making it the drug of choice especially for those addicted to Hydrocodone, Oxycodone and/or OxyContin, etc. Black-market prescription opioids are difficult to obtain and expensive. With heroin, there is no need for prescriptions and it costs significantly less while giving a more intense high.
Increased Heroin Use and HIV
One of the consequences of increased heroin use is the new explosion of HIV and Hepatitis C. Miami-Dade and Broward counties take the no. 1 and 2 spots in the United States for new HIV cases. According to the Centers for Disease Control and Preventionease Control and Prevention (CDC), over 36 percent (one-third) of AIDS cases in the country have been historically accounted for by injection drug use.
Fear of incarceration, stigma, and misconceptions and fears about drug use and addiction keep people away from public health services and increase HIV risk. The bright and sunny news is that efforts are being made to change things so that drug users can have access to effective programs to prevent HIV and AIDS.