Drug Testing in Yakima, Washington
Health Street provides drug and alcohol testing in Yakima, Washington at 2 conveniently located drug testing centers. Call (509) 303-4374 or register online. Drug testing options include DOT and non-DOT urine drug tests, breath alcohol tests, EtG alcohol tests, and hair drug testing.
Whether you're drug testing your employees, yourself, or a family member, just choose your test and pick a laboratory testing location. Rest assured, a registration barcode will be sent to you immediately (or to the person you specify). A map and GPS directions will be linked to the barcode. Test results are fast, accurate, and reported securely in our online portal.
Workforce Screening, Digitally Delivered
Great place, friendly and welcoming!!!
Janet
11/20/2018
Very nice. Very nice. Very nice service
Jagpal
9/12/2018
Sunshine Truck Lines
Very good service
Paul Narwal
8/30/2018
Sunshine Truck Lines
The customer service was excelent.
Juan josue altamirano
6/30/2017
a) customer service was greatb) when the driver's are on the road no where near our regional sitesc) usually post accident BAT and UDS, both federal and non-federal CCF
Malae Lucas
2/22/2017
1 of 2
111 S 11th Avenue
Yakima
,
WA
98902
2 of 2
306 N 6th Avenue
Yakima
,
WA
98902
Drug Testing in Yakima, Washington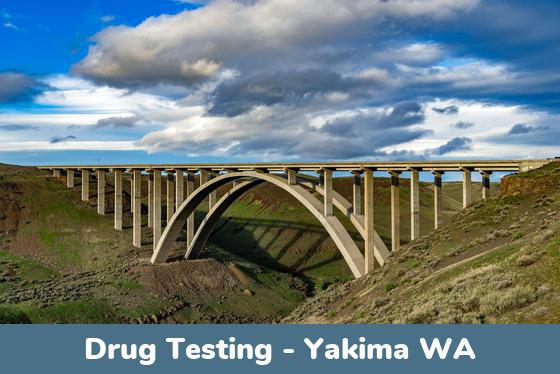 Get a Drug Test in Yakima, Washington Right Now
Health Street has the largest selection of drug testing and employment screening services in Yakima. Employers can access our services to set up a drug free workplace, families can get court ordered drug testing, and attorneys and private individuals can register for non-DOT drug tests, Department of Transportation (DOT) drug tests, and more.
Available Drug Testing Methods
Popular Drug Testing Panels
radio_button_on
radio_button_on
radio_button_on
Specialized Categories of Tests
category
Choose from our
Alcohol Testing
options (such as breathalyzer, EtG test, or PEth blood alcohol)
DOT Drug Testing in Yakima, Washington
Learn about our DOT drug and alcohol testing services, and how your company can maintain Department of Transportation (DOT) Compliance with 46 CFR Part 40, including:
Employee Drug Testing: eResults Portal for Employers
Business users get access to the amazing StaffGlass™ portal. When logged in, human resources and other company executives can manage their drug testing program, including:
how_to_reg
Register for drug screenings for reasons such as: pre-employment, random, post-accident, or reasonable suspicion.
how_to_reg
Get fast, accurate results in a safe and secure online portal.
how_to_reg
Find a drug test clinic in Yakima WA or pick from our lab testing locations anywhere in the United States; you can order your test online, view results, and check status of all tests
how_to_reg
Manage eSign documents related to the testing process
how_to_reg
Create an employee pool for random drug testing, add or remove staff, update staff employment status. StaffGlass™ is backed up by world class customer service, available Monday through Friday from 5:00 AM to 5:00 PM Pacific Time
Why Health Street
A Decade Plus of Experience
Health Street has provided drug tests since 2010. The first time we performed drug testing in Yakima, WA was in 2016. From then until now, we have completed 135 drug tests at our Yakima labs.
Committed to Excellence
Health Street drug testing services provide clear answers in determining if a job candidate, family member and someone involved in the courts has used or is using drugs. Knowing the facts provides peace of mind that you are making a safe workplace or that your relative is steering clear of drugs. For this reason, Health Street aims to make its drug testing in Yakima affordable, confidential, safe, easy and accurate.
Our testing centers revolve around fairness, accuracy and fast results. Health Street provides numerous ways to make the drug testing process easy. From offering a variety of drug tests to being in several locations around Yakima to giving our clients the option of using our app.
Yakima, Washington – Drug Testing
Notable Historical Events Related to Drug Use in Yakima, WA
A Yakima man was arrested in November 2022 following an investigation by Yakima police. The Yakima man was running a drug house out of his Garfield Avenue home and was arrested for selling fentanyl and methamphetamine and possessing fentanyl. The investigation and arrest began after complaints from neighbors, saying there was a problem and people were living in cars near the house. Yakima's Drug Enforcement Administration task force made a couple of purchases from the house. During the search, guns and drugs were found inside.
In September 2022, Yakima police, Homeland Security agents, and the Bureau of Alcohol, Tobacco, Firearms & Explosives (ATF) executed two search warrants in Yakima that led them to the seizure of guns and drugs from a Mexican Cartel. Authorities recovered fentanyl, methamphetamine, U.S. currency, 27 high-powered rifles, two shotguns, and nine handguns.
Substance Abuse Trends and Statistics for the City of Yakima, WA and Yakima County
arrow_forward
In Yakima and Yakima County in 2020, there were 73 overdose deaths.
arrow_forward
Yakima County saw a 34 percent increase in overdose deaths in 2021 from the previous year, with 98 overdose fatalities.
Government Efforts to Address Drug Problems in Yakima, WA
Yakima residents can now obtain naloxone, a life-saving drug used to reverse the effects of opioid overdoses. Yakima County recommends residents keep naloxone on hand if they use prescription or illicit opioids or use other drugs, such as cocaine or methamphetamine. Fentanyl is 50 times stronger than heroin, and Yakima County warns that it's often hidden in other drugs or placed in counterfeit pills that look just like prescription pills. You can't see or taste fentanyl, so anyone that uses drugs should keep naloxone available. If Yakima residents believe they're witnessing an overdose, they're encouraged to call 9-1-1 and administer naloxone right away.
Last updated 12/26/2022
Locations
Clinic Hours and Information for our Labs in Yakima, Washington
111 S 11th Avenue
Suite 320
Yakima, WA 98902
Pre-registration required,
Walk-in with barcode:
---
Monday: 7:30 AM – 4:30 PM
Tuesday: 7:30 AM – 4:30 PM
Wednesday: 7:30 AM – 4:30 PM
Thursday: 7:30 AM – 4:30 PM
Friday: 7:30 AM – 4:30 PM
About this Location:
To get occupational health services in Yakima, come to this location, which is across from Davis High School.
306 N 6th Avenue
Yakima, WA 98902
Pre-registration required,
Walk-in with barcode:
---
Monday: 10:00 AM – 3:00 PM
Tuesday: 10:00 AM – 3:00 PM
Wednesday: 10:00 AM – 3:00 PM
Thursday: 10:00 AM – 3:00 PM
Friday: 10:00 AM – 3:00 PM
About this Location:
This location is very close by to Cherry Park.
Neighborhoods Served in Yakima
location_city
East Selah / Pomona
location_city
Gromore / Harwood
location_city
Old North Yakima
location_city
Pomona Heights
location_city
Scenic Dr / N 80th Ave
location_city
South Broadway
location_city
Terrace Heights
location_city
West Valley Park
location_city
Ybc Corridor
Local Reviews
By Cameron snyder on 9/6/2016
Fast, easy, and nice customer support
Citations
menu_book
Meyers, Donald W. "Yakima police arrest man they say was running drug house." Yakima Herald-Republic, 21 November 2022, https://www.yakimaherald.com/news/local/crime_and_courts/yakima-police-arrest-man-they-say-was-running-drug-house/article_202e998e-687d-11ed-8410-a758c59597a9.html
menu_book
"38 firearms, meth, money and fentanyl seized from Mexican cartel in Yakima." YakTriNews.com, 15 September 2022, https://www.yaktrinews.com/38-firearms-meth-money-and-fentanyl-seized-from-mexican-cartel-in-yakima/
menu_book
"Overdose Prevention." Yakima Health District, https://www.yakimacounty.us/2686/Overdose-Prevention
menu_book
Yakima, WA, Real Estate & Demographic Data, https://www.neighborhoodscout.com/wa/yakima