Drug Testing in Yakima, Washington
Health Street provides drug and alcohol testing in Yakima, Washington at our centrally located drug testing center. Call (509) 303-4374 or register online. Drug testing options include DOT and non-DOT urine drug tests, breath alcohol tests, EtG alcohol tests, and hair drug testing.
Whether you're drug testing your employees, yourself, or a family member, just choose your test and pick a laboratory testing location. Rest assured, a registration barcode will be sent to you immediately (or to the person you specify). A map and GPS directions will be linked to the barcode. Test results are fast, accurate, and reported securely in our online portal.
Workforce Screening, Digitally Delivered
Great place, friendly and welcoming!!!
Janet
11/20/2018
Very nice. Very nice. Very nice service
Jagpal
9/12/2018
Sunshine Truck Lines
Very good service
Paul Narwal
8/30/2018
Sunshine Truck Lines
The customer service was excelent.
Juan josue altamirano
6/30/2017
a) customer service was greatb) when the driver's are on the road no where near our regional sitesc) usually post accident BAT and UDS, both federal and non-federal CCF
Malae Lucas
2/22/2017
1 of 1
306 N 6th Avenue
Yakima
,
WA
98902
Drug Testing in Yakima, Washington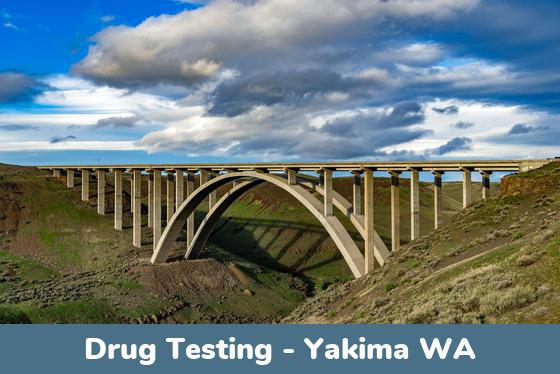 Get a Drug Test in Yakima, Washington Right Now
Health Street has the largest selection of drug testing and employment screening services in Yakima. Employers can access our services to set up a drug free workplace, families can get court ordered drug testing, and attorneys and private individuals can register for non-DOT drug tests, Department of Transportation (DOT) drug tests, and more.
Available Drug Testing Methods
Popular Drug Testing Panels
radio_button_on
radio_button_on
radio_button_on
Specialized Categories of Tests
category
Choose from our
Alcohol Testing
options (such as breathalyzer, EtG test, or PEth blood alcohol)
DOT Drug Testing in Yakima, Washington
Learn about our DOT drug and alcohol testing services, and how your company can maintain Department of Transportation (DOT) Compliance with 46 CFR Part 40, including:
Employee Drug Testing: eResults Portal for Employers
Business users get access to the amazing StaffGlass™ portal. When logged in, human resources and other company executives can manage their drug testing program, including:
how_to_reg
Register for drug screenings for reasons such as: pre-employment, random, post-accident, or reasonable suspicion.
how_to_reg
Get fast, accurate results in a safe and secure online portal.
how_to_reg
Find a drug test clinic in Yakima WA or pick from our lab testing locations anywhere in the United States; you can order your test online, view results, and check status of all tests
how_to_reg
Manage eSign documents related to the testing process
how_to_reg
Create an employee pool for random drug testing, add or remove staff, update staff employment status. StaffGlass™ is backed up by world class customer service, available Monday through Friday from 5:00 AM to 5:00 PM Pacific Time
Why Health Street
A Decade Plus of Experience
Health Street has provided drug tests since 2010. The first time we performed drug testing in Yakima, WA was in 2016. From then until now, we have completed 109 drug tests at our Yakima labs.
Committed to Excellence
Health Street drug testing services provide clear answers in determining if a job candidate, family member and someone involved in the courts has used or is using drugs. Knowing the facts provides peace of mind that you are making a safe workplace or that your relative is steering clear of drugs. For this reason, Health Street aims to make its drug testing in Yakima affordable, confidential, safe, easy and accurate.
Our testing centers revolve around fairness, accuracy and fast results. Health Street provides numerous ways to make the drug testing process easy. From offering a variety of drug tests to being in several locations around Yakima to giving our clients the option of using our app.
Local Testing Data
Stats on Substance Abuse in Washington State:
people_outline
Deaths caused by methamphetamine, cocaine and benzodiazepines, a class of drugs that includes Valium, Xanax and Ativan, increased. The 98 methamphetamine-related deaths last year marked a dramatic increase from 20 such deaths reported in 2011.
people_outline
Heroin-related deaths peaked at 156 in 2014. Prescription opioid deaths peaked at 164 in 2009, according to annual reports by the UW's ADAI.
people_outline
In 2017, 742 people lost their lives due to opioid overdose. This is nearly ten deaths per 100,000 which is well over half to the national rate of 14.6 deaths per 100,000 people.
Stats on Substance Abuse in Yakima:
people
In 2016, heroin was a factor in twenty percent of drug overdose deaths in Yakima County. This marked a dramatic climb from the previous six years.
people
Yakima's opioid-related death toll are like those of greater Eastern Washington. The western part of the state has seen greater numbers of deaths due to opioid overdose. Experts believe the rise in heroin overdoses in Yakima may be a sign that efforts to make obtaining prescriptions opioids harder are working.
people
From 2011 to 2013, Yakima treatment centers and hospitals had 90 to 180 per 100,000 admissions for drug dependence and overdoses.
Economy, Jobs, and Industry in Yakima WA
When the Lewis and Clark Exhibition came through Yakima County, the explorers noted the rich soil in the area. Thus, much of Yakima's growth throughout the years has been due to agriculture, and farming still plays a vital role. The region is noted for growing many fruits and vegetables, including peaches, pears, cherries, peppers, corn and most of the nation's hops found in beer. There are more than fifty wineries in the Yakima Valley.
Top employers include Yakima Valley Memorial Hospital, Yakima School District, Walmart, Yakima County and the Yakima Training Center, a U.S. Army training base used for technology testing and artillery maneuvers.
Locations
Clinic Hours and Information for our Labs in Yakima, Washington
306 N 6th Avenue
Yakima, WA 98902
Pre-registration required,
Walk-in with barcode:
---
Monday: 10:00 AM – 3:00 PM
Tuesday: 10:00 AM – 3:00 PM
Wednesday: 10:00 AM – 3:00 PM
Thursday: 10:00 AM – 3:00 PM
Friday: 10:00 AM – 3:00 PM
About this Location:
This location is very close by to Cherry Park.
Neighborhoods Served in Yakima
location_city
DowntownCity Center
location_city
GromoreHarwood
location_city
Pomona Heights
location_city
AhtanumSummitview
location_city
Terrace Heights
location_city
Old North Yakima
location_city
YBC Corridor
Local Reviews
By cameron snyder on 9/6/2016
Fast, easy, and nice customer support
Citations
menu_book
Heroin-related overdose deaths rise in Yakima County, https://www.yakimaherald.com/news/local/heroin-related-overdose-deaths-rise-in-yakima-county/article_e3a3073a-830c-11e7-9de0-fb3ccf4eeaef.html
menu_book
National Institute On Drug Abuse, Washington, https://www.drugabuse.gov/drugs-abuse/opioids/opioid-summaries-by-state/washington-opioid-summary
menu_book
Yakima, WA, Real Estate & Demographic Data, https://www.neighborhoodscout.com/wa/yakima