Drug Tests in Watertown, New York
Health Street provides drug and alcohol testing in Watertown, New York at 3 drug testing centers. Whether you need drug and alcohol testing for your employees, yourself, or a family member, you can rest assured that Health Street drug testing services in Watertown, NY provide a safe and clean environment and accurate results. We'll send a barcode authorization for the urine or hair drug test that you choose by text and email, along with a map to the clinic address.
Register for urine or hair drug tests in Watertown, NY quickly and easily online. Drug testing panels include Department of Transportation (DOT) and non-DOT urine drug tests, breath alcohol tests, EtG alcohol tests, and hair drug testing. Test results are fast, reviewed by our Medical Review Officer (an MRO), and reported safely and securely online. You can also call (315) 325-8617 with any questions about our employment screening services.
Workforce Screening, Digitally Delivered
1 of 3
19436 Howell Drive
Watertown
,
NY
13601
2 of 3
929 Arsenal Street
Watertown
,
NY
13601
3 of 3
21017 Nys Route 12f
Watertown
,
NY
13601
Drug Testing in Watertown, New York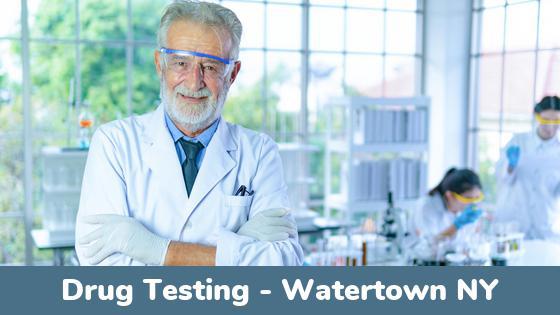 Types of Drug Testing in Watertown, New York
Health Street offers drug testing services such as: 5 panel drug test up to 22 panels, Department of Transportation DOT drug test, rapid results or laboratory testing, with or without alcohol EtG test included, the option to exclude THC, and more. Get these tests done at Watertown drug testing locations.
Our selection of chain of custody urine drug testing services and drug screenings allow you to test for nearly any drug consumed in the recent past. They are recommended for employee drug testing or court orders. The number of panels in a panel drug test refers to classes of drugs (i.e., marijuana, cocaine, etc.).
The 5 Panel Drug Test test is the traditional, basic urine drug test for street drugs, including:
check_circle
Marijuana (THC, cannabinoids, weed)
check_circle
Amphetamines (Adderall, Ritalin, methamphetamines)
check_circle
Basic Opiates (heroin, morphine, codeine)
check_circle
Phencyclidine (PCP – angel dust)
The 9 Panel Drug Test is urine testing that includes all of the above plus the following prescription drugs:
check_circle
Benzodiazepines (Valium, Klonopin, Xanax)
The 10 Panel Drug Test is a great option for employment drug testing in Watertown, New York – it includes well known street drugs and prescription drugs, including all 9 of the ones listed above, plus methaqualone.
The 12 Panel Drug Test urine drug testing panel is an excellent choice and value, and more importantly, it tests for expanded opiates and Ecstasy. This test is a 10 panel plus:
check_circle
MDMA/6AM (Ecstasy, Molly)
check_circle
Hydromorphone (Vicodan, Percocet, Oxycontin)
As the opioid epidemic continues to rise and impact Watertown, it is important to be aware that many of the dangerous, synthetic opiates are not picked up by lower panel tests. Our 16 Panel Opiate Drug Test picks up these 4 additional opiate classes in addition to the drugs included above:
check_circle
Meperidine (Demerol)
check_circle
Buprenorphine (Suboxone)
There are many more urine drug screens in Watertown facilities. Our testing panels go up to a 22 panel drug test, including specialized tests for synthetic marijuana, bath salts, nicotine, ketamine, rohypnol, and more. For results of chain of custody testing with MRO review, we are widely considered to be the fastest lab in Watertown, New York. Drug testing in Watertown is easy with Health Street.
Alcohol Testing in Watertown, New York
Alcohol testing is done through urine, hair, breath, or blood. Basic urine alcohol tests (12 hour look-back) or EtG urine alcohol testing (3 day look-back) can be added to any of our drug testing panels, or they can be done on a standalone basis. Choose the type of alcohol drug testing that looks back at the specific period of time that matters to you:
category
Breath Alcohol Tests
are the most appropriate tests to use in the workplace if on-the-job alcohol use is suspected, or after any accidents.
On-site breathalyzers
in the Watertown, NY area are also available for emergencies.
category
Hair EtG Test
is a hair follicle alcohol test that goes back 3 months
DOT Drug and Alcohol Testing Services – Watertown, NY
Health Street's Watertown facilities offer DOT drug and breath alcohol tests that comply with 46 CFR Part 40. Urine specimens are processed at SAMHSA certified laboratories. Members of our Random Pool get discounts on DOT drug testing.
Health Street administers DOT Random Pools for companies of all sizes based in and around Watertown, across New York. Our local presence combined with our national clinic network and easy online pool management makes DOT compliance a breeze.
Many Watertown businesses and residents are involved, directly or indirectly, with maritime, and therefore, they are regulated by the United States Coast Guard and must comply with the strict USCG regulations. Our Watertown clinics offer a specially designated USCG Merchant Marines Drug Test Package, which includes everything you need to meet the USCG DOT drug test requirements.
Hair Follicle Drug Testing Watertown, NY
Hair drug tests can detect drug or alcohol use for a far greater period of time – 90 days – than a standard urine drug test. Hair drug testing is performed at our Watertown drug testing places. We cut a small amount of either head hair or body hair. The hair is analyzed by our testing laboratory. We offer several panel drug tests.
Hair Drug Test Options
blur_on
5 Panel Hair Follicle Drug Test
blur_on
9 Panel Hair Follicle Drug Test
blur_on
12 Panel Hair Follicle Drug Test
StaffGlass™ eResults Portal for Employers
Employers get free access to premium customer service by phone and our award winning online StaffGlass™ eResults portal. Once securely logged into StaffGlass™, business users can set up their drug testing program, including:
how_to_reg
Securely order pre-employment, random, post-accident, or reasonable suspicion drug testing
how_to_reg
View fastest results
how_to_reg
Order and view eSignature employee documents such as policies and procedures, job applications, and more
how_to_reg
Set up a random drug testing pool or a drug-free workplace program, and add or remove staff to be included
Why Health Street
More than a Decade of Experience
Since 2010, Health Street has provided drug testing in Watertown as well as thousands of other cities nationwide. The first drug test that Health Street performed in Watertown, NY was in 2012.
Commitment to Excellence
Our goal is to provide the best possible drug testing Watertown employers and residents.
Economy and Drug Use in Watertown NY
Substance Abuse Trends and Statistics for Watertown, NY and Jefferson County
According to local news, Jefferson County is headed toward a record-breaking number of overdose deaths this year, and Watertown, NY is no exception. In the first week of June of 2020, 11 people died from drug overdoses in Jefferson County, and two of these within one weekend in Watertown alone. Narcotics are the main drug here, but combinations of drugs may also be causing the overdoses.
Overdoses in Jefferson county have been on the rise since March. At that time, 22 overdoses were reported. In April, another 27 were reported, and 32 in May.
Notable Historical Events Related to Drug Use in Watertown, NY and Jefferson County
In November of 2020 in Watertown, NY, Attorney General Letitia James busted three drug trafficking operations. Fifty-four individuals were charged for conspiring with these operations that were trafficking fentanyl, heroin, and cocaine.
These charges included various accounts of Criminal Sale and Criminal Possession of a Controlled Substance, and Conspiracy to commit those crimes.
This investigation, known as "Operation Heat Wave," lead officers to nearly 3 kilograms of cocaine, hundreds of bags of heroin and fentanyl, and Oxycodone and Hydrocodone. The drugs had an estimated street value of $315,500.
Experts Say…
Watertown Fire Chief Matt Timerman stated that within one month, only one overdose was able to be treated with a single use of Narcan.
"We're often having to give multiple doses. All the rest were all multiple doses, which means the severity of the overdoses are larger than they have been in the past," Timerman said.
The spike in drug-related overdoses has caused a crackdown on drug use, according to Public Health Planner Steve Jennings.
"Our stance is we're not going to give up on people. We know if they keep going down this road it could kill them, but we want to do everything we can to try to help them and try to stop it," Jennings states.
Locations
Clinic Hours and Information for our Labs in Watertown, New York
19436 Howell Drive
Unit 2
Watertown, NY 13601
Pre-registration required,
Walk-in with barcode:
---
Monday: 8:00 AM – 3:00 PM
(M Lunch: 12-1:30 PM)
Tuesday: 8:00 AM – 3:00 PM
(T Lunch: 12-1:30 PM)
Wednesday: 8:00 AM – 3:00 PM
(W Lunch: 12-1:30 PM)
Thursday: 8:00 AM – 3:00 PM
(Th Lunch: 12-1:30 PM)
Friday: 8:00 AM – 3:00 PM
(F Lunch: 12-1:30 PM)
About this Location:
You can obtain drug testing in Watertown, New York by visiting us at this location. It is a bit south of Watertown High School.
929 Arsenal Street
Watertown, NY 13601
Pre-registration required,
Walk-in with barcode:
---
Monday: 7:00 AM – 3:30 PM
(M Lunch: 11:30-12:30 PM)
Tuesday: 7:00 AM – 3:30 PM
(T Lunch: 11:30-12:30 PM)
Wednesday: 7:00 AM – 3:30 PM
(W Lunch: 11:30-12:30 PM)
Thursday: 7:00 AM – 3:30 PM
(Th Lunch: 11:30-12:30 PM)
Friday: 7:00 AM – 3:30 PM
(F Lunch: 11:30-12:30 PM)
About this Location:
It is simple to locate our lab. We are just a few blocks from Ives Hill Country Club.
21017 Nys Route 12f
Watertown, NY 13601
Pre-registration required,
Walk-in with barcode:
---
Monday: 8:00 AM – 5:00 PM
Tuesday: 8:00 AM – 5:00 PM
Wednesday: 8:00 AM – 5:00 PM
Thursday: 8:00 AM – 5:00 PM
Friday: 8:00 AM – 5:00 PM
About this Location:
We are located down the block from Ives Hill Country Club. You can't miss us.
Neighborhoods Served in Watertown
location_city
Monument Ridge
location_city
Holcomb Centered
location_city
Northland Estates
Local Reviews
By Marla clement on 1/26/2020
United Health Group UHG – Optum
Needed a drug screen for work. Ver efficient helping get appt. convenient location and quick in and out. The only opportunity to improve was getting my results. Completed on Saturday and no results until Thursday. I had to call and get them sent. Was told they were sent out onTuesday but did not receive. Received immediately after the call. Overall was an excellent experience.
Citations
menu_book
"Jefferson County sees 'alarming' increase in drug overdoses." 7 News, 8 June 2020, https://www.wwnytv.com/2020/06/08/jefferson-county-reports-drug-overdoses-during-first-week-june/
menu_book
"Attorney General James Busts Three Drug Trafficking Operations in the North Country." New York Attorney General, https://ag.ny.gov/press-release/2020/attorney-general-james-busts-three-drug-trafficking-operations-north-country
menu_book
Kucko, Natalie. "Narcan use goes up as overdoses spike in Jefferson County." 7 News, 12 June 2020, https://www.wwnytv.com/2020/06/12/narcan-use-goes-up-overdoses-spike-jefferson-county/
menu_book
"Discover your Watertown neighborhood." Nextdoor, https://nextdoor.com/city/watertown–ny/