Drug Test – Shreveport, LA
In Shreveport, Louisiana, Health Street provides drug testing for employers and individuals at 3 professional drug testing locations. You can register for drug tests quickly and easily on our website. Testing options include a wide range of drug panels. Our options include Department of Transportation (DOT) drug tests, non-DOT urine drug tests, breath alcohol tests, EtG alcohol tests, and hair drug testing. Once you pick your test, simply choose the best clinic location that meets your needs, and register online.
Whether you need drug and alcohol testing for your employees, yourself, or a family member, you can rest assured that Health Street testing services in Shreveport, Louisiana provides accurate results. We'll send a barcode authorization by text and email, along with a map to the clinic address. Drug testing centers are clean, comfortable and operated by experienced professionals. Test results are fast, reviewed by our Medical Review Officer (an MRO), and reported safely and securely online. You can also call (318) 225-9336 with any questions about our drug tests.
Workforce Screening, Digitally Delivered
Prompt and reliable. Hohum.
Shelton
9/10/2018
WLT Inc
1 of 3
2920 Knight Street
Shreveport
,
LA
71105
2 of 3
820 Jordan
Shreveport
,
LA
71101
3 of 3
5737 Youree Drive
Shreveport
,
LA
71105
Drug Testing in Shreveport, Louisiana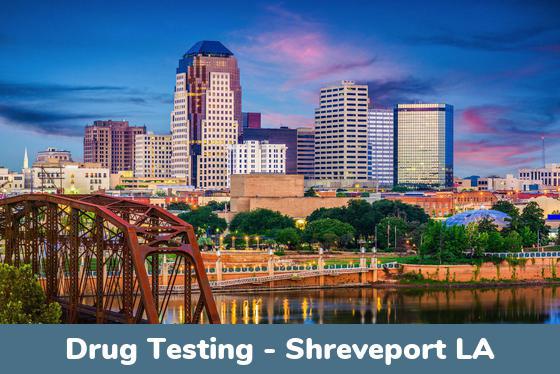 Types of Drug Tests at our Shreveport, LA laboratories:
At our Shreveport drug testing locations, Health Street offers the most types of drug testing services to meet anyone's needs. Employers, courts, attorneys, and private individuals can choose from a wide variety of non-DOT or DOT drug and alcohol tests via rapid drug test or lab testing with the ability to detect virtually any substance.
Available Testing Methods
DOT Drug Testing services:
StaffGlass™ eResults portal for Employers:
Business users can access the amazing StaffGlass™ eResults portal backed up by telephonic customer service. Once logged in, business users have access to:
recent_actors
Register for pre-employment screening services, random drug testing, or other drug or alcohol testing services and pick clinics nationwide; view results and status of all tests
recent_actors
Manage eSign documents related to the testing process
recent_actors
Manage a DOT Random Pool, add or remove drivers, change staff participation in random drug testing
Our world class Call Center is open Monday through Friday: 6:30 AM to 6:00 PM Central Time.
Why Health Street
More than a Decade of Experience
Since 2010, Health Street has provided drug testing in Shreveport as well as thousands of other cities nationwide. The first drug test that Health Street performed in Shreveport, LA was in 2016. From then until now, we have processed 408 drug tests in Shreveport.
Commitment to Excellence
Our goal is to provide the best possible drug testing Shreveport employers and residents.
Shreveport, Louisiana – Drug Testing
Notable Historical Events Related to Drug Use in Shreveport
In January 2022, a drug bust in Shreveport led to the arrest of three men and the seizure of drugs, guns, and money. Officers recovered 211 grams of powdered cocaine, 76 grams of crack cocaine, 578 grams of marijuana, 109 grams of methamphetamine, 77 grams of synthetic marijuana, 47 Xanax pills, digital scales packaging material, two handguns (including one stolen handgun), and $5,266 cash. While officers searched the house, they found three children between the ages of 3 and 6. The three men arrested in Shreveport face charges that include possession with intent to distribute narcotics, felon in possession of a firearm, possession of a firearm with a controlled dangerous substance, and possession of a stolen firearm.
In August of 2022, a Shreveport man was arrested after CPSO narcotics agents executed a search warrant leading to the seizure of thousands of dollars' worth of drugs. He was found with 11 pounds of marijuana, 774 grams of methamphetamine tablets, 61 grams of methamphetamine, 14 grams of cocaine, cash, packaging materials, and digital scales.
Local Initiatives to Curb Substance Abuse in Shreveport, LA
Thanks to Louisiana's standing order for naloxone, Shreveport residents are able to obtain this life-saving medication without a prescription.
LSU's About Screening, Brief Intervention, and Referral to Treatment (SBIRT) program provides services to healthcare providers in Louisiana, including Shreveport. Physicians, emergency rooms, and other community settings detect those at risk of substance use disorders and can offer early intervention and treatment options. In addition, SAMHSA offers training to healthcare providers on medication-assisted treatment for substance use disorders.
Substance Abuse Trends and Statistics for the City of Shreveport, Caddo Parish, and Louisiana
arrow_right_alt
Opioid-related deaths increased in Louisiana from 2014 to 2019
arrow_right_alt
Of the 588 opioid-related deaths in Louisiana in 2019, more people died from synthetic opioids than fentanyl, heroin, and natural or semi-synthetic opioids.
arrow_right_alt
In 2018, Shreveport and Caddo Parish had 45.5 deaths per 100,000 people from drugs, alcohol, and suicide.
Last updated 8/30/2022
Locations
Clinic Hours and Information for our Labs in Shreveport, Louisiana
2920 Knight Street
Suite 108
Shreveport, LA 71105
Pre-registration required,
Walk-in with barcode:
---
Monday: 9:00 AM – 3:30 PM
Tuesday: 9:00 AM – 3:30 PM
Wednesday: 9:00 AM – 3:30 PM
Thursday: 9:00 AM – 3:30 PM
Friday: 9:00 AM – 3:30 PM
About this Location:
For rapid drug testing in Shreveport, Louisiana, you can find us around the corner from Red River.
820 Jordan
Suite 102
Shreveport, LA 71101
Pre-registration required,
Walk-in with barcode:
---
Monday: 7:30 AM – 2:45 PM
(M Lunch: 11-1 PM)
Tuesday: 7:30 AM – 2:45 PM
(T Lunch: 11-1 PM)
Wednesday: 7:30 AM – 2:45 PM
(W Lunch: 11-1 PM)
Thursday: 7:30 AM – 2:45 PM
(Th Lunch: 11-1 PM)
Friday: 7:30 AM – 2:45 PM
(F Lunch: 11-1 PM)
About this Location:
You can obtain rapid drug testing in Shreveport, Louisiana by visiting us at this location. It is just a few blocks from Loyola College Prep.
5737 Youree Drive
Shreveport, LA 71105
Pre-registration required,
Walk-in with barcode:
---
Monday: 8:30 AM – 5:00 PM
Tuesday: 8:30 AM – 5:00 PM
Wednesday: 8:30 AM – 5:00 PM
Thursday: 8:30 AM – 5:00 PM
Friday: 8:30 AM – 5:00 PM
About this Location:
Visit us at this location. We are around the corner from Youree Drive Middle AP Magnet School.
Neighborhoods Served in Shreveport
location_city
Hidden Trace
Additional Services
Health Street offers a variety of other services, including:
Citations
menu_book
Thomas, Rachael. "Large drug bust in Caddo Parish lands 3 men in jail." KSLA, 13 January 2022, https://www.ksla.com/2022/01/13/large-drug-bust-caddo-parish-lands-3-men-jail/
menu_book
Onken, Alex. "Shreveport man found with over $65,000 in drugs at home." 11 August 2022, https://www.ksla.com/2022/08/11/shreveport-man-found-with-over-65000-drugs-home/
menu_book
"Standing Order for the Distribution or Dispensing of Naloxone or Other Opioid Antagonists." State of Louisiana, https://ldh.la.gov/assets/HealthyLa/Pharmacy/NaloxoneStandingOrder.pdf
menu_book
"About Screening, Brief Intervention, and Referral to Treatment (SBIRT)." Louisiana State University School of Social Work, https://www.lsu.edu/chse/socialwork/resources/la-sbirt.php
menu_book
"Medication-Assisted Treatment." Substance Abuse and Mental Health Services Administration (SAMHSA), https://www.samhsa.gov/medication-assisted-treatment
menu_book
"Opioids: The Problem and Challenge in Louisiana." Louisiana Department of Health, https://ldh.la.gov/subhome/54
menu_book
"Opioid-Related Deaths in Louisiana." Louisiana Department of Health, September 2020, https://ldh.la.gov/assets/opioid/final2019DrugDeathFactsheet092220.pdf
menu_book
"Health Informatics." Louisiana Department of Health, https://ldh.la.gov/page/3192
menu_book
"Health in Caddo Parish, Louisiana, Well Being in the Nation Network, https://www.winmeasures.org/statistics/winmeasures/louisiana/caddo-parish-health
menu_book
"Shreveport, LA." Nextdoor, https://nextdoor.com/city/shreveport–la/