Drug Test – Richland, WA
Health Street's drug testing center in Richland, Washington offers easy-to-access and comprehensive drug and alcohol testing services. Pre-register by calling (509) 303-4380 or setting up your drug testing online. Options include urine or hair drug testing, DOT or non-DOT drug tests, and alcohol testing.
You can register for drug testing in Richland, WA for your employees, yourself, or another person. Just select a urine test or hair drug test; then, pick the most convenient Health Street location in Richland. Upon registration, a barcode will be sent to whomever you register, which can be presented at the testing facility. Test results are reported back to you quickly and securely online.
Workforce Screening, Digitally Delivered
Drug Testing in Richland, Washington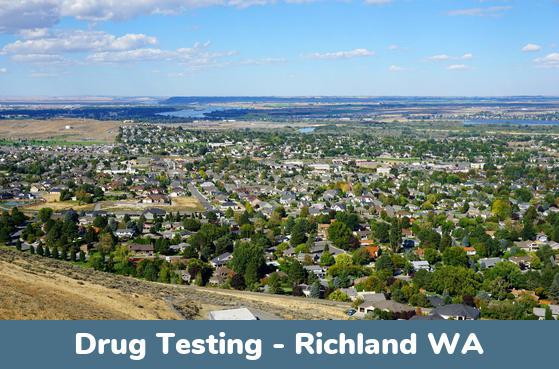 Get a Drug Test in Richland, Washington Right Now
Health Street has the largest selection of drug testing and employment screening services in Richland. Employers can access our services to set up a drug free workplace, families can get court ordered drug testing, and attorneys and private individuals can register for non-DOT drug tests, Department of Transportation (DOT) drug tests, and more.
Available Drug Testing Methods
Popular Drug Testing Panels
Specialized Categories of Tests
category
Choose from our
Alcohol Testing
options (such as breathalyzer, EtG test, or PEth blood alcohol)
DOT Drug Testing in Richland, Washington
Learn about our DOT drug and alcohol testing services, and how your company can maintain Department of Transportation (DOT) Compliance with 46 CFR Part 40, including:
Employee Drug Testing: eResults Portal for Employers
Business users get access to the amazing StaffGlass™ eResults portal. When logged in, human resources and other company executives can manage their drug testing program, including:
how_to_reg
Register for drug screenings for reasons such as: pre-employment, random, post-accident, or reasonable suspicion.
how_to_reg
Get fast, accurate results in a safe and secure online portal.
how_to_reg
Find a drug test clinic in Richland, WA or pick from our lab testing locations anywhere in the United States; you can order your test online, view results, and check status of all tests
how_to_reg
Manage eSign documents related to the testing process
how_to_reg
Set up a DOT random pool, add or remove drivers, and easily update their employment status.
how_to_reg
The StaffGlass™ eResults Portal is backed up by world class customer service.
Live support from our U.S. based Call Center is available: Monday through Friday: 7:30 AM to 7:00 PM Eastern Time.
Why Health Street
A Decade Plus of Experience
Health Street has provided drug tests since 2010. The first time we performed drug testing in Richland, WA was in 2016.
Dedicated to Excellence
We are dedicated to providing a level of excellence in drug testing in Richland that is unmatched.
Substance Abuse In The City of Richland, WA
Government Efforts to Address Drug Problems in Richland, WA
The Richland Police Department and the Benton County Sheriff's Office are two of nine agencies that have come together to form the Metro Drug Task Force. The federally-funded task force was formed to target high-level drug dealers. Their mission is to put a stop to narcotic trafficking at mid- to upper-organizational levels. They strive to keep traffickers from receiving proceeds from their crimes and to stop the supply of narcotics.
In another effort to address drug problems in Richland, WA, residents of Richland and Benton County are able to have access to naloxone, due to a state-wide standing order. Naloxone is a drug used to reverse the overdose effects of opioids, and is available as a nasal spray or as an intramuscular injection. Individuals that use drugs, family and friends of a user, and emergency personnel should carry the life-saving drug.
Notable Historical Events Related to Drug Use in Richland, WA
In 2017, the Richland Police Department was part of a large-scale, multi-ageny investigation that led to the arrest of two members of a drug trafficking organization. After executing a search warrant, officers found over 20 pounds of methamphetamine. A second search warrant at another location led to more methamphetamine, heroin, and cash.
Substance Abuse Trends and Statistics for the CIty of Richland, WA and Benton County
keyboard_arrow_right
As of 2019 in Richland, WA and Benton County, there were
102 opioid prescriptions
for every 100 residents in the county.
keyboard_arrow_right
In 2017, opioid overdoses costed taxpayers $3.2 million in Benton and Franklin Counties.
keyboard_arrow_right
In 2017, there were 20 opioid-related deaths and 64 opioid-related hospitalizations in Benton and Franklin Counties.
keyboard_arrow_right
Richland and Benton county faced 98 fatal drug overdoses from 2015-2017. This makes Benton County rank number seven in the state for total drug overdoses.
Neighborhoods Served in Richland
location_city
Badger Mountain East
location_city
Bellerive Dr
location_city
Birchfield Meadows
location_city
Bradley Blvd
location_city
Brookshire Estates
location_city
George Washington Way
location_city
Goethals-Albert
location_city
Falconcrest On The Hill
location_city
Moon River Advantage
location_city
Willow Brook Heights
Additional Services
Health Street offers a variety of other services, including:
Citations
menu_book
"Metro Drug Tast Force." City of Richland, WA, https://www.ci.richland.wa.us/home/showdocument?id=668
menu_book
"Overdose Education & Naloxone Distribution." Washington State Department of Health, https://www.doh.wa.gov/YouandYourFamily/DrugUserHealth/OverdoseandNaloxone
menu_book
Kochenauer, Jenna. "20 pounds of meth, other drugs uncovered, linked to Eastern Washington drug trafficking." News Radio 610 KONA, 16 September 2017, https://www.610kona.com/20-pounds-meth-drugs-uncovered-linked-eastern-washington-drug-trafficking/
menu_book
"Opioid Abuse Fact Sheet." Benton-Franklin Health District, http://bentonfranklinhd.hosted.civiclive.com/UserFiles/Servers/Server_10765972/File/Education/Fact%20Sheet%20-%20opioids.pdf
menu_book
"Drug Rehabilitation Centers in Benton County, Washington." Drug Rehab Services, https://www.addicted.org/benton-county-4.html
menu_book
"Discover your Richland neighborhood." Nextdoor, https://nextdoor.com/city/richland–wa/