Drug Test – Rapid City, SD
In Rapid City, South Dakota, Health Street provides drug tests for employers and individuals at 3 drug testing centers. You can register for drug tests on our website. Testing options include a wide range of drug panels such as Department of Transportation (DOT) and non-DOT urine drug tests, breath alcohol tests, EtG alcohol tests, and hair drug testing. Once you pick your test, simply choose the best clinic location that meets your needs, and register online.
Whether you need drug and alcohol testing for your employees, yourself, or a family member, you can rest assured that Health Street testing services in Rapid City, South Dakota provide accurate results. We'll send a barcode authorization by text and email, along with a map to the clinic address. Drug testing centers are clean, comfortable and operated by experienced professionals. Test results are fast, reviewed by our Medical Review Officer (an MRO), and reported safely and securely online. You can also call (605) 939-7392 with any questions about our drug tests.
Workforce Screening, Digitally Delivered
Thanks you
Lloyd Big Crow Sr
11/29/2021
Health Street, specifically, Louis Cianciotto has been very helpful in giving feedback and updates. Thank you so very much for all your help!Services are rendered in Rapid City.
EDS
1/22/2021
Good and quick service.
Brandon Slowman
12/23/2020
Great company
Dana Davis
11/30/2020
The lab was very helpful
Chelsea Randall
11/29/2020
1 of 3
713 Omaha Street
Rapid City
,
SD
57701
2 of 3
2116 Jackson Blvd
Rapid City
,
SD
57702
3 of 3
1303 N Lacrosse Street
Rapid City
,
SD
57701
Drug Testing in Rapid City, SD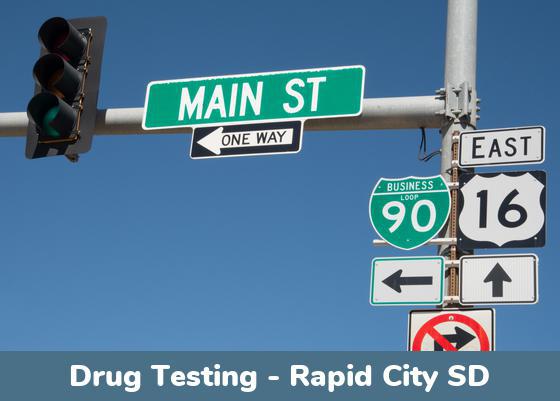 Types of Drug Tests in Rapid City, South Dakota clinics:
In Rapid City, Health Street offers the widest variety and selection of drug tests anywhere, which allows you to choose from any panel you wish, with rapid results or sent to our lab, using a urine sample or a hair sample. Most of our tests have an option to add alcohol or remove THC from the screening, so that we can always meet your specific requirements.
The number of urine drug testing services and drug screening panels that we offer means that you can test for nearly any drug.
The most basic test we offer is a 5 Panel Drug Test, which tests for:
arrow_right_alt
Marijuana (THC, cannabinoids, weed)
arrow_right_alt
Phencyclidine (PCP – angel dust)
arrow_right_alt
Amphetamines (Adderall, Ritalin, methamphetamines)
arrow_right_alt
Basic Opiates (heroin, morphine, codeine)
The next option up from there is the 9 Panel Drug Test, which adds in some commonly abused prescriptions:
arrow_right_alt
Benzodiazepines (Valium, Klonopin, Xanax)
arrow_right_alt
Barbiturates
arrow_right_alt
Methadone
arrow_right_alt
Propoxyphene
When asked, we often recommend the 12 Panel Drug Test because it is a well rounded test that screens for common opioids and ecstasy, including:
arrow_right_alt
MDMA/6AM (Ecstasy, Molly)
arrow_right_alt
Expanded opiate class: Oxycodone, Oxymorphone, Hydrocodone, Hydromorphone (Vicodan, Percocet, Oxycontin)
If you're at all concerned with opiate usage beyond basic painkillers, just as many people in Rapid City are, consider registering for a 16 Panel Opiate Drug Test. These synthetic opiates are not picked up by lesser panel tests.
arrow_right_alt
Meperidine (Demerol)
arrow_right_alt
Buprenorphine (Suboxone)
The above is just a sampling of the wide variety of urine tests we offer. You can view all urine drug screens offered at our Rapid City SD drug testing centers, which includes tests that go up to 22 panels, specialized tests for synthetic marijuana and bath salts, ketamine and rohypnol, GHB and more.
Alcohol Drug Tests
Alcohol use can be detected by our Rapid City SD drug testing locations. You can select our EtG test for alcohol (which has a 3 day look-back), or add it to any of our drug tests. Choose the alcohol drug testing that looks back at the specific period of time that matters to you:
DOT Drug and Alcohol Testing in Rapid City, South Dakota
Our Rapid City facilities have technicians certified to perform DOT drug testing and breath alcohol tests. Random Pool Membership is offered, and members get discounted pricing on DOT drug tests. And because we know that many Rapid City businesses and residents are involved with shipping or maritime in one way or another, we help you comply with the strict USCG drug testing regulations. We have a pre-set DOT package specifically tailored just for the USCG (US Coast Guard) Drug Testing requirements. It includes everything you need from the SAMHSA lab to the MRO signed USCG-719P report.
Hair Drug Testing in Rapid City, South Dakota ✂
Hair Drug Tests go back up to 90 days. We do these at our Rapid City drug testing locations with a small hair sample from the scalp or body.
Additional services from Employers: StaffGlass™
Employers get access to the amazing StaffGlass™ portal. Once logged in, business users can:
arrow_right_alt
Register for drug or alcohol tests and pick clinics nationwide; view results and status of all tests
arrow_right_alt
Manage eSign documents related to the testing process
arrow_right_alt
Set up a random pool, add or remove staff, update staff employment status
Why Health Street
More than a Decade of Experience
Since 2010, Health Street has provided drug testing in Rapid City as well as thousands of other cities nationwide. The first drug test that Health Street performed in Rapid City, SD was in 2014. From then until now, we have processed 657 drug tests in Rapid City.
Committed to Excellence
Health Street has a long standing commitment to serve the people and businesses of Rapid City, South Dakota with the best drug testing services in town.
Rapid City, South Dakota – Drug Testing
Notable Historical Events Related to Drug Use in Rapid City, SD
In January 2023, a 44-year-old man was sentenced to more than 17 years in federal prison for his role in conspiring to traffic methamphetamine from Arizona to Rapid City, SD. The man worked with other individuals to transport, store, and distribute drugs throughout South Dakota. The conspiracy, which lasted for over a year, ended with a multiple-location search warrant in August 2021. The Rapid City search warrants led officers to more than 70 pounds of methamphetamine, with a value of nearly $2.5 million, multiple pounds of heroin and cocaine, thousands of fentanyl pills, 13 firearms, and $144,000.
Experts Say…
As of 2021, the Rapid City Police Department was seeing an increase in opioid-related overdose deaths. "In 2019, we believe that we had two documented accidental overdoses related to opioids in our community," said Chief Deputy of Pennington County Sheriff's Department Brian Mueller. "So far this year, we have confirmed to have seven, and we have several other pending investigations that we're waiting for toxicology reports." Mueller said that's an exponential growth in Rapid City and Pennington County. The DEA warned of the lethal amounts of fentanyl in counterfeit prescription pills, and Chief Deputy Mueller wants Rapid City and county residents aware that it's a local problem. "The fact that they are lacing very real counterfeit prescription drugs with fentanyl right now," he said. "You know, people borrow prescriptions from friends or family members, and it's a deadly combination right now."
Government Efforts to Address Drug Problems in Rapid City, SD
In an effort to prevent opioid overdose deaths, Rapid City and Pennington County patrol officers now carry Narcan and are trained to administer the life-saving medication. Narcan, also known as naloxone, blocks the effects of opioids and restores breathing for unconscious overdose victims. Rapid City Police Department Patrol Lieutenant Darren Doucy said that since they're able to quickly respond to calls, they can be first on the scene and equipped to administer Narcan when necessary.
Last updated 3/24/2023
Locations
Clinic Hours and Information for our Labs in Rapid City, South Dakota
713 Omaha Street
Rapid City, SD 57701
Pre-registration required,
Walk-in with barcode:
---
Monday: 7:00 AM – 5:00 PM
Tuesday: 7:00 AM – 5:00 PM
Wednesday: 7:00 AM – 5:00 PM
Thursday: 7:00 AM – 5:00 PM
Friday: 7:00 AM – 5:00 PM
Saturday: 8:00 AM – 11:00 AM
About this Location:
You can find us down the block from Rapid Creek.
2116 Jackson Blvd
Rapid City, SD 57702
Pre-registration required,
Walk-in with barcode:
---
Monday: 7:30 AM – 6:30 PM
Tuesday: 7:30 AM – 6:30 PM
Wednesday: 7:30 AM – 6:30 PM
Thursday: 7:30 AM – 6:30 PM
Friday: 7:30 AM – 6:30 PM
Saturday: 9:00 AM – 3:00 PM
Sunday: 9:00 AM – 3:00 PM
About this Location:
This office is conveniently located close to Sioux Park. We look forward to serving you here.
1303 N Lacrosse Street
Rapid City, SD 57701
Pre-registration required,
Walk-in with barcode:
---
Monday: 7:00 AM – 7:00 PM
Tuesday: 7:00 AM – 7:00 PM
Wednesday: 7:00 AM – 7:00 PM
Thursday: 7:00 AM – 7:00 PM
Friday: 7:00 AM – 7:00 PM
Saturday: 9:00 AM – 4:00 PM
Sunday: 11:00 AM – 4:00 PM
About this Location:
It is simple to locate our lab. We are around the corner from Floyd Fitzgerald Stadium. You can't miss us.
Neighborhoods In and Around Rapid City That We Serve
location_city
Jurassic Heights
location_city
Quincy St-Main St
location_city
Valley Heights Estates
Additional Services
Health Street offers a variety of other services, including:
Local Reviews
By Grant Winter on 10/2/2020
Interim Health Care Sioux Falls SD
Easy process for purchasing a Drug Screen and scheduling our contractor from across the state! The process was communicated very well and the results came back fast!
By Debra D Watson on 9/1/2020
Expedient, informative and professional.
By Adam on 7/25/2020
Fast processing, great updates, very friendly staff. Very pleased.
By Sarah Vasknetz on 4/26/2020
Your service was so easy and simple and super convenient!!!! Thank you so much! I will be recommending you!
By Chester Dargin on 2/25/2020
Collectors are very pleasantLab Corp in Rapid City
By Chester Dargin on 2/10/2020
Wish it went faster!
By Scarlett on 2/8/2020
Was very good service
By Hardy on 11/16/2019
easy quick and nice
By Frank on 8/29/2019
Excellent service. We appreciated the quick response. You could provide a little more information on what the test results mean. Its not clear to a lay person. If a marijuana result is negative, does it mean no marijuana was detected or that there was marijuana but it was under some threshold Thanks
By Damon Kelly on 8/2/2019
This has helped me with Court Ordered Drug Testing. It is simple a simple process and affordable.
Citations
menu_book
"Man sentenced for drug trafficking following $2.5 million drug bust in Pennington County." NewsCenter 1, 4 January 2023, https://www.newscenter1.tv/man-sentenced-for-drug-trafficking-following-2-5-million-drug-bust-in-pennington-county/
menu_book
Holiday, Christina. "Opioid overdoses on the rise in Rapid City, Pennington County area." NewsCenter 1, 18 November 2021, https://www.newscenter1.tv/opioid-overdoses-on-the-rise-in-rapid-city-pennington-county-area/
menu_book
"Rapid City, SD." Nextdoor, https://nextdoor.com/city/rapid-city–sd/
x