DNA Test – Peoria, AZ
Health Street provides DNA tests and legal paternity testing in Peoria, Arizona at 5 conveniently located testing laboratories. Call (602) 357-9709 or schedule online. We offer legal paternity tests, sibling studies, grandparent DNA tests, avuncular (aunt or uncle) testing, and postmortem DNA testing to determine if people are biologically related.
Set up DNA testing appointments online. Test results can be used in court for child support or to change a birth certificate; it can also be used for simple peace of mind. Appointments can be scheduled together or separately. Legal DNA tests are done by cheek swab at our testing centers. We can also extract DNA samples from hair follicles, fingernails, and other specimens.
Workforce Screening, Digitally Delivered
Excellent customer service!
Ioana Lapusan
6/2/2021
I do appreciate the simplicity of doing the test and getting the resuts. Thank you very much.
Donald
2/15/2021
1 of 5
14155 N 83rd Avenue
Peoria
,
AZ
85381
2 of 5
21471 N Lake Pleasant Parkway
Peoria
,
AZ
85382
3 of 5
9139 W Thunderbird
Peoria
,
AZ
85381
4 of 5
24874 N 67th Avenue
Peoria
,
AZ
85383
5 of 5
13660 N 94th Drive
Peoria
,
AZ
85381
DNA Testing Peoria AZ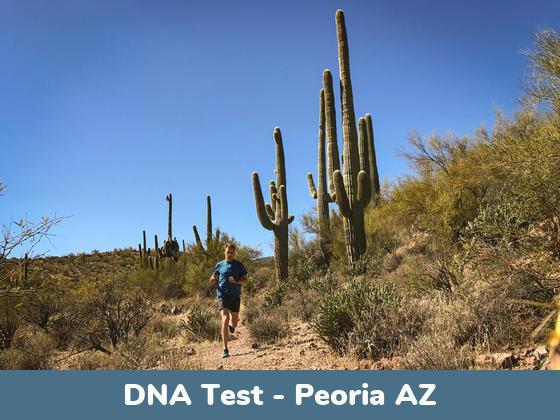 Types of DNA Tests at our Peoria AZ clinics:
Paternity Testing can conclusively establish whether or not a man is the biological father of a child.
Relationship Testing for other close family relationships can be performed at our testing centers. Our DNA testing services can confirm or deny biological relationships between grandparents, grandchildren, siblings, half-siblings, aunts, uncles, nieces and nephews:
Specimens we can test for DNA
The easiest and most reliable way to obtain a DNA sample for paternity testing is to swab the inner cheeks of the alleged father and child or children. These skin cells are known as buccal cells, and they rub off easily onto cotton swabs and remain in place for analysis by our laboratory.
Other specimen samples, such as hair follicles, fingernails, and garments that might contain someone's DNA, can also be tested. An Alternative Specimen DNA Test is done by ordering one of our testing kits online and shipping the specimens back to us.
Legal DNA Tests vs. "Peace of Mind" At-Home Tests
A Legal Paternity Test is a court admissible lab testing service performed at an AABB accredited laboratory. Accurate results for DNA paternity testing with 99.99% confidence or greater take about a week.
When deciding which type of DNA test is right for you, consider first what you might do with the results. A legal paternity DNA test will hold up in court for such matters as child support or to change the name on a birth certificate. This test must be performed using strict chain of custody procedures. Our Peoria DNA testing technicians are trained to follow these guidelines so that the results will be legally admissible.
How to schedule a DNA Test in Peoria AZ
Scheduling a DNA test at one of our Peoria clinics is simple and fast, and we often have appointments available in the same week. It's always helpful to schedule in advance to make sure you get the time you want. Please call our customer service team to help you book your appointment over the phone, or set up your appointment easily online.
We have state of the art testing labs and friendly clinics that perform the DNA sample collection in Peoria, plus many more locations throughout Arizona and across the United States. During registration, we'll show you the nearest locations so you can choose the one that's most convenient. You'll pick the times and days that you prefer.
Why Health Street
A Decade Plus of Experience
Health Street has provided DNA tests since 2010. The first DNA test we performed in Peoria, AZ was in 2018.
Commitment to Community
Health Street has a long standing commitment to the people of Peoria, Arizona and to helping families through the emotional process of obtaining a paternity test.
Peoria, Arizona – DNA Testing
Establishing paternity in Peoria, AZ
It is essential for unmarried parents to establish paternity. Paternity means the child will have a legal father, often with the same rights and responsibilities as the mother. In Arizona, parents can establish paternity at the hospital when the baby is born by signing an Acknowledgment of Paternity. This form establishes a legal father and should only be signed if both parents are sure about paternity. If parents do not sign this form at the hospital, they can do it later at the Vital Records offices or the DCSS office.
If one of the parents is not cooperative, they will likely go to court, and the judge can help them establish paternity. Establishing paternity through the court usually involves a DNA test, which can easily determine whether or not the alleged father is the biological father.
DNA Testing and Other Legal Services Available in Peoria
Residents of Peoria may be required to present the results of a DNA test to establish a familial link in a number of situations. Paternity DNA tests are commonly used in custody and child support cases, for example. Officials in Arizona have also been known to use DNA to identify remains and solve cold cases. Legal professionals can help Peoria residents understand when they can benefit from DNA testing and what is the best way to go about procuring services.
Several family law attorneys work with Peoria residents to schedule DNA tests with trusted, local companies like Health Street. Attorneys at the Peoria Law Firm of Jessica M. Cotter P.L.L.C., for example, use DNA testing to help their clients: "We use the tools of modern science and a deep understanding of the law to establish the basic facts about your family. We will help you arrange a DNA test and present the results appropriately in the family court system. DNA testing can be done before the child is even born, so there is no need to wait."
Bill Requiring DNA Testing for Public Workers Proposed by Peoria Senator
Peoria Senator David Livingston proposed a bill to the state legislature in early 2019 that would require anyone working with children or wards of the state to submit their DNA to a state database before gaining access. After some political debate, the bill was changed to require only professionals working with intellectually disabled patients. In its current form, the bill has been further watered down to mainly legislate how rape kids are tested, stored and used as evidence throughout the state.
Supporters of the bill say that the state's system for processing DNA evidence is completely outdated and has needed a technological and legal reboot for years. Opponents of the law worry about the expected $2.3 million bump in annual fees associated with the increased DNA testing and its processing. The bill still has to be approved by the Senate and governor to become law.
Last updated 9/23/2022
Locations
Clinic Hours for DNA Testing in Peoria, Arizona
9139 W Thunderbird
Suite 150
Peoria, AZ 85381
Pre-registration required,
Walk-in with barcode:
---
Monday: 7:00 AM – 4:00 PM
Tuesday: 7:00 AM – 4:00 PM
Wednesday: 7:00 AM – 4:00 PM
Thursday: 7:00 AM – 4:00 PM
Friday: 7:00 AM – 4:00 PM
About this Location:
This location is just a few blocks from New River.
Neighborhoods Served in Peoria
location_city
Peoria Town Center
location_city
Springer Ranch
location_city
Sun Air Estates
location_city
Westgreen Estates
location_city
Arrowhead Fountains Center
location_city
Haciendas Del Sol
location_city
Westcreek Villas
location_city
Estates At Happy Valley
location_city
Trails At Suraya Park
location_city
Countrybrook Meadows
Additional Services
We also offer other services, such as:
Citations
menu_book
Establish paternity. Establish Paternity | Arizona Department of Economic Security. (n.d.). Retrieved August 26, 2022, from https://des.az.gov/services/child-and-family/child-support/apply-for-child-support/establish-paternity
menu_book
Arizona. (n.d.). Retrieved September 15, 2022, from https://des.az.gov/sites/default/files/legacy/dl/CS-127-PF.pdf
menu_book
"The Importance of Paternity." Law Office of Katherine Kraus P.L.L.C., https://www.krauslawfirm.com/children-divorce/paternity/
menu_book
Establish Paternity And Assert Your Rights As A Parent." The Law Firm of Jessica M. Cotter P.L.L.C., https://www.jessicacotterlaw.com/paternity/.
menu_book
"Controversial rapid-DNA proposal could cost Arizona millions." Arizona Republic, 14 March 2019, https://www.azcentral.com/story/news/politics/legislature/2019/03/14/proposed-rape-kit-testing-bill-would-cost-dps-millions-annually/3153718002/.
menu_book
"Controversial DNA database bill scaled back to patient care professionals only." Arizona Republic, 19 February 2019, https://www.azcentral.com/story/news/politics/legislature/2019/02/19/controversial-dna-database-bill-scaled-back/2920134002/.
menu_book
"People in Arizona may soon have to give their DNA to the state and pay $250 for the privilege." Arizona Republic, 19 February 2019, https://www.azcentral.com/story/news/nation/2019/02/19/arizona-bill-first-statewide-dna-database/2918958002/.
menu_book
"DNA database bill would cost state, cities millions." AZ Mirror, 8 March 2019, https://www.azmirror.com/blog/dna-database-bill-would-cost-state-cities-millions/.