DNA Test – Scottsdale, AZ
Health Street provides DNA tests and legal paternity testing in Scottsdale, Arizona at 10 conveniently located testing laboratories. Call (602) 357-9720 or schedule online. We offer legal paternity tests, sibling studies, grandparent DNA tests, avuncular (aunt or uncle) testing, and postmortem DNA testing to determine if people are biologically related.
Set up DNA testing appointments online. Test results can be used in court for child support or to change a birth certificate; it can also be used for simple peace of mind. Appointments can be scheduled together or separately. Legal DNA tests are done by cheek swab at our testing centers. We can also extract DNA samples from hair follicles, fingernails, and other specimens.
Workforce Screening, Digitally Delivered
1 of 10
7730 E Mcdowell Road
Scottsdale
,
AZ
85257
2 of 10
4902 E Shea Blvd
Scottsdale
,
AZ
85254
3 of 10
23015 N Scottsdale Road
Scottsdale
,
AZ
85255
4 of 10
3271 N Civic Center Plaza Ste 9
Scottsdale
,
AZ
85251
5 of 10
9465 E Ironwood Square Drive
Scottsdale
,
AZ
85258
6 of 10
10335 N Scottsdale Road
Scottsdale
,
AZ
85253
7 of 10
15223 N 87th Street
Scottsdale
,
AZ
85260
8 of 10
6990 E Shea Blvd
Scottsdale
,
AZ
85254
9 of 10
9465 E Ironwood Square Drive
Scottsdale
,
AZ
85258
10 of 10
8575 E Princess Drive
Scottsdale
,
AZ
85255
DNA Test – Scottsdale, Arizona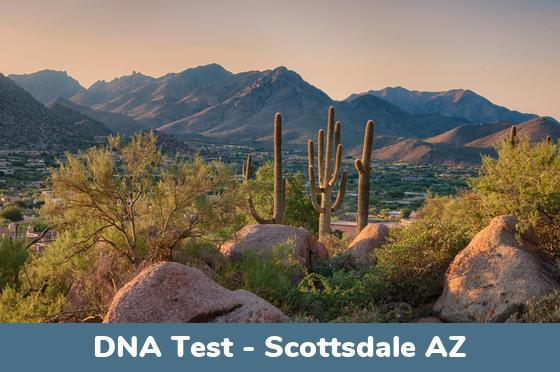 Types of DNA Tests at our Scottsdale, Arizona clinics:
Paternity Testing can conclusively establish whether or not a man is the biological father of a child.
Relationship Testing for other close family relationships can be performed at our testing centers. Our DNA testing services can confirm or deny biological relationships between grandparents, grandchildren, siblings, half-siblings, aunts, uncles, nieces and nephews:
Specimens we can test for DNA
The easiest and most reliable way to obtain a DNA sample for paternity testing is to swab the inner cheeks of the alleged father and child or children. These skin cells are known as buccal cells, and they rub off easily onto cotton swabs and remain in place for analysis by our laboratory.
Other specimen samples, such as hair follicles, fingernails, and garments that might contain someone's DNA, can also be tested. An Alternative Specimen DNA Test is done by ordering one of our testing kits online and shipping the specimens back to us.
Legal DNA Tests vs. "Peace of Mind" At-Home Tests
A Legal Paternity Test is a court admissible lab testing service performed at an AABB accredited laboratory. Accurate results for DNA paternity testing with 99.99% confidence or greater take about a week.
When deciding which type of DNA test is right for you, consider first what you might do with the results. A legal paternity DNA test will hold up in court for such matters as child support or to change the name on a birth certificate. This test must be performed using strict chain of custody procedures. Our Scottsdale DNA testing technicians are trained to follow these guidelines so that the results will be legally admissible.
How to schedule a DNA Test in Scottsdale AZ
Scheduling a DNA test at one of our Scottsdale clinics is simple and fast, and we often have appointments available in the same week. It's always helpful to schedule in advance to make sure you get the time you want. Please call our customer service team to help you book your appointment over the phone, or set up your appointment easily online.
We have state of the art testing labs and friendly clinics that perform the DNA sample collection in Scottsdale, plus many more locations throughout Arizona and across the United States. During registration, we'll show you the nearest locations for DNA testing so you can choose the site that's most convenient. You'll also pick the times and days that you prefer.
Why Health Street
Over a Decade of Experience
Health Street has been performing DNA testing nationally since 2010. The first DNA test in Scottsdale, AZ performed by Health Street was in 2019.
Commitment to Community
We are very proud of the quality of our Scottsdale AZ DNA testing services. We are happy to serve Scottsdale families and residents with great attention to detail.
Scottsdale, Arizona – DNA Testing
Establishing paternity in Scottsdale, AZ
If the mother and father are unwed when the child is born, paternity must be established for the child to have a legal father. Establishing paternity can carry many benefits, such as the same rights and responsibilities for both parents, health insurance benefits, Social Security benefits, possible military benefits, or inheritance. Child support usually cannot be ordered or enforced without a legal father established.
So how can paternity be established in AZ? The easiest way is to sign an Acknowledgment of Paternity (AOP) at the hospital when the baby is born. Once the AOP is signed, birth recorders and nurses can help establish paternity.
This form can be signed later, as long parents cooperate with the DCSS (Division of Child Support Services). If unwed parents do not want to sign an AOP, for example, because they are unsure about who the biological father is, they can go to a court hearing. A DNA test will be needed to establish who the father is, and then the judge can determine paternity based on the DNA test results.
DNA test reunites Arizona family after years
Sherry always knew she was adopted, wondering what had happened to her biological family and if she had siblings or not. She always wished she had siblings, and her wish came true when she took a DNA test that was gifted to her on her birthday.
Richard and Jeanine were born and raised in Arizona with six other brothers. Their mother told them she put another child up for adoption in the 1950s because she thought adoptive parents could provide a better life than a single mother, so they knew they had another sibling out there somewhere.
The mother died in 2003, and Richard and Jeanine wanted to find their sister. They took a DNA test and immediately matched with Sherry. They searched for her on social media and started to talk. They already planned a reunion, and Sherry, who always wanted a sister or a brother, now suddenly has more of them than she could have imagined! Now, she says she no longer feels the emptiness she had before.
Last updated 8/9/2022
Locations
Clinic Hours for DNA Testing in Scottsdale, Arizona
3271 N Civic Center Plaza Ste 9
Scottsdale, AZ 85251
Pre-registration required,
Walk-in with barcode:
---
Monday: 9:00 AM – 4:00 PM
Tuesday: 9:00 AM – 4:00 PM
Wednesday: 9:00 AM – 4:00 PM
Thursday: 9:00 AM – 4:00 PM
Friday: 9:00 AM – 4:00 PM
About this Location:
Paternity Tests in Scottsdale, Arizona are available at this clinic down the block from Banner Behavioral Health Hospital.
9465 E Ironwood Square Drive
Suite 103
Scottsdale, AZ 85258
Pre-registration required,
Walk-in with barcode:
---
Monday: 9:00 AM – 3:30 PM
Tuesday: 9:00 AM – 3:30 PM
Wednesday: 9:00 AM – 3:30 PM
Thursday: 9:00 AM – 3:30 PM
Friday: 9:00 AM – 3:30 PM
About this Location:
Get paternity testing here near the Scottsdale Fiesta Shopping Center.
Some Scottsdale Neighborhoods That We Serve
location_city
Whisper Rock
location_city
Desert Highlands
location_city
Mcdowell Mountain Ranch
location_city
Legend Trail
location_city
Scottsdale Ranch
location_city
Scottsdale Civic Center
location_city
Scottsdale House
location_city
Scottsdale Country Club
Additional Services
We also offer other services, such as:
Citations
menu_book
Establish paternity. Establish Paternity | Arizona Department of Economic Security. (n.d.). Retrieved August 9, 2022, from https://des.az.gov/services/child-and-family/child-support/apply-for-child-support/establish-paternity#:~:text=Establishing%20Paternity,-There%20are%20several&text=Both%20parents%20may%20come%20into,(HPP)%20to%20establish%20paternity.
menu_book
Tinsley, K. (n.d.). DNA test kit brings long-lost family together for the first time. https://www.kold.com. Retrieved August 9, 2022, from https://www.kold.com/2020/01/31/dna-test-kit-brings-long-lost-family-together-first-time/