Drug Testing in Orange, California
Health Street's 4 drug and alcohol testing clinics in Orange, California provide convenient locations and comprehensive pre-employment drug screening services. Call (657) 295-4869 or register online for drug testing services. Drug and alcohol testing options include DOT and non-DOT urine drug tests, breath alcohol tests, EtG alcohol tests, and hair drug testing.
Register for a urine or hair drug test at one of our drug testing centers for your employees, yourself, or another person. Just choose your test and pick a location. A registration barcode will be sent to the person you specify. A map will accompany this authorization code. Test results are fast, reported securely, and stored in our online portal.
Workforce Screening, Digitally Delivered
The process was simple and included easy to follow instructions. Health Street made sure that I knew I had help every step of the way and was quick to answer any questions andor concerns. I wish I knew about this service before. I have had discrepancies with a sweat patch that I have for a CPS case and used the hair follicle drug test to show that I have not been using TCH
Lisa Evans
6/1/2020
Professional, polite and quick testing resul Reasonable costs. I rate them A. We used the Orange, CA test site. It was a 10 panel comprehensive drug and alcohol screening. I would recommend this service.
Liz E
6/25/2019
Queva is always so kind and willing to help!
Felice Arboisiere
10/25/2018
Delania was very professional in setting up account! Great Experience
Robin
6/26/2018
Very helpful and nice
Felice Arboisiere
6/2/2018
1 of 4
705 W La Veta Avenue
Orange
,
CA
92868
2 of 4
1010 W La Veta Avenue
Orange
,
CA
92868
3 of 4
867 S Tustin Street
Orange
,
CA
92866
4 of 4
1045 N Tustin
Orange
,
CA
92867
Drug Testing in Orange, California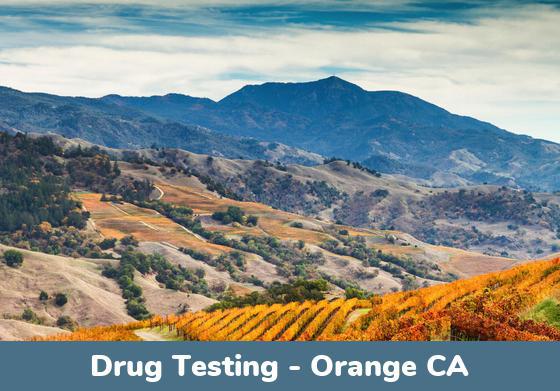 Types of Our Drug Tests in Orange, California
Health Street offers drug testing services such as: 5 panel drug test up to 22 panels, Department of Transportation DOT drug test, rapid results or laboratory testing, with or without alcohol EtG test included, the option to exclude THC, and more. Get these tests done at any of our Orange drug testing locations.
Our selection of chain of custody urine drug testing services and drug screenings allow you to test for nearly any drug consumed in the recent past. They are recommended for employee drug testing or court orders. The number of panels in a panel drug test refers to classes of drugs (i.e., marijuana, cocaine, etc.).
The 5 Panel Drug Test test is the traditional, basic urine drug test for street drugs, including:
check_circle
Marijuana (THC, cannabinoids, weed)
check_circle
Amphetamines (Adderall, Ritalin, methamphetamines)
check_circle
Basic Opiates (heroin, morphine, codeine)
check_circle
Phencyclidine (PCP – angel dust)
The 9 Panel Drug Test is urine testing that includes all of the above plus the following prescription drugs:
check_circle
Benzodiazepines (Valium, Klonopin, Xanax)
check_circle
Barbiturates
check_circle
Propoxyphene
The 10 Panel Drug Test is a great option for employment drug testing in Orange CA – it includes well known street drugs and prescription drugs, including all 9 of the ones listed above, plus methaqualone.
The 12 Panel Drug Test urine drug testing panel is an excellent choice and value, and more importantly, it tests for expanded opiates and Ecstasy. This test is a 10 panel plus:
check_circle
MDMA/6AM (Ecstasy, Molly)
check_circle
Hydromorphone (Vicodan, Percocet, Oxycontin)
As the opioid epidemic continues to rise and impact Orange, it is important to be aware that many of the dangerous, synthetic opiates are not picked up by lower panel tests. Our 16 Panel Opiate Drug Test picks up these 4 additional opiate classes in addition to the drugs included above:
check_circle
Meperidine (Demerol)
check_circle
Buprenorphine (Suboxone)
There are many more urine drug screening options offered at our Orange CA facilities, which go all the way up to a 22 panel drug test, including specialized tests for synthetic marijuana, bath salts, nicotine, ketamine, rohypnol, and more. For results of chain of custody testing with MRO review, we are widely considered to be the fastest lab in Orange. Drug testing in Orange CA is easy with Health Street.
Alcohol Testing in Orange
Alcohol testing is done through urine, hair, breath, or blood. Basic urine alcohol tests (12 hour look-back) or EtG urine alcohol testing (3 day look-back) can be added to any of our drug testing panels, or they can be done on a standalone basis. Choose the type of alcohol drug testing that looks back at the specific period of time that matters to you:
category
Breath Alcohol Tests
are the most appropriate tests to use in the workplace if on-the-job alcohol use is suspected, or after any accidents.
On-site breathalyzers
in the Orange CA area are also available for emergencies.
category
Hair EtG Test
is a hair follicle alcohol test that goes back 3 months
DOT Drug and Alcohol Testing in Orange, California
Health Street's Orange facilities offer DOT drug and breath alcohol tests that comply with 46 CFR Part 40. Urine specimens are processed at SAMHSA certified laboratories. Members of our Random Pool get discounts on DOT drug testing.
Health Street administers DOT Random Pools for companies of all sizes based in and around Orange, across California. Our local presence combined with our national clinic network and easy online pool management makes DOT compliance a breeze.
Many Orange businesses and residents are involved, directly or indirectly, with maritime, and therefore, they are regulated by the United States Coast Guard and must comply with the strict USCG regulations. Our Orange clinics offer a specially designated USCG Merchant Marines Drug Test Package, which includes everything you need to meet the USCG DOT drug test requirements.
Hair Follicle Drug Testing in Orange, California
Hair drug tests can detect drug or alcohol use for a far greater period of time – 90 days – than a standard urine drug test. Hair drug testing is performed at our Orange drug testing places. We cut a small amount of either head hair or body hair. The hair is analyzed by our testing laboratory. We offer several panel drug tests.
Hair Test Options
blur_on
5 Panel Hair Follicle Drug Test
blur_on
9 Panel Hair Follicle Drug Test
blur_on
12 Panel Hair Follicle Drug Test
blur_on
Hair Alcohol Test
blur_on
StaffGlass™… the Employer eResults Portal
Employers get free access to premium customer service by phone and our award winning online StaffGlass™ portal. Once securely logged into StaffGlass™, business users can set up their drug testing program, including:
how_to_reg
Securely order pre-employment, random, post-accident, or reasonable suspicion drug testing
how_to_reg
View fastest results
how_to_reg
Order and view eSignature employee documents such as policies and procedures, job applications, and more
how_to_reg
Set up a random drug testing pool or a drug-free workplace program, and add or remove staff to be included
Why Health Street
A Decade Plus of Experience
Health Street has provided drug tests since 2010. The first time we performed drug testing in Orange, CA was in 2015. From then until now, we have completed 179 drug tests at our Orange labs.
Dedicated to Excellence
We are dedicated to providing a level of excellence in drug testing in Orange that is unmatched.
Local Testing Data
Substance Abuse Statistics for California
trending_up
California has had a rate of drug overdose deaths lower than that of the nation since 2004. That rate has held stable since 2013 whereas the national rate has increased.
trending_up
Synthetic opioid related-deaths (mainly fentanyl) spiked sixty percent from 536 in 2017 to 865 in 2018.
trending_up
Heroin related-deaths rose to nearly 800 in 2018 but deaths involving prescription drugs decreased to 1,084 in 2018.
Substance Abuse Statistics for Orange
trending_up
Drug and alcohol deaths jumped 82 percent since 2000 in Orange County with treatment admissions costing around $100 million a year.
trending_up
Orange County averaged 5,500 drug and alcohol hospital admissions from 2013-2015 and around 700 deaths each of those years.
trending_up
Nearly 80 percent of overdose deaths are accidental. Over half are caused by prescription drugs and two thirds by prescribed opioids.
Orange CA Business and Industries:
Top employers in Orange include the University of California Irvine Medical Center employing around 4,000 people, Sister of St. Joseph Hospital, Children's Hospital of Orange County and the Orange County Transportation Authority. The city is close to John Wayne Airport, a regional airport in Southern California.
Locations
Clinic Hours and Information for our Labs in Orange, California
705 W La Veta Avenue
Suite 102
Orange, CA 92868
Pre-registration required,
Walk-in with barcode:
---
Monday: 11:30 AM – 3:30 PM
(M Lunch: 12:30-1 PM)
Tuesday: 11:30 AM – 3:30 PM
(T Lunch: 12:30-1 PM)
Wednesday: 11:30 AM – 3:30 PM
(W Lunch: 12:30-1 PM)
Thursday: 11:30 AM – 3:30 PM
(Th Lunch: 12:30-1 PM)
Friday: 11:30 AM – 3:30 PM
(F Lunch: 12:30-1 PM)
About this Location:
Orange drug testing services are available at our clinic next to Batavia Woods Medical Center.
1010 W La Veta Avenue
Suite 140
Orange, CA 92868
Pre-registration required,
Walk-in with barcode:
---
Monday: 9:00 AM – 3:00 PM
Tuesday: 9:00 AM – 3:00 PM
Wednesday: 9:00 AM – 3:00 PM
Thursday: 9:00 AM – 3:00 PM
Friday: 9:00 AM – 3:00 PM
About this Location:
We offer drug tests in Orange at this location off of Garden Grove Freeway.
867 S Tustin Street
Orange, CA 92866
Pre-registration required,
Walk-in with barcode:
---
Monday: 7:00 AM – 8:30 PM
Tuesday: 7:00 AM – 8:30 PM
Wednesday: 7:00 AM – 8:30 PM
Thursday: 7:00 AM – 8:30 PM
Friday: 7:00 AM – 8:30 PM
Saturday: 9:00 AM – 5:00 PM
Sunday: 9:00 AM – 5:00 PM
About this Location:
We are located near Santa Ana Cemetery by the intersection of Garden Grove and Costa Mesa.
1045 N Tustin
Orange, CA 92867
Pre-registration required,
Walk-in with barcode:
---
Monday: 7:00 AM – 6:00 PM
Tuesday: 7:00 AM – 6:00 PM
Wednesday: 7:00 AM – 6:00 PM
Thursday: 7:00 AM – 6:00 PM
Friday: 7:00 AM – 6:00 PM
About this Location:
You can get occupational health services in Orange at our location near the US Post Office, not far from Handy Park.
Some Orange Neighborhoods That We Serve
location_city
E Chapman Ave./ N Equestrian Dr.
location_city
E Longridge Dr./ E Westridge Dr.
location_city
E Santiago Canyon Rd. / N Santiago Blvd.
location_city
Orange Park Acres
location_city
Cowan Heights
location_city
E Nohl Ranch Rd. / N Santiago Blvd
location_city
E Grove Ave/ Santiago Blvd
location_city
Panorama Heights
location_city
E La Veta Ave/ S Loretta Dr
Local Reviews
By Gladys on 4/25/2018
Bill Carr Surveys Inc.
Louis was very helpful and knew what I needed and directed me. I was able to schedule an appointment for our employee within minutes! Thanks Louis!. Great portal. Great and fast services
By Felice Arboisiere on 3/29/2018
Very nice prompt service
By Keith Stribling on 4/12/2017
Customer service was excellent. Drug urine test. Appreciated her patience as I went through the process of figuring out what to do
By Alex D Sanchez on 2/22/2017
a. Customer service is satisfactory.b. I used your services on my laptop.c. I had to fill out an application with my address and educational background.
By Anne Hendrickson on 12/27/2016
(a) Wonderful service!(b) Long Beach(c) 9 Panel hair follicle
By Elma Hiebert on 8/27/2016
All the people involved in our issue were first rate. From the customer service girl who set up the appointment in break neck speed to the employees at the labclinic we were sent to. Hopefully I won't be in need of future services such as this, but if I did I would use Health Street again. Kudo's to all!!!!
By Cari McWilliams on 8/27/2016
Great services, great experience all round
Citations
menu_book
Substance Use in California: A Look at Addiction and Treatment, 2018, https://www.chcf.org/wp-content/uploads/2018/09/SubstanceUseDisorderAlmanac2018.pdf
menu_book
Orange County, California – Drug & Alcohol Overdose Hospitalization & Death in Orange County, https://www.ochealthinfo.com/about/admin/pubs/od
menu_book
California: Opioid-Involved Deaths and Related Harms, https://www.drugabuse.gov/drug-topics/opioids/opioid-summaries-by-state/california-opioid-involved-deaths-related-harms