DNA Test – Glendale, AZ
Health Street provides DNA tests and legal paternity testing in Glendale, Arizona at 8 testing laboratories. Call (602) 357-9700 or schedule online. We offer legal paternity tests, sibling studies, grandparent DNA tests, avuncular (aunt or uncle) testing, and postmortem DNA testing to determine if people are biologically related.
Set up DNA testing appointments online. Test results can be used in court for child support or to change a birth a certificate; it can also be used for simple peace of mind. Appointments can be scheduled together or separately. Legal DNA tests are done by cheek swab at our testing centers. We can also extract DNA samples from hair follicles, fingernails, and other specimens.
Workforce Screening, Digitally Delivered
Awesome service
Irene
4/5/2021
The process was very easy and quick. Staff was extremely friendly.. we got the test results in just a few days.
Sheniq V
10/9/2020
Very kind and helpful
Juan Gutierrez
7/19/2016
1 of 8
5750 W Thunderbird Road E580 Ab
Glendale
,
AZ
85306
2 of 8
7725 N 43rd Ave Building 4
Phoenix
,
AZ
85051
3 of 8
5410 W Thunderbird Road
Glendale
,
AZ
85306
4 of 8
9494 W Northern Avenue
Glendale
,
AZ
85305
5 of 8
5750 Wthunderbird E580-B
Glendale
,
AZ
85306
6 of 8
18205 N 51st Avenue
Glendale
,
AZ
85308
7 of 8
5750 W Thunderbird Road E580-B
Glendale
,
AZ
85306
8 of 8
5041 W Northern Avenue
Glendale
,
AZ
85301
DNA Test – Glendale, Arizona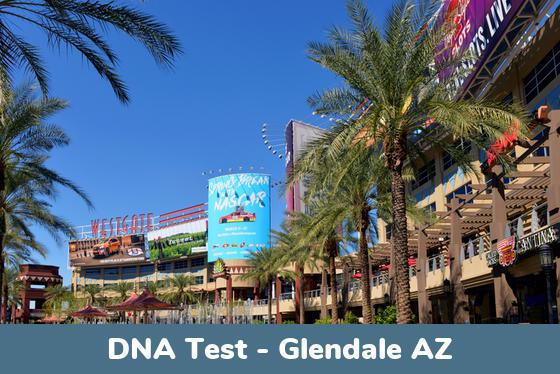 Types of DNA Tests at our Glendale, Arizona locations:
The most commonly ordered DNA test is a Paternity Test to conclusively establish whether or not a man is the biological father of a child.
Paternity Testing can be performed at our testing centers. DNA Testing can be done for other close family relationships, such as:
Specimens we can test for DNA
The easiest and most reliable way to obtain a DNA sample for paternity testing is to swab the inner cheeks of the people being tested. These skin cells are known as buccal cells, and they rub off easily onto cotton swabs and remain in place for analysis by our laboratory. Other specimen samples, such as hair follicles, fingernails, and garments that might contain someone's DNA, can also be tested. An Alternative Specimen DNA Test is done by registering online and shipping the specimens to us.
Legally Admissible DNA Tests vs. "Peace of Mind" At-Home Tests
A Legal Paternity Test is a court admissible DNA testing service. Accurate results for DNA paternity testing with 99.99% confidence or greater take about a week.
When deciding which type of DNA test is right for you, consider first what you might do with the results. In order for the results of a DNA test to hold up in court, for child support, or to change the name on a birth certificate, the test must be done at a clinic using strict chain of custody procedures. Our Glendale DNA testing technicians are trained to follow guidelines that ensure that the results can be used for legal purposes.
How to schedule a DNA Test in Glendale AZ
Scheduling a DNA test at one of our Glendale clinics is simple and fast, and we often have appointments available in the same week. It's always helpful to schedule in advance to make sure you get the time you want. Register online, or please call our customer service team, which can help you book your appointment over the phone.
We have state of the art testing labs and friendly clinics that perform the DNA sample collection in Glendale, plus many more locations throughout Arizona and all across the United States. Not every one of our clinics performs paternity testing in Glendale. We'll show you the nearest locations to get a DNA test in Glendale , AZ so you can choose the testing center that is most convenient. When you register, you can also pick the appointment time and date that you prefer.
Why Health Street
A Decade Plus of Experience
Health Street has provided DNA tests since 2010. The first DNA test we performed in Glendale, AZ was in 2018.
Dedicated to Excellence
We are proud to help families and individuals get DNA testing in Glendale.
Glendale, Arizona – DNA Testing
Establishing paternity in Glendale, AZ
Unmarried parents must establish paternity for the child to have a legal father. It is also necessary to establish paternity before asking for child support. There are several ways that parents can establish paternity in Arizona:
arrow_right_alt
If parents do not sign the AOP at the hospital, they can come to the DCSS (Division of Child Support Services) office to complete the paperwork.
arrow_right_alt
Parents can also file AOP to court to establish legal parentage.
arrow_right_alt
The AOP is also available at all Vital Records Offices.
arrow_right_alt
Parents can establish paternity in court hearings. This is usually the case if one parent is not cooperative or if either parent is not sure who the father is. In that case, the court usually asks them to take a DNA test. Based on the DNA test results, the judge establishes paternity.
DNA test reveals that a woman's colleague is her brother
Sandi Sandrick was adopted. She only found out about it when she was eleven, and her adoptive parents told her the mother's name was Anna. They also informed her that Anna was a distant relative of her adoptive father. Years went by, and even though she was curious, she did not ask any more questions. She did not want to hurt her adoptive parents' feelings.
In 2013, her adoptive mother died, followed by her dad three years later. Her birth mother called her, explaining she always wanted Sandi in her life but promised the adoptive parents that she would not get in touch while they were alive. Anna got pregnant when she was 20 with a guy named Gary, but she was still in love with her ex. She decided to give the baby up, and she lost touch with Gary. She also found out she had a half-sister, and eventually, they all met in 2017.
Sandi took a DNA test, and she found Gary. She also messaged him on Facebook, but he never replied, so she tried to forget about it. Later, a new nurse named Allen started to work at her job. Allen repeatedly stated that Sandi seemed familiar to him, and he wondered if he had somehow met her before. After a while, Sandi noticed he was on Gary's friend's list and asked him how he knew her biological father. At that moment, they realized they were siblings!
Allen and Gary were not close because Gary divorced his mom when he was three, but they were in each other's lives. Sandi met Gary through Allen, and slowly, they are getting to know each other more and more. But, for her, the most important thing is how close she is to her new brother!
Last updated 8/1/2022
Locations
Clinic Hours for DNA Testing in Glendale, Arizona
5750 W Thunderbird Road E580 Ab
Suite B Uds Collections
Glendale, AZ 85306
Pre-registration required,
Walk-in with barcode:
---
Monday: 6:30 AM – 3:00 PM
Tuesday: 6:30 AM – 3:00 PM
Wednesday: 6:30 AM – 3:00 PM
Thursday: 6:30 AM – 3:00 PM
Friday: 6:30 AM – 3:00 PM
About this Location:
For DNA tests in Glendale, Arizona, you can find us very close by to Banner Thunderbird Medical Center.
Some Glendale Neighborhoods That We Serve
location_city
Golden Ridge Hoa
location_city
Patrick Ranch Hoa
location_city
Eyes On Crime
location_city
Sunset Estates
location_city
Coventry Estates
location_city
Missouri Ranch
location_city
Monarch Point
location_city
Randolph Ranch
Additional Services
We also offer other services, such as:
Citations
menu_book
Establish paternity. Establish Paternity | Arizona Department of Economic Security. (n.d.). Retrieved August 1, 2022, from https://des.az.gov/services/child-and-family/child-support/apply-for-child-support/establish-paternity
menu_book
Graham, K. (2021, December 16). DNA test showed colleague was my brother – he kept saying he recognised me. The Sun. Retrieved August 1, 2022, from https://www.thesun.co.uk/fabulous/17043118/dna-colleague-brother-reunited/