Drug Test – Eastvale, CA
Health Street's drug and alcohol testing clinic in Eastvale, California provides comprehensive pre-employment drug screening services. Call (951) 398-0332 or register online for drug testing services. Drug and alcohol testing options include DOT and non-DOT urine drug tests, breath alcohol tests, EtG alcohol tests, and hair drug testing.
Register for a urine or hair drug test at one of our drug testing centersfor your employees, yourself, or another person. Just choose your test and pick a location. A registration barcode will be sent to the person you specify. A map will accompany this authorization code. Test results are fast, reported securely, and stored in our online portal.
Workforce Screening, Digitally Delivered
Yes, thank you, everything worked good, I used the facility in eastvale on limonite ave. Everybody was most excellent. Felt much safer using health street. Thank you
Scott Stokes
10/27/2021
Your web page didnt have the test I needed ( non-dot five point quantitative test) havent submitted it yet so I was told by the person who collected the specimen he could only do what was on his computer. So well see if it was the test I needed. And when I called I was told I couldnt do a test for myself, so I called my evaluator and he gave me another one of your numbers to call,
Scott Alan
9/7/2021
1 of 1
14220 Schleisman Road
Eastvale
,
CA
92880
Drug Testing in Eastvale, California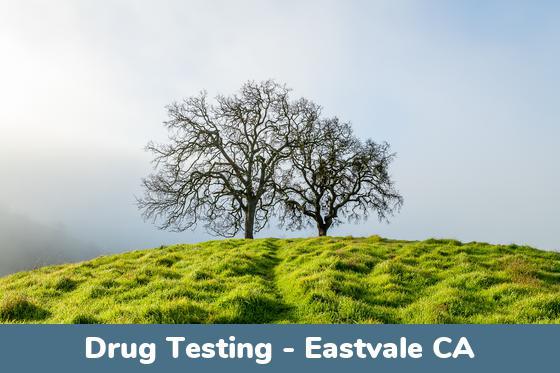 Get a Drug Test in Eastvale, California Right Now
Health Street has the largest selection of drug testing and employment screening services in Eastvale. Employers can access our services to set up a drug free workplace, families can get court ordered drug testing, and attorneys and private individuals can register for non-DOT drug tests, Department of Transportation (DOT) drug tests, and more.
Available Drug Testing Methods
Popular Drug Testing Panels
Specialized Categories of Tests
category
Choose from our
Alcohol Testing
options (such as breathalyzer, EtG test, or PEth blood alcohol)
DOT Drug Testing in Eastvale, California
Learn about our DOT drug and alcohol testing services, and how your company can maintain Department of Transportation (DOT) Compliance with 46 CFR Part 40, including:
Employee Drug Testing: eResults Portal for Employers
Business users get access to the amazing StaffGlass™ eResults portal. When logged in, human resources and other company executives can manage their drug testing program, including:
how_to_reg
Register for drug screenings for reasons such as: pre-employment, random, post-accident, or reasonable suspicion.
how_to_reg
Get fast, accurate results in a safe and secure online portal.
how_to_reg
Find a drug test clinic in Eastvale, CA or pick from our lab testing locations anywhere in the United States; you can order your test online, view results, and check status of all tests
how_to_reg
Manage eSign documents related to the testing process
how_to_reg
Set up a DOT random pool, add or remove drivers, and easily update their employment status.
how_to_reg
The StaffGlass™ eResults Portal is backed up by world class customer service.
Live support from our U.S. based Call Center is available: Monday through Friday: 4:30 AM to 4:00 PM Pacific Time.
Why Health Street
A Decade Plus of Experience
Health Street has provided drug tests since 2010. The first time we performed drug testing in Eastvale, CA was in 2020.
Dedicated to Excellence
We are dedicated to providing a level of excellence in drug testing in Eastvale that is unmatched.
Local Testing Data for Eastvale CA
Notable Historical Events Related to Drug Use in Eastvale, CA
In February 2021, a man from Eastvale, CA was charged with the murder after selling a fentanyl-laced pill to the victim. This was a first for Eastvale and all of Riverside County.
The man's charges include second-degree murder in connection with the death of an 18-year-old man, also from Eastvale. He was also charged with sales of a controlled substance to a minor.
A sixteen-year-old also overdosed on one of these pills but survived.
In 2013, in two different Eastvale, CA homes, an investigation led to the discovery of over 1,500 marijuana plants. The houses were organized for the purpose of producing drugs. After executing a search warrant, officers seized 1,266 marijuana plants.
Substance Abuse Trends and Statistics for the City of Eastvale, CA and Riverside County
arrow_right
As of 2018,
Riverside County
saw a 51.8 percent increase in unintentional drug-related overdose deaths within the last decade. In 2006, the county's rate was 10 per 100,000 residents. This number increased to 15.2 per 100,000 individuals in 2015.
arrow_right
From 2006-2015, all races saw a rise in unintentional drug-related deaths.
arrow_right
From 2011-2015 in Eastvale and Riverside County, overdoses related to opioids increased by 10 percent.
arrow_right
Between 2011-2015, heroin-related deaths increased by 80 percent in Eastvale and Riverside County.
arrow_right
In 2015 in Riverside County, heroin was involved in 1 of 4 fatal overdoses.
arrow_right
When compared to the U.S. and state of California, Riverside County had the lowest percentage of fatal opioid overdoses in 2018.
arrow_right
As of 2018, Riverside County's opioid-related death rate was 4.3 per 100,000 residents, which was higher than the rate of 3.0 per 100,000 in Los Angeles and 1.6 per 100,000 in San Bernardino.
arrow_right
Between 2013 and 2015 in Riverside and San Bernardino Counties, the DEA seized a total of 770 pounds of heroin and 6,500 pounds of methamphetamine. This equates to 25 percent of methamphetamine and 10 percent of all heroin seized by agents throughout the United States between 2012-2014.
Locations
Clinic Hours and Information for our Labs in Eastvale, California
14220 Schleisman Road
Eastvale, CA 92880
Pre-registration required,
Appointment Required.
---
Monday: 9:00 AM – 5:30 PM
(M Lunch: 1-2 PM)
Tuesday: 9:00 AM – 5:30 PM
(T Lunch: 1-2 PM)
Wednesday: 9:00 AM – 5:30 PM
(W Lunch: 1-2 PM)
Thursday: 9:00 AM – 5:30 PM
(Th Lunch: 1-2 PM)
Friday: 9:00 AM – 5:30 PM
(F Lunch: 1-2 PM)
Saturday: 9:00 AM – 5:30 PM
(Sa Lunch: 1-2 PM)
Sunday: 9:00 AM – 5:30 PM
(Su Lunch: 1-2 PM)
About this Location:
You can obtain occupational health in Eastvale, California by visiting us at this location. It is close to Deer Creek Park.
Additional Services
Health Street offers a variety of other services, including:
Citations
menu_book
McAllister, Toni. "RivCo DA Files First-Ever Murder Charge Against Fentanyl Dealer." Patch, 22 February 2021, https://patch.com/california/temecula/rivco-da-files-first-ever-murder-charge-against-fentanyl-dealer
menu_book
Pamer, Melissa. "Two Busts of Indoor Pot Farms Net More Than 1,500 Marijuana Plants." NBC Los Angeles, 29 June 2013, https://www.nbclosangeles.com/news/local/indoor-pot-farm-with-nearly-1300-plants-discovered-in-eastvale/1953875/