DNA Test – College Station, TX
Health Street provides DNA testing in College Station, Texas at our centrally located testing center. Register now, or call us at (979) 201-5854 or schedule online. with any questions. Our paternity testing (including grandparent DNA tests, avuncular (aunt or uncle) testing, and postmortem DNA testing) determines if two or more people are related.
Shedule an appointment for a DNA test quickly and easily. The parties can come together or you can set up separate appointments. Grandparent DNA tests, avuncular (aunt or uncle) testing, and postmortem DNA testing are also available. Legal DNA tests are done at our testing centers. Peace of mind DNA tests can be done at home by cheek swab, hair, or fingernails.
Workforce Screening, Digitally Delivered
I dealt with 2 different facilities and both locations were professional, helpful and is a first class company. Thanks for the speedy results.
Paul johnson
11/6/2020
1 of 1
1602 Rock Prairie Road
College Station
,
TX
77845
DNA Test – College Station, Texas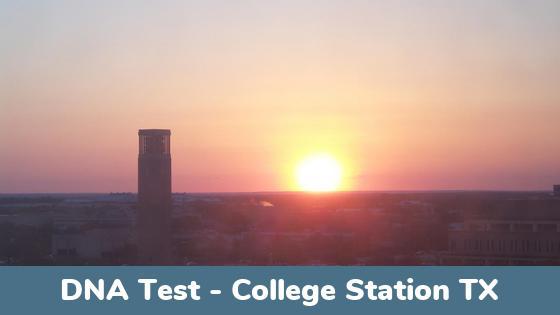 Types of DNA Tests at our College Station, Texas clinics:
Paternity Testing can conclusively establish whether or not a man is the biological father of a child.
Relationship Testing for other close family relationships can be performed at our testing centers. Our DNA testing services can confirm or deny biological relationships between grandparents, grandchildren, siblings, half-siblings, aunts, uncles, nieces and nephews:
Specimens we can test for DNA
The easiest and most reliable way to obtain a DNA sample for paternity testing is to swab the inner cheeks of the alleged father and child or children. These skin cells are known as buccal cells, and they rub off easily onto cotton swabs and remain in place for analysis by our laboratory.
Other specimen samples, such as hair follicles, fingernails, and garments that might contain someone's DNA, can also be tested. An Alternative Specimen DNA Test is done by ordering one of our testing kits online and shipping the specimens back to us.
Legal DNA Tests vs. "Peace of Mind" At-Home Tests
A Legal Paternity Test is a court admissible lab testing service performed at an AABB accredited laboratory. Accurate results for DNA paternity testing with 99.99% confidence or greater take about a week.
When deciding which type of DNA test is right for you, consider first what you might do with the results. A legal paternity DNA test will hold up in court for such matters as child support or to change the name on a birth certificate. This test must be performed using strict chain of custody procedures. Our College Station DNA testing technicians are trained to follow these guidelines so that the results will be legally admissible.
How to schedule a DNA Test in College Station TX
Scheduling a DNA test at one of our College Station clinics is simple and fast, and we often have appointments available in the same week. It's always helpful to schedule in advance to make sure you get the time you want. Please call our customer service team to help you book your appointment over the phone, or set up your appointment easily online.
We have state of the art testing labs and friendly clinics that perform the DNA sample collection in College Station, plus many more locations throughout Texas and across the United States. During registration, we'll show you the nearest locations for DNA testing so you can choose the site that's most convenient. You'll also pick the times and days that you prefer.
Why Health Street
More than a Decade of Experience
Since 2010, Health Street has offered DNA tests in College Station, the state of College Station, Texas, and throughout the nation. The first DNA test that Health Street provided in College Station, TX was in 2018.
Commitment to Excellence
Our mission is to understand the DNA testing needs of our clients. We strive to provide the most accurate, fast, and conclusive paternity tests in College Station.
DNA Info for College Station
Maintaining Parental Rights in College Station, TX
Under Texas law, when a married College Station couple has a child, the husband is automatically granted legal rights over the child as it is assumed he is the biological father. For an unmarried father to hold and maintain parental rights over his child, both parents will need to legally establish paternity with the state of Texas.
To establish paternity, a couple must complete and file an Acknowledgment of Paternity (AOP). An opportunity to complete this form will first be presented at the hospital following the child's birth. However, it can be completed at a later date through a Brazos County Certified AOP entity. If a mother doesn't agree to complete an AOP with the child's father, it's recommended he file a petition with Brazos County Family Court. From here, a judge can request court-ordered DNA testing to confirm and enforce the father's paternity.
Paternity Programs in College Station, TX
The state of Texas developed the Paternity Registry program to protect the parental rights of a man who believes he has fathered a child. By completing and submitting a Notice of Intent to Claim Paternity with the Texas Vital Statistics Unit before or within 31 days of a child's birth, a man's parental rights are protected in the event of an adoption.
Whether he has no ongoing relationship with the mother or she doesn't agree he is the father, this registry will notify the man of any adoptive actions placed over his presumed child. Bear in mind that submitting to this registry does not establish paternity nor place your name on the child's birth certificate.
Experts in College Station, TX Say…
Not always after a paternity establishment will two College Station, TX parents be able to construct a custody agreement without dispute. If you and your child's mother or father cannot settle on a fair plan that is healthy and stable for the child, it's highly recommended to seek legal assistance in court to establish a parenting plan.
According to College Station Family Law Attorney Jana Foreman, numerous factors will be examined when developing a custody agreement. This includes the level of capability towards raising the child, stability of current home settings, and specific needs of the child. Once these factors and more are considered, a Brazos County Family Court Judge will construct and mandate a plan that works best towards the wellbeing of the child.
Locations
Clinic Hours for DNA Testing in College Station, Texas
1602 Rock Prairie Road
Suite 130b
College Station, TX 77845
Pre-registration required,
Walk-in with barcode:
---
Monday: 8:30 AM – 3:30 PM
Tuesday: 8:30 AM – 3:30 PM
Wednesday: 8:30 AM – 3:30 PM
Thursday: 8:30 AM – 3:30 PM
Friday: 1:30 PM – 3:30 PM
About this Location:
You can obtain DNA testing in College Station, Texas by visiting us at this location. It is down the block from Bachmann Park.
Neighborhoods In and Around College Station That We Serve
location_city
College Park
location_city
Emerald Forest
location_city
Indian Lakes
location_city
Peach Crossing
Additional Services
We also offer other services, such as:
Citations
menu_book
"Acknowledgement of Paternity (AOP)." Ken Paxton Attorney General of Texas, https://www.texasattorneygeneral.gov/child-support/paternity/acknowledgement-paternity-aop
menu_book
"Find an AOP Certified Entity." Ken Paxton Attorney General of Texas, https://csapps.oag.texas.gov/find-AOP-certified-entity
menu_book
"Associate Family Court." County of Brazos, https://www.brazoscountytx.gov/124/Associate-Family-Court
menu_book
"Notice of Intent to Claim Paternity." Texas Department of State Health Services, https://www.dshs.texas.gov/vs/field/docs/vs130(2).pdf
menu_book
"Family Law Services – Child Custody." Foreman Family Law, https://www.foremanfamilylaw.com/family-law-services/child-custody/
menu_book
"College Station Neighborhoods." The Hudson Team, https://kendrahudson.com/college-station-neighborhoods/