Drug Testing in Burlington, North Carolina
Health Street's drug testing centers in Burlington, North Carolina offer easy-to-access and comprehensive drug and alcohol testing services. Pre-register by calling (336) 308-0195 or setting up your drug testing online. Options include urine or hair drug testing, DOT or non-DOT drug tests, and alcohol testing.
You can register for drug testing in Burlington, NC for your employees, yourself, or another person. Just select a urine test or hair drug test; then, pick the most convenient Health Street location – we have 3 clinics in Burlington. Upon registration, a barcode will be sent to whomever you register, which can be presented at the testing facility. Test results are reported back to you securely online with a very fast turnaround time.
Workforce Screening, Digitally Delivered
Shervon was super fast and knowledgeable. We had employees waiting at the facility and she was very helpful!. We haven't really used it yet so I don't want to speak of something I don't know.
Edie
12/14/2018
DiamondBack Investment Group LLC
Drew answered all my questions and very quick process. Thank You again. Seems to be efficient and easy to us. Great turn around time.. Scheduling was really quick.
Alfreda
10/4/2018
Parkers Family Care Home
Very polite, quick and easy transaction. Would be happy to deal with again. A
Jason halls
2/2/2018
Customer Service was excellent.Random drug testing
Rose Hogan
5/11/2017
Setting up the drug screen was a pleasant experience. The collection site was professional and courteous. The results on the screening was completed quickly.
KM
4/14/2017
1 of 3
1690 Westbrook Avenue
Burlington
,
NC
27215
2 of 3
104 Huffman Mill Road
Burlington
,
NC
27215
3 of 3
2585 South Church Street
Burlington
,
NC
27215
Drug Testing in Burlington, North Carolina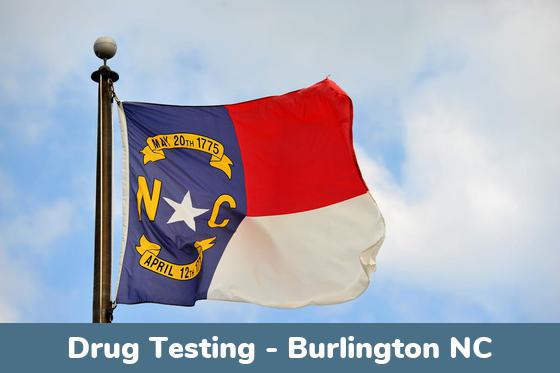 Types of Drug Testing in Burlington, North Carolina
Health Street offers drug testing services such as: 5 panel drug test up to 22 panels, Department of Transportation DOT drug test, rapid results or laboratory testing, with or without alcohol EtG test included, the option to exclude THC, and more. Get these tests done at any of our Burlington drug testing locations.
Our selection of chain of custody urine drug testing services and drug screenings allow you to test for nearly any drug consumed in the recent past. They are recommended for employee drug testing or court orders. The number of panels in a panel drug test refers to classes of drugs (i.e., marijuana, cocaine, etc.).
This is the traditional, basic urine drug test for street drugs, including:
check_circle
Marijuana (THC, cannabinoids, weed)
check_circle
Amphetamines (Adderall, Ritalin, methamphetamines)
check_circle
Basic Opiates (heroin, morphine, codeine)
check_circle
Phencyclidine (PCP – angel dust)
This is urine testing that includes all of the above plus the following prescription drugs:
check_circle
Benzodiazepines (Valium, Klonopin, Xanax)
check_circle
Barbiturates
check_circle
Propoxyphene
This is a great option for employment drug testing in Burlington NC – it includes well known street drugs and prescription drugs, including all 9 of the ones listed above, plus methaqualone.
***Health Street Recommends 12 Panel***
expanded opiates
and Ecstasy. This test is a 10 panel plus:
check_circle
MDMA/6AM (Ecstasy, Molly)
check_circle
Hydromorphone (Vicodan, Percocet, Oxycontin)
16 Panel Opiate Drug Test – $250
As the opioid epidemic continues to rise and impact Burlington, it is important to be aware that many of the dangerous, synthetic opiates are not picked up by lower panel tests. Our 16 panel picks up these 4 additional opiate classes in addition to the drugs included above:
check_circle
Meperidine (Demerol)
check_circle
Buprenorphine (Suboxone)
There are many more urine drug screening options offered at our Burlington NC facilities, which go all the way up to a 22 panel drug test, including specialized tests for synthetic marijuana, bath salts, nicotine, ketamine, rohypnol, and more. For results of chain of custody testing with MRO review, we are widely considered to be the fastest lab in Burlington. Drug testing in Burlington NC is easy with Health Street.
Alcohol Testing in Burlington , North Carolina
Alcohol testing is done through urine, hair, breath, or blood. Basic urine alcohol tests (12 hour look-back) or EtG urine alcohol testing (3 day look-back) can be added to any of our drug testing panels, or they can be done on a standalone basis. Choose the type of alcohol drug testing that looks back at the specific period of time that matters to you:
category
Breath Alcohol Tests
are the most appropriate tests to use in the workplace if on-the-job alcohol use is suspected, or after any accidents.
On-site breathalyzers
in the Burlington NC area are also available for emergencies.
category
Hair EtG Test
is a hair follicle alcohol test that goes back 3 months
DOT Drug and Alcohol Testing Services – Burlington NC
Health Street's Burlington facilities offer DOT drug and breath alcohol tests that comply with 46 CFR Part 40. Urine specimens are processed at SAMHSA certified laboratories. Members of our Random Pool get discounts on DOT drug testing.
Health Street administers DOT Random Pools for companies of all sizes based in and around Burlington, across North Carolina. Our local presence combined with our national clinic network and easy online pool management makes DOT compliance a breeze.
Many Burlington businesses and residents are involved, directly or indirectly, with maritime, and therefore, they are regulated by the United States Coast Guard and must comply with the strict USCG regulations. Our Burlington clinics offer a specially designated USCG Merchant Marines Drug Test Package, which includes everything you need to meet the USCG DOT drug test requirements.
Hair Follicle Drug Testing Burlington , NC
Hair drug tests can detect drug or alcohol use for a far greater period of time – 90 days – than a standard urine drug test. Hair drug testing is performed at our Burlington drug testing places. We cut a small amount of either head hair or body hair. The hair is analyzed by our testing laboratory. We offer several panel drug tests.
Hair Drug Test Options
blur_on
5 Panel Hair Follicle Drug Test
blur_on
9 Panel Hair Follicle Drug Test
blur_on
12 Panel Hair Follicle Drug Test
blur_on
Hair Alcohol Test
blur_on
StaffGlass™… the Employer eResults Portal
Employers get free access to premium customer service by phone and our award winning online StaffGlass™ portal. Once securely logged into StaffGlass™, business users can set up their drug testing program, including::
how_to_reg
Securely order pre-employment, random, post-accident, or reasonable suspicion drug testing
how_to_reg
View fastest results
how_to_reg
Order and view eSignature employee documents such as policies and procedures, job applications, and more
how_to_reg
Set up a random drug testing pool or a drug-free workplace program, and add or remove staff to be included
Why Health Street
More than a Decade of Experience
Since 2010, Health Street has provided drug testing in Burlington as well as thousands of other cities nationwide. The first drug test that Health Street performed in Burlington, NC was in 2012. From then until now, we have processed 73 drug tests in Burlington.
Commitment to Excellence
Our goal is to provide the best possible drug testing Burlington employers and residents.
Local Testing Data
Stats on Substance Abuse in North Carolina
wb_incandescent
North Carolina health care professionals wrote 72 opioid prescriptions for every 100 people in 2017. The national average rate was 58.7 the same year.
wb_incandescent
The overdose death rate related to opioid prescriptions was 6.5 deaths per 100,000 persons in 2017 and has remained steady for several years.
wb_incandescent
North Carolina Governor Cooper has dedicated millions of dollars to aid mental health and law enforcement in their efforts to combat the opioid crisis, including millions in 2017.
Stats on Substance Abuse in Burlington
lightbulb_outline
From January 2017 to August 2017, the Alamance County law enforcement reported 93 overdose cases with 17 being death investigations. Of all the overdose in that time, Burlington Police reported 35 cases plus the highest number of deaths with nine.
lightbulb_outline
Burlington Police, as well as several other local police departments, treat overdoses as criminal investigations.
lightbulb_outline
Burlington police now acknowledge that cocaine and fentanyl are regularly being used in the city and are being mixed.
Burlington NC Business and Industries:
According to the North Carolina Department of Commerce, heading into 2020, Burlington and the greater Alamance County ranks 26th out of the state's 100 counties in terms of economic stability. Alamance County is sixth-fastest growing county in the state and the Burlington metro area has seen 6.44 percent growth over the past year. This is double that of Greensboro-High Point and Winston-Salem.
As companies and businesses see the boom in growth, experts predict that Burlington will grow around 15.4 percent over the next two decades, ballooning Alamance's population to almost 200,000 people.
Locations
Clinic Hours and Information for our Labs in Burlington, North Carolina
1690 Westbrook Avenue
Burlington, NC 27215
Pre-registration required,
Walk-in with barcode:
---
Monday: 7:30 AM – 3:30 PM
(M Lunch: 12-1 PM)
Tuesday: 7:30 AM – 3:30 PM
(T Lunch: 12-1 PM)
Wednesday: 7:30 AM – 3:30 PM
(W Lunch: 12-1 PM)
Thursday: 7:30 AM – 3:30 PM
(Th Lunch: 12-1 PM)
Friday: 7:30 AM – 3:30 PM
(F Lunch: 12-1 PM)
About this Location:
To obtain instant drug testing in Burlington, North Carolina, visit us at this location, which is just a few blocks from Joe C. Davidson Park.
104 Huffman Mill Road
Burlington, NC 27215
Pre-registration required,
Walk-in with barcode:
---
Monday: 8:00 AM – 7:30 PM
Tuesday: 8:00 AM – 7:30 PM
Wednesday: 8:00 AM – 7:30 PM
Thursday: 8:00 AM – 7:30 PM
Friday: 8:00 AM – 7:30 PM
Saturday: 9:00 AM – 4:30 PM
Sunday: 10:00 AM – 5:30 PM
About this Location:
This location is down the block from Marvin B. Smith Elementary School. We look forward to serving you here.
2585 South Church Street
Burlington, NC 27215
Pre-registration required,
Walk-in with barcode:
---
Monday: 9:00 AM – 3:30 PM
(M Lunch: 11:30-1:30 PM)
Tuesday: 9:00 AM – 3:30 PM
(T Lunch: 11:30-1:30 PM)
Wednesday: 9:00 AM – 3:30 PM
(W Lunch: 11:30-1:30 PM)
Thursday: 9:00 AM – 3:30 PM
(Th Lunch: 11:30-1:30 PM)
Friday: 9:00 AM – 3:30 PM
(F Lunch: 11:30-1:30 PM)
About this Location:
We are across from Turrentine Middle School.
Some Burlington Neighborhoods That We Serve
location_city
Huffman Mill Road
location_city
Kirkpatrick Road
location_city
Lakeview Hopedale
location_city
Chapel Hill Road
Local Reviews
By Louis on 7/1/2016
It was an outstanding service, this calls are very embarrassing to make but he made me feel confortable and absolutely will use this service again.
Citations
menu_book
Opioids in Alamance: Where we stand, how we're fighting, https://www.thetimesnews.com/news/20171102/opioids-in-alamance-where-we-stand-how-were-fighting
menu_book
Burlington, Alamance County see improved economic stability ranking, https://www.thetimesnews.com/news/20191219/burlington-alamance-county-see-improved-economic-stability-ranking
menu_book
Discover your Burlington neighborhood, https://nextdoor.com/city/burlington–nc/