DNA Test – Berkeley, CA
Health Street offers DNA testing, legal paternity tests, and sibling DNA tests in Berkeley, California at 4 conveniently located testing centers. Register now, or call us at (415) 335-4260 with any questions. Our paternity testing (including grandparent DNA tests, avuncular (aunt or uncle) testing, and postmortem DNA testing) determines if two or more people are related.
Schedule your Berkeley DNA test appointment online. Our legal DNA test results can be used in court for matters such as: child support, birth certificates, and custody cases. Appointments can be scheduled together or separately. Legal DNA tests are done by cheek swab at our testing centers. We also offer home DNA test kits for peace of mind. DNA can be tested from hair, fingernails, and other specimens.
Workforce Screening, Digitally Delivered
1 of 4
2850 Telegraph Ave
Berkeley
,
CA
94705
2 of 4
2915 Telegraph Avenue
Berkeley
,
CA
94705
3 of 4
3000 Colby Street
Berkeley
,
CA
94705
4 of 4
2850 7th Street
Berkeley
,
CA
94710
DNA Test – Berkeley, California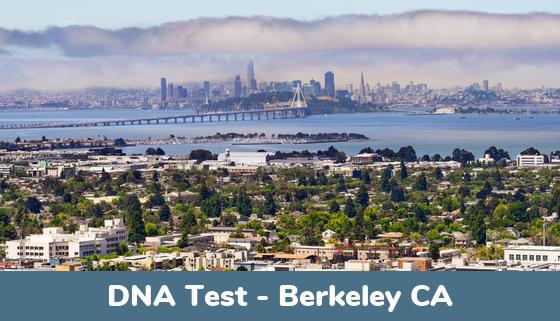 Types of DNA Tests at our Berkeley, California clinics:
Paternity Testing can conclusively establish whether or not a man is the biological father of a child.
Relationship Testing for other close family relationships can be performed at our testing centers. Our DNA testing services can confirm or deny biological relationships between grandparents, grandchildren, siblings, half-siblings, aunts, uncles, nieces and nephews:
Specimens we can test for DNA
The easiest and most reliable way to obtain a DNA sample for paternity testing is to swab the inner cheeks of the alleged father and child or children. These skin cells are known as buccal cells, and they rub off easily onto cotton swabs and remain in place for analysis by our laboratory.
Other specimen samples, such as hair follicles, fingernails, and garments that might contain someone's DNA, can also be tested. An Alternative Specimen DNA Test is done by ordering one of our testing kits online and shipping the specimens back to us.
Legal DNA Tests vs. "Peace of Mind" At-Home Tests
A Legal Paternity Test is a court admissible lab testing service performed at an AABB accredited laboratory. Accurate results for DNA paternity testing with 99.99% confidence or greater take about a week.
When deciding which type of DNA test is right for you, consider first what you might do with the results. A legal paternity DNA test will hold up in court for such matters as child support or to change the name on a birth certificate. This test must be performed using strict chain of custody procedures. Our Berkeley DNA testing technicians are trained to follow these guidelines so that the results will be legally admissible.
How to schedule a DNA Test in Berkeley CA
Scheduling a DNA test at one of our Berkeley clinics is simple and fast, and we often have appointments available in the same week. It's always helpful to schedule in advance to make sure you get the time you want. Please call our customer service team to help you book your appointment over the phone, or set up your appointment easily online.
We have state of the art testing labs and friendly clinics that perform the DNA sample collection in Berkeley, plus many more locations throughout California and across the United States. During registration, we'll show you the nearest locations for DNA testing so you can choose the site that's most convenient. You'll also pick the times and days that you prefer.
Why Health Street
More than a Decade of Experience
Since 2010, Health Street has offered DNA tests in Berkeley, the state of Berkeley, California, and throughout the nation. The first DNA test that Health Street provided in Berkeley, CA was in 2020.
Commitment to Excellence
Our mission is to understand the DNA testing needs of our clients. We strive to provide the most accurate, fast, and conclusive paternity tests in Berkeley.
Berkeley, California – DNA Testing
Nine-Nine Actor Andy Samberg Helps Berkeley Mom Find Her Birth Parents
The normally private Samberg agreed to be on the PBS show, Finding Your Roots, to help his mother, Berkeley resident Margie Samberg, discover who her birth parents were. At age 7, she discovered that she had been adopted, and was told that her biological mom and dad, both lawyers in California, were killed in a car accident. All she knew was that her mother was Jewish and that her grandparents were doctors.
Growing up in the Claremont section of Berkeley, the Samberg family wondered about their mom's parents. After the show's 15 staff genealogists poured over Samberg's personal data, they found the identities and photographs of both parents. Her mother's family were German Jews who immigrated from Germany to Berkeley, California during World War II.
Samberg's mother had a brief relationship with her father, and as an unwed mother in 1946 with a budding career in child psychology, she decided to give the baby up for adoption. Further research found that although her mother did not have any other children, her father had. Samberg was able to meet three half-brothers, who all lived in the Bay Area, and their extended families.
How to Establish Paternity in Berkeley
In the state of California, a child's paternity is presumed when the child is born to a married couple. However, according to Dominion Law Group, which serves Berkeley and the surrounding area, when a child is born to an unmarried couple, the process of establishing paternity is a bit more complex. The easiest way to establish paternity is for both parents to sign a Voluntary Declaration of Parentage at the hospital when the child is born.
Patents can also sign the declaration later. In this case, the form must be filed at a local child support agency, welfare office, or a local superior court with a family law facilitator available. Once the form has been completed, it must be filed with the California Department of Child Support Services Paternity Opportunity Program. Once legal paternity has been established, the judge can issue a ruling regarding visitation, custody, and child support.
Benefits of Establishing Paternity
While establishing legal paternity does require some effort, attorneys at the Alameda County-based Law Offices of Gerald A. Falzone explain that there are many benefits to doing so. This includes:
arrow_forward
Parental rights – Both the child's mother and father will have equal rights to make decisions regarding the child's schooling, religious upbringing, medical treatment, and other critical decisions. Once paternity is established, the child's father can also request visitation and/or custody rights.
arrow_forward
Medical information – Once a child knows the identity of his or her biological father, they will have access to important information regarding their family medical history.
arrow_forward
Legal and financial benefits – After parentage is established, the father is responsible for providing financial support to the child. The child can also legally receive an inheritance from the father and access to the father's military benefits, Social Security benefits, health insurance benefits, and more.
Last updated 10/25/2022
Locations
Clinic Hours for DNA Testing in Berkeley, California
2850 Telegraph Ave
Suite 212
Berkeley, CA 94705
Pre-registration required,
Walk-in with barcode:
---
Monday: 9:30 AM – 4:00 PM
Tuesday: 9:30 AM – 4:00 PM
Wednesday: 9:30 AM – 4:00 PM
Thursday: 9:30 AM – 4:00 PM
Friday: 9:30 AM – 4:00 PM
About this Location:
If you are looking for DNA tests in Berkeley, California, you can find us just a few blocks from Alta Bates Summit Medical Center | Alta Bates Campus.
2915 Telegraph Avenue
Suite 100
Berkeley, CA 94705
Pre-registration required,
Walk-in with barcode:
---
Monday: 10:30 AM – 4:00 PM
Tuesday: 10:30 AM – 4:00 PM
Wednesday: 10:30 AM – 4:00 PM
Thursday: 10:30 AM – 4:00 PM
Friday: 10:30 AM – 4:00 PM
About this Location:
You can obtain DNA tests in Berkeley, California by visiting us at this location. It is in walking distance from Grove Park.
3000 Colby Street
Suite 100
Berkeley, CA 94705
Pre-registration required,
Walk-in with barcode:
---
Monday: 9:30 AM – 4:30 PM
Tuesday: 9:30 AM – 4:30 PM
Wednesday: 9:30 AM – 4:30 PM
Thursday: 9:30 AM – 4:30 PM
Friday: 9:30 AM – 4:30 PM
About this Location:
We are located in walking distance from Willard Middle School. You can't miss us.
Neighborhoods Served in Berkeley
location_city
Downtown Berkeley
location_city
Glendale-Terraceview
location_city
Grizzly Peak
location_city
Lorin District
location_city
Lower Hillcrest
location_city
Mcgee-Spaulding
location_city
Monterey Hopkins
location_city
Panoramic Hill
location_city
Rose District
location_city
San Benito Road
location_city
South Berkeley
location_city
Wildcat Hills
Additional Services
We also offer other services, such as:
Citations
menu_book
Dinkelspiel, Frances. "Andy Samberg gives his Berkeley mother a gift: the truth about her birth parents." Berkeleyside, 9 January 2019, https://www.berkeleyside.org/2019/01/09/andy-samberg-gives-his-berkeley-mother-a-gift-the-truth-about-her-birth-parents
menu_book
Bloom, David. "Establishing Paternity in California." Dominion Law Group, LLP, https://dominionlaw.com/establishing-paternity-in-california/
menu_book
"Voluntary Declaration of Parentage (VDOP)." California Department of Child Support Services, https://childsupport.ca.gov/wp-content/uploads/sites/252/POP/DCSS-0909_ENG.pdf
menu_book
"Establishing Legal Parentage." California Child Support Services, https://childsupport.ca.gov/establishing-legal-parentage/
menu_book
"What You Need to Know About Paternity Law in California." Law Offices of Gerard A. Falzone, Attorney At Law, https://www.gfalzonelaw.com/need-know-about-paternity-law-california/
menu_book
"Discover your Berkeley neighborhood.' Nextdoor, https://nextdoor.com/city/berkeley–ca/