DNA Test – San Francisco, CA
Health Street provides DNA tests and legal paternity testing in San Francisco, California at 7 testing laboratories. Call (415) 233-4549 or schedule online. We offer legal paternity tests, sibling studies, grandparent DNA tests, avuncular (aunt or uncle) testing, and postmortem DNA testing to determine if people are biologically related.
Set up DNA testing appointments online. Test results can be used in court for child support or to change a birth a certificate; it can also be used for simple peace of mind. Appointments can be scheduled together or separately. Legal DNA tests are done by cheek swab at our testing centers. We can also extract DNA samples from hair follicles, fingernails, and other specimens.
Workforce Screening, Digitally Delivered
Very good customer service. I used Health Street for my prenatal DNA testing.
A Adams
9/27/2017
Thanks so much for my order.The receptionist was excellent very. attentive to my order She was a great listener,compassionate to my long story.Thanks so much! Health Street A great community service
Sam hom
12/16/2016
1 of 7
2233 Post Street
San Francisco
,
CA
94115
2 of 7
2300 Sutter Street
San Francisco
,
CA
94115
3 of 7
2201 Post Street
San Francisco
,
CA
94115
4 of 7
2198 15th Street
San Francisco
,
CA
94114
5 of 7
2 Connecticut Street
San Francisco
,
CA
94107
6 of 7
26 California Street
San Francisco
,
CA
94111
7 of 7
9 Silliman Street
San Francisco
,
CA
94134
DNA Test – San Francisco, California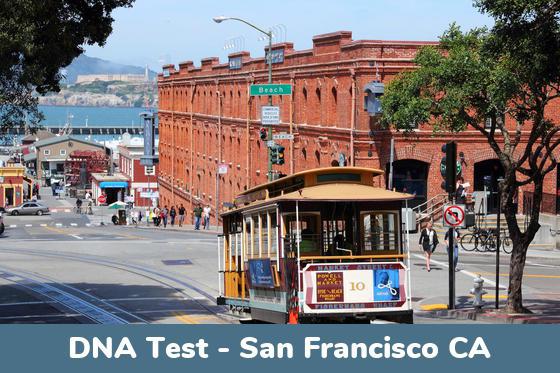 Types of DNA Tests at our San Francisco, California locations:
The most commonly ordered DNA test is a Paternity Test to conclusively establish whether or not a man is the biological father of a child.
Paternity Testing can be performed at our testing centers. DNA Testing can be done for other close family relationships, such as:
Specimens we can test for DNA
The easiest and most reliable way to obtain a DNA sample for paternity testing is to swab the inner cheeks of the people being tested. These skin cells are known as buccal cells, and they rub off easily onto cotton swabs and remain in place for analysis by our laboratory. Other specimen samples, such as hair follicles, fingernails, and garments that might contain someone's DNA, can also be tested. An Alternative Specimen DNA Test is done by registering online and shipping the specimens to us.
Legally Admissible DNA Tests vs. "Peace of Mind" At-Home Tests
A Legal Paternity Test is a court admissible DNA testing service. Accurate results for DNA paternity testing with 99.99% confidence or greater take about a week.
When deciding which type of DNA test is right for you, consider first what you might do with the results. In order for the results of a DNA test to hold up in court, for child support, or to change the name on a birth certificate, the test must be done at a clinic using strict chain of custody procedures. Our San Francisco DNA testing technicians are trained to follow guidelines that ensure that the results can be used for legal purposes.
How to schedule a DNA Test in San Francisco CA
Scheduling a DNA test at one of our San Francisco clinics is simple and fast, and we often have appointments available in the same week. It's always helpful to schedule in advance to make sure you get the time you want. Register online, or please call our customer service team, which can help you book your appointment over the phone.
We have state of the art testing labs and friendly clinics that perform the DNA sample collection in San Francisco, plus many more locations throughout California and all across the United States. Not every one of our clinics performs paternity testing in San Francisco. We'll show you the nearest locations to get a DNA test in San Francisco , CA so you can choose the testing center that is most convenient. When you register, you can also pick the appointment time and date that you prefer.
Why Health Street
More than a Decade of Experience
Since 2010, Health Street has offered DNA tests in San Francisco, the state of San Francisco, California, and throughout the nation. The first DNA test that Health Street provided in San Francisco, CA was in 2020.
Commitment to Excellence
Our mission is to understand the DNA testing needs of our clients. We strive to provide the most accurate, fast, and conclusive paternity tests in San Francisco.
San Francisco, California – DNA Testing
Benefits of establishing paternity in San Francisco, CA
Married couples generally do not need to establish paternity since the law usually considers the husband the biological father. However, if the couple is not married, they can sign a Voluntary Declaration of Parentage before leaving the hospital with their child. If one parent is unsure of paternity, the court will usually order a DNA test, which a certified lab will perform for each party. At-home DNA test kits results are not court-admissible proof of paternity.
Establishing paternity has multiple benefits, such as:
child_care
Financial support from both parents
child_care
Legal documentation of the child's parents
child_care
Child's access to family medical records
child_care
If available, there may be medical and life insurance coverage from the parent or inheritance
child_care
In some cases, the child may be eligible for Veterans and Social Security benefits
San Francisco, CA: Challenging paternity
Sometimes, either party may not be sure who the father is; in this case, the best option is to take a DNA test. A court order for genetic testing can determine the biological father. If the genetic testing results are disputed, the matter will be set for a hearing or a trial. The court will then establish the parentage.
A man reunited with his family thanks to a DNA test
Matthew Robertson was adopted as a child, but then his adoptive mother died when he was only six years old. This left a scar on his heart. Years went by, and eventually, he decided to take a DNA test to find his biological mother. Matthew finally found his birth mother at the age of 49, and feels like he finally filled the gap in his life. In addition to his mother, he also found three siblings!
When he contacted the woman on social media, she replied and confirmed she was indeed his mother but said she needed time. Eventually, they shared an emotional call and then met to spend the weekend together. He said that by the end of the weekend, they could not stop hugging each other, and they had already planned another trip. Now, they are in touch all the time and are thankful for the DNA test that reconnected them.
Last updated 6/20/2022
Locations
Clinic Hours for DNA Testing in San Francisco, California
2300 Sutter Street
Suite 102
San Francisco, CA 94115
Pre-registration required,
Walk-in with barcode:
---
Monday: 8:00 AM – 3:30 PM
(M Lunch: 11-1:30 PM)
Tuesday: 8:00 AM – 3:30 PM
(T Lunch: 11-1:30 PM)
Wednesday: 8:00 AM – 3:30 PM
(W Lunch: 11-1:30 PM)
Thursday: 8:00 AM – 3:30 PM
(Th Lunch: 11-1:30 PM)
Friday: 8:00 AM – 3:30 PM
(F Lunch: 11-1:30 PM)
About this Location:
Our clinic is a short walk from the San Francisco Athletic Club.
Neighborhoods Served in San Francisco
location_city
Bernal Heights
location_city
Potrero Hill
location_city
Hayes Valley
Additional Services
We also offer other services, such as:
Citations
menu_book
Establishing parentage (paternity). Establishing Parentage (Paternity) – paternity_famlaw_selfhelp. (n.d.). Retrieved June 20, 2022, from https://www.courts.ca.gov/1201.htm?rdeLocaleAttr=en
menu_book
Department of Child Support Services. Establish Parentage | Department of Child Support Services. (n.d.). Retrieved June 20, 2022, from https://sfgov.org/dcss/establish-paternity
menu_book
Department of Child Support Services. Parentage and POP FAQs | Department of Child Support Services. (n.d.). Retrieved June 20, 2022, from https://sfgov.org/dcss/paternity-and-pop-faqs
menu_book
Toone, T. (2022, May 6). How an ancestrydna kit reunited a family and 'filled a gap' on mother's day. Deseret News. Retrieved June 27, 2022, from https://www.deseret.com/faith/2022/5/6/23058755/mothers-day-ancestry-dna-kit-reunited-family-adoption