DNA Test – West Covina, CA
Health Street provides DNA testing in West Covina, California at our centrally located testing center. Register now, or call us at (323) 797-5214 or schedule online. with any questions. Our paternity testing (including grandparent DNA tests, avuncular (aunt or uncle) testing, and postmortem DNA testing) determines if two or more people are related.
Schedule an appointment for a DNA test quickly and easily. The parties can come together or you can set up separate appointments. Grandparent DNA tests, avuncular (aunt or uncle) testing, and postmortem DNA testing are also available. Legal DNA tests are done at our testing centers. Peace of mind DNA tests can be done at home by cheek swab, hair, or fingernails.
Workforce Screening, Digitally Delivered
DNA Test – West Covina, California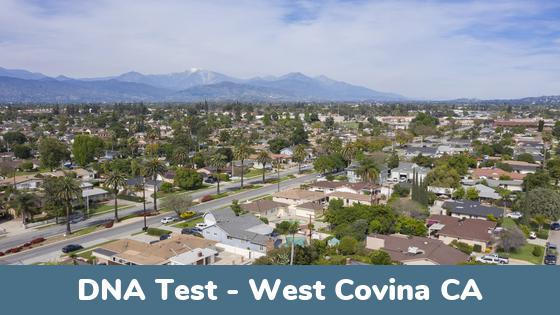 Types of DNA Tests at our West Covina, California locations:
The most commonly ordered DNA test is a Paternity Test to conclusively establish whether or not a man is the biological father of a child.
Paternity Testing can be performed at our testing centers. DNA Testing can be done for other close family relationships, such as:
Specimens we can test for DNA
The easiest and most reliable way to obtain a DNA sample for paternity testing is to swab the inner cheeks of the people being tested. These skin cells are known as buccal cells, and they rub off easily onto cotton swabs and remain in place for analysis by our laboratory. Other specimen samples, such as hair follicles, fingernails, and garments that might contain someone's DNA, can also be tested. An Alternative Specimen DNA Test is done by registering online and shipping the specimens to us.
Legally Admissible DNA Tests vs. "Peace of Mind" At-Home Tests
A Legal Paternity Test is a court admissible DNA testing service. Accurate results for DNA paternity testing with 99.99% confidence or greater take about a week.
When deciding which type of DNA test is right for you, consider first what you might do with the results. In order for the results of a DNA test to hold up in court, for child support, or to change the name on a birth certificate, the test must be done at a clinic using strict chain of custody procedures. Our West Covina DNA testing technicians are trained to follow guidelines that ensure that the results can be used for legal purposes.
How to schedule a DNA Test in West Covina CA
Scheduling a DNA test at one of our West Covina clinics is simple and fast, and we often have appointments available in the same week. It's always helpful to schedule in advance to make sure you get the time you want. Register online, or please call our customer service team, which can help you book your appointment over the phone.
We have state of the art testing labs and friendly clinics that perform the DNA sample collection in West Covina, plus many more locations throughout California and all across the United States. Not every one of our clinics performs paternity testing in West Covina. We'll show you the nearest locations to get a DNA test in West Covina , CA so you can choose the testing center that is most convenient. When you register, you can also pick the appointment time and date that you prefer.
Why Health Street
Over a Decade of Experience
Health Street has been performing DNA testing nationally since 2010. We have helped thousands of people from West Covina to communities all across the USA get DNA tests and paternity tests.
Dedication to Excellence
Our dedication to excellence includes our commitment to provide compassionate services and to helping people obtain the accurate DNA testing in West Covina that they need.
Local DNA Testing for West Covina
Proving Paternity for Child Custody Purposes in West Covina
California has complex laws related to paternity or parentage. If a child's parents are part of a registered domestic partnership or legally married when a child is born, they're presumed to be the child's parents regardless of their gender identification. California also has a legal doctrine called "parentage by estoppel," which presumes that a man is a child's parent if they welcome a child into their home and have "openly acted as if it is his own."
If a man questions that he is a child's father, he has the right to request DNA testing. The Los Angeles County Child Support Services Department may offer genetic testing if a parent has requested services through the Department. The Child Support Services office is located at 2934 E. Garvey Ave. in West Covina.
Local DNA Stories
A West Covina attorney, Stan Springer, played a role in a surrogate parenting lawsuit in the 1980s. A New York couple hired a southern California woman, Denise Thrane (aka Nisa Bhimani), to be a surrogate mother for their child. Biologically, Denise Thrane's baby was the child of Rochester, NY resident James Noyes. When she was six or seven months pregnant, Denise Thrane wrote the New York couple saying she wanted to keep the baby.
The baby was born April 4, 1981 in Monterey Park, CA and Mr. Noyes withdrew his lawsuit over custody for the child. A California court placed Mr. Noyes' name on the baby's birth certificate and ruled that the mother "will keep custody of the child" and that there would "be no visitation for the father."
Experts Say …
In California, a court could determine that a man is a child's legal father "even if the genetic tests say that he is not the biological father" although the circumstance is rare. This principle dates back to a case involving actor Charlie Chaplin in the 1940s. An actress named Joan Berry sued Chaplin to prove paternity and obtain child support for her daughter, Carol Ann. Even though blood tests showed Chaplin was not Carol Ann's father, a jury voted to legally declare him her father and ordered him to pay child support.
Neighborhoods in West Covina Served by our Clinics
location_city
E Merced Ave / S Lark Ellen Ave
location_city
Samantha Ave / E Rebecca St
location_city
N Azusa Ave / E Workman Ave
location_city
W Francisquito Ave / S Broadmoor Ave
location_city
S Buenos Aires Dr / E Lorencita Dr
location_city
E Cameron Ave / N Grand Ave
location_city
Hillside Dr / Hollencrest Dr
location_city
E Cameron Ave / S Hollenbeck St
location_city
S Citrus St / E Cortez St
location_city
E Amar Rd / E Temple Ave
Additional Services
We also offer other services, such as:
Citations
menu_book
"Parentage (Paternity) – Basic Information." California Courts, https://www.courts.ca.gov/selfhelp-parentage.htm?rdeLocaleAttr=en
menu_book
"Disputing Parentage." California Courts, https://www.courts.ca.gov/1202.htm
menu_book
"Los Angeles County Child Support Services Department – Division Lii." Services Locator LACounty.gov, https://locator.lacounty.gov/lac/Location/3175469/los-angeles-county-child-support-services-department—division-iii—west-covina
menu_book
"Surrogate Mother of Three Fights to Keep Unborn Child." New York Times, 25 March 1981, https://www.nytimes.com/1981/03/25/us/surrogate-mother-to-be-fights-to-keep-unborn-child.html
menu_book
"Baby's Father Agrees to Withdraw His Suit Over Surrogate Birth." New York Times, 5 June 1981, https://www.nytimes.com/1981/06/05/us/baby-s-father-agrees-to-withdraw-his-suit-over-surrogate-birth.html
menu_book
Pirnia, Garin. "How Charlie Chaplin Changed Paternity Laws In America." Mental Floss, 16 April 2015, https://www.mentalfloss.com/article/63158/how-charlie-chaplin-changed-paternity-laws-america
menu_book
"West Covina, CA – Real Estate & Demographic Data." Neighborhood Scout, https://www.neighborhoodscout.com/ca/west-covina