DNA Test – Durham, NC
Health Street provides DNA tests and legal paternity testing in Durham, North Carolina at 8 testing laboratories. Call (919) 822-9344 or schedule online. We offer legal paternity tests, sibling studies, grandparent DNA tests, avuncular (aunt or uncle) testing, and postmortem DNA testing to determine if people are biologically related.
Set up DNA testing appointments online. Test results can be used in court for child support or to change a birth certificate; it can also be used for simple peace of mind. Appointments can be scheduled together or separately. Legal DNA tests are done by cheek swab at our testing centers. We can also extract DNA samples from hair follicles, fingernails, and other specimens.
Workforce Screening, Digitally Delivered
1 of 8
2945 South Miami Blvd
Durham
,
NC
27703
2 of 8
7010 Nc Highway 751
Durham
,
NC
27707
3 of 8
4104 Surles Ct
Durham
,
NC
27703
4 of 8
2609 N Duke Street
Durham
,
NC
27704
5 of 8
3326 Durham Chapel Hill Road
Durham
,
NC
27707
6 of 8
105 W Nc Highway 54
Durham
,
NC
27713
7 of 8
3500 Westgate Drive
Durham
,
NC
27707
8 of 8
3514 University Drive
Durham
,
NC
27707
DNA Testing in Durham, North Carolina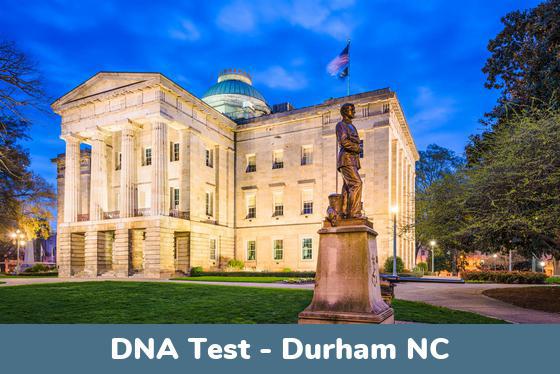 Types of DNA Tests at our Durham NC clinics:
Paternity Testing can conclusively establish whether or not a man is the biological father of a child.
Relationship Testing for other close family relationships can be performed at our testing centers. Our DNA testing services can confirm or deny biological relationships between grandparents, grandchildren, siblings, half-siblings, aunts, uncles, nieces and nephews:
Specimens we can test for DNA
The easiest and most reliable way to obtain a DNA sample for paternity testing is to swab the inner cheeks of the alleged father and child or children. These skin cells are known as buccal cells, and they rub off easily onto cotton swabs and remain in place for analysis by our laboratory.
Other specimen samples, such as hair follicles, fingernails, and garments that might contain someone's DNA, can also be tested. An Alternative Specimen DNA Test is done by ordering one of our testing kits online and shipping the specimens back to us.
Legal DNA Tests vs. "Peace of Mind" At-Home Tests
A Legal Paternity Test is a court admissible lab testing service performed at an AABB accredited laboratory. Accurate results for DNA paternity testing with 99.99% confidence or greater take about a week.
When deciding which type of DNA test is right for you, consider first what you might do with the results. A legal paternity DNA test will hold up in court for such matters as child support or to change the name on a birth certificate. This test must be performed using strict chain of custody procedures. Our Durham DNA testing technicians are trained to follow these guidelines so that the results will be legally admissible.
How to schedule a DNA Test in Durham NC
Scheduling a DNA test at one of our Durham clinics is simple and fast, and we often have appointments available in the same week. It's always helpful to schedule in advance to make sure you get the time you want. Please call our customer service team to help you book your appointment over the phone, or set up your appointment easily online.
We have state of the art testing labs and friendly clinics that perform the DNA sample collection in Durham, plus many more locations throughout North Carolina and across the United States. During registration, we'll show you the nearest locations for DNA testing so you can choose the site that's most convenient. You'll also pick the times and days that you prefer.
Why Health Street
A Decade Plus of Experience
Health Street has provided DNA tests since 2010. The first DNA test we performed in Durham, NC was in 2020.
Commitment to Community
DNA Testing in Durham is a service that Health Street is proud to say we have offered to the community for many years. We stand by our commitment to the needs of local residents and being the first choice for Durham paternity testing.
Durham, North Carolina – DNA Testing
Establishing paternity in Durham, North Carolina
Children who are born outside of marriage do not have a legal father in North Carolina. For a legal father to be acknowledged, paternity must be established either voluntarily or through the court. The most convenient way of establishing paternity is in the hospital when the baby is born. The father must also be present, provide information about himself, and sign The Affidavit of Parentage. The names of both parents will be added to the birth certificate after the document is filed.
If there are any doubts about the birth father, a DNA test by a certified lab can determine paternity with about 99% accuracy. Most commonly, the alleged father and the child have the insides of their cheeks swabbed so they can determine if the man is the biological father or not.
Establishing paternity can benefit the child in several ways. The child will be able to access applicable benefits, such as paternal medical information, insurance, social security, and military benefits. Establishing paternity can also give the child a greater sense of identity and belonging.
North Carolina woman reunites with her father after DNA test
James and his girlfriend knew they could not care for their baby, so they gave her up for adoption. This difficult decision haunted him. His daughter, Sarah, always knew she was adopted and was hoping she could find her birth parents someday. They both took a DNA test, and the results led them to each other.
Sarah received the match and immediately wrote to James to ask him if he was her dad. At first, he did not believe what was happening. He even wondered if it was a scam. They started to talk more, and decided to meet since they were only a four-hour drive from each other. After years apart, they finally had the chance to reunite and celebrate Father's Day! They are so happy that their DNA test results matched each other after all these years.
Judge considers paternity testing in criminal case
In 2018, a Wake County jury took paternity into consideration when sentencing Donovan Richardson, a man found guilty of two counts of first-degree murder. The fact that Richardson's father refused to acknowledge his son's paternity until he took a DNA test was one of 11 mitigating circumstances that contributed to Richardson's sentence.
Wake County prosecutors had sought the death penalty in Richardson's case, because he was found guilty of murdering a construction company owner and his employee in a 2014 home invasion and robbery. However, the jury was instructed to consider mitigating factors for assigning punishment, including his father's refusal to acknowledge paternity without a DNA test.
Man denied paternity test after giving marijuana to infant son
Paternity testing played a role in another legal case in North Carolina in 2018. An 18 year-old man, Allan Gylmar Maldonado, was charged with contributing to the delinquency of a minor and possessing marijuana after a social media video showed him helping a 16-month-old baby to smoke marijuana. The baby's mother, Brianna Lofton, was charged with felony child abuse.
Maldonado denied he was the baby's father and demanded a paternity test, but prosecutors informed him that the results would not affect the charges he faced for giving the baby marijuana on camera and broadcasting it via social media.
Last Updated 7/25/2022
Locations
Clinic Hours for DNA Testing in Durham, North Carolina
2945 South Miami Blvd
Suite 132
Durham, NC 27703
Pre-registration required,
Walk-in with barcode:
---
Monday: 8:00 AM – 4:30 PM
Tuesday: 8:00 AM – 4:30 PM
Wednesday: 8:00 AM – 4:30 PM
Thursday: 8:00 AM – 4:30 PM
Friday: 8:00 AM – 4:30 PM
About this Location:
Our Durham DNA testing location is next to the Kids R' Kids Learning Academy.
Some Durham Neighborhoods That We Serve
location_city
Brandon Bridge
location_city
Hope Valley Farms North
location_city
Fisher Heights
location_city
Morehead Hill
location_city
Burch Avenue
location_city
Lake Village Townes
location_city
Old Five Points
location_city
Buckwater Creek
location_city
Crooked Creek
Additional Services
We also offer other services, such as:
Citations
menu_book
NCDHHS. (n.d.). Retrieved July 25, 2022, from https://www.ncdhhs.gov/divisions/social-services/child-support-services/css-services#:~:text=Paternity%20can%20be%20established%20by,on%20the%20Affidavit%20of%20Parentage.
menu_book
Mackonochie, M., Zimmer, J., & Dinkel, C. (2022, June 19). Wilson County man celebrates first father's day with birth daughter thanks to DNA testing kit. WRAL.com. Retrieved July 25, 2022, from https://www.wral.com/wilson-county-man-celebrates-first-father-s-day-with-birth-daughter-thanks-to-dna-testing-kit/20338353/
menu_book
McDonald, Thomasi. "Jurors spare life of killer; he'll serve two double sentences for murder." The News & Observer, 24 January 2018, https://www.newsobserver.com/news/local/crime/article196358919.html
menu_book
Webster, Hannah. "Man linked to marijuana-smoking baby case makes bond." WRAL.com, 13 July 2018, https://www.wral.com/man-linked-to-marijuana-smoking-baby-case-makes-bond/17451159/