DNA Test – Sunnyvale, CA
Health Street provides DNA testing in Sunnyvale, California at 3 conveniently located testing laboratories. Register now, or call us at (669) 900-6739 or schedule online. with any questions. Our paternity testing (including grandparent DNA tests, avuncular (aunt or uncle) testing, and postmortem DNA testing) determines if two or more people are related.
Shedule an appointment for a DNA test quickly and easily. The parties can come together or you can set up separate appointments. Grandparent DNA tests, avuncular (aunt or uncle) testing, and postmortem DNA testing are also available. Legal DNA tests are done at our testing centers. Peace of mind DNA tests can be done at home by cheek swab, hair, or fingernails.
Workforce Screening, Digitally Delivered
Agent Delenia was friendly and helpful. You really should not email the appointment information to all parties involved. Only to the person with the appointment.
Eric
6/17/2016
1 of 3
901 W El Camino Real
Sunnyvale
,
CA
94087
2 of 3
877 W Fremont Avenue
Sunnyvale
,
CA
94087
3 of 3
1197 E Arques Avenue
Sunnyvale
,
CA
94085
DNA Test – Sunnyvale, California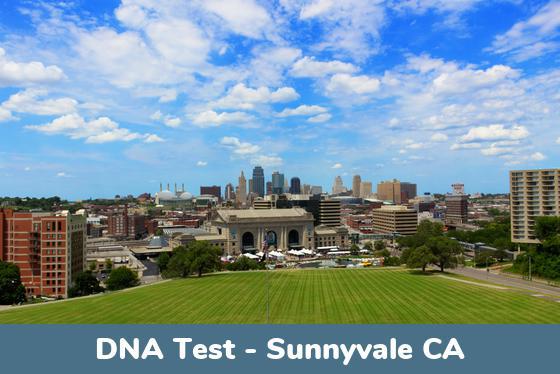 Types of DNA Tests at our Sunnyvale, California clinics:
Paternity Testing can conclusively establish whether or not a man is the biological father of a child.
Relationship Testing for other close family relationships can be performed at our testing centers. Our DNA testing services can confirm or deny biological relationships between grandparents, grandchildren, siblings, half-siblings, aunts, uncles, nieces and nephews:
Specimens we can test for DNA
The easiest and most reliable way to obtain a DNA sample for paternity testing is to swab the inner cheeks of the alleged father and child or children. These skin cells are known as buccal cells, and they rub off easily onto cotton swabs and remain in place for analysis by our laboratory.
Other specimen samples, such as hair follicles, fingernails, and garments that might contain someone's DNA, can also be tested. An Alternative Specimen DNA Test is done by ordering one of our testing kits online and shipping the specimens back to us.
Legal DNA Tests vs. "Peace of Mind" At-Home Tests
A Legal Paternity Test is a court admissible lab testing service performed at an AABB accredited laboratory. Accurate results for DNA paternity testing with 99.99% confidence or greater take about a week.
When deciding which type of DNA test is right for you, consider first what you might do with the results. A legal paternity DNA test will hold up in court for such matters as child support or to change the name on a birth certificate. This test must be performed using strict chain of custody procedures. Our Sunnyvale DNA testing technicians are trained to follow these guidelines so that the results will be legally admissible.
How to schedule a DNA Test in Sunnyvale CA
Scheduling a DNA test at one of our Sunnyvale clinics is simple and fast, and we often have appointments available in the same week. It's always helpful to schedule in advance to make sure you get the time you want. Please call our customer service team to help you book your appointment over the phone, or set up your appointment easily online.
We have state of the art testing labs and friendly clinics that perform the DNA sample collection in Sunnyvale, plus many more locations throughout California and across the United States. During registration, we'll show you the nearest locations for DNA testing so you can choose the site that's most convenient. You'll also pick the times and days that you prefer.
Why Health Street
More than a Decade of Experience
Since 2010, Health Street has offered DNA tests in Sunnyvale, the state of Sunnyvale, California, and throughout the nation. The first DNA test that Health Street provided in Sunnyvale, CA was in 2020.
Commitment to Excellence
Our mission is to understand the DNA testing needs of our clients. We strive to provide the most accurate, fast, and conclusive paternity tests in Sunnyvale.
Sunnyvale, California – DNA Testing
Search for Speech Material Reunites Sunnyvale Mayor with Birth Family
After taking a DNA test nearly a decade ago, Sunnyvale Mayor Larry Klein hadn't thought much more of it. However, when he logged back into his account while doing research for a speech, he was shocked to come across a message from a potential relative who was looking to connect.
Klein, who had been adopted and never met his birth family, reached out to the woman who turned out to be his half-sister. He then learned that he had another sister whom he shared with his birth mother. The three met in person, and during their conversation, Klein learned that his birth mother was alive and well and living nearby in Southern California. He was eventually able to meet her in person as well and says he is thankful for DNA testing's ability to reunite families.
The Importance of Establishing Paternity in California
In the state of California, when a child is born to unwed parents, he or she does not have a legal father until steps are taken to establish paternity. According to attorneys at The Law Offices of Sandra J. McManus, which serves clients in Sunnyvale and the surrounding area, there are many benefits of establishing legal paternity.
Without legal paternity, a child won't have access to his or her father's Social Security benefits. In addition, the courts cannot rule on important issues like custody, child support, and visitation until legal paternity has been established.
How to Establish Paternity in Sunnyvale CA
When a child's parents are not married at the time of birth, paternity (also called "parentage") is established in one of two ways:
looks_two
Getting a court order
A voluntary declaration of parentage is a legal document that can be signed at the hospital when the child is born or at a later date. When processed, this form has the same effect as a court order, without the need to go to court.
If there is a dispute about the child's paternity or one parent will not voluntarily sign the declaration, an interested party can start a parentage case by filing paperwork at their local courthouse. The Sunnyvale courthouse is located at 605 W. El Camino Real, Sunnyvale CA.
Last updated 9/21/2022
Locations
Clinic Hours for DNA Testing in Sunnyvale, California
901 W El Camino Real
Sunnyvale, CA 94087
Pre-registration required,
Walk-in with barcode:
---
Monday: 8:00 AM – 4:00 PM
(M Lunch: 11-1 PM)
Tuesday: 8:00 AM – 4:00 PM
(T Lunch: 11-1 PM)
Wednesday: 8:00 AM – 4:00 PM
(W Lunch: 11-1 PM)
Thursday: 8:00 AM – 4:00 PM
(Th Lunch: 11-1 PM)
Friday: 8:00 AM – 4:00 PM
(F Lunch: 11-1 PM)
About this Location:
You can locate our clinic around the corner from Stratford School – Sunnyvale Washington Park. There is plenty of parking available.
Neighborhoods In and Around Sunnyvale That We Serve
location_city
Balboa Park / Coronado Park
location_city
Gavello Glen / Braly Corners
location_city
Homestead Terrace / Countrywood
location_city
Lakewood Village
location_city
Sunnyarts / Stratford Gardens
location_city
The Gardens / Mayfair
location_city
Washington Park
Additional Services
We also offer other services, such as:
Citations
menu_book
Pitcher, Michelle. "Search for speech material leads Sunnyvale mayor to birth family." The Mercury News, 11 October 2020, https://www.mercurynews.com/2020/10/11/search-for-speech-material-leads-mayor-to-birth-family/
menu_book
"Paternity." Law Offices of Sandra J. McManus, https://mcmanusfamilylaw.com/paternity/
menu_book
"Establishing Parentage (Paternity)." California Courts, https://www.courts.ca.gov/1201.htm#acc11294
menu_book
"Parentage / Paternity." California Courts, https://www.courts.ca.gov/selfhelp-parentage.htm?rdeLocaleAttr=en
menu_book
"How to Start a Parentage Case." California Courts, https://www.courts.ca.gov/partners/documents/UPA_start_instructions.pdf
menu_book
"Disputing Parentage." California Courts, https://www.courts.ca.gov/1202.htm?rdeLocaleAttr=en
menu_book
"Sunnyvale, CA Real Estate & Demographic Data." Neighborhood Scout, https://www.neighborhoodscout.com/ca/sunnyvale