DNA Testing in San Jose, California
Health Street provides DNA tests and legal paternity testing in San Jose, California at 15 testing laboratories. Call (669) 900-6736 or schedule online. We offer legal paternity tests, sibling studies, grandparent DNA tests, avuncular (aunt or uncle) testing, and postmortem DNA testing to determine if people are biologically related.
Set up DNA testing appointments online. Test results can be used in court for child support or to change a birth a certificate; it can also be used for simple peace of mind. Appointments can be scheduled together or separately. Legal DNA tests are done by cheek swab at our testing centers. We can also extract DNA samples from hair follicles, fingernails, and other specimens.
Workforce Screening, Digitally Delivered
fast to respond to appointment when I did it online
Juan garcia
8/20/2020
excellent service,staff members very good
Jorge
1/28/2016
1 of 15
266 N Jackson Avenue
San Jose
,
CA
95116
2 of 15
2618 Alum Rock Avenue
San Jose
,
CA
95116
3 of 15
123 DiSalvo Avenue
San Jose
,
CA
95128
4 of 15
840 Willow Street
San Jose
,
CA
95125
5 of 15
2581 Samaritan Drive
San Jose
,
CA
95124
6 of 15
242 Meridian Avenue
San Jose
,
CA
95126
7 of 15
3162 Newberry Drive
San Jose
,
CA
95118
8 of 15
2724 Aborn Road
San Jose
,
CA
95121
9 of 15
25 North 14th Street
San Jose
,
CA
95112
10 of 15
2365 Quimby Road
San Jose
,
CA
95122
11 of 15
1038 E Brokaw Road
San Jose
,
CA
95131
12 of 15
2060 Aborn Rd
San Jose
,
CA
95121
13 of 15
393 Blossom Hill Rd
San Jose
,
CA
95123
14 of 15
3880 S Bascom Avenue
San Jose
,
CA
95124
15 of 15
1887 Monterey Road
San Jose
,
CA
95112
DNA Test – San Jose, California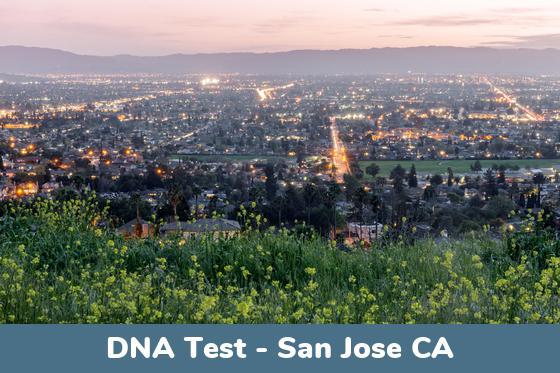 Types of DNA Tests at our San Jose, California clinics:
Paternity Testing can conclusively establish whether or not a man is the biological father of a child.
Relationship Testing for other close family relationships can be performed at our testing centers. Our DNA testing services can confirm or deny biological relationships between grandparents, grandchildren, siblings, half-siblings, aunts, uncles, nieces and nephews:
Specimens we can test for DNA
The easiest and most reliable way to obtain a DNA sample for paternity testing is to swab the inner cheeks of the alleged father and child or children. These skin cells are known as buccal cells, and they rub off easily onto cotton swabs and remain in place for analysis by our laboratory.
Other specimen samples, such as hair follicles, fingernails, and garments that might contain someone's DNA, can also be tested. An Alternative Specimen DNA Test is done by ordering one of our testing kits online and shipping the specimens back to us.
Legal DNA Tests vs. "Peace of Mind" At-Home Tests
A Legal Paternity Test is a court admissible lab testing service performed at an AABB accredited laboratory. Accurate results for DNA paternity testing with 99.99% confidence or greater take about a week.
When deciding which type of DNA test is right for you, consider first what you might do with the results. A legal paternity DNA test will hold up in court for such matters as child support or to change the name on a birth certificate. This test must be performed using strict chain of custody procedures. Our San Jose DNA testing technicians are trained to follow these guidelines so that the results will be legally admissible.
How to schedule a DNA Test in San Jose CA
Scheduling a DNA test at one of our San Jose clinics is simple and fast, and we often have appointments available in the same week. It's always helpful to schedule in advance to make sure you get the time you want. Please call our customer service team to help you book your appointment over the phone, or set up your appointment easily online.
We have state of the art testing labs and friendly clinics that perform the DNA sample collection in San Jose, plus many more locations throughout California and across the United States. During registration, we'll show you the nearest locations for DNA testing so you can choose the site that's most convenient. You'll also pick the times and days that you prefer.
Why Health Street
More than a Decade of Experience
Since 2010, Health Street has offered DNA tests in San Jose, the state of San Jose, California, and throughout the nation. The first DNA test that Health Street provided in San Jose, CA was in 2018.
Commitment to Excellence
Our mission is to understand the DNA testing needs of our clients. We strive to provide the most accurate, fast, and conclusive paternity tests in San Jose.
Establishing Paternity in San Jose
Establishing paternity is critical to ensuring that a child receives adequate financial support and that the child's father can establish a visitation schedule. However, when parents in the state of California aren't married, paternity often isn't legally established at birth. According to San Jose law firm Morgan, Tidalgo, Sukhodrev, Azzolino, LLP, "One of the first steps in helping to clear the path to a child support order or a case for child custody is a DNA paternity test. This technology is over 99.99 percent accurate and produces conclusive answers regarding any child's parentage."
Once the DNA paternity test has been completed, there is little doubt as to who the child's father is. This increases the probability that the child will receive financial support and gives the father the opportunity to form an emotional relationship with his child. A parent who is interested in pursuing child support or visitation will often want to start by consulting with a family law attorney to discuss the process of requesting a paternity order from the courts.
San Jose's Economy
Located in the heart of Silicon Valley, San Jose is also the biggest city in the valley and is considered its capital. It has the distinction of currently having the fastest-growing economy in the United States. With the cost of goods and services coming in at close to 27 percent higher than the national average, it's also the most expensive metro area in the country.
While close to one-fourth of the city's residents earn more than $200,000 per year, there's also a critical affordable housing crisis. The median home sale price here is over $1 million, leaving many middle-income employees, like teachers and service workers, unable to afford their own homes. It's anticipated that the economy in this area will continue to outpace the rest of the country, even if nationwide economic growth slows.
Industry and Jobs in San Jose, California
San Jose, CA is known for being an affluent city with a high cost of living. The city has a median household income of over $122,000, a median home value of more than $1.26 million, and a cost of living that's 80% higher than the rest of the nation. The average income here is higher and the unemployment rate is lower than the U.S. average. 
Employment opportunities in San Jose are heavily weighted towards the world famous technology sector. Job opportunities here often favor young and highly skilled workers. The political, cultural, and economic influences in the area contribute to its widely accepted designation as "The Capital of Silicon Valley." The city is home to many tech giants such as: Cisco Systems, Hewlett Packard, Adobe, PayPal, eBay, FedEx, IBM, and Siemens.
Locations
Clinic Hours for DNA Testing in San Jose, California
2060 Aborn Rd
Suite 200
San Jose, CA 95121
Pre-registration required,
Walk-in with barcode:
---
Monday: 9:00 AM – 4:00 PM
Tuesday: 9:00 AM – 4:00 PM
Wednesday: 9:00 AM – 4:00 PM
Thursday: 9:00 AM – 4:00 PM
Friday: 9:00 AM – 4:00 PM
About this Location:
This paternity testing location is at the junction of Aborn Road and Capitol Expressway.
393 Blossom Hill Rd
Suite 350
San Jose, CA 95123
Pre-registration required,
Walk-in with barcode:
---
Monday: 9:00 AM – 4:30 PM
Tuesday: 9:00 AM – 4:30 PM
Wednesday: 9:00 AM – 4:30 PM
Thursday: 9:00 AM – 4:30 PM
Friday: 9:00 AM – 4:30 PM
About this Location:
This office is conveniently located nearby to Phil Sterns Stadium.
Some San Jose Neighborhoods That We Serve
location_city
Almaden Valley
Additional Services
We also offer other services, such as:
Citations
menu_book
"Neighborhoods." Team San Jose, https://www.sanjose.org/neighborhoods
menu_book
"San Jose." Forbes, https://www.forbes.com/places/ca/san-jose/.
menu_book
"20 Best Internet Companies to Work for in San Jose, CA." Zippia, https://www.zippia.com/company/best-biggest-companies-in-san-jose-ca/.
menu_book
"What life is really like in the most expensive place in the US, where the typical home costs $1 million and it feels like everyone works in tech." Business Insider, 27 February 2019, https://www.businessinsider.com/san-jose-most-expensive-place-silicon-valley-life-2019-2#cisco-systems-and-ebay-both-headquartered-in-the-city-of-san-jose-are-also-two-of-the-areas-biggest-employers-8.
menu_book
"What kind of jobs are there in San Jose, CA?" U.S. News & World Report, https://realestate.usnews.com/places/california/san-jose/jobs.
menu_book
"For answers in child support cases, DNA tests can help." MTSA Law Group, https://www.mtsalawgroup.com/for-answers-in-child-support-cases-dna-tests-can-help/